EHF Champions League
Summary: Barça, Kielce & Veszprém top group B after round 5
It is only round 5 and the EHF Champions League Men 2021/22 is already proving a thrill ride — and the thrills continued when round 5 opened on Wednesday with five matches. On Thursday, the round concludes with three games, including the Match of the Week. 









THURSDAY 21 OCTOBER
22:05
Don't miss any of our match reviews - they have lots of facts, stats and recap of the night's action in case you couldn't watch it all live. And head over to our social media accounts (Twitter, Instagram and Facebook) for photos and videos from all three games. 
See you next week for round 6!
23:00
With round 5 over, here's how the standings look. The season really is shaping up to be exciting right to the end, with surprises every week. 
In group A, Aalborg are on top after four wins, chased closely by 2018 champions Montpellier and 2020 champions Kiel. Meshkov Brest have suffered five straight defeats.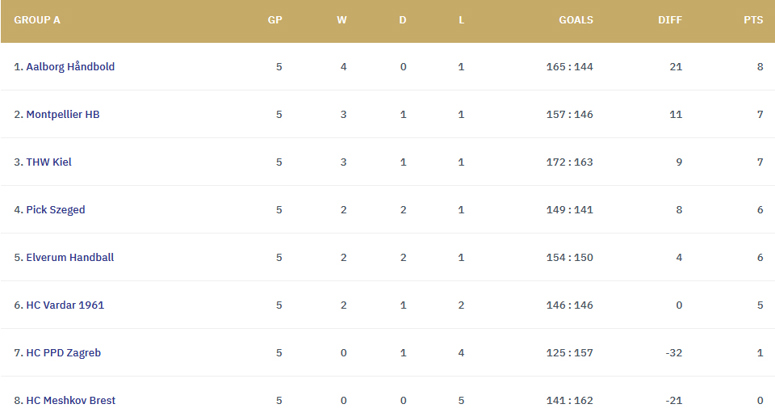 Tonight's win puts Barça on top of group B on goal difference, but Kielce and Veszprém also have eight points. Flensburg are yet to win a match, although they took a point against PSG in round 3.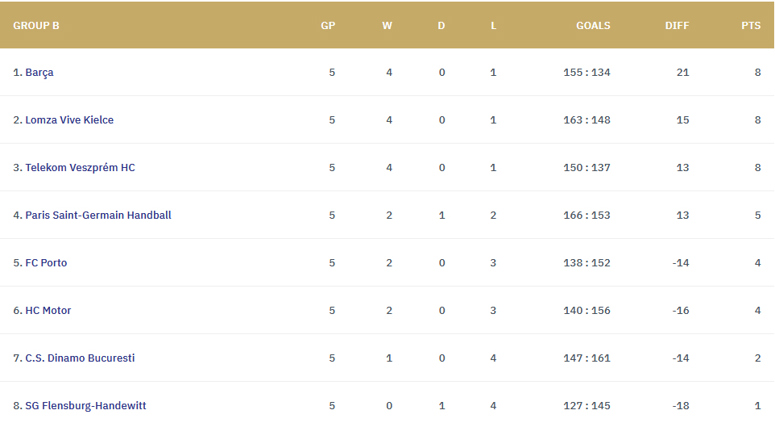 22:45
Tonight's Player of the Match award went to Gonzalo Perez de Vargas after a quite simply brilliant performance. The Barça goalkeeper made 17 saves from 43 shots - a 39.5 per cent save rate - although he conceded all three penalties which came his way.


22:18
A Match of the Week truly deserving of the name comes to a close with a hard-fought home victory for Barça in front of an enthusiastic, supportive crowd. It wasn't a perfect match by any stretch of the imagination for the record champions, with way too many turnovers, but they showed form when it counted. Dika Mem banged in a last-second winner to seal the victory.
Only three field players from Barça failed to find the net: Thiagus Petrus, Artur Parera, and Luis Frade. 
PSG look deflated, but they never let the pressure off. They remain fourth in the group, while Barça go level on eight points with Kielce and Veszprém.

22:12
If Barça win - and it's looking increasingly likely - it will be due to consistency from Gonzalo Perez de Vargas and an extraordinary flurry of Dika Mem goals in the last few minutes. Mem looks like he's thoroughly enjoying every one.
Three and a half minutes, and Barça lead by two goals.
22:07
As Barça let a three-goal lead slip back to one, Carlos Ortega calls a timeout.
Check out the turnover statistics - not what either team would be looking for.


22:00
Thiagus Petrus blocks Elohim Prandi as he shoots, and Prandi goes down now. He seems to be in pain, but gets up. There's a scratch on his face but he's trying to stay on court. 
Barça have a bit of momentum, led by three good goals from Dika Mem. Yet there's plenty of time for PSG to come back and they have a power play period while Petrus serves a suspension.
21:53
Barça did have a two-goal lead for a few minutes, but Luc Steins and Elohim Prandi have pegged their hosts back. Steins is currently off court after hitting the deck hard and being helped up by Gonzalo Perez de Vargas. 
21:45
The Barça fans are in full voice as the second half bursts into life. Both goalkeepers are still in amazing form, reading the game perfectly. Barça looked for a second like they could take a two-goal lead but were foiled, and it's still even. 
This fierce battle is best illustrated by the goalkeeping duel, as both Gonzalo Perez de Vargas and Vincent Gerard have recorded the same number of saves. For now, Paris have been perfectly defending on Dika Mem while Mikkel Hansen has had his best half so far. If Paris want to come back home with a win, they will have to do exactly the same thing they did in the first 30 minutes.
21:25
HALF-TIME UPDATE: Barça 13:13 PARIS SAINT-GERMAIN HB
A fascinating battle is taking place in the Palau Blaugrana. It's the lowest half-time score ever in a Barça vs PSG match and there's literally nothing in it in scoring and saving, with both Vincent Gerard and Gonzalo Perez de Vargas having saved eight shots out of 21 attempts each.
Turnovers have also been high - there are clearly a few nerves on court as both sides realise winning this battle will set them up well for the rest of the group phase.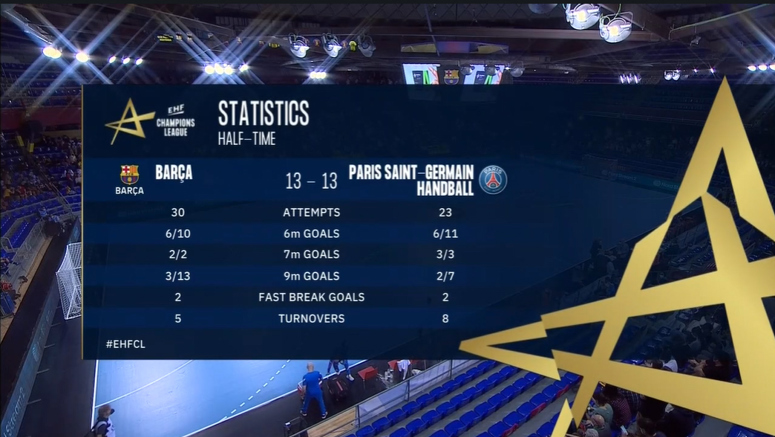 21:10
With no goals for a couple of minutes and the match tied, with eight goals apiece, Raul Gonzalez takes a timeout. However, it's Barça who are next to score and now we're off again in an end-to-end rush. It's exciting play.
21:05
Luis Frade comes on, and is then sent off for fouling Luka Karabatic. The pace is quick now, with goals being exchanged rapidly, and it's a level match. 
Remember PSG have only beaten Barça once in the EHF Champions League, in the 2016/17 group phase. Barça have won six of their seven meetings.
20:59
Ludovic Fabregas is on fire, thumping his third goal past Vincent Gerard to put Barça 5:2 up. Nedim Remili remains the only PSG player to have scored so far. 
The game is ramping up in intensity.
20:49
"Is there something wrong with the ball here?" asks EHFTV commentator Chris O'Reilly. Probably not, but both sides have made mistakes and Barça have had three turnovers. It takes three and a half minutes for Nedim Remili to net the first goal.
20:45
And MOTW is now about to throw off! A notable absentee is Luka Cindric, but Barça have Aitor Arino back, so don't look at all weak. This one should be good. Buckle up.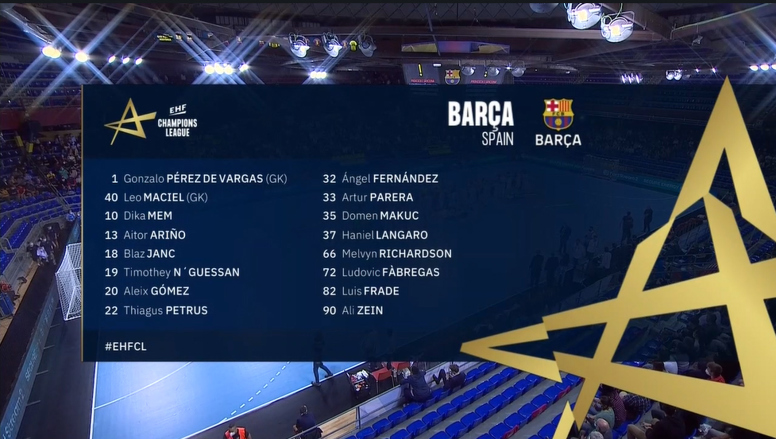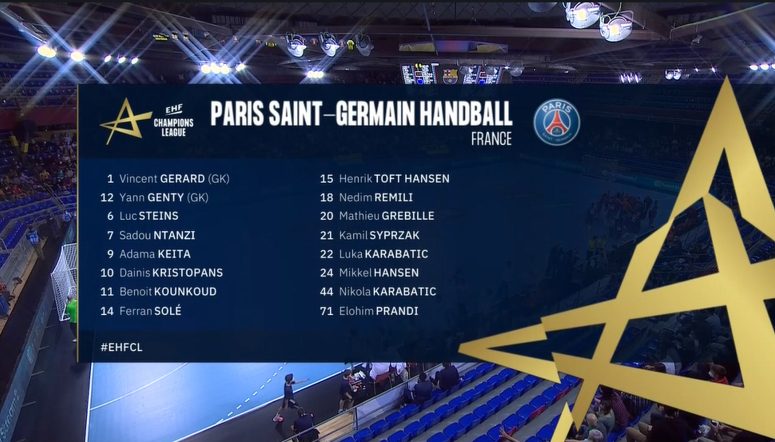 20:24
Dinamo did not give up, clawing back a three-goal deficit to sit level in the last two minutes. A suspension for Raul Nantes could have been costly, but Aidenas Malasinkas' penalty was saved. But playing with an empty goal did prove to be the visitors' downfall, when Motor were able to score at 59:27 and then defend their end of the court to the buzzer. An excellent match, and one which so easily could have been a draw or a Dinamo win.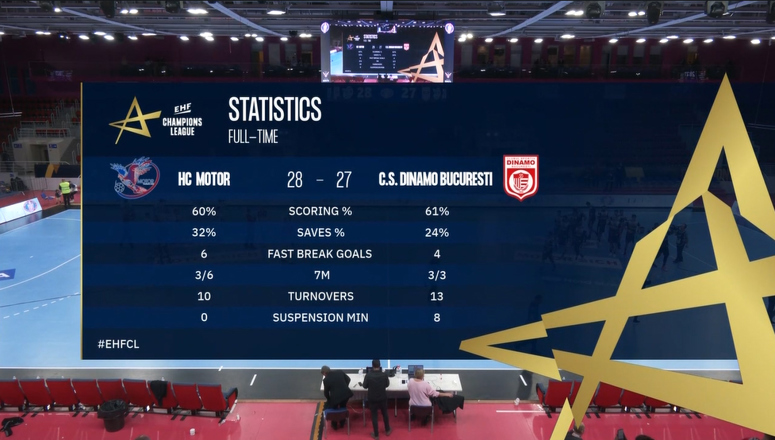 20:18
The final scoreline is perhaps a little favourable to Flensburg. Veszprém did not have to fight all the way and Flensburg were able to come back into things to close up the gap somewhat. Nevertheless, the home side join Kielce with eight points in the group.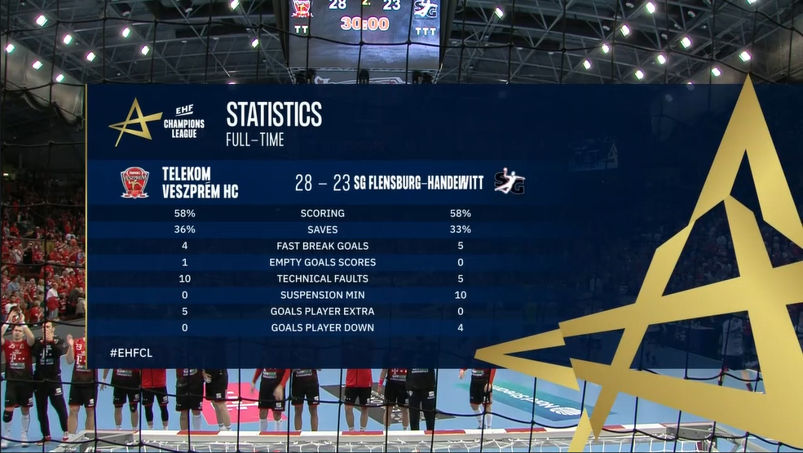 20:00
The 23-year-old Icelandic right back Teitur Örn Einarsson has burst on to the court in this second half for Flensburg, scoring five goals in less than 15 minutes and helping Flensburg hope a little bit. Veszprém are still leading comfortably, but there's a bit more of a match going on. 
19:52
Motor have picked up momentum and suddenly have a three-goal lead. Xavi Pascual calls a timeout, and to say he's animated is an understatement.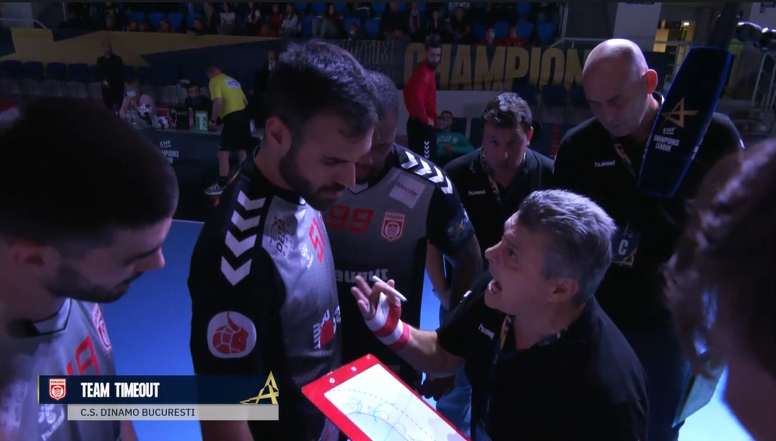 19:45
There is currently no sign of a Flensburg fight-back. Veszprém have gone on a 4:2 run out of the dressing room and extended their lead.
Things have also picked up where they left off in Zaporozhye, with the match remaining poised on a knife-edge. 
We all knew this was going to be a tough evening for Flensburg in Veszprém, but maybe not to this point. Maik Machulla's boys missed just about everything, and without a good Benjamin Buric between the posts, the situation could be even worse than it already is. If Veszprém keep on playing at their own level, the two points should be in their bag pretty early in the second half.
19:30
HALF-TIME UPDATE: TELEKOM VESZPRÉM HC 14:8 SG FLENSBURG-HANDEWITT
That is one of Flensburg's weakest half-time performances. They also scored just eight goals against eventual champions Montpellier in the 2018 quarter-finals; they scored only seven against Kiel in 2017.
Veszprém look likely to take the points unless Flensburg can mount a stunning comeback.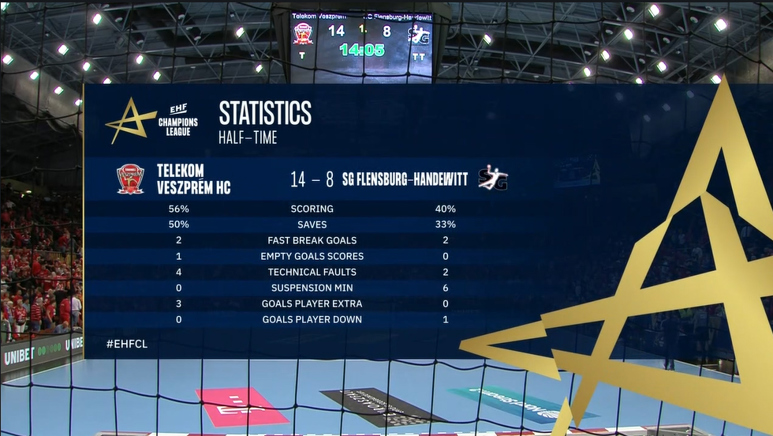 19:23
HALF-TIME UPDATE: HC MOTOR 13:13 C.S. DINAMO
Dinamo have largely been chasing in this half, staying level but often having to catch up a goal or two. Andrei Negru gave them their first lead at 13:12 in the 29th minute, only for Barys Pukhouski to equalise. We have a fascinating second half in store.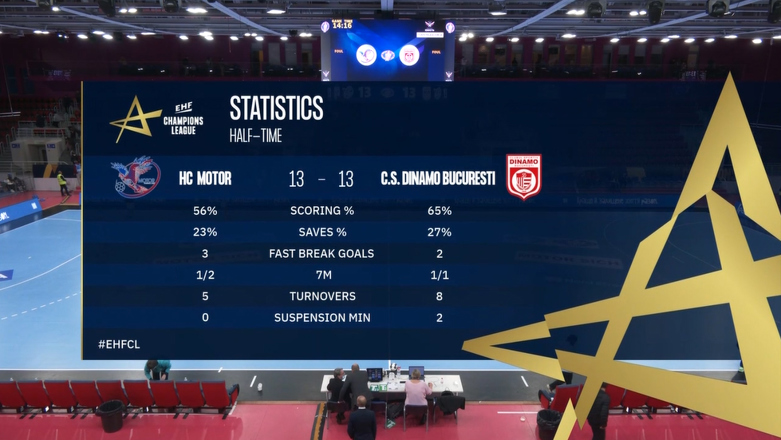 19:12
There's frustration on Flensburg faces as Simon Hald Jensen picks up a two-minute suspension - the third of the game for the visitors, allowing Veszprém to score yet again and take a seven-goal lead. A combination of a strong field performance so far, plus Rodrigo Corrales stopping well over half of Flensburg's attempts at goal, means it's a pretty one-sided match right now.
19:03
After 15 minutes before a mostly empty arena, Motor and Dinamo are locked in a close battle. There's not much history between these two, with a win apiece in 2016/17 their only previous EHF Champions League encounters. Both are also on two points this season, and looking to move up the table.
18:56
A hugely strong start from Veszprém - they stopped Flensburg from scoring for almost nine minutes and lead 5:1 before the clock has ticked over 10 minutes. Both goalkeepers have saved three shots, but Veszprém are getting more goals past Benjamin Buric than he's able to save.
18:48
As the matches throw off, here are the squads: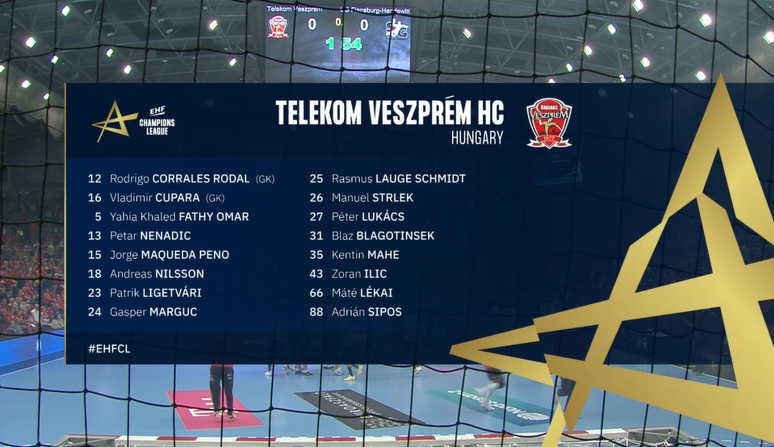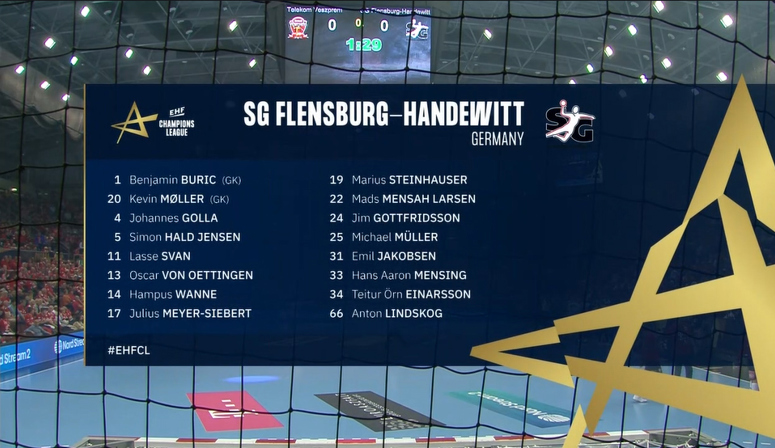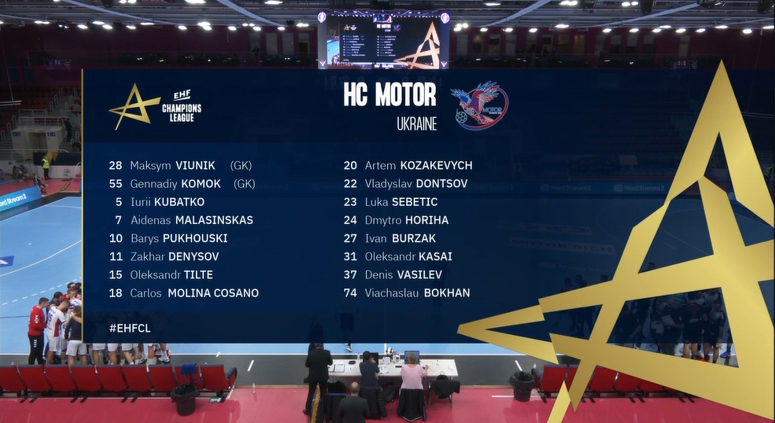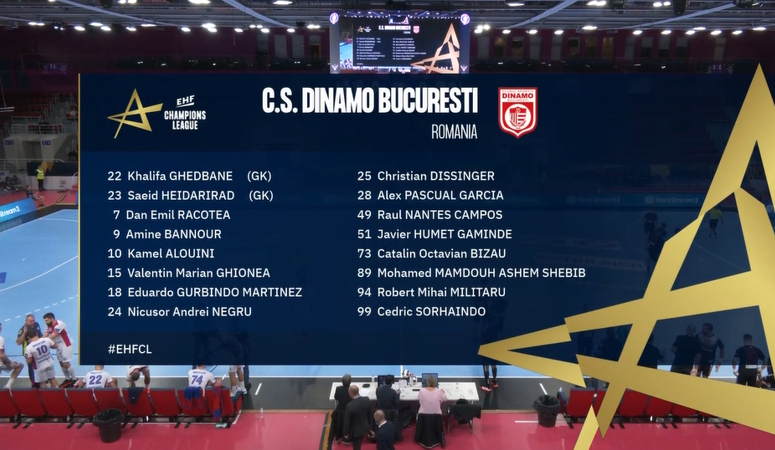 18:35
Pick a match - or why not both at once ...
The build-up is live on EHFTV for Motor vs Dinamo and Veszprém vs Flensburg, so head on over and use our multiscreen tool to watch both matches at the same time.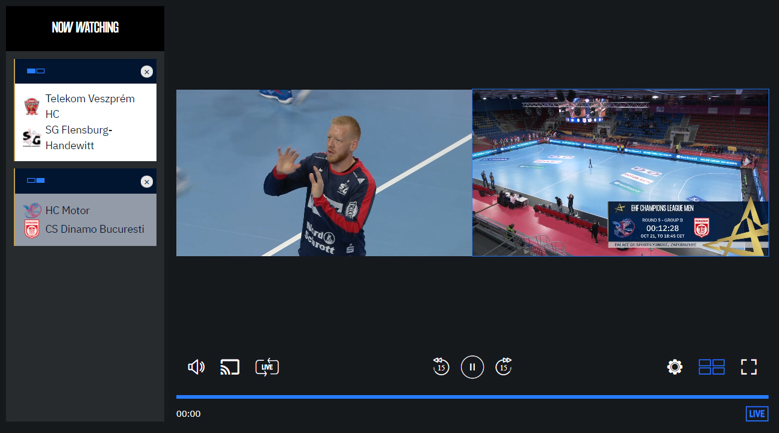 18:00
There's 45 minutes until the action throws off for tonight. Match of the Week is up at 20:45 and here's some head-to-head statistics between Barça's Dika Mem and PSG's Nedim Remili. They're teammates for France, but rivals tonight.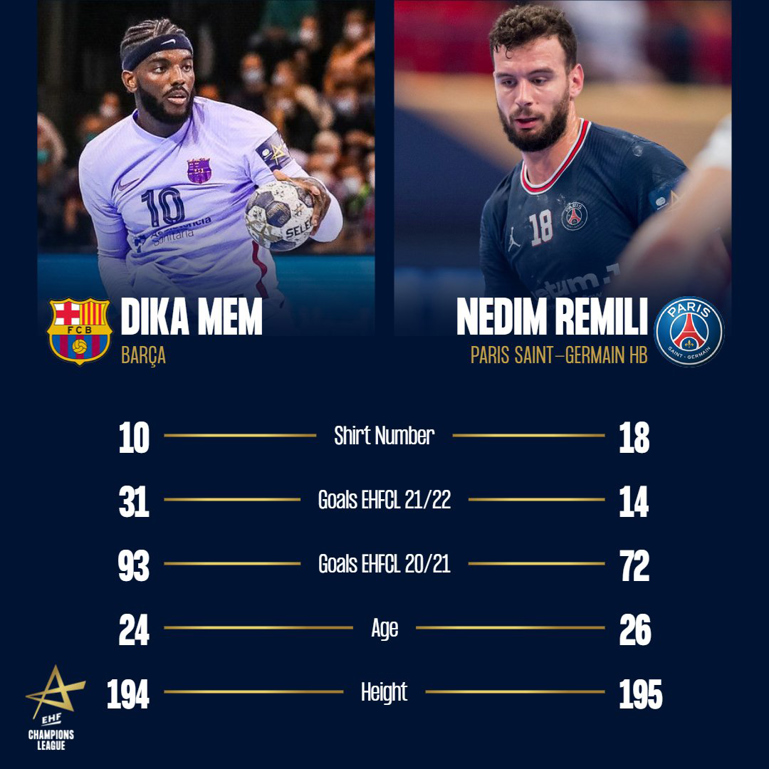 16:53
The opening night of round 5, on Wednesday, was all about group A — plus Kielce vs Porto. Tonight, all the action centres on group B. 
Kielce moved up to be sole leaders of the group last night with their victory, now tallying eight points. Barça and Veszprém, both on six points, will aim to follow the Polish side tonight when they meet PSG and Flensburg, respectively. 
PSG are close behind the group leaders, with five points ahead of the MOTW. 
The other three sides on court tonight — Motor, Bucharest and Flensburg — are all hungry for points, with Motor and Dinamo currently on two after one win apiece, while Flensburg count only one point thanks to a draw against PSG in round 3.
While Flensburg will have to topple Veszprém in Hungary in order to add to their tally, Motor and Dinamo are meeting each other and therefore at least one of the sides is sure to climb the table.  
16:42
Before the MOTW tonight, be sure to catch Face of the Champions League Anja Althaus' chat with Barça's Domen Makuc and PSG's Ferran Sole right here on the EHFCL Instagram page.  
16:30
Good afternoon and welcome to our continued live blog coverage of round 5 of the EHF Champions League Men 2021/22! 
In just over two hours, we will be underway again as day two of this round throws off. We end the night and round 5 with the Match of the Week. 
Here's your full schedule for Thursday evening:
18:45 CEST HC Motor vs CS Dinamo Bucuresti 
18:45 CEST Telekom Veszprém HC vs SG Flensburg-Handewitt
20:45 CEST MOTW Barça vs Paris Saint-Germain Handball
WEDNESDAY 20 OCTOBER
23:05
That brings us to the end of the opening day of round 5. Be sure to join us on Thursday as the round continues with three promising games:
18:45 CEST HC Motor vs CS Dinamo Bucuresti 
18:45 CEST Veszprém vs Flensburg-Handewitt
20:45 CEST MOTW Barça vs Paris Saint-Germain Handball
We leave you with this part of the post-match quote from Szeged coach Juan Carlos Pastor after his team drew with Kiel — an accurate description of just how competitive this season is proving to be! 
"Those who say that our group is weaker than the other are wrong. Every match in this group is a war." 
Let's see what group B has in store for us on Thursday night! 
22:57
With all the action for the day wrapped up, it's time to read all about it! Check out the match reviews below to see how the first round 5 matches unfolded.
22:42
What a day to open round 5 of the EHF Champions League Men 2021/22! While Szeged took their first point ever home from Kiel, the four other home teams celebrated victories — and ultimately comfortable ones after entertaining matches. 
With mainly group A in focus and all round 5 matches in this group now played, let's take a look at the standings on this table. 2020/21 finalists Aalborg Håndbold end the round alone in first position with eight points after four wins. Right behind them, on seven points, are Montpellier and Kiel, who have each won three games, drawn once and lost once. 
Szeged's draw with Kiel and Elverum's win vs Zagreb see them finish round 5 on six points apiece, with Szeged in fourth and Elverum in fifth. Vardar are hot on their heels on five points, while Zagreb and Meshkov Brest are trailing their opponents with a clear gap now above the two bottom-ranked sides. The Croatian team have one point, while Brest count zero. 
In group B, Kielce stand alone on top with eight points, but both Barça and Veszprém have the chance to join them with their round 5 games to be played on Thursday. Porto, the only other group B team on court today, finish round 5 with the same points as they entered due to their loss in Kielce, and have to hope Dinamo Bucuresti draw on Thursday so they can stay alone on four points.





Montpellier played a great match. It was amazing to be here in this great handball club with its atmosphere. Today we were in the match for the first 15 matches and after that Montpellier took the advantage. In the second half we managed to recover and went two up and after that nothing else worked. Their goalkeeper [Kevin Bonnefoi] played a great match.
Montpellier grab a big win to end day one of round 5 of the EHF Champions League Men. The French team move up to seven points with what is their third victory of the season, while Meshkov Brest are left waiting for their first points of 2021/22. 
Julien Bos absolutely unleashes in the second period and finishes with 11 goals to top score the match, while Kevin Bonnefoi tallies 15 saves. 
22:00
We are now inside the last 10 minutes, and with a save from Kevin Bonnefoi converted into a counter attack goal by Montpellier captain Yanis Lenne, the French team open a lead that looks unassailable at 26:20. 
Assuming they continue their control of the match and collect the two points, Montpellier are looking at jumping up the group A table to end the round among the frontrunners. 
21:50
It's all about Kevin Bonnefoi in this clash! With just under 20 minutes to go and the score at 20:17, the Montpellier keeper is still nursing a save rate of 40 per cent, having stopped 12 balls now. 
Given their attacking percentage of just 50 per cent, it's remarkable Brest are within reach of their hosts — but this match is far from won for the French team. 
21:31
During the opening half in Montpellier, Brest's sharpshooting wing Mikita Vailupau passed the 600-goal mark for Meshkov (in all competitions) when he took the score to 7:5. 
The 26-year-old right wing joined Meshkov in 2019, arriving from Minsk. He scored 51 goals in his first Champions League season, which included only the group phase as the play-offs and quarter-finals were cancelled in 2019/20 due to Covid-19. In 2020/21, Vailupau netted 93 Champions League goals for the side and was the top scorer of the competition up until the EHF FINAL4 2021.
He was also the second top scorer of the EHF EURO 2020, with 47 goals for Belarus. 
21:20
HALF-TIME UPDATE: MONTPELLIER VS MESHKOV BREST 14:12
The momentum swings towards the hosts in the final 10 minutes of the half, with Montpellier putting in a two-goal gap in time for the break. 
Montpellier goalkeeper Kevin Bonnefoi is still a key figure for the hosts, recording a rate of 41 per cent for the first 30 minutes, with nine saves. At the other end of the court, Brest's keeper Ivan Matskevich's statistics dropped as the half progressed, as the battle between the posts proves crucial in deciding the half-time result.  
21:07
As we hit the 20-minute mark in Montpellier, we're still enjoying an exciting match with the score level at 8:8. 
Brest saw a glimmer of hope to create a distance when they pulled away to 7:4 towards the end of the first quarter, but Montpellier have found their way back to equal footing with their visitors as the critical last part of the half begins. 
21:03
Don't forget to keep an eye on our social media channels to see all the best moments of tonight's matches! Check our the EHF Champions League pages here:
The first match reviews are also live now: Read how Aalborg took revenge against Vardar and Kielce extended their run of wins. 
20:55
10 minutes in and we have a far lower scoring match than any of the four previous, which all saw more than 10 goals scored in the same time. In Montpellier, the score is level at 3:3 and we can thank a huge show from the goalkeepers for that. 
On Montpellier's side, Kevin Bonnefoi has saved five shots at 56 per cent, while Ivan Matskevich has stopped two at 40 per cent for Brest. 
20:42
We are all set for throw-off in the last match of the day, Montpellier vs Meshkov Brest!
Brest are on the hunt for their first points of the season, as they are currently the only team in the competition yet to have gained any. It will be a tough task agaisnt Montpellier, whom Brest have only beaten once in four encounters. 
Montpellier come into the game on the back of some impressive results, including a big round 3 win against Kiel in the MOTW.
It was very tough game. Porto never give up and it's difficult to play against them. They play very physical and it takes a lot of energy to fight with them. We made a good game — I think 39 goals scored proves that. I'm just very happy. It's amazing to play in Hala Legionów when we have so much support.



















This was a mysterious match. We started very well, then we lost the control over the game when Kiel began to play seven-on-six. Than we started worse in the second half, but we came back. This was a very important point for us especially after our lost at home versus Elverum.

Those who say that our group is weaker than the other are wrong. Every match in this group is a war.
What a result in Kiel! After trailing from the 26th minute on, Szeged stage a big comeback, overcoming a deficit as clear as seven goals (25:18 in the 41st) to secure a draw with the last goal of the game courtesy of Mario Sostaric.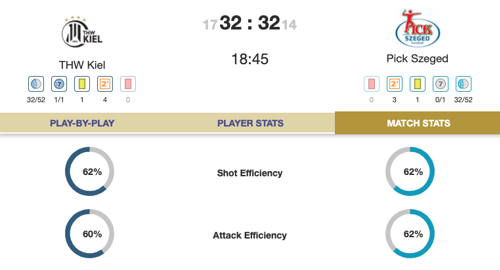 Elverum back up their impressive overthrow of Szeged last week in Hungary with an exciting win at home which earns the Norwegian side an important set of two points. Elverum pass Vardar and — at least temporarily — Montpellier with the result.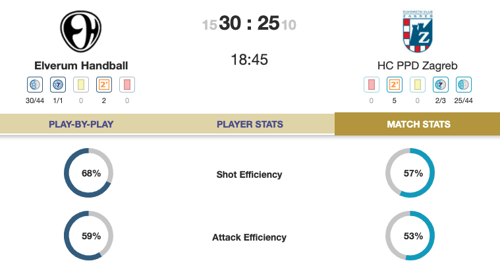 Aalborg hold off Vardar's comeback and clinch their fourth victory of the season, moving up to eight points on the group A table. 

Kielce keep the two points at home as they earn a clear win over Porto — the Polish team's fourth of the 2021/22 season. For Porto, it is the third loss in five games.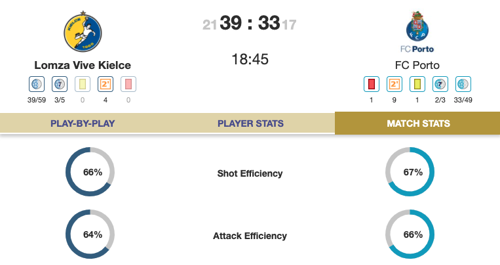 20:08
Kielce look set to move to the top of group B at the final whistle in Poland, as they retain a confident lead against Porto, 35:31, with six minutes on the clock. 
The win would be Kielce's sixth against Porto, who have only beaten the Polish side once before. Kielce have a game in hand compared to fellow group leaders Barça and Veszprém, who will both look to follow the Polish side up the ladder — so long as Kielce do finish up securing the win. 
In Aalborg, the 2020/21 finalists are fending off a strong late challenge from Vardar, who have netted three goals in a row to close the gap to 29:26 in the 54th minute. Kiel are also having to fight to hold on to their lead, with a narrow edge at 30:28 over Szeged in the 53rd. 
In Norway, Elverum look set to clinch the points, as they have the lead at 28:22 with five minutes to go. 
19:47
As the second half progresses in Poland, Germany, Norway and Denmark, all four home sides are looking on target for victories as they open clearer leads over their visitors. 
Kiel have the upper hand against Szeged at 23:17 in the 37th minute, while Aalborg have the same advantage over Vardar in the 38th. In the 41st minute in Kielce, the Polish team lead Porto 28:24. In the 37th minute in Norway, Zagreb have been left scoreless for several minutes while their hosts Elverum have pulled away to a commanding 20:13 advantage. 




















19:31
HALF-TIME UPDATE: ELVERUM VS ZAGREB 15:10
Zagreb's hopes of a first Champions League win in over 600 days seem to be crumbling, as Elverum turn a one-goal game in the 21st minute into a five-goal distance at the break in Norway. Should Elverum finish with the victory, it will be their first ever against Zagreb, following a win for the Croatian team in the 2019/20 season and draws in both 2019/20 and in round 3 this season.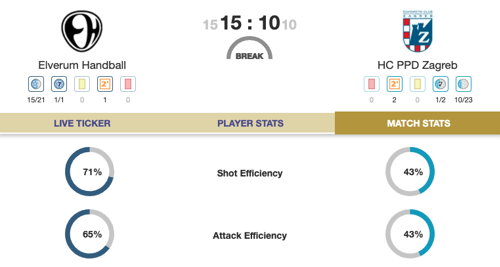 19:28
HALF-TIME UPDATE: THW KIEL VS PICK SZEGED 17:14
After such a promising start on the away court, Szeged find themselves trailing at the break. Kiel grabbed the upper hand for the first time at 14:13 in the 26th minute then allowed their visitors only one more goal up to half-time. Were these the decisive minutes or can Szeged turn this around?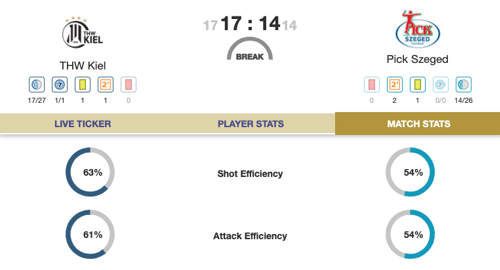 19:25
HALF-TIME UPDATE: AALBORG VS VARDAR 16:13
From 12:12 with three minutes to go, Aalborg put in a big effort to end the half strong and pull away from Vardar, creating a three-goal gap before the half-time break. 
Timur Dibirov is the clear hero for the Macedonian team, with a huge nine goals in the first 30 minutes.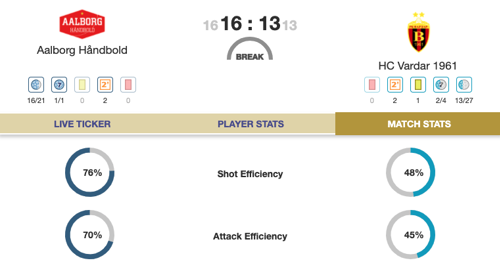 19:19
HALF-TIME UPDATE: KIELCE VS PORTO 21:17
Kielce go to the break with a cushion that could be comfortable enough to set them in good stead for the second period, but is far from a certain advantage. 
Porto can thank their goalkeeper Sebastian Frandsen for the fact they are still within reach, after he recorded nine saves — especially given that Kielce took far more shots than Porto during the first half, with the Portuguese side actually recording higher shooting and attacking percentages than their hosts.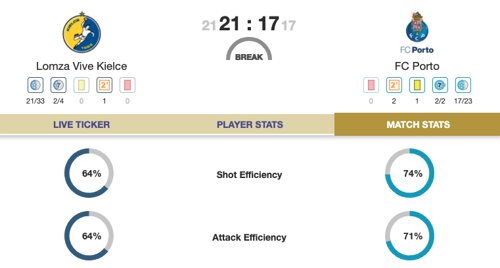 19:08
Four very close matches are unfolding, with Elverum just in front of Zagreb at 10:9 after 20 minutes, Aalborg and Vardar still equal at 11:11 after 22 minutes, and Kiel having fought back with a 5:1 run that has turned their clash against Szeged on its head with the German side now only one behind at 10:11 at the 20-minute mark. 
In Kielce, the Polish team are the only side to have enjoyed a mostly steady lead against their rivals, Porto, usually with an upper hand of one to three goals. After 22 minutes, it's 15:13 for Kielce. 
Aalborg's Jonas Samuelsson had said that he thought Vardar are a different team depending whether they play home or away. After the Danish team recorded their only loss in 2021/22 in Skopje in round 3, Samuelsson believed the chance would be there for Aalborg this time around — but Vardar are certainly holding their own in Denmark as well. 
18:55
As we hit the 10-minute mark in four arenas, we see a 7:5 lead for Szeged on Kiel's court, the score in Aalborg vs Vardar level at 7:7, a 7:6 advantage for Kielce against Porto, and Elverum also with a one-goal edge over Zagreb, at 5:4. 
Szeged are really proving they are here for this season with such a challenge in Germany, after conceding their first loss of the season to Elverum last round. If the Hungarian side can take the points here, it will be their fourth victory against Kiel overall, while the German powerhouse have taken seven wins from their 10 previous encounters. 
Szeged are still vying to reach the Champions League semi-finals for the first time, after looking close to that goal several times in recent years. Kiel of course won the title in 2019/20, after two trophies prior, in 2010 and 2012. 
"This will be a key match for the group phase. Against this strong team we will need the support of our fans to win two very important points," said Kiel coach Filip Jicha before the clash. 
This will be a key match for the group phase. Against this strong team we will need the support of our fans to win two very important points.















18:35
We are just 10 minutes away from throw off in round 5! Let's take a look at the points situations for the teams about to take the court. 
Aalborg and Kiel are both looking to remain on top of group A in their home clashes, as the Danish side host fifth-placed Vardar and Kiel welcome third-ranked Szeged. While Aalborg and Kiel both count six points after three wins, Szeged have won two games and drawn once for a points tally of five. Vardar may be ranked lower than Szeged, but they are level on points, with five. 
Montpellier, who will take the court later this evening against Meshkov are also on five points and sit in fourth position. 
We also see an important battle in Norway, where Zagreb are desperate to collect some points as they have only one so far and sit in seventh. Their hosts, Elverum, are on four points following two draws and a memorable in last week against Szeged. 
In group B, Kielce enter as joint group leaders with Barça and Veszprém, on six points. Porto are in fifth place but only two points behind their hosts, on four. 
18:05
Welcome to our live blog coverage of round 5 of the EHF Champions League Men 2021/22! We dive straight into the action tonight, with four matches getting the round started at 18:45 CEST:
Aalborg vs Vardar
Kielce vs Porto
Elverum vs Zagreb
THW Kiel vs Szeged
At 20:45 CEST, the first night of round 5 concludes with Montpellier vs Meshkov Brest. 
Get ready for the action to begin by reading our round preview below! Also check out our eurohandball.com features concerning some of the team's on court tonight, with the story of Kielce's Faruk Yusuf and the latest in the This is me series from Montpellier's Diego Simonet.