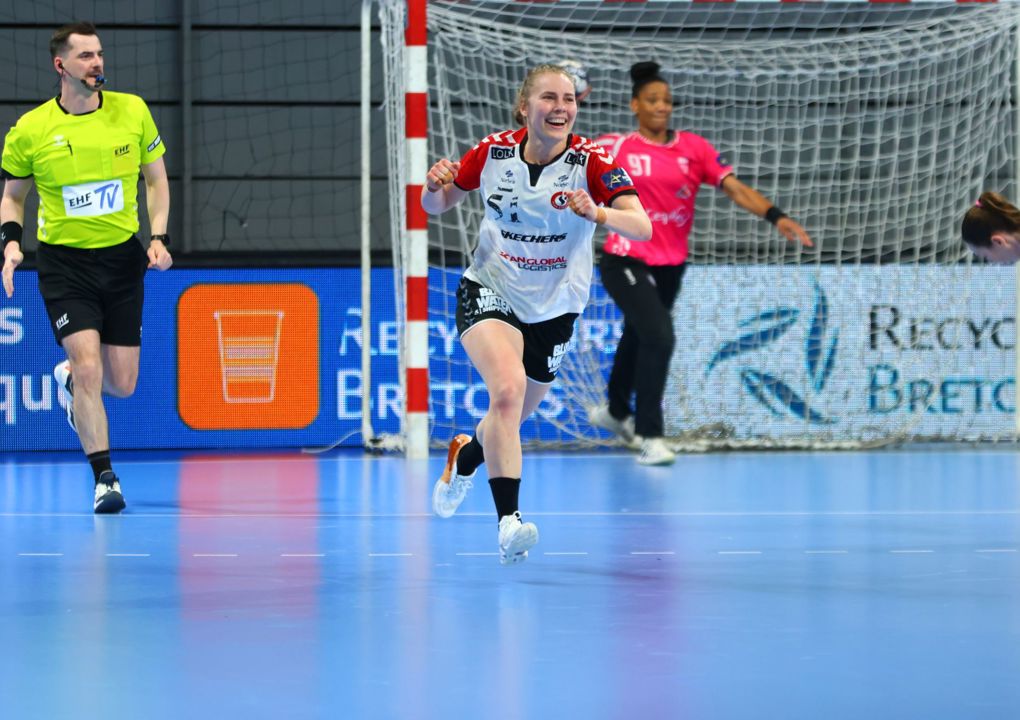 Summary: Krim triumph in MOTW; Esbjerg secure win in France
In the first leg of the EHF Champions League Women 2022/23 play-offs, FTC-Rail Cargo Hungaria, Odense Håndbold, Krim Mercator Ljubljana and Team Esbjerg secured victories that put them one step closer to reaching the quarter-finals.
on Saturday, FTC-Rail Cargo Hungaria beat Buducnost 28:24, and later on, Odense took a comfortable 30:22 road win against Storhamar
in a significant milestone, Adriana Cardoso scored Buducnost's 8,000th goal in the EHF Champions League
on Sunday, Krim mount impressive comeback to defeat Rapid 29:24; Anna Kristensen inspires Esbjerg to a 28:25 win over Brest in France 
all matches live on EHFTV (geo-restrictions may apply)
18:35
We leave you for this evening with post-match reaction from Helene Fauske and Jesper Jensen after the match between Brest Bretagne and Team Esbjerg. 
Don't forget that action from the EHF Champions League Women continues next Saturday when FTC-Rail Cargo Hungaria face Buducnost BEMAX (16:00 CET) and Odense host Storhamar (18:00 CET). 
We are very happy with the performance and the result. Coming to Brest and hoping for better than a three-goal win may seem unrealistic, so are delighted to be able to start the next match with a small advantage. But we also saw that Brest's tactics could cause us problems. We have the impression of having done good things, but we also have a lot of respect for Brest.
We had a good match, even if we weren't sharp enough at certain times of the match. We still have a chance. It will be difficult, but I believe in us. We just have to be smarter. They are powerful, but we are faster.
18:15
Enjoy a selection of the best photos from Sunday's EHF Champions League Women play-off matches. There are always more photos available to view in other articles on the website and on our social media channels.
















18:09
Esbjerg will know that they still have work to do next weekend when they host Brest Bretange in the Blue Water Dokken. But this evening they can celebrate claiming their first win against the French side in the EHF Champions League. 
In the four previous encounters before this afternoon's match, Brest Bretagne had won three times, with the other game ending in a 28:28 draw.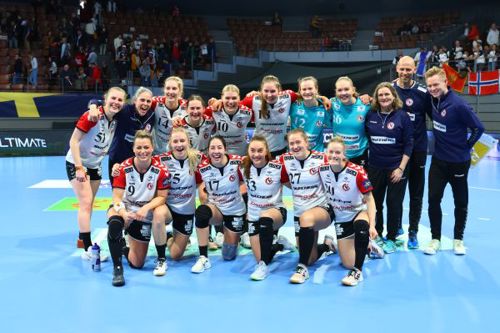 17:58
To find out more about how Anna Kristensen's performance ensured that Esbjerg were triumphant in France, click the link below to read Danijela Vekić's match review.
17:52
For the four teams involved in action today, the return fixtures will take place next Sunday. Esbjerg will have home advantage when they face Brest, while Krim will play in Romania as they look to defend their five-goal lead from the first leg.
Sunday 26 March (times in brackets)
Team Esbjerg vs Brest Bretagne Handball (14:00 CEST)
CS Rapid Bucuresti vs Krim Mercator Ljubljana (16:00 CEST)
17:45
Was this shot by Mette Tranborg the goal of the day? It was the type of shot that you would like to find out just how fast the ball was travelling. 
17:35
Esbjerg record a three-goal victory in France against Brest after eight goals from Henny Ella Reistad and 18 saves from Anna Kristensen. Although Julie Foggea made a healthy 14 saves at a 35 per cent efficiency for Brest, Anna Kristensen eclipsed her French rival and produced an outstanding match-winning performance.
Henny Ella Reistad (Esbjerg) and Helene Fauske (Brest) scored eight goals each to finish as joint-top scorers of the match. Interestingly, Reistad and Fauske both had 14 shots, but while Fauske dominated the first half for Brest, she only scored one goal from four attempts in the second period.
17:20
With Esbjerg leading 26:24 and Henny Ella Reistad serving a suspension, Anne Kristensen stops a penalty from Helene Fauske. Brest have the ball again in attack, and there is time remaining on Reistad's suspension, but Kristensen's save felt like a big moment in the context of the match.
17:15
Pablo Morel calls a timeout for Brest with his side trailing by two goals (22:24) with just under 12 minutes remaining. Esbjerg's slightly superior scoring efficiency has helped them gain the upper hand in the second half.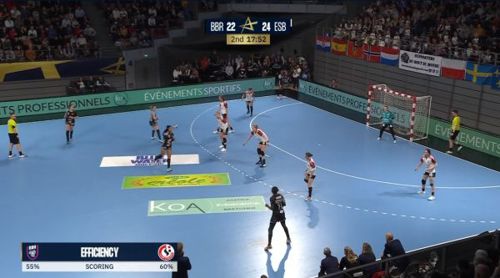 17:11
Helene Fauske hasn't yet added to her tally of goals from the first half. But the Norwegian left back's best strikes from the first 30 minutes are still worth checking out!
17:07
With Brest down a player due to Tatjana Brnovic's suspension, Beyza Irem Türkoglu has a chance to give Esbjerg a three-goal lead – but the Turkish left wing strikes the post. On the next attack, Coralie Lassource converts her chance at the other end to reduce Brest's deficit to one goal.

16:56
Any advantage in a key area of the game is useful in a match as tight as the one between Brest and Esbjerg. In the first half, Anna Kristensen made one more save than Julie Foggea, which gave the Danish goalkeeper a four per cent higher save efficiency. We'll see if either goalkeeper can make a potentially crucial contribution in the second half.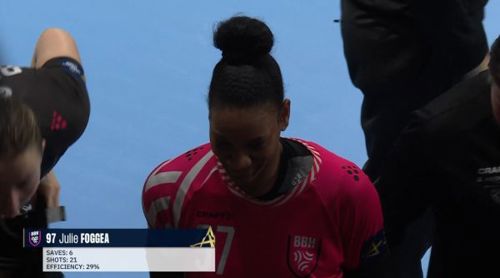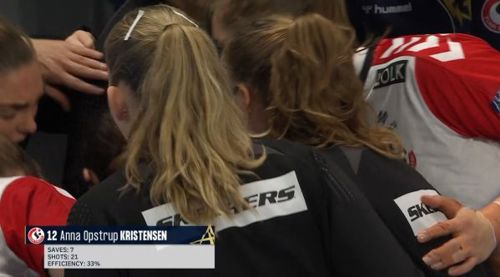 16:50
There is still time during half-time of Brest vs Esbjerg to read the review of Krim's triumph in Match of the Week against CS Rapid Bucuresti. Click on the link below to read Adrian Costeiu's review.
16:45
After a generally even first half in France, Brest Bretagne and Esbjerg are level at the break. Although Esbjerg took the first two-goal lead of the match in the ninth minute (3:5), Brest looked more likely to lead at the break when Helene Fauske scored her fifth goal to put the French side ahead 11:9 in the 22nd minute.
Fauske has scored seven goals in the first half for Brest, including two penalties, and her distribution in attack has also been useful. Henny Ella Reistad leads Esbjerg's scorers after scoring five times from nine attempts.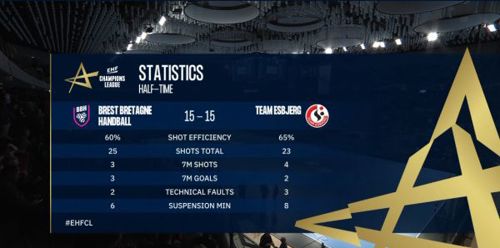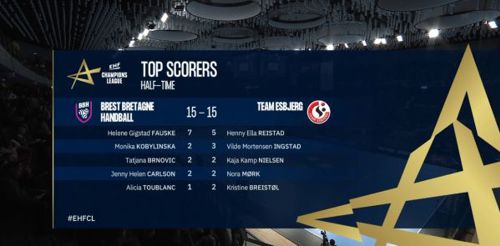 We had a lot of problems in the first 20 minutes, but I'm happy that we succeeded in the end. Five goals is not a big advantage, but they are still very important for our confidence before the second leg. We will have to be focused until the end in Bucharest if we want to progress in the EHF Champions League. I am very satisfied with the team and I believe that we can do a lot more.
They made the match difficult for us, especially after the first 20 minutes. We had a good first half, but then we did not find balance in our defence. We had a tough game in the end. It could have been worse than five goals, so we are going back to Bucharest with this result and it is still reachable. In our full arena, we will do anything that is in our power.
16:28
Esbjerg's core of Norwegian players are currently finding it tough to break through Brest's defence. Kristine Breistøl's connection with Vilde Mortensen Ingstad earlier in the half showed that the Danish side are not short of options in attack.
16:22
With six saves from 14 shots faced, Esbjerg goalkeeper Anna Kristensen has made an excellent start to this game. At the other end of the court, Julie Foggea has now stopped four shots from 12 faced after denying Nora Mørk's effort from the seven-metre line. 
16:08
With Krim's victory over Rapid, teams that played in group A this season are now three from three this weekend. If Brest beat Esbjerg in our final match of the weekend, the teams from group A will finish with a perfect record of four wins from four matches.

15:57
Daria Dmitrieva scored four goals from seven attempts for Krim against Rapid. Dmitrieva had a tough start to the match, making three technical faults in the first 20 minutes, but her three goals after the break helped take the game away from Rapid.
15:52
Our focus will soon turn to our final match from this weekend's play-off encounters: Brest Bretagne vs Team Esbjerg.
Ahead of the match, here are some thoughts from two players who might play a key role in determining the outcome.
Jenny Carlson, Brest Bretagne centre back: "It will be a match that is as fun as it is difficult to play, very physical, with great intensity. Esbjerg plays with a typical Scandinavian style, with a lot of intensity and runs. There will be 60 difficult minutes, but we have confidence in our defence. Both teams will want to go to the quarter-finals and we will be ready."
Kathrine Heindahl, Team Esbjerg line player: "It is one of our seasonal goals to advance as far in this tournament as possible, and we need a good result in the first match to set ourselves in a better position for the home match. We want to get to the EHF FINAL4 again, but Brest is going to be a tough opponent."
15:47
Unsurprisingly, and deservedly, Barbara Arenhart collected the award as Player of the Match in Match of the Week.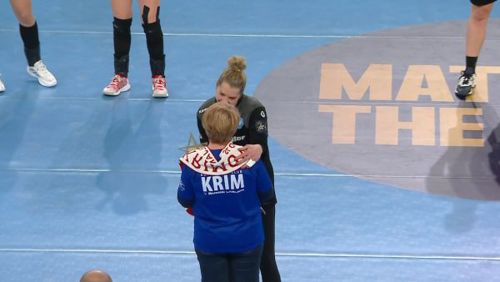 15:45
Similar to the first half, Rapid suffered a long period without scoring in the second half. Although the Romanian side will remain hopeful that they can turn this tie around in the second leg, they will need to find a more consistent output in attack if they are to do so.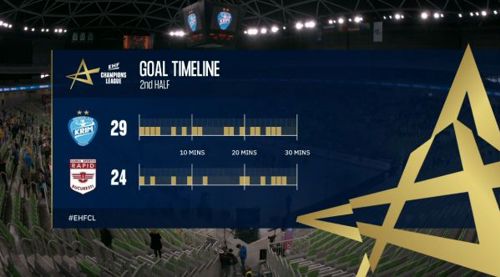 15:40
An inspired goalkeeping performance from Barbara Arenhart, who officially made 18 saves from 38 shots faced, helps Krim take a five-goal win at home in the first leg of their play-off tie against Rapid Bucuresti.
Before the match, Tjaša Stanko spoke about how Krim's defence needed to restrict Rapid's attack – and there were periods in the second half where the Slovenian side profited from the work of their defence.
Stanko, who enjoyed plenty of success breaking through Rapid's defence in the second half, scored eight goals to finish with the same number as Jovana Radicevic. For Rapid, Orlane Kanor netted five times in the match, but her last goal came in the 28th minute – and she missed six shots in the second half.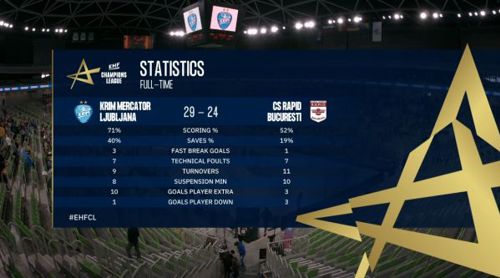 15:16
Kim Rasmussen calls a timeout for Rapid with Krim holding a four-goal advantage, 22:18, after 47 minutes.
"We need to create some space. Move the ball faster," Rasmussen says to his team during the timeout. 
15:11
Sorina Maria Grozav's effortless strike from nine metres restored Rapid Bucuresti's narrow in the first minute of the second half. Since then, the Romanian side have struggled in front of goal, with a flurry of missed shots, and Krim are ahead by two goals, 20:18, as we approach the midway point of the second half.
15:03
Since Nina Žabjek's suspension for Krim in the fifth minute, Rapid have had three players receive suspensions, while Krim have not had any more. When Krim have had an extra player, they have scored five goals.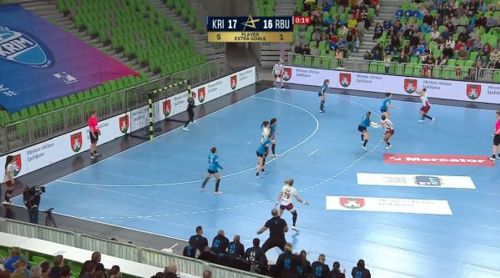 14:55
The battle between the posts may be hugely significant in the second half. Ivana Kapitanovic finished the first half with a save percentage of 33 per cent for Rapid, but Krim's Barbara Arenhart had an efficiency of almost 46 per cent after 30 minutes. Without Arenhart's stops early in the match, Krim might have found themselves a lot further behind than one goal.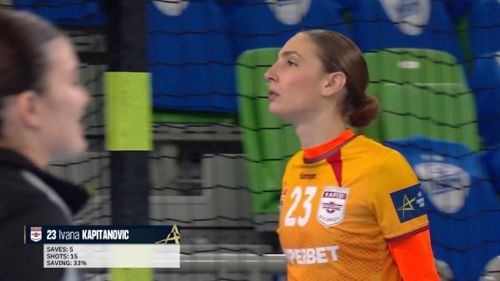 14:49
As you can see from the goal timeline for the first half, Krim only scored one goal in the opening 10 minutes. However, a 5:0 run for Krim – lasting from the 19th minute until the 26th minute – ensured that they equalised at 10:10 when Radicevic scored her third penalty of the game.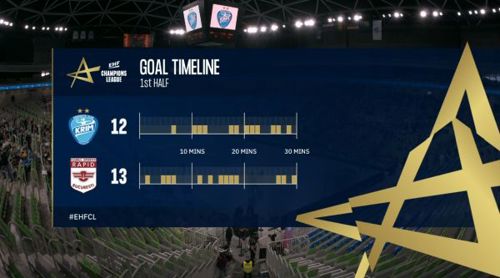 14:45
A half of two halves ends with Rapid Bucuresti holding a one-goal advantage over Krim in Ljubljana. While Krim ended the first half with higher scoring and save percentages, their slow start in the front of the goal is why they trailed by five goals after 18 minutes.
However, a goal drought for Rapid and a scoring burst from Jovanka Radicevic have ensured that they only trail by one goal at the break. Radicevic scored six goals from seven shots for Krim in the first half, while Orlane Kanor led the way for Rapid with five goals from eight attempts.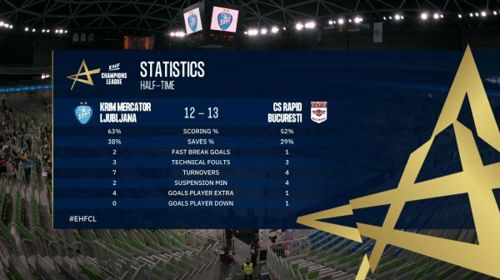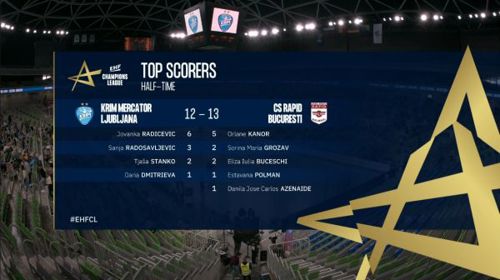 14:38
Orlane Kanor had a big impact on the opening stages of this match for Rapid. The French left back delivered with her trademark shots from the back court, but she also created scoring opportunities for her teammates.
As Krim are now firmly back in contention and have equalised three times since the 25th minute, Rapid may need even more from Kanor.
14:30
With Krim closing the gap to one goal, 9:10, after 23 minutes, Rapid Bucuresti coach Kim Rasmussen has called for his team to "speed up a bit" in attack. 
14:26
Jovanka Radicevic, Krim's top scorer this season, has scored both of her attempts in the match so far.
I think it's safe to say that Rapid weren't expecting Radicevic to breakthrough the middle of their defence here!
14:22
Rapid lead 8:4 as Krim call a timeout after 16 minutes in Match of the Week. There is a major statistical difference in the number of shots on goal that both teams have had. Rapid have had 16 shots on target, but Krim have had just seven. 
14:16
Rapid Bucuresti have made a pleasing start for their fans who have made the journey to Ljubljana.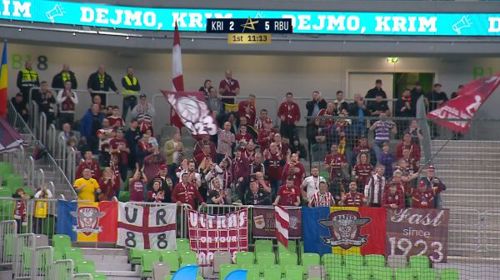 14:10
Despite Barbara Arenhart making four saves for Krim in the opening seven minutes, Rapid have taken a three-goal lead, 4:0. Orlane Kanor opened the Romanian side's account with two goals from open play, and Sorina Maria Grozav has subsequently two penalties for the away side. Kanor's influence on the game has included her drawing a foul from Nina Žabjek that resulted in a two-minute suspension for the Slovenian centre back.
14:02
Match of the Week between Krim and Rapid is under way in Slovenia!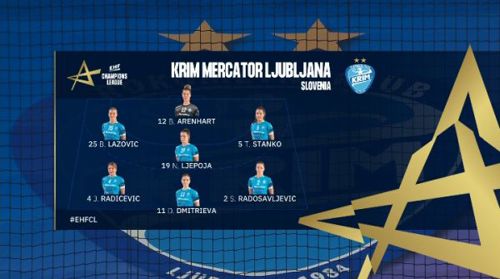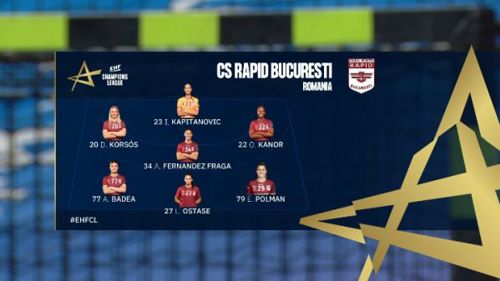 13:45
In the last two seasons at this stage of the competition, Krim have won the first leg of their tie on both occasions.
In 2021, Krim beat CSKA 25:20 – but ultimately failed to reach the quarter-finals after a six-goal loss in the second leg. However, in 2022, the Slovenian side advanced to the last eight after defeating FTC by seven goals in the first leg. 

13:36
While Rapid Bucuresti have a host of international stars in their squad, Romanian left back Eliza Buceschi is their top scorer in the EHF Champions League this season. Buceschi has scored 56 goals, five more than fellow Romanian back Sorina Maria Grozav and 14 more than French left back Orlane Kanor.
Buceschi is hopeful that Rapid will earn a result this afternoon that will put them in a good position to progress in the second leg. "I think Krim is a good team with experienced and valuable players in all positions. It will be a tough game, but I hope we play well and come back from Slovenia with a result that will give us hope for the return leg," said Buceschi on Thursday.
13:28
If recent form is a guide to this afternoon's Match of the Week, Krim have won five of their last 10 games in the EHF Champions League, while Rapid Bucuresti have been victorious in six of their last 10 encounters.
It is perhaps worth noting that Krim have earned four wins at home during this period, with their only loss coming against Odense in December. Rapid Bucuresti have suffered away losses to Metz, Esbjerg and Györ, but they certainly pushed Metz and Györ to the limit.
13:15
Good afternoon and welcome to Sunday's coverage on the live blog of the EHF Champions League Women play-offs.
Our first match this afternoon is the Match of the Week between Krim Mercator Ljubljana and CS Rapid Bucuresti. For Krim, who beat CSM Bucuresti 28:26 in the final round of the group phase, it is another huge challenge at home against a Romanian side who have proven that they are equipped to beat some of Europe's best teams. 
Speaking on Thursday, Krim's Tjaša Stanko highlighted that her side will need to stop Rapid Bucuresti's formidable attack.
"Rapid are a top team despite this being their first season in the Champions League. They are extremely offensive-minded, which is also indicated by the statistics with a high number of goals against all the best teams. I think defence will be key again. The fans have a very positive influence on us, so I invite everyone to come and support us," said Stanko.
SATURDAY, 18 MARCH 2023
20:23
We're slowly bringing our live-blog coverage for the day to an end. What turned out to be an exciting day today, will surely be followed by at least an equally exciting one tomorrow with Krim welcoming Rapid Bucuresti in the MOTW, and Brest Bretagne welcoming Esbjerg. 
Until tomorrow, keep on following our social media channels, and have a good night ahead! Live coverage continues tomorrow at 13.00 CET. 
20:11
Road wins for FTC and Odense today, which is why we're going to see what coaches of the both teams had to say following their team's first-leg wins. 
Gabor Elek, FTC-Rail Cargo Hungaria coach: 
We were well aware that it was going to be far from easy, and that we'll have to play our best handball throughout the full course of the match if we want to win it. The most important thing, in the end, are those two new points, especially looking back on all the problems we were dealing with in this last week. Obviously, we are now turning towards the second leg that will be played in Hungary. 
Ulrik Kirkely, Odense Handbold coach:

I am very satisfied both with the result and the performance. We had a lot of respect for Storhamar coming here because of their strong defense and strong counter-attacks, but in the second half, we managed to break free and get the easy goals.
20:03
As we're bringing the opening night of the first leg of the EHF Champions League Women Play-offs to a close, feel free to read everything you need to know about the two matches we've seen today in our match reviews. 
19:47
With the second leg scheduled in exactly a week in Denmark, Odense has managed to make a huge step toward securing the quarter-final berth. The final winner of the matchup will face off against Hungarian Gyor in the quarter-finals, and on the other hand - the winner of the matchup between Buducnost and FTC will meet Metz in the quarter-finals. 
19:41
With the second match of the day behind us, it is time we check some of the best photos coming from Norway!



19:30 FULL TIME
After failing to keep the gap open in the first, guests have managed to pull it off midway through the second, widening the gap, and basically sealing the deal in this one. Housheer led guests with five, while Vollebregt and Abbingh added four each. Martina Thorn finished the game with 17 saves. Kristin Venn, on the other side, netted seven for Storhamar. 
And here are the final stats of the day.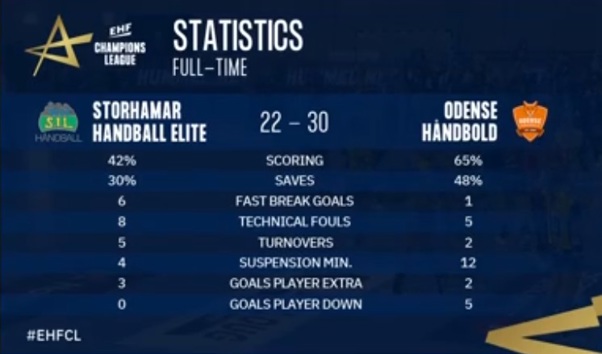 19:21
Kelly Vollebregt scores her fourth of the night, as Odense opens the gap to +10 with just over three minutes left on the clock in the first. Storhamar simply failed to keep the tempo running high until the final buzzer, and guests knew how to take advantage of it. 
19:10
It is +7 for Odense. Abingh and Housheer have scored four each while Martina Thorn has amazing 15 saves between the posts for guests, stopping just over 45% of shots heading her way. 
19:00
Kristin Venn finds a way to end the six-minute scoring drought for her team with only seconds left in the first! You've got to see it again.
WOW! 🚨Check out this half-time BUZZER BEATER by @storhamarelite's Kristin Venn! #ehfcl pic.twitter.com/6A571MyxGu

— EHF Champions League (@ehfcl) March 18, 2023
18:51
Olivia Lofqvist opens the scoring in the second as Storhamar keeps on narrowing the gap. 
18:40 HALF TIME
The hosts have managed to find a way to shake off the rusty start to the game and finish the first half with only a three-goal deficit. Kristin Venn is leading them with five goals, while Dione Housheer netted four for Odense. 
Half-time stats? Here for you - as always.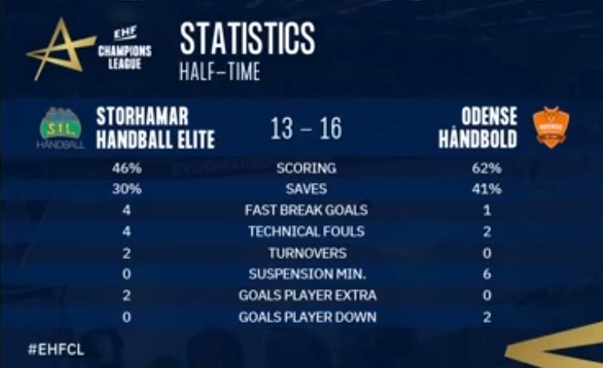 18:35
Seven saves for Martina Thorn, and four goals for Dione Housheer so far as Odense enters the final minute of the first with a four-goal advantage (12:16). In the final five minutes, both teams have managed to find a way to improve defensively with neither team managing to find the way through to the net all the way until the final second of the first when Kristin Venn netted her fifth of the night. 
18:28
Let's take a moment to get back to this goal scored by Lois Abbingh early in the first when guests were widening the gap.
Nicely worked! 🔥 @loisabbingh 🤜🤛 Kelly Vollebregt for Odense Håndbold.#ehfcl pic.twitter.com/RmONKJFPJn

— EHF Champions League (@ehfcl) March 18, 2023
18:23
With Kristin Venn leading the comeback, Storhamar has managed to narrow the gap to only two goals (10:12) heading into the final ten minutes of the first. Four goals for Venn so far in this one.  
18:13
Ten minutes into the encounter, the hosts have managed to find a way to stop Odense from widening the gap further, however, the goal difference is still +5 in favor of the guests (3:8). 
18:08
What a start to the match in Norway! Odense is leading 5:0 with Lois Abbingh and Rikke Iversen scoring two each. Rough way to start the day for the hosts. 
17:57
With the match from Norway coming up in a matter of minutes, take a quick look at the EHF Champions League Women knock-out stage bracket! The winner of the duel between Buducnost and FTC will meet Metz in the quarter-finals, and the winner of the Play-off encounter between Storhamar and Odense will face off versus Gyor in the next knock-out round.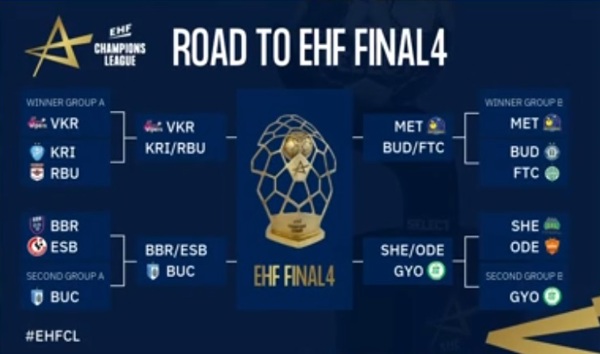 17:53
With the first game of the day in the books, we don't have much time to waste as the game in Norway, between Storhamar and Odense starts at 18.00 CET. Playing the first game on the road, Odense will be looking to secure their second quarter-final berth in only three seasons. It, however, surely won't be easy facing one of the best-balanced offenses, as the Danish team has four back players that have already scored 50 goals this season.
17:48
With the second match of the day coming up in under ten minutes, it's time to have a quick look at some of the best photos from Podgorica!





17:30 FULL TIME
A four-goal win for the guests from Hungary at the end in Podgorica. Antje Angela Malestein delivered for her team scoring seven goals, while Alicia Stolle added five. Milena Raicevic, on the other side, finished the game with nine goals, while Ivona Pavicevic netted five. Incredible 16 saves for Attingre on one side, and 11 for Blanka Biro on the other. 
A final look at the stats. 
17:28
Buducnost has managed to find a way to tighten up the defense closing the gap to only two goals with just over a minute to go. Armelle Attingre is having an incredible day so far with 16 saves. 
17:20
With the game entering its final minutes, let's take a minute to remember this beautiful goal scored by Ivona Pavicevic in the first. 
And another textbook spin shot from @ZrkBuducnost's Ivona Pavicevic! 🔥💪 #ehfcl pic.twitter.com/1cAcxiCNdD

— EHF Champions League (@ehfcl) March 18, 2023
17:16
Five-goal lead for the guests from Hungary with just over ten minutes left until the final buzzer. It could have been six, but Attingre came up with an incredible counter-attack saves to stop the guests from widening the gap. 
17:05
What a moment in Podgorica! Adriana Cardoso de Castro scores her first goal of the day - historic goal No. 8,000 all-time for the team from Podgorica. FTC still in front (19:23). 
17:02
Three-goal lead for FTC with almost ten minutes on the clock in the second. Buducnost needs only one more goal to reach the 8,000-goal milestone. The result is 17:20. 
16:55
Andrea Lekic opens the scoring in the second half from the seven-meter line, as FTC widens the gap to three goals. 
16:45
With the first 30 minutes of the encounter in the books, Buducnost needs only five more goals to reach the 8,000 goals in the EHF Champions League Women. That would make the Montenegrin team the only one to do so, and judging by the first half, there is a great probability we'll see their 8,000th goal in the competition. 
16:40 HALF TIME
Matea Pletikosic scores her third goal of the day with the buzzer, helping Buducnost narrow the gap to only -2 heading into the half-time break. Alicia Stolle is leading the guests from Hungary offensively with five goals from just as many attempts. Antje Angela Malenstein has five as well, while Milena Raicevic, and Ivona Pavicevic netted four each for the Montenegrin hosts. 
A quick look into the half-time stats!

16:30
Alicia Stolle is playing one of her best games of the season in the first leg of the EHF Champions League Women Play-offs scoring five goals from just as many attempts so far, with FTC leading 11:13 going into the final five minutes of the first half. 
16:25
Armelle Attingre opens her debut in 'Moraca' sports hall in style with this save. With ten minutes left until the half-time buzzer, guests from Hungary are 10:12 in front. 
Great save by @ZrkBuducnost's Armelle Attingré in this close match. 💥 pic.twitter.com/1VwuiNVtMY

— EHF Champions League (@ehfcl) March 18, 2023
16:19
Just over 15 minutes into the encounter Alicia Stolle scores her third of the day to put FTC two goals ahead at 9:11. 
16:10
Almost ten minutes into the game, guests from Hungary are 4:5 up in Podgorica. Antje Angela Malenstein leads the way for the guests with three goals from just as much attempts, while Matea Pletikosic, and Milena Raicevic have two each for Buducnost.  
15:55
Five more minutes left until the beginning of the game and teams are ready on the court in 'Moraca' sports hall in Podgorica!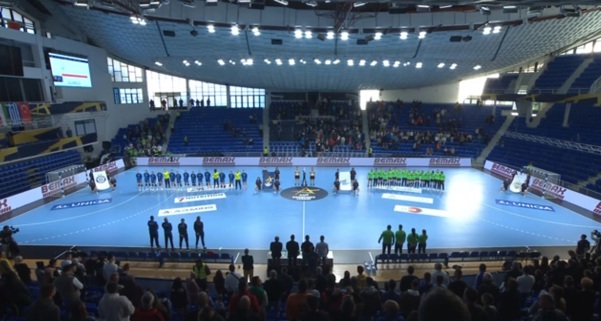 15:40
Only ten minutes left to go until the beginning of the opening ceremony in Podgorica, Montenegro!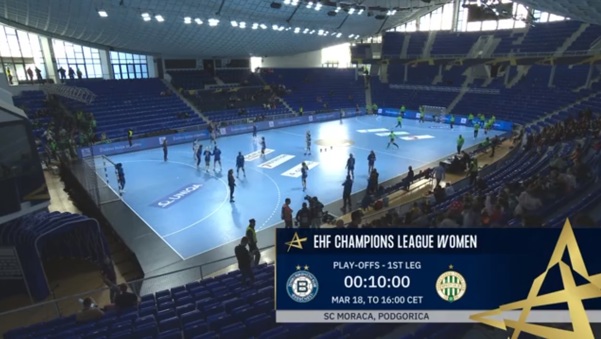 15:32
As we're waiting for the opening encounter of the two-game matchday, we're bringing you the top 10 assists from the group-stage part of the season that is now behind us. 
Several months have passed and here we bring you the 𝗧𝗢𝗣 10 𝗯𝗲𝘀𝘁 assists so far this season! The #ehfcl Women is synonymous with pure spectacle! 🔝🔥

Tell us ✍️👇 which one is your favourite! pic.twitter.com/NjGvXyds6W

— EHF Champions League (@ehfcl) March 17, 2023
15:21
The match in Podgorica is also special for another thing, as Buducnost has a chance to become the first team to break the 8,000-goal milestone in the EHF Champions League Women. Hosts need only 18 more goals to reach the milestone. 
15:14
The opening game of the four-game weekend will not special for Buducnost goalkeeper Armelle Attingre just because of the importance the home game holds, but also for the fact it will be her official debut in the widely-known and famous 'Moraca' sports hall. 
I expect this to be a tough encounter as FTC really has quality players. We don't want to create any additional pressure by thinking about how big of a win we need in order to be somewhat safe in Hungary. We simply have to deliver our absolute best against the team which can be compared to Gyor, in my opinion – Gyor that we've already played against this season. This will be my debut in the famous 'Moraca' sports hall, and I have to say I'm really happy about it.
15:05
Hello everyone, and welcome to the live-blog coverage of the first leg of the EHF Champions League Women Play-offs. We've got two exciting matches coming up today, with two more - including the MOTW in Ljubljana, scheduled for tomorrow!

To get you started and informed for the day, we're bringing you the round preview, as well as five talking points going into the Play-offs, so feel free to check it out!