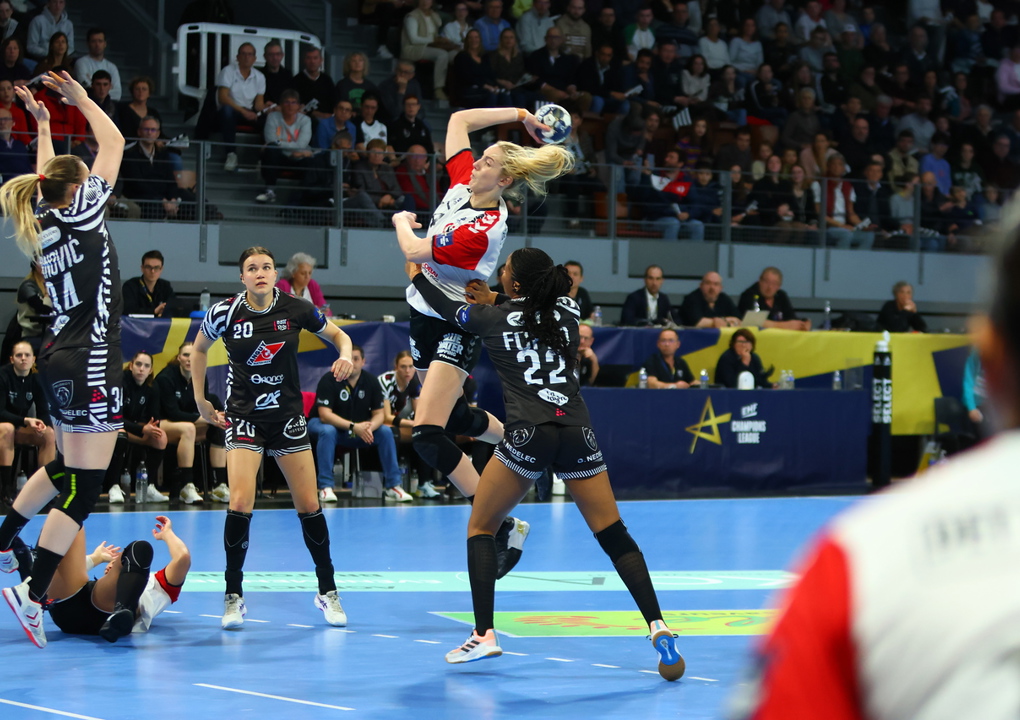 Kristensen lifts Esbjerg to a win
Team Esbjerg managed to secure a win in the first leg of the play-offs after an almost even match throughout. With dominating defences and goalkeepers, the pressure was on the attacking forces, and Brest had more problems in the last ten minutes of the match.
PLAY-OFFS, FIRST LEG
Brest Bretagne Handball (FRA) vs vs Team Esbjerg (DEN) 25:28 (15:15)
Esbjerg were the first ones to take the lead, boosted by the six saves of Anna Kristensen; by the end of the match she was at 18 saves
Brest took over for the first time midway through the first half as Helene Fauske paved the way; she also scored half of her team's goals in the first half but only one in the second part
in the fast-paced start of the second half Esbjerg were up by only two as Julie Foggea was keeping her team in the close contest with 12 saves in 43 minutes, challenging Kristensen on the other side
after coming to within one goal (23:24) ten minutes before the final buzzer, Mette Tranborg and Kristine Breistøl shone for Esbjerg as they took the best from Kristensen's saves
Esbjerg had only 11 field players, alongside two goalkeepers, and eight of those players scored at least once in the match
Metz Handball lie in wait in the quarter-finals for the winning side
The spine
The goalkeeper, line player and centre back are often called the spine of the handball team. Which was exactly what we saw for Esbjerg in the first match of the play-offs against Brest Bretagne. Anne Kristensen had an incredible day at the office, saving 18 shots at 43% save efficiency, securing her team's win. Choosing a better goalscoring or defensive display between Vilde Ingstad or Henny Ella Reistad is hard but both line player and centre back netted six and eight goals respectively for their side's 28:25 victory.
We are very happy with the performance and the result. Coming to Brest and hoping better than a 3-goal win may seem unrealistic so are delighted to be able to start the next match with a small advantage. But we also saw that Brest's tactics could cause us problems.