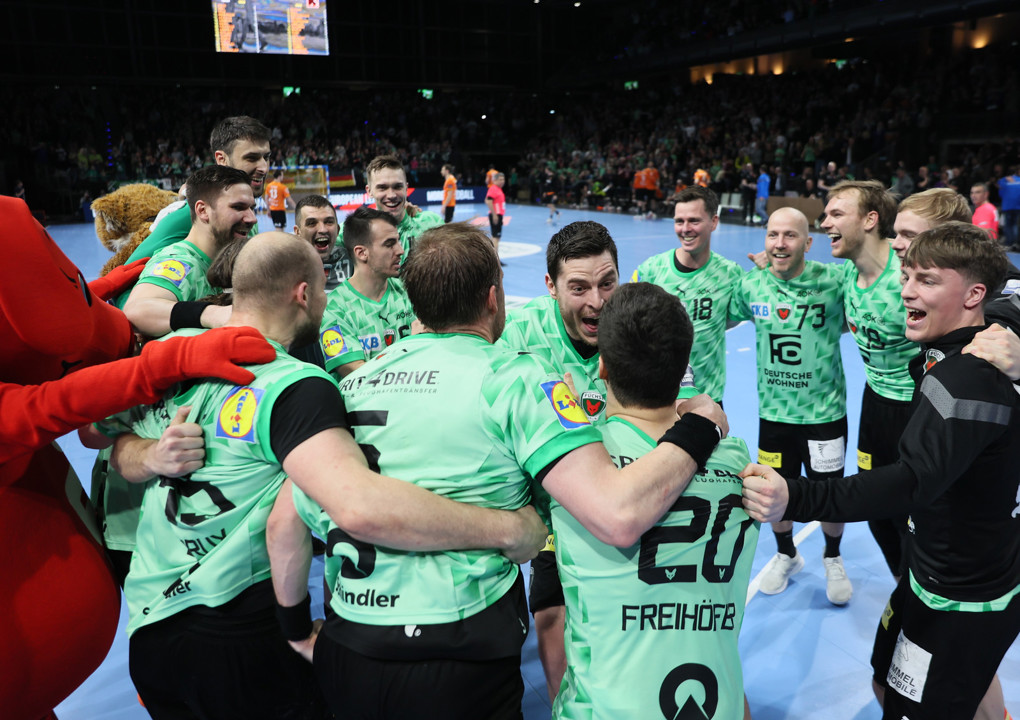 SUMMARY: Eve of EHF Finals Men 2023 start; semi-finals await
The EHF European League Men 2022/23 title will be deciding over two thrilling days in Flensburg on 27 and 28 May, with the semi-finals taking place on Saturday and the finals on Sunday. On Friday, the teams underwent their final preparations. 
EHF European League Men 2022/23 finals taking place in Flensburg on Saturday 27 May (semi-finals) and Sunday 28 May (final and 3/4 placement match)
semi-finals on Saturday: Montpellier HB vs Füchse Berlin at 15:30 CEST; Fraikin BM. Granollers vs Frisch Auf Göppingen at 18:00 CEST
see where to follow all the action here. All matches streamed live on EHFTV (geo-blocking restrictions apply)
teams participated in media calls on Friday afternoon. Keep up with all the news and features on the EHF Finals Men here
Courtney Gahan reported live from Flensburg. Friday photos by Ingrid Anderson-Jensen
20:26
After a day of looking ahead to what's coming and media calls, we come to the end of today's live blog coverage — and just one sleep remains until it's semi-finals day in the EHF European League Men 2022/23. 
This is what we have to look forward to tomorrow: 
Semi-final: Montpellier HB vs Füchse Berlin 15:30 CEST
Semi-final: Fraikin BM. Granollers vs Frisch Auf Göppingen 18:00 CEST
I leave you with a special story on three experienced stars at the EHF Finals Men 2023: Hans Lindberg, Tim Kneule and Antonio Garcia Robledo. All three have the chance to make some special history this weekend, adding to their impressive trophy cabinets. 
See you tomorrow for the big day!
19:15
By this time tomorrow we will almost know our finalists, with one semi-final to have concluded by then and the second to be close to the final buzzer. 
So who do the teams — or at least, the players who attended the media calls and their coaches — find to be the favourites? 
From most, we heard a consensus: the chance is 25 per cent for each semi-finalist to lift the trophy, and the semi-finals are open with equal chances on both sides. Mostly. 
Göppingen wing Marcel Schiller did not shy away from the role of favourites for his side, although he does not mean the contest against Granollers will be easy — far from it. 
"Granoillers eliminated Flensburg in the quarter-final. I do not know if this would happen again — this was something special. So I am sure we are the favourites in this semi-final and we take this role," said the wing. "The main key will be the defence, like in all European League matches. And we have to avoid easy mistakes in attack, as Granollers play with full speed and punish you immediately."
His coach Markus Baur took a different view though: "Rating the squads and the individual players, we have a deeper bench and some more international experience. This could make us the favourite, but due to the completely different playing system, it is a 50:50 match. For Granollers it is easier to adapt to our playing system as it is for us with their system. Both are eager to make it to the final, so we will see."
In short, pretty much everyone agrees the race to the top of the podium is a level one — which means we can expect no shortage of excitement over the coming days, so you don't want to miss a minute. Check out where you can watch below.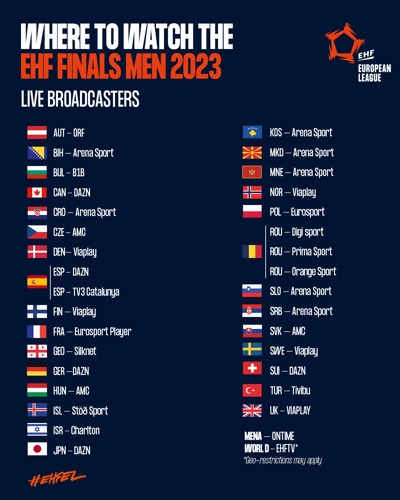 17:59
A great afternoon with the semi-finalists and plenty of great quotes to go along with it. 
Friday on the live blog has become a little 'Antonia Garcia Robledo' themed, as he's been mentioned a couple of times. But he has played an outstanding season individually and his story is a special one. It's one of his quotes that is my personal favourite from the afternoon. 
The 39-year-old has played for clubs in five different countries and worn the jersey of many teams, but it all started with Granollers, and now he has the chance to take a title with them. This comes after a great comeback to the Spain national team, to which he returned following a break of several years, to take Olympic bronze at Tokyo 2020 and EHF EURO silver in 2022. 
Read his words on what this season and the EHF Finals Men 2023 mean to him below. 
I needed to get 39 years to play my best season of the past years, maybe of my whole career. I can fight for a title with my home club, where I played when I was a young player and for which my heart beats. I am full of confidence for this weekend.

















Rating the squads and the individual players, we have a deeper bench and some more international experience. This could make us the favourite, but due to the completely different playing system, it is a 50:50 match. For Granollers it is easier to adapt to our playing system as it is for us with their system. Both are eager to make it to the final, so we will see.
17:21
The media calls are almost wrapped up, with Frisch Auf Göppingen now finishing up their interviews. Players Josip Sarac, Marcel Schiller and Tim Kneule were in attendance along with coach Markus Baur. 
Baur took over the job as coach mid-season, and is the only one of the four coaches of the semi-finalists to have topped a podium as a player. Playing for Germany, he was world champion in 2007 and also won the EHF EURO 2004, plus he collected three silver medals — one in each major national team competition: the World Championship, the EHF EURO and the Olympic Games. 
With the media calls now done, the teams turn their full focus to their final preparations for the semi-finals. 
We take it step by step and the first step is Montpellier. We'll throw everything in to get the victory tomorrow.

Our group this year was not easy, but we played really well in the group and then there came some difficulties in the quarter-finals against Kadetten. I think it was good for us as a team that we managed to fight through these difficulties, losing the first leg in Kadetten and then winning the match at home. I think it was good that we struggled a little bit before the final four because this is for sure not going to be easy.
16:31
The semi-finalists keep rolling in for their media call duty, with Fabian Wiede, Hans Lindberg and Jacob Holm now on deck for Füchse Berlin, along with coach Jaron Siewert. 
Meanwhile, we have a sneak peak at Montpellier's Friday training session below. 






We played a strong international season, having in mind that we faced top teams already in the group stage, like Göppingen, Schaffhausen and Benfica. And then we profited in the knockout stage, that we had been tested that hard. Now I hope we are ready to play for the trophy. Two years ago, Berlin beat us in the quarter-finals. Now both sides are back on this level. This shows that we belong to the top of Europe.
16:13
Next at the media call was Fraikin BM. Granollers, represented by Marc Guardia, Yusuf Faruk and Antonio Garcia Robledo and coach Antonio Rama Garcia. 
At 19-years-old, Faruk is one of the youngest players on court at the EHF Finals Men — and is the first from his country, Nigeria, to reach this stage of the European cup competition. About this milestone, he said: 
"It's really amazing, being the first person to play in Europe, to be representing Nigeria and this handball family, I'm really happy and I'm so proud."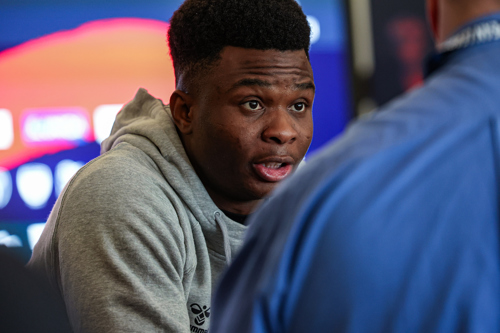 15:50
Montpellier have had their turn talking to media ahead of their semi-final clash with Füchse Berlin, with Valentin Porte, Rémi Desbonnet and Yanis Lenne taking part along with coach Patrice Canayer. 
Canayer is one of the longest-serving club coaches around, and is approaching his 30-year anniversary with Montpellier, having taken the helm in 1994. Since then he led Montpellier to two EHF Champions League titles, and the final of the former iteration of the European League, the EHF Cup, not to mention numerous trophies in French competitions. 
He looks pretty happy today — can he lead Montpellier to history at the EHF Finals Men? No French team has raised this trophy before, whether in the current format or the previous second-tier competitions.  
14:47
Let's take a look at an individual contest in the EHF European League Men 2022/23: the race for the season's top scorer title.
It looks as though the crown may already be decided, as the top player still in the competition, who will play the semi-finals and finals this weekend, is Granollers' Antonio Garcia. Garcia has scored 81 goals in Granollers' campaign and sits sixth on the overall ranking of the season. The leader is Kadetten's Odinn Thor Rikhardsson, who has netted 110 times — so Garcia would have to score 29 goals to pass him. 
But even if though that looks impossible, Garcia will surely treasure many of those 81 goals he has scored this season, given the crucial role they played for Granollers' to reach this point. 
Below, check out one of the most memorable — a post-buzzer nine metre throw that helped set Granollers on the path to the EHF Finals Men 2023 in the first-leg quarter-final against Flensburg.

All teams which made it to Flensburg have the same chance to win. You need two top performances within 24 hours in the final tournament format. It is all about the current form on that specific weekend. And there is no favourite and no underdog in this stage of the European League anymore.

The level of competition is rising year by year. Just look at Granollers, they played amazingly against Flensburg, and now they have the same chances to win the trophy as we have. Both German teams did not play that well in Bundesliga in the last weeks, and we missed the chance to stay on top of the league with some weak results. And now four teams have it in their hands to make the season a perfect one, with just 120 minutes of handball in their way.
14:08
The teams will soon be taking their turns in Flens Arena for the media calls, after which we will be bringing you plenty of thoughts about the upcoming matches straight from the players and coaches themselves. 
Now it will be all about focus and tunnel vision, zeroing in on the semi-finals with dreams of the trophy. 
In the more relaxed preceding days, we spoke with a few stars of the EHF Finals Men 2023 and there is lots of entertaining reading material to enjoy. Below, have a read of our features with Montpellier's Rémi Desbonnet and Göppingen's Blaz Blagotinsek, as well as 2023 World Championship and Tokyo 2020 MVP Mathias Gidsel. 
13:58
So who are the favourites at the EHF Finals Men 2023? Our journalist for this weekend in Flensburg, Björn Pazen, has examined the semi-finalists closely. Check out his analysis below. 
11:56
The male nominees for the EHF Excellence Awards were recently announced, and several players who will battle for the trophy at the EHF Finals Men 2023 are featured. While they are vying for the EHF Excellent Awards alongside EHF Champions League players, the EHF European League players have given us plenty of reason to consider them as big contenders. 
Who can forget Antonio Garcia's huge role in Granollers' reaching this stage? And how many players can match Mathias Gidsel or Diego Simonet when it comes to carving up the defence? 

Check out the male nominees for the first edition of the EHF Excellence Awards here. 
11:28
Time for a test — a fun one though. Our quiz below will test all your knowledge of the EHF Finals Men 2023, the EHF European League and the history of the second-tier competition including its former iterations.
10:50
Good morning and welcome to the first day of the EHF Finals Men 2023! 
With the big matches to decide the EHF European League 2022/23 title ahead on Saturday and Sunday, Friday is the last day of preparation for the semi-finalists: Füchse Berlin, Montpellier HB, Fraikin BM. Granollers and Frisch Auf Göppingen. 
On Friday, the teams are continuing to arrive in Flensburg, before participating in media calls later in the afternoon, and of course attending to the usual like training and match prep. 
Let's get you started with some vital information about the weekend. Below, check out where you can follow and watch all the action as the 2022/23 trophy is decided.