Summary: FTC to first EHF FINAL4 final; Vipers target three-peat
It is finally time to decide the trophy in the EHF Champions League Women 2022/23. Two games in the 2022/23 season remain, and by Sunday night, the champions will be crowned. The semi-finals saw Vipers beat Györ and FTC defeat Esbjerg, setting up the final between Vipers and FTC. 
21:03
A huge day in Budapest, with the finalists of the EHF Champions League 2022/23 decided and a world attendance record broken. 
We come to the end of our live blog coverage for the day, but we are only halfway there — tomorrow brings the finals, as the top four teams will finalise their places on the season's ranking. 
The full schedule for the day:
18:00 CEST final: Vipers vs FTC
15:15 CEST 3/4 placement match: Györ vs Esbjerg
I leave you with one last clip, capturing the magical moment for FTC and their fans in MVM Dome. Goodnight, and see you tomorrow!
21:01
It was a superb and memorable win for gritty FTC as they reached the final of the EHF FINAL4 for the first time. Check out the highlights of their clash with Team Esbjerg. 
20:13
Vipers vs FTC. 
History made on two sides — the Norwegian team have the chance to make it a three-peat and replicate an achievement only recorded by Györ at the EHF FINAL4, while FTC will play the trophy game on their debut at the EHF FINAL4. 
Recap how the two sides reached the ultimate match of the season in our reviews below. Also, read all about the new world record set in Budapest tonight. 
This was teamwork, with capital letters, and as always our fans were part of the success. Even when we trailed by five, we did not stop and our willpower never let us down. Just being here gave us an extra power boost and we did not have any pressure.


























I am very happy for Gabor and FTC, but we are disappointed for our loss. We missed too many chances in the second half — maybe we suffered a bit with the pressure of the arena in the last minutes. To win here, you need two very good halves and we did simply not manage to do that.
The goal of Emily Bölk's life — FTC left back Emily Bölk overcomes the odds as she shoots past from outside and lands a perfect bounce shot to secure the victory for the Hungarian side right before the buzzer. 
50 seconds to go as Esbjerg back Henny Reistad levels the game. FTC move into attack while Esbjerg favour 5-1 defence with Sanna Solberg shallow in front. 
FTC coach Gabor Elek calls a timeout and we are about to either find the next finalists, or see the game go into extra time... 
Four minutes to the final whistle. Esbjerg have not scored for five minutes, while FTC have netted the last three goals to go from 25:26 behind to a two-goal advantage at a critical point in the game. 
FTC take the lead for the first time since the 10th minute, with six minutes to go in the second semi-final. It is right back Katrin Klujber's fourth goal that does it, as she adds her part to what is a great show between the backs. 
FTC's back court have contributed 19 of their goals, while Esbjerg's are responsible for 18 of theirs. FTC wing Angela Malestein remains the top scorer for her side, with seven goals, while Nora Mørk has scored the same for Esbjerg — and not missed once. 
A little over 10 minutes remain as FTC coach Gabor Elek calls a timeout — and we hear a special announcement in MVM Dome: This semi-finals day is officially a new world record for attendance in women's handball, with 20,022 spectators! 
Two great games, a great atmosphere and a day full of records — what could be better? 



11 minutes to the buzzer and it's now a one-for-one game with Esbjerg just holding the edge, always scoring first and leaving FTC to equalise — which they do. 
It's a fiery atmosphere in MVM Dome as the game reaches crunchtime, with seven two-minute suspensions and four penalties awarded this half. 
FTC draw level as the match top scorer Angela Malestein nets her seventh goal — and the atmosphere in MVM Dome is really heading up as we head towards the final 15 minutes of the second semi-final. 
The entry of Kinga Janurik has been an important change for FTC, as she sits on a save rate of 42 per cent after stopping three from seven shots faced. 
Six minutes into the second half, Esbjerg are just holding off a comeback from FTC, who have reduced the gap to two twice so far. FTC have changed their goalkeeper from Blanka Bíró to Kinga Janurik after Bíró's saves dropped off towards the end of the first period. 
The top scorer of the EHF Champions League season, Henny Reistad, has yet to add to her tally this half, following her five goals in the first period. If Reistad can score another five goals in this period, she will become the all-time top scorer of the EHF FINAL4. She has already passed Eduarda Amorim to sneak into fifth position on this standing — another five will take her past more legends: Isabelle Gullden, Cristina Neagu, Anita Görbicz and Nycke Groot. 

Allowing FTC no goals in the last few minutes of the half, Esbjerg score the last of the period to open a four-goal distance just in time for the break. 
Three minutes until half-time and Esbjerg open a three-goal gap as Vilde Ingstad Mortensen nets her fifth. FTC must find a way to stop her and close off the chances to feed into her, as Nora Mørk in particular is having a field day finding the line player over and over. 
At the other end of the court, FTC continue to find the most joy on the right wing, where Angela Malestein also counts five goals so far. The backs are doing a superb job to create the gaps that give her the chances. 
Inside the last 10 minutes of the half now and Esbjerg are holding steady in front but cannot create a bigger difference against the solid defence from FTC. The Danish side are relying mainly on their Norwegian contingent, with Henny Reistad, Vilde Instad Mortensen, Nora Mørk and Kristine Breistøl combining for 10 of their goals, plus three assists from Mørk. 
We head into the second half of the first period with Esbjerg having opened a steady one- to two-goal gap. Neither coach has called a timeout yet, as their teams play a settled game and no dangerous difference has been created. 
Plenty of action on the right side of the court from FTC, as Angela Malestein is so far the top scorer of the game, with three goals from her position on the wing. Speaking of the right side, Esbjerg started with right back Nora Mørk off court but the top scorer of the EHF EURO 2022 entered after the opening minutes and has helped her side grab the edge. 
It's looking to be a different game in every way — this match is all about defence and goalkeepers so far, with goalkeeper Blanka Bíró standing out early, with two saves off three shots faced for FTC. That puts her save rate at 66 per cent in this early stage.
The big question of whether FTC would find the crowd overwhelming or an asset seems to have been answered already, as nerves are nowhere to be seen so far — although it is early days and the gap is just one, the Hungarian team have enjoyed a somewhat stronger opening.  
Two minutes played in the second semi-final and it doesn't look set to follow the first in terms of tempo or goals scored, with no team on the score board yet. 
17:59
FTC and Esbjerg have been introduced and throw-off in the second semi-final is imminent. What a crowd FTC have behind them — and Esbjerg have to contend with. 
17:49
The second semi-final is just minutes away. Before we get into it and find out who Vipers' final opponents will be, check out the highlights of the match. 
17:42
18 minutes until the starting whistle in the second semi-final, FTC vs Esbjerg. It's time to join us on EHFTV or check out the Twitch watch-along on the Home of Handball channel. 










17:27
One final berth booked, one to go. Who will join Vipers in the final? While the Norwegian side are back in the trophy game for the third straight time, the next finalists are going to be debutants in that stage, and neither FTC nor Esbjerg have made it before.
In fact, this will be FTC's first match at the EHF FINAL4, and how they will handle the pseudo-home pressure is one of the big questions surrounding this semi-final. Esbjerg are back in the semi-finals for the second straight time and hope to take their first win in the EHF FINAL4. 
Warm-up is now underway in MVM Dome, and throw-off in semi-final two is just over 30 minutes away. 
Our handball is fast. Today we were able to run and score a lot. Although we have planned to be as efficient as possible, netting 37 goals is just unexpected and amazing.


























Vipers have been unplayable in the first half. When you concede so many goals in the first half, it is clear that something is not working at all. We did not lose the hope, we tried to get closer and we did not lose our hope. We missed some chances that in the end cost us. On the court it is difficult to handle the errors, the pressure. For me, this season was all or nothing. Unfortunately, for us it is nothing — we will not play for the final. In front of us, it was simply a better team.
Anna Vyakhireva has the final say in an edge-of-the-seat ending, securing a two-goal win for the Norwegian team to reach their third EHF Champions League final in a row. 
Exactly 30 seconds remain and incredibly, Györ have decreased the distance to one. Can they level the game now? Or will Vipers, currenty in attack, score and secure the win? 
Just when there seems to be hope, Katrine Lunde is there — as Györ have the chance to reduce to one, Lunde saves Ana Gros' shot and prevents the Slovenian right back from reaching 10 goals. 
We are inside the final two minutes now, but still this game could go either way. 
Now under four minutes but Györ have managed to make it through the period of suspensions without allowing the score line to increase. While it's a huge comeback from the team, no doubt it's being driven by a superb Stine Oftedal, some top saves from Amandine Leynaud and shots from Ana Gros. Can they pull this off? 
On their part, Vipers are calmly playing their own game with the knowledge that all they have to do is hold on. While the pressure is all on Györ here, the Hungarian team seem to be turning that into fuel. 
Just over five and a half minutes remain and Györ are dealt a costly two minutes for an incorrect substitution, followed by another for Yvette Broch in defence, with that three-goal score line still persisting. What can Györ manage in this situation? 
We enter the final 10 minutes with the three-goal score line persisting. Certainly Györ are enjoying some stronger moments, with some great saves from Amandine Leynaud helping their chances, but they need to come closer to give themselves a chance in the closing minutes. 
Meanwhile, Esbjerg and FTC have arrived at MVM Dome for the second semi-final, starting at 18:00 CEST.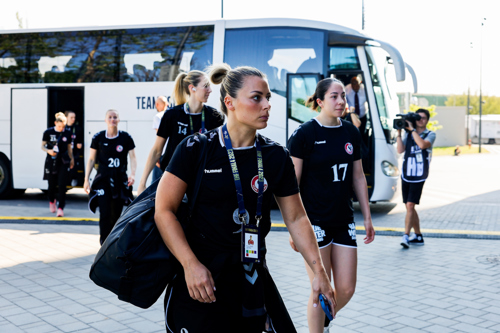 Timeout Vipers as the score line does not change. The MVP of the last EHF FINAL4, Vipers' Marketa Jerabkova, is having a great day in Budapest again, with six goals and three assists for the Norwegian side, as well as playing an important role in defence. Jerabkova has really established herself as one of the biggest names in handball as she backs up her great end to last season. 
A momentum shift in Györ's favour, as Vipers miss a few chances and Györ come back to a three-goal distance. With still over 15 minutes to go, there is plenty of time for this semi-final to go either way. 
The clock hits the 40-minute mark with Györ having been unable to reduce the deficit against them. 
This match has featured three of the world's best goalkeepers — Katrine Lunde for Vipers; Sandra Toft and Amandine Leynaud for Györ — but the save rates are quite low. The number of saves is not so low for a 'normal scoring' match, with seven on Györ's side and six for Lunde in Vipers' goal, but the sheer volume of shots has made it a very difficult day for the keepers. 
The second half resumes and Vipers immediately net two goals to increase their lead again. 
Looking at the individual standouts in the game so far, one thing is clear: Stine Oftedal is a finals machine. The Györ centre back was the top scorer of the opening half, with seven goals, missing only one, and also dishing three assists. As Vipers increased their lead, Oftedal turned up the pace. 
But can she lead Györ back from this deficit? It is looking a very big task...

There are hardly words to describe that first half — two scoring records broken and Vipers absolutely dominating Hungarian powerhouse Györ. 
Not only were 41 goals scored — the same number of goals in a final result in the 2016 semi-final Györ vs Buducnost — but the teams took 60 shots in this half. Vipers accounted for 32 of those, which means more than one attempt per minute from the defending title holders. 
But Györ still managed to claw their way back from a clearer deficit and Vipers are not out of reach. After this shocking first half, who knows what surprises we can expect in the second? 
Three minutes until half-time, Jana Knedlikova nets for Vipers and with that, the record for most goals scored in a first half against Györ is broken. This match has also broken the record for most goals in a first half at the EHF FINAL4, set by CSM and Vardar in 2017 (34 goals). 
Still six minutes to go in the first half and Vipers are one goal away from equalling the record for first-half goals against Györ. Györ coach Ambros Martin calls a timeout as the score line grows bigger and bigger in favour of the title holders. They return to court with more line-up changes, while Vipers have made very few substitutions so far but are having no trouble maintaining their dominance. 
20 minutes gone in the first semi-final and Vipers are holding their four-goal cushion. 
Journalist Adrian Costeiu has done some digging and found out that the record number of goals conceded by Györ in a first half in the EHF Champions League was 21, when Aalborg scored that many against the Hungarian side in January of the 2005/06 season. 
If Györ cannot stem Vipers' momentum, it is very possible the Norwegian side will break this record — and in the most important game of the season, in front of thousands of fans supporting the Hungarian side. What a performance from the defending title holders so far! 
Györ coach Ambros Martin calls the first timeout of the semi-finals as Vipers hit a four-goal lead just past the 10-minute mark. The team return to court with some back court changes, as Ana Gros comes on for Eun Hee Ryu and Line Haugsted for Estelle Nze Minko (in attack). 
Individually, Stine Oftedal has had a blistering opening, with two goals and two assists already. Vipers back Jamina Roberts has already scored three from three. 
Two of the best goalkeepers in the game — Katrine Lunde for Vipers and Sandra Toft for Györ — but the pace is so fast and the attack so strong that only one save has been made as we approach the 10-minute mark, and it belongs to Toft. 
After the lightning quick opening, it looks as though the pace is slowing a touch. 
What a pace! The clock hits three minutes with seven goals scored already. Vipers coach Ole Gjekstad spoke in the media calls about how a key factor in this match would be the battle to control the speed. 
"It will be a tough game with a high pace, as both teams want to run. The deciding factor will be who can control the tempo — that is what both of us will be fighting for," said the coach. 
Starting whistle at the EHF FINAL4 2023! Györ start in attack as the opening semi-final begins. 






15:08
Here we go! The referees and officials have been introduced, and the teams are about to enter the court. Semi-final one, Györ vs Vipers, is just minutes away. 
15:05
Want a little extra to complement your viewing of the semi-finals? Join the watch-along on the Home of Handball Twitch for extra insight into the games. 
14:47
18 minutes until throw-off and Györ have just left the court, while Vipers are now gathering themselves to return to the dressing room for their final pre-game chat and the entry procedure. 
14:53
Looking at the team lists, there is one standout potential for history related to the second semi-final: FTC named 16-year-old Dorka Papp on their start list. She is not the youngest player in the history of the EHF FINAL4 — that honour belongs to former player Tamara Pal, who was 16 years and eight months when she was part of Györ's line-up in Budapest. Papp is 16 years and 10 months old. 
Pal did not score at the EHF FINAL4 though, which means a goal from Papp would make her the youngest scorer in the history of the pinnacle weekend event. 
14:45
While we wait for throw-off, our journalist Adrian Costeiu has provided some last pre-game thoughts for this opening semi-final, Györ vs Vipers:
"No player has featured more times in the EHF FINAL4 than Györ's goalkeeper, Amandine Leynaud, who featured 15 times in the competition so far. Only two other players, FTC's Andrea Lekic and Dragana Cvijic, have played at least 10 games — exactly 10 in their cases — while Vipers' Jana Knedlikova (nine games) and Györ's Stine Oftedal (eight games) are following in the these standings. On the other hand, Esbjerg's Henny Reistad is the top goal scorer at the EHF FINAL4 present in this edition, with 48 goals, followed by Lekic, who has 47."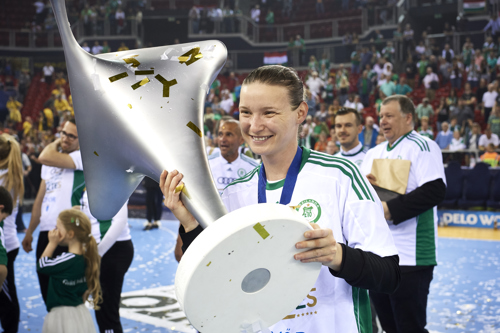 14:42
You may know the team line-ups well, but they do still submit a final team list on the morning of the match. 
Click the links below to see the full line-ups that will take the court in MVM Dome today!
14:37
The starting whistle in the opening semi-final is just over 30 minutes away and Vipers and Györ are on court almost ready to start goalkeeper warm-up. 












14:00
Györ and Vipers have arrived at MVM Dome for the first semi-final and will soon start their warm-ups on court. Meanwhile, the crowd are trickling in for what is expected to a be a full-capacity day in the arena. 
Where you can watch the games? All games will be shown on EHFTV, with geo-blocking restrictions in place. Read where to watch in your country here. 
Before things get too serious, enjoy the light-hearted side of the EHF FINAL4 with some of the videos created yesterday during the media calls. See more on the EHFCL social media channels!
12:46
With throw-off now just two and a half hours away, the teams in semi-final one, Györ and Vipers, will soon start to make their way to MVM Dome for the opening match of the EHF FINAL4 2023. 
As the season reaches its climax, we look back on the road to Budapest for the top four sides. For more details, look at the results from the different stages of the competition here.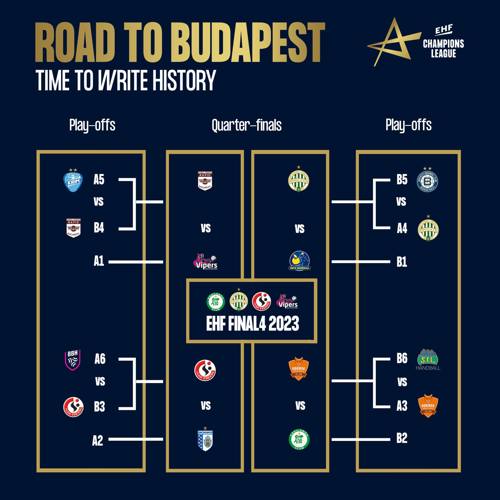 We are only focusing on the semi-final. It would be amazing for our team to get in the final, but first, we have to beat FTC, which will be extremely difficult. They have a huge advantage with the fans, but we have a good chance. It will be about how we handle the pressure and the intense moments. I think nothing would make Budapest happier than seeing FTC in the final, but we will do our best to stop them.
11:59
Semi-final one features the two teams most dominant at the EHF FINAL4, while semi-final two is the opposite: two teams vying for the final for the first time, and one of them here at the EHF FINAL4 on their debut. 
Team Esbjerg played their first EHF FINAL4 in 2021/22, finishing fourth. FTC-Rail Cargo Hungaria have finally made it to Budapest, after reaching the quarter-finals four times (2016–2019) but never progressing from there. Their participation marks FTC as the 14th club to contest the EHF FINAL4 since its implementation in 2013/14. 
Esbjerg are in top form, riding a 21-game winning streak across all competitions they play. Their last defeat was in February in the group phase against Györ, and that was only by one goal. Esbjerg won 10 games and lost four in the group phase, to rank third in group B. They beat Brest Bretagne 55:49 in the play-offs then CSM Bucuresti 65:59 in the quarter-finals. 
FTC finished fourth in group A, following seven victories, one draw and six defeats. In the play-offs, they beat Buducnost 55:46, before playing the most talked about quarter-final encounter of the season. Taking on Metz, FTC lost the first leg on their own court in Hungary, 26:32. In France, FTC then pulled off a miracle and overthrew Metz 33:26 to win by one goal, 59:58, on aggregate. 
Esbjerg back Henny Reistad, the MVP of the EHF FINAL4 2021, is the top scorer of the season, with 130 goals. FTC's top scorer, Katrin Klujber, is fourth ranked overall, with 106. Thanks in large part to Reistad's effort, Esbjerg have also scored the most goals of all teams in the season, with 575. 
The teams have played each other six times in the last three years, with Esbjerg winning three games, FTC two and one played to a draw. FTC have not beaten Esjberg since October 2020. 
11:42
MVM Dome is where it's at today and tomorrow — and it was also the site of the opening party last night. As you can see in the video below, it was happiness all round as the teams interacted with just some of the fans that will support them over the weekend. 
You can also see all the pictures from the opening party in yesterday's blog. 

11:15
The opening semi-final at the EHF FINAL4, Györ vs Vipers, throws off in exactly four hours, and we are well and truly into the final countdown. Let's start to dive into the details. 
Györ versus Vipers is a true battle of the titans, with these sides accounting for six of the eight trophies decided at the EHF FINAL4. 
This semi-final is a rematch of the final from 2021/21, when Vipers beat Györ 33:31 to take their second trophy and give Györ their second defeat in trophy game at the EHF FINAL4. So, one team is set to reach the final for at least the second straight time — if Vipers win, it will be their third straight final and of course give them the chance to take their third consecutive trophy. It would also be Vipers' third final overall, while for Györ it would be the sixth final since the implementation of the EHF FINAL4 in 2013/14 and 10th overall. 
Vipers have the lowest number of defeats this season, with just two losses recorded, both in the group phase — one to CSM Bucuresti and one to Bietigheim. They also drew once, against fellow EHF FINAL4 participants FTC. Györ lost to Metz twice and Rapid Bucuresti once. Both teams skipped the play-offs, as they ranked in the top two sides in their groups — Vipers were top of group A and Györ were second in group B. In the quarter-finals, Györ defeated Odense 66:55 on aggregate, while Vipers beat Rapid 71:56. 
Vipers scored 527 goals in the season, to Györ's 510, to rank third and sixth in this statistic, respectively. Vipers goalkeepers also made by the joint-most saves in the EHF Champions League season, with 230. 
Györ have an enviable record at the EHF FINAL4, with 11 wins in the 14 matches they have played. 
Overall, the teams have met 10 times in European cup competitions, with Györ winning seven of those confrontations, although Vipers won the last two. Györ's last victory over Vipers was in 2021. 
I think we do not have to prove anything to anyone and we are just going all in for this weekend. We just want to show our best and do our best and see where that is going to bring us. I do not want to say that we are thinking about a win. But, of course, we want to win the title, yet it is a kind of step-by-step thing.
10:40
Anna Vyakhireva is back! The Vipers right back, who was named MVP of two Olympic Games in a row and played the EHF FINAL4 twice with her former club Rostov-Don, was last at the event in 2018/19. Now, she eyes her first trophy in the top-flight competition with the back-to-back title holders. 
It has been a great season for Vyakhireva. After a year completely off handball, she returned to the EHF Champions League and is clearly one of the most valuable attacking assets in the competition, ranking fifth overall in the combined list of goals and assists. She has the highest average assists per match, with 5.85, and has scored 73 goals. 
No doubt Vyakhireva will be a key for Vipers in their semi-final against Györ today. Read our feature on the 28-year-old back below, and remember you can find all the latest news and features on the EHF FINAL4 right here. 
10:00
Good morning — and what a morning it is! It is a great day in Budapest, where the penultimate stage of the EHF Champions League Women 2022/23 is set to take place today. 
The semi-final schedule: 
Let's get started by brushing up on the key facts surrounding these encounters, with our match previews below. Also, check out where you can follow and watch the matches.