SUMMARY: Six teams book main round spot on historic opening day
The EHF Beach Handball EURO 2023 in Nazaré started on Wednesday, with 32 matches in total in the preliminary round. The men's teams of Spain and Ukraine, and both the men's and women's teams of Germany and Denmark have already secured their places in the main round, while Line Gyldenløve Kristensen made the headlines with her 1,000th career goal for the Danish national team.
19:15
Wow, that went by quickly! Here ends our live blog coverage of the opening day of the EHF Beach Handball EURO 2023. We have seen all teams playing twice, great actions, some upsets, and in the end six teams that have secured their main round place with a match to spare:
Men: Spain, Ukraine, Germany, Denmark
Women: Germany, Denmark
Of course, that leaves 10 spots still open and all to be decided when the preliminary round closes on Thursday.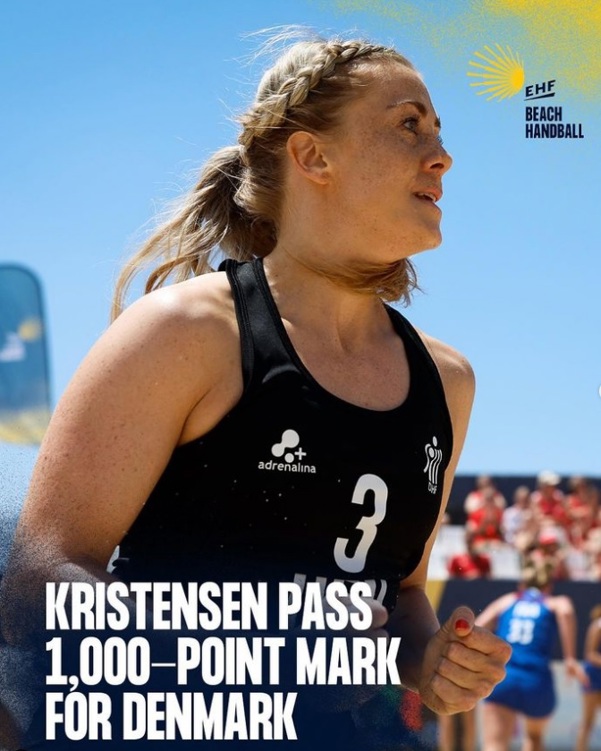 The biggest story of the day, however, is Line Gyldenløve Kristensen getting over the 1,000-goal mark in official matches for Denmark. A true great of our sport!
That is it for the live blog today. We are back tomorrow morning before action starts with the first men's games at 11:00 CEST.
Boa noite from Nazaré!
18:44
Done and dusted! The last four men's matches bring this ecxiting opening day of the EHF Beach Handball EURO to a close.
We will sum it all up soon; as for those four men's matches: those four winners all celebrated their second victory in their respective group and are guaranteed to continue in the main round tomorrow: Spain and Ukraine from group C, and Germany and Denmark from group D.
18:18
As promised, here is a closer look at how Line Gyldenløve Kristensen has got to 1,000 career points for the Danish national team.
I had the pleasure to talk to Line right after the match. To say she had been long looking forward to this moment is not exactly true – as a matter of fact, she only learned from her own milestone achievement when I asked her about it: "I am here and do my best, so (scoring 1,000 points) is nice, but not the most important. The most important is that we win the games."
Great words from head coach Morten Holmen, too: "I am happy that I can stand here when she scores her 1,000th point, that is totally crazy. A big honour, fantastic!"
You can read the full story on beach.eurohandball.com:
17:37
In their last match of the day, hosts Portugal run into their first defeat, being edged by France in a thriller as they win the opening set but lose the second and the shootout.
Norway recover from their defeat against Netherlands, beating Poland 2:1, while Croatia book their second straight win in that group, beating the Dutch team 2:0.
All going too fast? Sometimes it is best to watch beach handball in slow motion:

16:43
That is a wrap for the women's play on day 1 of the Beach Handball EURO. No more real surprises here, as Hungary, Croatia and Spain book their expected 2:0 wins, though Norway and Greece battled it out into a shootout, with the Scandinavians finishing on the right side of the score against the World Championship semi-finalists from last year.
15:51
Less history, but same results in the other three women's matches: 2:0 wins for defending champions Germany, Portugal and Netherlands. The last four women's matches of this opening day are about to start, so don't miss them!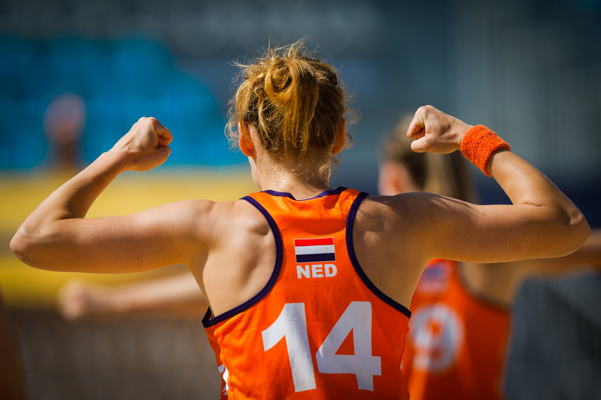 15:39
History has just been made! Denmark beat France 2:0 (19:15, 27:20), which is nothing really special, but Line Gyldenløve Kristensen has scored her 1,000th career goal for Denmark in this match! And that is something really special. I personally can't think of any other beach handball player netting 1,000 points for their national team, but Kristensen did exactly this in the first set.
According to the official stats of the Danish Handball Federation, Kristensen arrived in Nazaré on 984 points, scored nine against Italy this morning, and 21 against France in the afternoon.
I caught up with Kristensen right after the match and... no, I don't give away more at this point. We have a feature on her coming up later this afternoon.

14:42
Good win for Ukraine on court 1, who down Greece, the 2022 World Championship semi-finalists, in two close sets, 22:20, 25:24.
Elsewhere, also two-set wins for defending champions against Denmark against Romania, for Germany against Switzerland, and for Spain against Sweden. That last match started with a goal feast in the first set (32:30) and ended with Spain's Sergio Venegas Rodríguez scoring 24 times, and Sweden's youngster Victor Paldanius 20 times.
Great stuff so far here in Nazaré, as we switch back to the women's competition for the second round of matches in their preliminary round.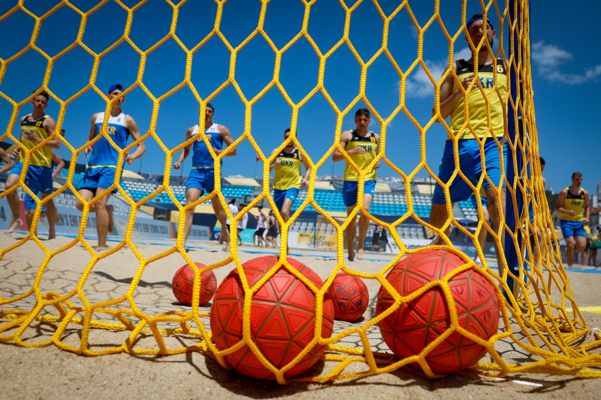 13:58
Next in the men's event, four matches that include 2019 and 2021 gold medallists Denmark opening their title defending campaign against Romania on court 2, and Spain taking on Sweden on court 3.
13:46
The first upset of the Beach Handball EURO: in the men's event, Netherlands take down 2019 silver medallists Norway in a shootout: 18:20, 28:26, 9:8. Thomas Robben with 22 points the main contributor to this huge victory for the Dutch on court 3.
And Croatia have way more troubles than expected against Poland as the record European champions only clinch a close win in shootout: 18:14, 14:16, 11:10. How close was that?!
Also, France and Italy also went into a shootout (8:6 to France); Portugal complete a convincing 2:0 won over Hungary.
13:22
For the best coverage, we are trying to find every angle to bring you as close as it gets to the EHF Beach Handball EURO 2023.

13:16
First set for the hosts today! Portugal's men take a close opener 19:16 against Hungary on court 1, with just three players finding the net: Diogo Ferreira (nine), Gabriel Conceição (six), and Vasco Silva (four).
Elsewhere, Croatia avoid troubles against Poland and win the opening set 18:14.
13:08
The women's game between Spain against Croatia really went down to the wire, and that is when Asun Batista stepped it up once again. On EHF Beach Handball Instagram you can see her decisive save in the shootout: 

12:55
The women take a break now, courts free for the start of the men's competition!
Among the standout ties throwing off at 13:00 CEST are hosts Portugal playing Hungary on court 1, and record champions Croatia getting their campaign underway against Poland on court 2.
Here is our pre-tournament look at the four groups of the Men's EHF Beach Handball EURO 2023:
12:39
Good stuff again in this second batch of matches, with two games going into a shootout. Spain beat Croatia in the first set, but only seal the deal after coming from behind in the shootout: 25:18, 16:21, 7:4. Star pivot Asun Batista leads with 18 points.
And Norway manage a remarkable turnaround against Hungary: being outplayed for more than one set, the 2017 champions turn the tide and come away with a narrow 2:1 win: 15:26, 27:18, 7:6. Marielle Martinsen, the MVP and All-star Team member in 2019 and top scorer in 2021, once again the leading player for Norway, with 18 goals. Hungarian star Renáta Csiki among the players who added 14 points.
Also straightforward wins for Greece (2:0 against Slovakia) and Poland (2:0 against Romania).
12:01
The next four matches are on, including Hungary vs Norway and Spain vs Croatia. All women's teams will have one match under their belts in 40 minutes or so
Here is our pre-tournament preview of the women's competition:
11:38
Hosts Portugal came much closer in the second set against Netherlands (13:12) but concede their opener 2:0. Two of the tournament favourites – Germany and Denmark – with no problems: 2:0 against France and Italy, respectively, while Ukraine also take their opener 2:0, against North Macedonia. 
11:14
Germany off to a strong start, winning the first set against France 31:14, with Isabel Kattner contributing eight points. Denmark also taking their first set, coming from behind against Italy, 20:18.
Hosts Portugal, however, dropped the opener in their tough first match against Netherlands: 21:13. Eight of the 13 Portuguese points scored by Daniela Mendes, who I caught up with just a few days ago for this feature:

11:02
Ready, steady, go: The 13th Beach Handball EURO has officially started!
With play going on on four courts simultaneously, this is the time to use the multiscreen function on EHFTV: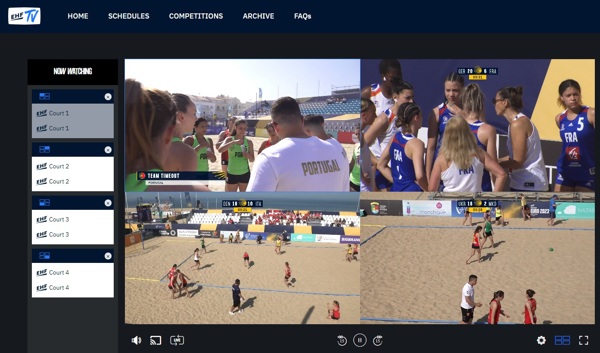 10:59
We are opening this tournament with a minute of silence to commemorate the late Cemal Kütahya, the team captain of the Turkish team and Beach Handball EURO 2019 and 2021 top scorer, who tragically passed away in the earthquake that hit Türkiye and Syria in February.
Rest in peace, Cemal.
10:53
It is women's first! Eight female teams are getting this Beach Handball EURO underway in a few minutes. And oh boy, what a lineup we have: hosts Portugal, defending champions Germany, 2019 champions Denmark... they are all on court in the opening session starting at 11:00 CEST:
court 1: Netherlands vs Portugal
court 2: Germany vs France
court 3: Denmark vs Italy
court 4: Ukraine vs Macedonia
10:42
We have been extensively previewing the Beach Handball EURO for the last two weeks or so you will find a bunch of articles on the official beach handball section on eurohandball.com. We will take a deeper look at some of these stories here on the live blog, too.
Need a quick glance of today's schedule and the scores once matches are running (in less than 20 minutes!) Then the dedicated EHF live ticker is your place to go!
10:30
3, 2, 1... the countdown is over: EHF Beach Handball EURO 2023 starts here and now!
Welcome to the first live blog covering the European Championships for you live from Nazaré. My name is Eric Willemsen and it is my pleasure to guide you through all that is happening from today until Sunday here in sunny Nazaré at the stunning Portuguese coast. This is arguably the best set-up a beach handball tournament could ask for!
Since we start the tournament in half an hour, here is a quick guide for you how to follow the Beach Handball EURO: