Titleholders Denmark face fierce competition in Nazaré
Sixteen teams, four groups, one trophy: the Men's EHF Beach Handball EURO 2023 in Nazaré is ready for throw-off on Wednesday (24 May). Can two-time defending champions Denmark make it three in a row? Will record champions Croatia get back onto the throne? Might Spain go all the way this time? Here is an in-depth preview looking at all four groups of the preliminary round.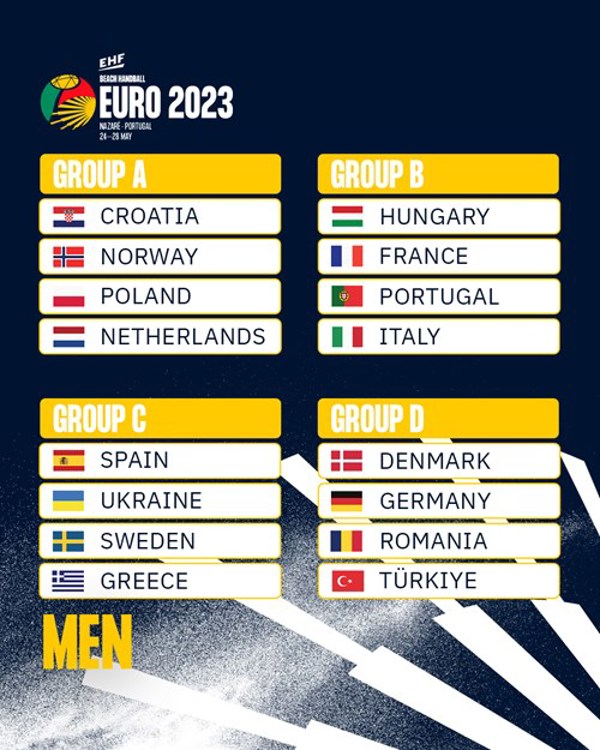 GROUP A
Croatia
Participations (incl. 2023): 12
Best result: Winners (2009, 2011, 2013, 2015)
Netherlands
Participations (incl. 2023): 4
Best result: 13th (2006, 2021)
Norway
Participations (incl. 2023): 11
Best result: 2nd (2019)
Poland
Participations (incl. 2023): 9
Best result: 6th (2009)
One of the key questions of the Men's Beach Handball EUR 2023 is whether Croatia can get back onto the thrown after eight years. A first indication of the possible answer to this question will be delivered in group A, where the record four-time European champions are set to meet Norway as their expected biggest opponents, as well as Netherlands and Poland.
Some nations might never win the EURO, but Croatia are getting anxious when they have to wait eight years between titles. Their European reign, which included four straight titles between 2009 and 2015, ended when they hosted the championships in Zagreb in 2017. They returned to the final in 2021, losing 2:0 to Denmark, but turned the tables on their Scandinavian rivals at the World Championships in 2022, winning that final 2:0. Croatia added gold from The World Games three weeks later.
Still led by beach handball great Mladen Paradžik as their head coach, Croatia will be regarded by many as the team to beat in Nazaré, even though they lost star player Ivan Jurić due to injury in the build-up to the tournament. If they succeed, they become the first men's team to hold all three major beach handball titles.
Norway have been among the top eight teams in all of the last seven European Championships but have finished in the medal ranks only once – in 2019, when they lost the all-Scandinavian final against Denmark. Two years later, they ran into Croatia in the quarter-finals and missed the chance to go for a second straight medal and ended up in sixth position. With the MVP of the 2019 championships, Kristoffer Henriksen, still in the team, Norway are expected to make it to at least the quarter-finals again in Nazaré.
Netherlands and Poland have so far failed to make it to the medal matches of a Beach Handball EURO. However, Poland have had several quarter-final appearances and want to present themselves from their best side, just weeks before hosting the beach handball tournament of the European Games in Kraków.
GROUP B
France
Participations (incl. 2023): 6
Best result: 8th (2019, 2021)
Portugal
Participations (incl. 2023): 4
Best result: 5th (2021)
Italy
Participations (incl. 2023): 11
Best result: 5th (2000)
Hungary
Participations (incl. 2023): 12
Best result: 2nd (2006)
Spotlights on Portugal! While their men's and women's teams play a prominent role in the various European club tournaments, the national team has yet to make a similar impact. But with experienced forces like André Silva, Ricardo Castro, and José Silva, might hosting the EHF Beach Handball EURO 2023 in Nazaré not be the perfect time to start doing so? The Portuguese crowds would love to see their favourites use the home advantage to the fullest.
Benefitting from the hosts' right at the draw to pick their preliminary round, Portugal have ended up in a group that could serve as an ideal build-up for bigger things to come during the rest of the tournament, with France, Italy, and Hungary as opponents.
Portugal have appeared at only three of the previous European Championships, including the last two – and the improvement is hard to overlook: from 17th in Stare Jablonki to fifth in Varna, where they lost in the quarter-finals to eventual gold medallists Denmark, but next beat France and Norway for their best ever result – until 2023?
In fact, Portugal are coming off the best finish at the Beach Handball EURO 2021 of all four teams in group B. France have been quarter-finalists at the last two championships, but were beaten by Portugal in the cross matches in Bulgaria in 2021. Those were France's best-ever results, since they never had a top-10 finish before. And Italy have not been to the quarter-finals again since hosting the inaugural 2000 championship, where they placed fifth. Even more so, their ninth-place finish in 2021 was their best since 2000.
Still, a key team hoping to go deep into the tournament alongside Portugal are, of course, Hungary. They had a disappointing result two years ago, when they missed the quarter-finals for the first time since 2002. Before that, they had reached the semi-finals three straight times since 2015, and six times in total. Their medal collection includes four pieces – including silver from the 2006 event, when they lost the final to Spain.
GROUP C
Sweden
Participations (incl. 2023): 10
Best result: 5th (2017)
Ukraine
Participations (incl. 2023): 13
Best result: 3rd (2000, 2015)
Greece
Participations (incl. 2023): 5
Best result: 7th (2000)
Spain
Participations (incl. 2023): 13
Best result: Winners (2002, 2006, 2017)
Always a force to be reckoned with, Spain are after a record-equalling fourth European title. After winning two of the first four championships, in 2002 and 2006, they last lifted the trophy in 2017. Spain are one of just two nations in beach handball history that have participated in each and every EURO – and in group C they are set to meet the other nation with the same feat: Ukraine.
Of course, Spain have not just participated, but done well, too: in those 12 events so far, they appeared in the semi-finals no less than eight times. Adding to their three golds are silver medals from 2000 and 2015, and a bronze from 2011. They had their worst result when they missed the quarter-finals and finished ninth in 2019, but bounced back the following championship in 2021 by getting to the semi-finals again. They placed fourth two years ago, a week after their youth team claimed silver in the YAC 17 event, and were quarter-finalists at last year's World Championship – a sign that Spain remain a favourite to make the semi-finals once again.
The other 13-time participants, Ukraine, have come a bit under the radar at the last two EURO events, placing 12th in 2019 and 14th in 2021, and arrive in Nazaré in an ongoing challenging period for the team. But don't get them wrong: Ukraine breathe beach handball and have been among the strongest forces right from the start, earning bronze at the inaugural EURO in 2000 and repeating that achievement 15 years later, having appeared in two more semi-finals in-between.
Expectations are high in Sweden, despite their lack of a rich Beach Handball EURO history, with just one top-10 result from their nine previous appearances. However, their under-17 team went all the way at the YAC EURO two years ago. The top scorer that tournament, Victor Paldanius, ended on 133 points for an average of 16.63 points per match, and he is included in the squad for Nazaré as Sweden are aiming for their best-ever result.
And Greece? They have an even less impressive EURO track record but will have gained a lot of confidence from their run to the semi-finals at their home World Championships last year, a match they only lost in a shootout to eventual gold medallists Croatia.
GROUP D
Germany
Participations (incl. 2023): 10
Best result: 2nd (2004)
Denmark
Participations (incl. 2023): 8
Best result: Winners (2019, 2021)
Romania
Participations (incl. 2023): 3
Best result: 13th (2019)
Switzerland
Participations (incl. 2023): 10
Best result: 9th (2007)
Denmark arrive in Nazaré with the ambition to rewrite the beach handball history books. The Scandinavian side can become only the second nation to win the Beach Handball EURO three times in a row – a mission only accomplishes before by Croatia, who even won four consecutive times between 2009 and 2015.
One bronze medal was all Denmark collected from the first 10 editions of the Beach Handball EURO – followed by two golds from the next two editions. While their 2019 triumph might have come as a surprise, the 2021 one certainly wasn't. With all eyes on the defending champions, they delivered an impeccable performance in Varna, dropping just two sets on their path to a successful title defence. Take into account their silver from the 2022 World Championships, and it is obvious that Denmark, cool and clever as always with veterans like Martin Vilstrup Andersen and Simon Møss guiding the youngsters, arrive in Nazaré as one of the main candidates to go all the way again.
Denmark open their title defence against two opponents that should not cause them too much headaches. Romania are only playing their third EURO and have been without a top-10 result so far. Next up are Switzerland, who have participated even more times than the Danes, but are yet to reach a quarter-final.
It leaves Germany as their main rivals in group D. Germany won silver in the early years of the Beach Handball EURO, then completely disappeared in the first half of the 2010s, but have been slowly working their way back since. A sixth-place finish in Stare Jablonki suggested they were back at elite level, but the 12th position from Varna two years later marked their worst result ever in nine participations.
However, Germany bounced back and triumphed in the EHF Beach Handball Championships in Prague last summer to qualify for Nazaré. Head coach Marten Franke has had to change his squad on three positions but bringing in Lars Zelser and Lennart Liebeck – MVP and top scorer, respectively, of the Junior World Championship last year – might give the team a surprising impulse.
all photos (c) 2021 kolektiff images