The crunch-time kings
Throughout the course of the EHF Champions League Women and the Machineseeker EHF Champions League, data analyst Julian Rux provides the handball community with deep insights into the numbers behind the game, analysing what the data says about teams' and players' performances.
It's crunch time in the Machineseeker EHF Champions League. This week we have the last games of the group stage: from then on, everything is at stake in the knockout phase. Now it is a matter of putting the best possible performance on the field, as there is a maximum of one more return match to make up for a suboptimal performance.
There is no universal definition of crunch time. Sometimes it is the last 15 minutes in close games. Sometimes it's the last five minutes of any game without consideration of the score.
Therefore, a middle course was chosen. The last six minutes of all matches were considered if the gap between the two teams was two goals or less at least once. Accordingly, 47 of the 104 games (45.2 per cent) in the current season went into crunch time.
Unstoppable Barça
The team with the most crunch-time games are Telekom Veszprém HC and Industria Kielce with eight each. SC Magdeburg, C.S. Dinamo Bucuresti, THW Kiel and GOG all have one less. In contrast, OTP Bank-Pick Szeged and Aalborg Håndbold have the lowest number of crunch-time moments, as their games matched the definition just three times.
The most successful crunch-time team, however, is Barça. The Catalans have won four of their five crunch-time games. Only their game against Kiel ended in a draw. Right after Carlos Ortega's team are Veszprém and Kielce, who both had eight crunch-time games and have each won six – 1.5 points per game.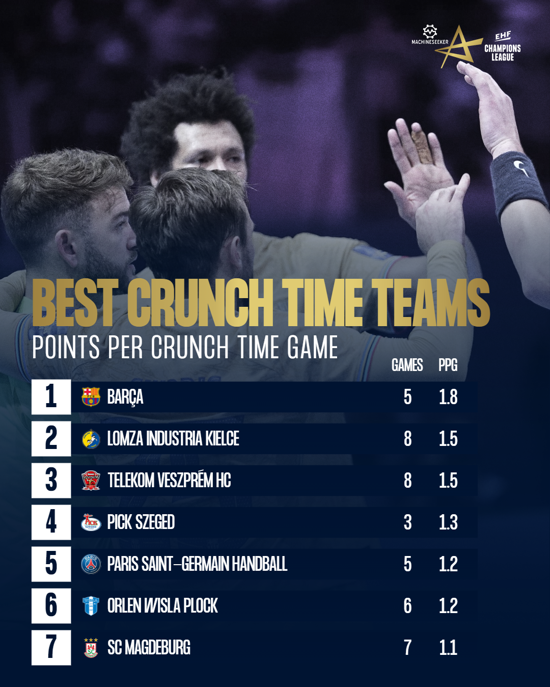 The best offensive team in crunch time is SC Magdeburg. While all teams see their attacking stats deteriorate slightly in crunch time and their defensive stats improve slightly, the German champions are the only team to get to the same level offensively as they did throughout the game, scoring 29.9 goals per 50 possessions.
In defence, Bennet Wiegert's team improves from 27.3 goals conceded per 50 possessions to 24.0 in crunch time. Their possession-adjusted goal difference improves from 2.6 goals per 50 possessions in regular time to 6.0 in crunch time.
The only team whose crunch-time goal difference is even better is Barça. Once again, the defending champions are especially outstanding in defence, where they clearly lead the league with 24.9 goals conceded per 50 possessions. In crunch time they only allow outstanding 14.3 goals per 50 possessions. That is, of course, by far the best value.
The team with the worst crunch-time goal difference is GOG. The Danish champions are getting outscored by 4.8 goals per 50 crunch-time possessions, while for whole games it is only -0.1. Especially in attack they have problems when the game is on the line, as they then score 6.1 goals per 50 possessions less.
For two teams the adjusted goal difference in crunch time worsens even more than GOG: top sides Paris Saint-Germain and Kielce. While PSG outscores their opponents by 3.7 goals per 50 possessions in the whole game, they get outscored by 2.1 goals per 50 possessions in crunch time, which is a difference of -5.9. For Kielce, the numbers deteriorate even more. Their goal difference per 50 possessions in regular time is +2.6, while it's -4.4 in crunch time, a deterioration of -7.0.
Nevertheless, both have good results in games that went into crunch time with Kielce getting 1.5 points per game that went into crunch time (second best) and Paris 1.2 (fifth). On one hand, this shows that they perform worse overall in crunch time than their opponents, but still manage to win the games in the end. On the other hand, with only six minutes per game and eight and five games respectively, the sample size is of course not particularly large and individual games can have a significant impact.
No-one is as clutch as Kristjansson
Looking at individual players, the overall top scorer in crunch-time situations is Magdeburg's Gisli Kristjansson with 10 goals, followed by GOG's Emil Madsen with nine and Elverum's Tobias Grøndahl with six. However, Kristjansson and Madsen played in more games with crunch time. Therefore, looking at goals per crunch time game, Grøndahl ranks first among all players with at least four games with 1.5, ahead of Kristjansson (1.4) and Madsen (1.3).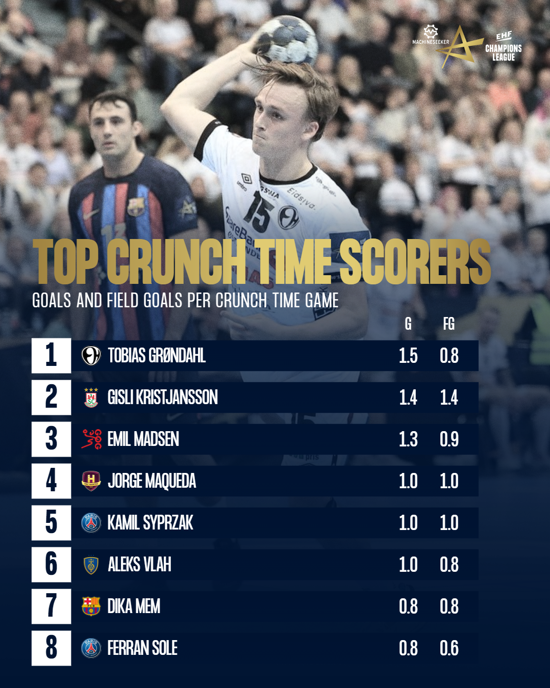 However, Grøndahl and Madsen scored three penalty goals each, while Kristjansson did not take a single penalty in crunch time. So, counting only field goals, the Icelander is clearly the best scorer with 10 overall, while second-placed Emil Madsen has six. Per crunch-time game Kristjansson's 1.4 field goals are clearly best, ahead of Jorge Maqueda and Kamil Syprzak with one each.
The numbers of Magdeburg's playmaker get even more impressive when considering his shooting percentage. He missed just one of his attempts in crunch time, thus scoring on 90.9 per cent of his attempts. Amongst players with at least four attempts Thibaud Briet (Nantes), Ferran Solé (PSG) and Andrii Akimenko (Dinamo) are perfect with no misses – but including one penalty shot for Solé and two for Akimenko. Amongst players with at least six attempts Kristjansson clearly is the most efficient, with Veszprém's Rasmus Lauge second with 83.3 per cent.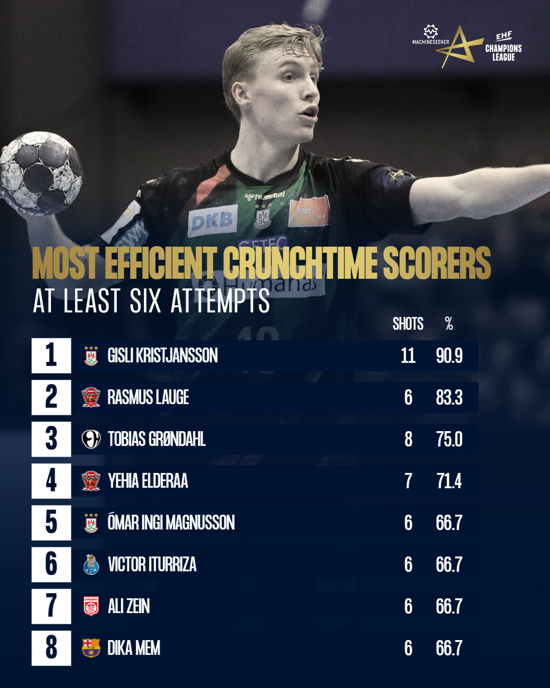 Amongst goalkeepers that received at least 10 shots in crunch-time situations, Barça's Emil Nielsen has the highest save percentage with 41.7 per cent. With the top numbers of Barça's crunch time defence it's no wonder that his teammate Gonzalo Perez de Vargas is even better. But since the Catalans only had to go into crunch time in five games and Nielsen was on the field three times, Perez de Vargas only faced seven shots.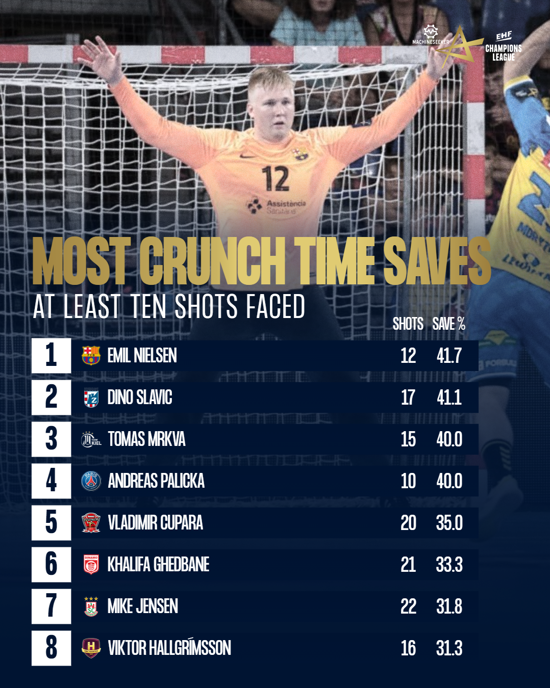 Julian Rux is a data analyst. More of his work can be found on his website and blog Handballytics.de as well as on social media: Instagram, Facebook and Twitter.
Main photo © Sara Gordon