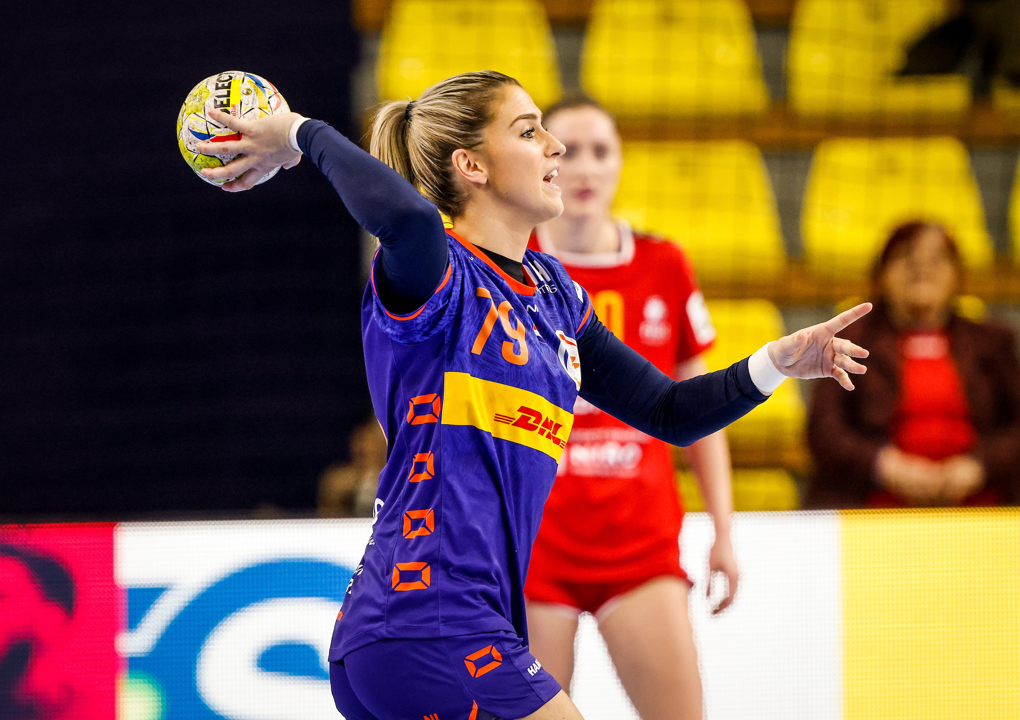 Polman's long, gruelling way back to stardom
Dutch left back Estavana Polman has returned to the forefront after a difficult period in her career. She is now ready to face France on Wednesday in the last match of group C at the Women's EHF EURO 2022, decisive for how many points each team take into the main round.
Estavana Polman was brimming with confidence and in the prime of her career after helping Netherlands win the world title in 2019. She was the MVP of the competition, one of the best players in the world, and had everything she could possibly imagine.
Then, disaster struck. A knee injury saw her sidelined for almost a year, with her career derailed.
"I could have sat there and cried and that could have been it. But I decided to smile, to take up the challenge and try to be back at the highest level. Sure, it has been difficult, there were moments when I could have given up and say that this was my fate," Polman says.
"However, in my opinion, these are the moments that define you as a person. In my book, you cannot progress if you are not shown hard challenges. And I think I emerged a better person from this ordeal, from this difficult situation."
Indeed, when Per Johansson was named Netherlands women's national team coach in March 2022, he did not know if he could count on Polman – knowing that other leading players like Lois Abbingh and goalkeeper Tess Wester were out for sure.
But Johansson got a call in late August, which instilled new confidence in his approach. Polman was ready, asked to be in contention for a call-up for the EHF EURO 2022.

It was a courageous approach by the Dutch back, who did not play handball for eight months after recovering from her injury due to a dispute with her former club, Team Esbjerg. In total, Polman missed almost two years from the court.
"What made me come back to handball? Well, I love the sport. I am the happiest when I have a ball in my hand. I had to give up a lot, I had to rehab my injury, I hate those long, gruelling sessions in the gym. But it was worth it because I could slowly come back to my best," Polman says.
"Now I am in a very happy place, I am very confident in what I am doing and I am just playing handball because I love it a lot."
The love for handball is so big that the 30-year-old back, who was also the Danish league top scorer in 2013, 2014 and 2019, is taking seven-hour trips to train with her new side, NFH - Nykøbing Falster Håndboldklub, where she has been playing since August 2022.
A slow, but painful comeback was completed and now Polman features both for her club side and for the national team, with huge ambitions. All for the love of the sport which gave her so much, including two medals at the EHF EURO, a silver in 2016 and a bronze in 2018.
"I do it all for the love of sport. I found an excellent club at NFH, with great values, which totally works for me. It is an amazing environment, so for me, driving seven hours, is not that big of a sacrifice, because I do something that I love," says Polman.
I love the sport. I am the happiest when I have a ball in my hand. I had to give up a lot, I had to rehab my injury, I hate those long, gruelling sessions in the gym. But it was worth it because I could slowly come back to my best.
With two wins in the first two matches at the EHF EURO 2022 – 29:28 against Romania and 30:15 against North Macedonia – things are looking excellent for Netherlands.
While she may not be the prominent force she used to be, only entering the court when she is needed the most and featuring 20 minutes and 48 seconds in the first two matches, Polman brings plenty of help to a young Dutch core.
"When I was younger, I was also a bit crazier and tried to play a lot and did everything on the court, because I always thought that the next tournament will come and I will be there and everything will be fine," she says.
"Right now, I am more calm. But do not get me wrong, I also get a bit crazy at times. But after going through all of this, I am more mature, I have the experience of such a tournament and I am always trying to be a calm influence on the team."
While the early results suggest Netherlands might be a medal contender again, the path is still difficult. France are by far the toughest opponents the Dutch team has met in the tournament so far.
Both teams have secured their place in the main round, so this match decides who of them will start the next phase with four points, and who with two.
"It would be a dream and it would mean the world to me, because after all I have been through, it would be something that I can be proud of and cherish it," says Polman.

And it would also mean that all the hard work put in was worth it and all the sacrifices made over the last years, including driving seven hours back and forth for a training session, pay off.
Long drives are, however, not the biggest sacrifice the Dutch star made to try and be at her best once again.
"My family is the most important thing in my life. Then handball, but family comes first, no matter what," says Polman, who is married to former Dutch football international and TV pundit Rafael van der Vaart.
Their daughter, Jesslynn, is visiting her second EHF EURO, staying with Polman's parents in Skopje, after also being there at France 2018.
"We need to do a lot of planning in my family, because Rafael will be on duty at the FIFA World Cup, but he is now at home, with his son, Damian, while our daughter, Jesslynn, is here with my parents. It is not easy, but I feel better having both her and my parents here, so I have some extra motivation in the tournament," says Polman with a large smile on her face.
A smile that was almost erased two years ago. But after a long and gruelling road, happier moments are still ahead.
"Let's go for that medal now," concludes the 30-year-old Dutch back.