EHF European League
An old friend returns to Siófok
A few seasons ago, Siófok KC rose to dominate Europe's second-tier tournament, winning the EHF Cup in 2019 and looking on track to make the finals the following season, before it was cancelled due to the Covid-19 pandemic.
The architect of that success was head coach Tor Odvar Moen, who joined Siófok in 2018. In his very first season, the side finished as bronze medallists in the domestic league and achieved the club's biggest success when they beat Team Esbjerg 47:42 in aggregate in the EHF Cup Finals.
Moen left Siófok at the end of the 2019/20 season to join Molde Elite, who are visiting Hungary this weekend for round 3 of the EHF European League Women.
Siófok right wing Nelli Such was part of the squad in 2019 and remembers lifting the EHF Cup trophy on their home court.
"I have plenty of amazing memories from the period as we achieved the club's success and had really good matches. Back then, in the final there was a different format and luckily we played the second leg at home in front of our fans who helped us a lot," Such says.
"I started that season with rehabilitation and returned around March. Until then, Tor insisted that I should be in the squad even for away matches which helped me mentally a lot. The squad was completely different but I was very motivated and confident even in those few minutes when I played."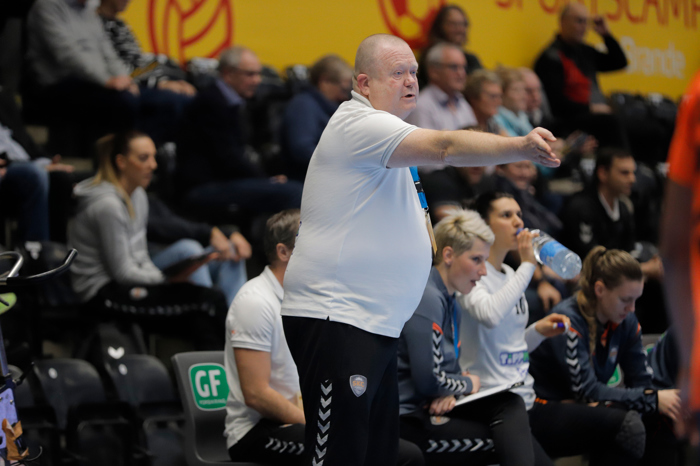 A calm coaching style
Although Moen's second and last season at Siófok was cut short due to the pandemic, under his leadership the squad under his hand was shining. They registered 54 wins in 70 games combined in international matches and the domestic league.
"Tor's mentality is different than the coaches from Hungary or the Balkans. He is always calm and wants to help us by improving our skills. He was able to transfer his ideas and we executed his game style.
"I was not the only one who felt the same unique happiness. Everybody in the squad loved his system and we were not only teammates on the court but friends off of it which was also his doing," praises Such.
In 2020, Moen returned to Norway and took over Molde Elite, who are playing their first EHF European League group phase this season. After two rounds, the Scandinavian side are without any points as they lost to BV Borussia 09 Dortmund and ES Besancon Feminin.
Siófok also fell to the French side, but kept two points at home in the last round against Dortmund, where Such scored four.
"This week is one of the toughest ones yet this season so far. As Molde spent a week during the summer in Siófok with us we kind of know them but this time will be different. I hope we can continue our form and show what we are capable of," says Such.
"We know Tor and his tactics which is the true Norwegian style: tough defence and running a lot," continues the right wing. "We have to play our game and focus only keeping the two points at home. Our supporters will definitely prepare something for Tor but I only want to win and score as much as possible."
Siófok host Molde at 16:00 CET on Saturday 21 January (live on EHFTV).