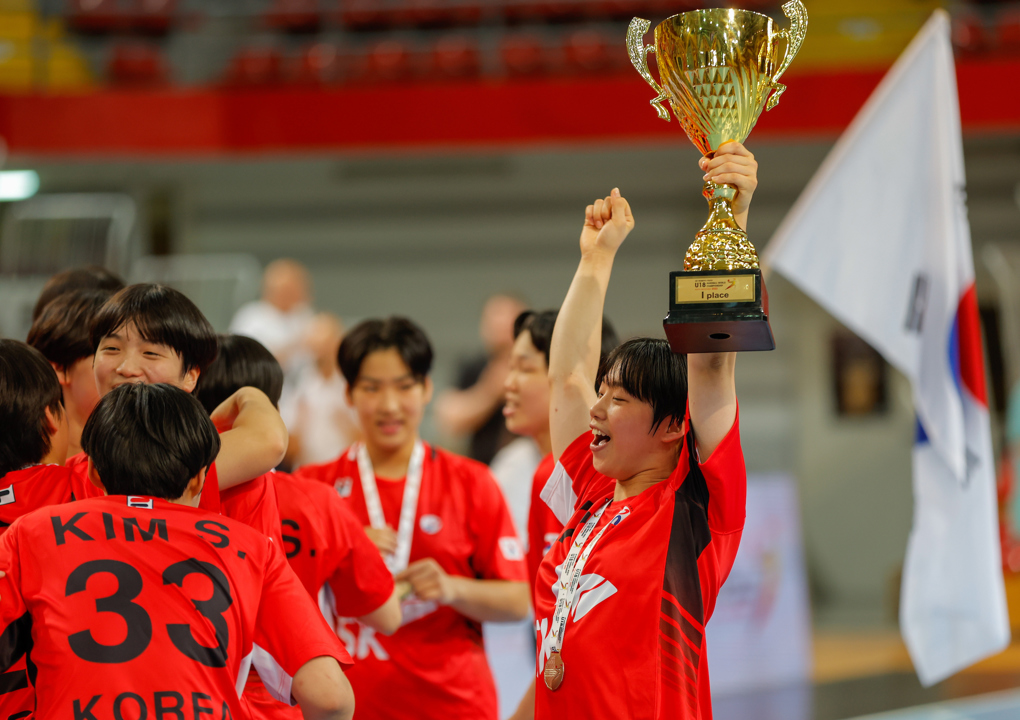 South Korea beat Denmark to win historic youth world title
The eighth edition of the Women's Youth (U18) World Championship has produced gold medallists from outside Europe for the first time: South Korea defeated Denmark 31:28 in the final of the 2022 championship in North Macedonia on Wednesday. Earlier, Hungary edged Netherlands 27:26 to take the bronze medal.
South Korea sealed their historic triumph in empathic fashion: the Asian team won all eight matches they played at the championship in Skopje – and all eight were against European opponents.
Their victory in the final denied Denmark a third gold medal, after the Scandinavians had lifted the trophy in 2006 – when they defeated South Korea in the final – and again in 2012.
with the score tied at 15:15 at the break, South Korea made the difference in the second half of the final; Kim Min-seo was their leading scorer with nine goals, Julie Scaglione netted 10 times for Denmark and became the tournament's top scorer with 62 goals
Kim Min-seo was awarded MVP of the championship, while two of her South Korean teammates made the All-star Team
it was South Korea's fourth medal at Women's Youth (U18) World Championships, after winning silver in the first edition in 2006 and bronze in the previous two events, in 2016 and 2018; South Korea had already won gold at the Women's Junior (U20) World Championship in the past, in 2014
South Korea are the fifth country to win this title, joining Russia (three titles), Denmark (two), Romania, and Sweden (one each)
the final result marked Denmark's sixth medal at this level, and second in silver; they have now won two medals in each colour
Hungary staged an impressive comeback late in the bronze medal match against Netherlands, using a 5:1 run to turn a 25:22 deficit into a 27:26 win
it was the second medal for Hungary at this level, after reaching the final in 2018, when they lost to record three-time champions Russia; Netherlands missed out on a second medal, after they had once finished third, back in 2010
in the semi-finals on Monday, South Korea had narrowly defeated Hungary 30:29, while Denmark had outscored Netherlands 37:21














2022 Women's Youth (U18) World Championship in North Macedonia
Final standings:
Gold – South Korea
Silver – Denmark
Bronze – Hungary
4th – Netherlands
5th – France
6th – Sweden
7th – Egypt
8th – Iceland
Other European teams:
9th – Norway; 10th – Germany; 11th – Croatia; 12th – North Macedonia; 13th – Portugal; 14th – Romania; 17th – Spain; 18th – Montenegro; 19th – Faroe Islands; 20th – Slovenia; 21st – Switzerland; 22nd – Czech Republic; 23rd – Austria; 26th – Slovakia
All-star Team:
Goalkeeper – Ida Barholm (DEN)
Left wing – Stella Huselius (SWE)
Left back – Julie Scaglione (DEN)
Centre back – Petra Simon (HUN)
Line player – Romée Maarschalkerweerd (NED)
Right back – Lee Hye-won (KOR)
Right wing – Cha Seo-yeon (KOR)
MVP – Kim Min-seo (KOR)
Top scorer – Julie Scaglione (DEN), 62 goals
all photos © 2022 Jozo Cabraja | kolektiff