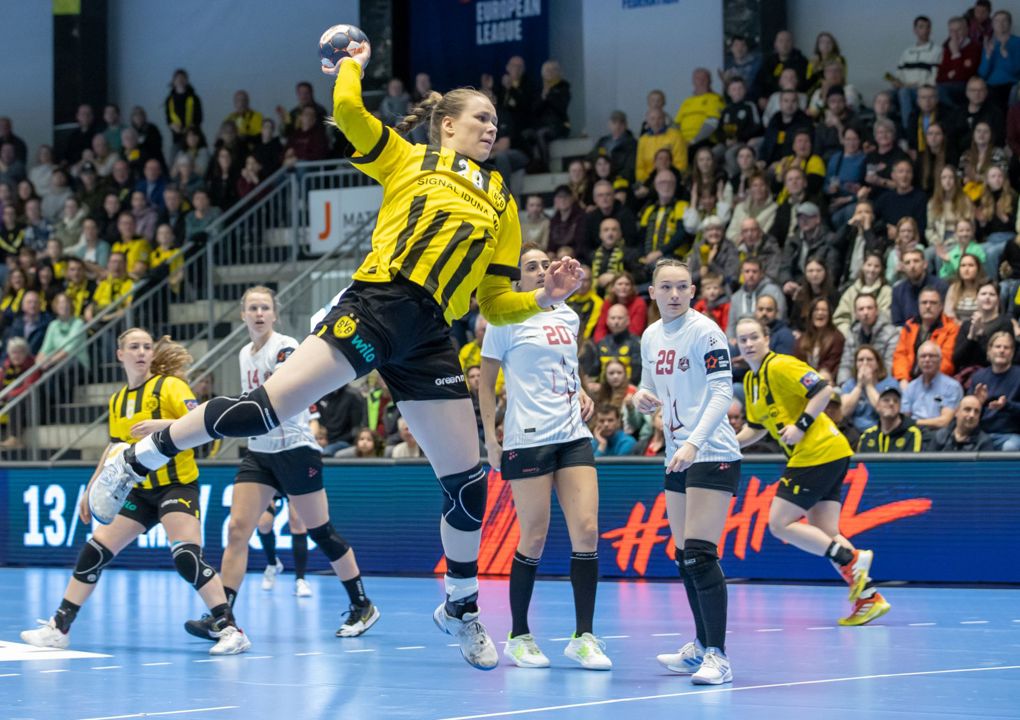 Dortmund earn maiden EHF Finals ticket after spectacular comeback
On Sunday, BV Borussia 09 Dortmund overcame a nine-goal deficit from the first leg of their EHF European League Women quarter-final against Neptunes de Nantes to seal their spot in Graz at the EHF Finals Women. The German side shocked Nantes in the second leg with a 32:22 triumph.
After an almost even first half, Dortmund had an unassailable attack as Nantes faltered in the crucial moments of the match. Yara Ten Holte's saves and an out-of-this-world performance by team captain Alina Grijseels sealed an eruption of emotions after the final whistle.
Nantes left the court disappointed with tears in their eyes, having failed to secure a place at the EHF Finals Women for the second year in a row – after winning the inaugural edition in 2021.
QUARTER-FINAL, SECOND LEG
BV Borussia 09 Dortmund (GER) vs Neptunes de Nantes (FRA) 32:22 (13:11)
BV Borussia 09 Dortmund won 51:50 on aggregate
With a good early defensive display, Nantes took a 2:0 lead. Dortmund improved their game with the help of Zöe Sprengers (6:5). Four of Dortmund's first six goals came from Sprengers, and was she unstoppable until her unfortunate injury in defence when her teammate stumbled on an opponent and fell on her. However, that moment inspired Dortmund even more as they propelled themselves to a four-goal lead. The home side could have gained an even a wider gap, but Adriana Placzek helped Nantes with seven saves at a 37 per cent efficiency before half-time.
It was nice to see Sprengers back on the court in the second half, netting three more times. Crucially, Yara Ten Holte read every Nantes attempt, stopping nine shots in 20 minutes and helping Dortmund produce a blistering run to take a 26:19 lead. The seven-goal lead woke up the fans in the stands, who became louder with every new goal from Alina Grijseels. A strong 5-1 defence forced Nantes to make new mistakes, and the home side slowly reached a 10-goal lead. Lena Gradveau was the top scorer for her side with five goals but was left with sorrow after making two technical errors in the last moments.
The draw for the semi-final pairings of the EHF Finals Women will be drawn on Tuesday 28 March at 4pm in Graz, Austria. 
Photo credit: Wolfgang Stummbillig