SUMMARY: Big win for Flensburg; Bidasoa and Kadetten the only to win at home
After a pulsating group phase, sixteen teams are left standing in the EHF European League Men. Tonight, the knockout stages begin with the first leg ties of the Last 16 as the road to the EHF Finals 2023 continue.
Flensburg has managed to secure a dominant +13 win over reigning EHF European League champions Benfica in Lisbon
the only two teams to win at home in the first round (securing the Last 16 as either third or fourth in their respective group) are Kadetten (v. Ystads), and Bidasoa (v. Sporting)
comfortable victories for Nexe (v. Motor), Füchse (v. Skjern), Montpellier (v. FTC), and Göppingen (v. Valur); a narrow one for Skanderborg (v. Granollers)
TUESDAY, 21 MARCH 2023
23:12
And we're that, we're putting an end to our live-blog coverage for the day! Second legs are scheduled for next Tuesday, which means we'll in only a week know which eight teams will come just a step away from securing the EHF European League Final 4 appearance. Until then, feel free to keep on checking out our articles, and following our social media channels. Have a great night!
As always, we're leaving you with all the results from today.
The first leg of the #ehfel last 16 is over! 👀

Which result surprised you the most? 🤔 pic.twitter.com/iwaq4hVxtp

— EHF European League (@ehfel_official) March 21, 2023
23:10
And is there a better way to close the live blog than to 'give the word' to some of those that we've all actually gathered to watch - the players. We'll, of course, allow the winners to steal the spotlight. 
Mathias Gidsel, Füchse Berlin player: 
I am extremely happy that we've managed to finish the game the way we did. It was a special feeling for me to return to Denmark. We've committed way too many turnovers and mistakes, but in the end we've managed to win by five which actually matters the most. 
Predrag Vejin, Nexe player: 
We did not expect the match to be this hard, to be honest. We've analyzed some of their latest games, but I have to say they really showcased the fighting spirit today. However, so did we. Everything is still pretty much open, and we'll know everything after the second leg in seven days.
Remi Desbonnet, Montpellier goalkeeper:
A really tough first half for us, with FTC playing really well, basically scoring at will. In the second half we were better defensively, we've managed to steal the ball a few times, and score some easy goals. Good win in the end, but we definitely have to prepare for the second leg. 
Baskar Pedersen, Flensburg player:
We were very good, very effective in this game. I don't think many people expected us to perform this well, and reach such a result in this one. Regardless, we have to shift our focus towards the second leg now. 
22:58
As we are slowly bringing our live blog coverage for the day to an end, feel free to go through our official reviews of the matches we've seen today where you'll find not only everything you need to know about the matches, but also what the results mean going forward. All the data, facts, and figures - included as always!
22:50
Now that we have all the first-leg results, let's get back to the competition bracket and check out the potential quarter-final pairings. 
The winner of Bidasoa and Sporting will face the better from FTC vs. Montpellier. 
The winner of the matchup between Granollers and Skanderborg will play the better of the duel between Benfica and Flensburg. 
Winner of Valur vs. Göppingen will meet the winner of Motor vs. Nexe. 
The better from the duel between Kadetten and Ystads will play the winner of Skjern vs. Foxes. 
22:43 FULL TIME
Jon Azkue Saizar led Bidasoa to a home win in this one scoring six goals. Experienced line player Julen Aguinagalde Akizu, and Rodrigo Salinas Munoz added four each. Francisco and Martim Costa on the other side combined for 15 for Sporting. 
10:38 p.m 
As we are slowly bringing the night to a close, it is - as always, time for the photo gallery! The best of the best - just for you!








22:30
Although Ystads suffered a road loss today in Schaffhausen, they still have a lot to play for in the second leg. And if there is a player who knows how to win big matches - that's without doubt Kim Andersson. What a performance from the experienced right back today. 
🚨 Flying legend ALERT!#ehfel | @YIFhandboll pic.twitter.com/SX6FrROk7F

— EHF European League (@ehfel_official) March 21, 2023
22:25
Odinn Thor Rikhardsson absolutely exploded for Kadetten Schaffhausen finishing the game with 14 goals from only 15 attempts. Kim Andersson, on the other side, netted eight for Ystads.
Emil Jakobsen went 9/9 for Flensburg, while Benjamin Buric grabbed 18 saves. Leandro Borges netted five for Benfica. 
Kevin Gulliksen, and Magnus Oli Magnusson scored nine each for their respective teams in Göppingen's 29:36 win over Valur. 
Hakun West Av Teigum netted nine for Skanderborg, while Diego Simonet led Montpellier with seven goals and two assists. 
22:20 FULL TIME
22:09
Truly remarkable first half from Emil Jakobsen who led Flensburg with 8/8 in the first 30. With not much more to go, Flensburg has a +13 lead against reigning EHF European League champions. 

22:02
Cadets is slowly widening the gap - currently they have a 32:27 lead. Flensburg has +14, Montpellier +6, Skanderborg +8, and Göppingen +6. 
The second half of the game in Irun is underway. 
21:53
Remarkable 15 saves for Benjamin Buric so far tonight!
The score tells you everything. Benjamin Buric has been on 🔥 tonight! #ehfel | @SGFleHa pic.twitter.com/klwNHtN0I1

— EHF European League (@ehfel_official) March 21, 2023
21:49
With under 20 minutes left until the final buzzer, Flensburg is 12 goals ahead in Lisbon (18:30), Montpellier has taken over the control of the match in Hungary (21:25), Skanderborg leads 21:27, Kadetten 25:22 , and Goeppingen 19:23. 
21:45 HALF TIME
21:35
8/8 for Emil Jakobsen in the first half including this in-flight beauty!
🎶 Come fly with me, let's fly, let's fly away 🙌 #ehfel | @SGFleHa pic.twitter.com/FNcXPwxtIR

— EHF European League (@ehfel_official) March 21, 2023
21:27
Odinn Thor Rikhardsson is having a day for cadets, leading the way with six first-half goals. Emil Jakobsen exploded for 8/8 in the first half for Flensburg, while Benjamin Buric already has 10 saves. Kevin Gulliksen (5 goals), and Marin Sego (7 saves) are leading Göppingen against Valur, and Torben Petersen (6 goals) is, along with Salah Boutaf (9 saves) pushing Skanderborg in Spain. 
FTC is playing an incredible attacking game at home against Montpellier. Bence Nagy is leading his team with five, while Alex Bognar, David Debreczeni, and Mate Lekai have three each. 
Match is Irun, Spain is on again!
21:20 HALF TIME
The game in Irun was stopped in 14th minute due to poor court conditions. 
21:17
Nicely planned, beautifully executed by Granollers!
Lovely stuff from @BMGranollers 🤩 #ehfel pic.twitter.com/kTVKAz5zT2

— EHF European League (@ehfel_official) March 21, 2023
21:15
FTC is once again in front at home (15:14), Skanderborg has managed to widen the gap in Spain against Granollers (11:18), and Kadetten is 15:13 ahead against Ystads. 
21:10
No wonder FTC was able to take an early lead over favored Montpellier with actions like this one!
Air Bognár is ready for takeoff! 🛫 #ehfel | @Fradi_HU pic.twitter.com/SuiVNT6WYes

— EHF European League (@ehfel_official) March 21, 2023
21:05
Valur and Göppingen are leveled (10:10), Kadetten leads Ystads (11:10), and Sporting is keeping the gap opened in Irun (4:6). 
Montpellier has taken over the control in Hungary (10:12), and Flensburg is playing really well in Lisbon (5:12). 
20:55
An early 2:7 lead for Flensburg in Portugal causes Benfica's coach Chema Rodriguez to call a time-out in an attempt to calm his players, and probably help them improve defensively as they've allowed seven goals in less than 10 minutes. 
FTC leads Montpelllier 7:6, Granollers and Skanderborg are leveled at 7:7. 
20:49
Looking around the courts, FTC has an early 3-1 lead against Montpellier, Skanderborg lead Granollers away from home (2-3), and Sporting is 0-2 ahead in Irun against Bidasoa. 
20:45
The matches are underway! Benfica has the first possession in Lisbon!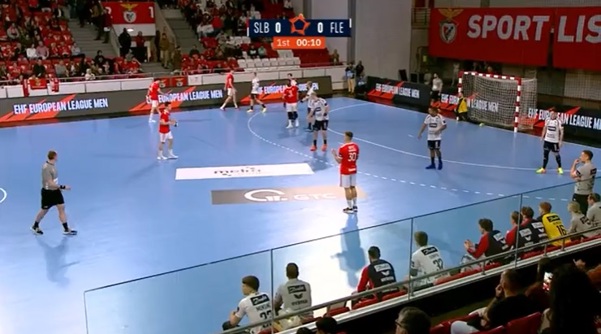 20:37
Here is what Chema Rodriguez, the head coach of the reigning EHF European League champions Benfica, had to say prior to the first leg of their Last 16 clash against Flensburg. 
It's a very tough game, a very difficult tie. Flensburg is one of the best teams in the competition, with great international players in all positions… Last season we've also played against such teams, in the end going all the way and winning the title. We need our fans. We are sure there will be a good attendance at the Pavilion, and we will try to give them some joy.
20:35
With only ten minutes left until the opening whistle for the final six EHF EL Last 16 encounters of the day - there is no time to waste! As said, we've got six more matches coming up our way today! Starting from 20.45 CET, Benfica will welcome Flensburg, Bidasoa will host Sporting, Ferencvaros will play Montpellier in Hungary, Granollers will welcome Skanderborg, Ystads will travel to Switzerland to meet Kadetten, and Valur will host Göppingen.  
🟠 Fixtures | Last 16 | First leg 🔥

Who will shine on Tuesday night? ✨ #ehfel

🔎🗒PREVIEW: https://t.co/Stu7jvGEvt pic.twitter.com/31JZSOMVAR

— EHF European League (@ehfel_official) March 20, 2023
20:28
With the opening two games of the day, it is time to have a quick look at some of the best photos from Düsseldorf, and Skjern!





20:20
Comfortable and important road wins for Nexe and Füchse against Motor and Skjern. Predrag Vejin led Nexe with seven goals against Motor, while Dominik Kuzmanovic contributed with 10 saves. Iurii Kubatko, Ihor Turchenko, and Dmytro Horiha netted five each for hosts. 
In Skjern, Robert Weber finished the game with nine goals for Füchse Berlin, while Mathias Gidsel added seven. Christoffer Bonde shined with 11 saves for Skjern. 
Second leg encounters are scheduled for next Tuesday. As a reminder, winner of the matchup between Nexe and Motor will in the quarter-finals face off versus the winner of the duel between Valur and Göppingen. On the other hand, better from the clash between Füchse and Skjern will in the next knock-out round face the winner of the matchup between Kadetten and Ystads. 
20:15 FULL TIME
20:11
Emil Bergholt remains ice-cold in this situation and finds a way to the net past Dejan Milosavljev. With just under four minutes to go, Füchse leads 22:26 in Skjern.
When everything around you falls apart simply lob the ball over the keeper 😅#ehfel | @SkjernHaandbold pic.twitter.com/AF5GdRUiMt

— EHF European League (@ehfel_official) March 21, 2023
20:04
Jakob Rasmussen scores his fourth of the day to level the game with just under ten minutes the go! The result is 22:22 in Skjern!
19:57
With ten minutes left until the final buzzer, Nexe has +6 (16:22) on the road as Predrag Vejin keeps on leading them with six goals. Dominik Kuzmanovic has 10 saves. 
Christoffer Bonde, on the other side, has 11 saves for Skjern so far, and is one of the reasons why hosts have managed to come inches away from completing the full comeback against Füchse. It's 20:22 at the moment, as Gidsel and Weber keep on dictating the tempo for Füchse scoring six each. 
19:47
In Düsseldorf, Nexe is leading Motor 12:16. It is interesting to see that coach Branko Tamse and his guys have definitely managed to find a way to slow down the best scorer of the competition so far - Ihor Turchenko. Young Turchenko has scored only two so far from five attempts. 
19:44
Skjern keeps on narrowing the gap in the second on the wings of Bonde and Rasmussen. Robert Weber, and Jacob Holm have on the other side joined Mathias Gidsel as best scorers for Füchse so far. And here is one of Gidsel's signature goals from the first half. 
Mathias Gidsel doing Mathias Gidsel things! 👏#ehfel | @FuechseBerlin pic.twitter.com/musqxoTJjW

— EHF European League (@ehfel_official) March 21, 2023
19:35
The players are back from the locker rooms, which means we're ready for the second half of action in the first two EHF European League Last 16 first legs. 
19:25
After a brilliant opening from the guest side, Skjern has managed to find a way to tighten up the defense and find pathways towards the net past Dejan Milosavljev narrowing the gap to 'acceptable' -3 at the break. Alfred Joel Jönsson, and Jakob Rasmussen have netted three each for hosts, while Mathias Gidsel scored one more for Füchse. Milosavljev finished the first half with six saves, while Bonde has seven. 
In Düsseldorf, Predrag Vejin (3 goals), and Dominik Kuzmanovic (6 saves) are leading Nexe against Motor. Iurii Kubatko has, on the other side, netted three from just as much attempts for hosts, while Gennadii Komok has five saves. 
19:20 HALF TIME
19:13
Nexe widens the gap to 6:10, while Skjern narrows it to 8:12. Christoffer Bonde has five saves so far, while Jakob Rasmussen netted three from just as much attempts. 
19:05
Füchse is having a day so far in Denmark leading 4:10. Mathias Gidsel is leading the offense with four goals so far, and Dejan Milosavljev has managed to stop over 55% of shots heading his way. 
It's a good day for the guests so far in the first two EHF EL eighth-finals encounters of the day with Nexe leading 5:8 against Motor. Fran Mileta and Janko Kevic have scored two each for the Croatian vice-champions so far. 
19:00
Dmytro Horiha powers his way for Motor's first goal of the day. What a shot!
⏰ Wake up everyone! It's #ehfel time! 🔥 pic.twitter.com/9QzwCrooEy

— EHF European League (@ehfel_official) March 21, 2023
18:50
Füchse opens the game in style taking an early 1:3 lead in Skjern through Gidsel, Freihöfer, and Marsenic. Dejan Milosavljev has three saves already. 
Nexe, on the other hand, leads 0:2 just over two minutes into the encounter. 
18:45
The matches in Düsseldorf, and Skjern are under way! In Germany, Nexe will have the first possession.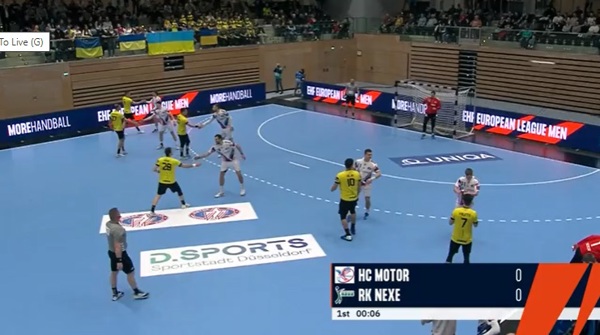 18:36
The knock-out stage of the EHF European League starts in less than ten minutes, so let's check out the official bracket of the competition! Which four teams do you see making it all the way to Flensburg, Germany for another EHF European League Final 4?
The ROAD TO THE #EHFFINALS is set! 🔥

Which teams do you see advancing to the next round? 🤔👇#ehfel pic.twitter.com/x9hGU6m4AG

— EHF European League (@ehfel_official) February 28, 2023
18:25
As we're waiting for the kick-off whistle in Düsseldorf and Skjern, let's have a quick look at the top scorers list after the group phase!
The best scorer of this season's EHF European League Ihor Turchenko takes on the court from 18:45 CET aiming to help his team qualify for the next stage against Nexe that unfortunately for their fans, today won't be able to count on the experienced right winger Fahrudin Melic - the fifth best scorer of the competition so far.
Alfred Joel Jönsson will, on the other hand, surely once again be one of the main attacking options for the Danish team against Füchse Berlin whose best scorer so far is Milos Vujovic with 60 goals, which helped him secure the 13th spot in our top scorers list after the group phase. 
18:14
And while Nexe (C), and Füchse Berlin (D) managed to finish the group phase of the competition on top of the standings, Skjern (C), and Motor (D) did it as fourth-positioned teams from their respective groups with Motor being the last team to book the eighth-finals tickets defeating Eurofarm Pelister away from home in the last round!
After opening the opening stage of the competition poorly, coach Gintaras Savukynas managed to find a way to elevate their game finishing the group phase strong with two wins when it mattered the most, and it is definitely going to be interesting to see how much they can do against last season's EHF EL Final 4 participants - Nexe Nasice. 
18:10
As said, first two games of the day are scheduled for 18:45 CET, and in them we are going to see two group winners - Nexe and Füchse Berlin, playing the first legs of their EHF EL Last 16 matchups on the road, against Motor and Skjern respectively.
And here is what one of the best players of the team from Berlin, and the head coach of Motor had to say prior to today's clashes. 
We are happy that we've made it to the eight-finals of such a strong competition like the EHF European League. It is a big step forward for our players, and I'm sure all of our players will really benefit from it. In this round, we are going to face off against Nexe - a team that has really big ambitions. We are however, entering the game full of optimism as we've managed to deliver some really good performances lately against some well-organized teams like Irun Bidasoa and Eurofarm Pelister from Bitola. We'll do our absolute best to make all of our supporters happy.


I expect a difficult match. It is never easy to play in Skjern, in front of the enthusiastic crowd over there. It is the knock-out stage so I think it is going to be a really intense, quick-paced game.
18:00
As we're getting ready for the first games of the day, feel free to take some time to go through the articles we've prepared for you, that contain all the facts, figures, statements from the main actors, and many more! There is not a better way to get into the mood for what lies ahead. 
17:50
Welcome to the live coverage of the first legs of the EHF European League Men's Last 16! We've got a busy eight-game matchday ahead of us with four teams taking the court as early as 18.45 CET, so sit tight and enjoy the ride!