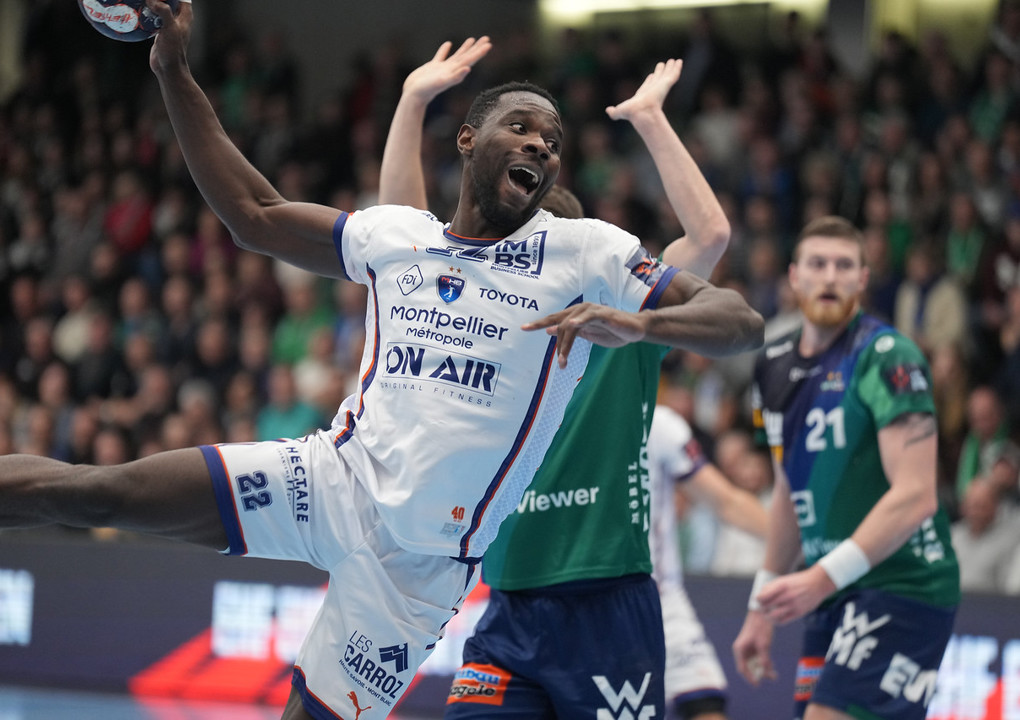 16 sides dive into the knockout phase
Tuesday sees us enter the business end of the EHF European League Men as 16 teams entering the knockout phase with dreams of taking a step closer to the EHF Finals.
After winning all 10 group matches, former EHF Cup winners Füchse Berlin appear favourites to progress against Danish side Skjern, the winner of this Last 16 pairing will duel with the winner of the Swiss-Swedish pairing Schaffhausen vs Ystad in the quarter-finals.
If Nexe are to emulate their 2021/22 season, they must overcome competition debutants and former EHF Champions League participant, HC Motor. Valur hope to make Iceland proud in their return to the knock-out stage as they face German side Frisch Auf Göppingen.
In the other games, Montpellier will try to get past FTC, while the confrontation between Granollers and Skanderborg looks very balanced.
Last year's winners, Benfica, will try to gain an advantage against Flensburg before the return leg, while Irun and Sporting, who both lost in the Last 16 last year, will try to climb one more step this time.
LAST 16 FIRST LEG
Skjern Handbold (DEN) vs Füchse Berlin (GER)
Tuesday 21 March, 18:45 CET, live on EHFTV
Skjern finished group C in fourth position with five victories and five defeats - their biggest success was the third rank at the EHF finals of the former EHF Cup in 2015, when Füchse Berlin took their first of two trophies in this competition
Füchse Berlin were the first and only team ever since the implementation of the EHF European League to win all ten group matches
Skjern's biggest win against a German team was in the 2014/15 season of the EHF Cup, when they eliminated Melsungen in the quarter-finals
Füchse have four Danish players in their squad, including three 2023 world champions (Mathias Gidsel, Hans Lindberg and Jakob Holm), Lindberg is ruled out with a broken hand
Skjern's best scorers in the European League are Swede Alfred Jönsson with 62 goals and Norwegian wing Eivind Tangen with 48 strikes, while Milos Vujovic (59 goals) and Holm (51) lead the way for Berlin
We expect a typical Danish team with a lot of technique and a fast game. We need to focus on our game and play our fast handball. Our goalkeepers in combination with our defence are one of the big points to get a good game.
HC Motor (UKR) vs RK Nexe (CRO)
Tuesday 21 March, 18:45 CET, live on EHFTV
Motor qualified for the Last 16 by finishing fourth in Group D after a crucial win over Eurofarm Pelister, while Nexe won group C
this will be the first time these sides meet in the European competition
this is Nexe's third year in a row to play the knock-out stage of the second-tier competition, Motor are making their debut after playing the EHF Champions League for eight straight years
the Croatian side may miss their top scorer Fahrudin Melic due to a calf injury; Motor's Ihor Thurchenko is the EHF European League top scorer after the group phase with 85 goals
Nexe travel to Düsseldorf after a 25:30 defeat against rivals PPD Zagreb in the domestic championship; Motor suffered a 27:35 loss against HSG Nordhorn-Lingenin second Bundesliga division
Our play-off opponent Nexe is a team that has big ambitions in their home championship and in the European competition. Our guys showed great character and performance in the final games of the group stage against experienced and well-organised opponents like Bidasoa Irun and Eurofarm Pelister. We're stepping into next stage with optimism. We intend to keep the Ukrainian handball flag high as long as possible - despite the difficult situation in our home country.
Valur (ISL) vs Frisch Auf Göppingen (GER)
Tuesday 21 March, 20:45 CET, live on EHFTV
the German club progressed further from the second spot in Group A, Icelandic side finished third in group B
this will be the first encounter between these clubs
the German side had the second-best defence of the group phase with 27.4 goals conceded on average per game; Valur's goalkeeper Björgvin Pall Gustavsson with 125 saves is the second-best shot-stopper
Valur played a knock-out stage of European competition three times - Champions League eight-finals in 1993/94 and 1995/6, and Challenge Cup semi-finals in 2016/17, Göppingen are in their first EHF European League campaign after playing EHF Cup last in 2016/17
prior to the clash, Valur were defeated by Selfoss (31:33) in their domestic championship, Göppingen had a draw (27:27) against another EL Last 16 participant, SG Flensburg Handewitt in the Bundesliga
Kadetten Schaffhausen (SUI) vs Ystads IF HF (SWE)
Tuesday 21 March, 20:45 CET, live on EHFTV
Schaffhausen enjoyed their most successful group phase in the second-tier EHF competition with seven victories, including two against defending champions SL Benfica - and finished third in group A below Montpellier and Göppingen
Ystad finished second in group B with 11 points and were the only team to beat group winners SG Flensburg-Handewitt - and only count on Scandinavian players
Icelandic new arrival Odinn Thor Rikhardsson is Kadetten's current top scorer in the European League with 67 goals. Jonathan Svensson (67) and three-times Champions League winner Kim Andersson (56) are Ystad's top scorers
Kadetten play their 26th season in EHF European Cup competitions, and have qualified for international competitions every year since 2004, while Ystad are currently in their sixth season of the second-tier EHF competition
last season, Kadetten proceeded to the quarter-finals of the European League, beating another Swedish team, Sävehof, in the Last 16; Ystad's only duels with a Swiss team were in the 2002/03 season of the EHF Cup, when they eliminated St. Gallen in the second round
FTC (HUN) vs Montpellier HB (FRA)
Tuesday 21 March, 20:45 CET, live on EHFTV
FTC qualified for the Last 16 by finishing fourth in group B, with nine points. They booked their ticket thanks to a last-second equalizer against Flensburg-Handewitt (27:27) in their last game
Montpellier finished first in group A, with 16 points, having lost only two games in the group phase
FTC's Bence Nagy is currently the European League second best scorer, with 84 goals across 14 games. Kyllian Villeminot netted 52 times for Montpellier across 11 games
Montpellier lost their two left-wingers to injuries in March. As a reaction, the club signed early Jaime Fernandez, from Norhorn, who was meant to join the club next summer
last weekend, Montpellier defeated Chartres in the French league (27:24) while FTC lost against Szeged in the Hungarian league (33:37)
Bidasoa Irun (ESP) vs Sporting CP (POR)
Tuesday 21 March, 20:45 CET, live on EHFTV
Irun booked their Last 16 ticket by finishing third in group D, while Sporting grabbed the second spot in group C
this season is the second in a row that the Spanish side qualified for the Last 16. Last season, they were eliminated by GOG (63:59 on aggregate)
Sporting also qualified the European League Last 16 in 2021/22 and enjoyed a similar fate against SC Magdeburg (65:64 on aggregate)
Sporting's Martim Costa is currently the third best scorer in the European League with 73 goals across 12 games. Irun's best scorer, Inaki Cavero Echepare, netted 56 times in 11 games
of both teams, only Sporting had a game scheduled last weekend. They won it, 32:30 against Gaia in the Portuguese league
They're a team that plays a lot in transitions, despite not having many tall players. They have very versatile players, who are capable of playing in several positions. They will try to take advantage of playing with their fans to leave Spain with some advantage. We have to be ready for that and we're going to have to be connected to the game. We know it's going to be very intense.
SL Benfica (POR) vs SG Flensburg-Handewitt (GER)
Tuesday 21 March, 20:45 CET, live on EHFTV
Flensburg have the second-best record of goals scored per match, 33.5, only behind fellow German side Füchse Berlin
the reigning champions have secured only two wins in five matches on their home court in the group phase and will face a struggle against Flensburg, who are one of the big favourites to clinch the trophy
the German side has suffered only one loss so far in the competition, 30:26 away to Ystad
Flensburg's star, Jim Gottfridsson, the MVP of the EHF EURO 2022, has resumed training, albeit without contact, after a two-months absence, and is still sidelined
goalkeeper Benjamin Buric has the second-best average efficiency in the competition, stopping 96 shots throughout the competition for a 35.3 per cent saving efficiency
If we want to win the competition, we must beat the best and Flensburg are one of the best, but we are the defending champions. It's a fact that the group stage didn't go the way we wanted, but now it's the knockout stage. We play at home, we want to take a win to Germany and put pressure on their side.


Fraikin BM. Granollers (ESP) vs Skanderborg-Aarhus (DEN)
Tuesday 21 March, 20:45 CET, live on EHFTV
Granollers are one of only four teams, alongside Montpellier HB, SG Flensburg-Handewitt and Füchse Berlin, which have won all their home games so far
the Spanish side are unbeaten against Danish opposition in European competitions on their home court, winning four games and drawing another one against sides like Aalborg, Skjern, GOG and HC Midtjylland
two of Skanderborg's players, Morten Balling Christiansen and Jonatan Ingemann Mollerup, are in 12th and 13th places in the top goal scorer standings this season, with 62 and 60 goals respectively
the two sides have matched up on the attacking part of the game, as Granollers scored 31.5 goals per game in the group phase, followed closely behind by Skanderborg-Aarhus, who had 30.7 goals per game
if Skanderborg-Aarhus manage to qualify for the quarter-finals of the EHF European League Men this season, it would be their best-ever performance in European competitions, having reached the Last 16 phase of the Cup Winners' Cup in the 1996/97 season