EHF EURO
Summary: Faroe Islands in historic victory; Sweden unbeaten
A busy schedule in the final week of Men's EHF EURO 2022 qualifiers will decide the lineup for the final tournament in Hungary and Slovakia in January 2022.
This live blog covers all the qualifiers as well as the EHF EURO Cup matches from Tuesday through Friday.








23:20
There's just one more day of Men's EHF EURO 2022 qualifiers left and what a day it will be. Super Sunday sees the last 15 matches take place, all at 18:00 CEST, with six tickets left to be secured. We'll be back with the live blog then for full coverage, plus video clips on social media as usual and of course streaming on EHFTV.
Before then, the EHF EURO CUP 2022 will be handed out with the 'final' between Hungary and Croatia at 14:10 CEST on Saturday 1 May, followed by Spain vs Slovakia at 21:00 CEST. Those games will be covered on social media and EHFTV too - as usual, geoblocking restrictions may apply. 
Don't miss a minute of the excitement!
23:12
After those two matches, check out the reviews for both games. 
22:35
Those were two very different but equally entertaining matches tonight - here's a reminder of the results.

22:24 | FULL-TIME
Huge celebrations erupt as the buzzer goes and the Faroes secure victory. It's the first time they have ever won a match at this stage in an EHF EURO qualification, and it means they pick up two points which might prevent them from relegation. 
For the Czechs, the story is not over. They will definitely go through to the final tournament, but the question is whether they do so as the second in the group after drawing or beating Ukraine, or third. They have three points in the ranking of the third-best teams, which is enough to see them through even if they lose to Ukraine.
22:18
Time is running out and the Faroes lead 27:25 in an electric atmosphere in Torshavn after Teis Horn Rasmussen picks up the rebound from a save and scores into an empty Czech net. What a match this has been.
22:13
Jakub Hrstka steps up for a penalty and it's saved by Nicholas Satchwell for the Faroes, to a huge roar from the crowd who are backing their men every step of the way. Buoyed up, Sjurdur Olsen scores and gives the Faroes the lead for the first time since the seventh minute of the match - it's 25:24.
22:04
Here's a look at that lovely in-flight goal we mentioned earlier from Elias Ellefsen a Skipagotu. 

21:58
Sjurdur Olsen equalises for the Faroes at 21:21, and it's time for a Czech timeout. 
21:51
Matej Klima has been particularly effective in the second half with four of his seven goals scored in the last 12 minutes. He's also made four assists so far. The Czechs now lead 19:17 in an intense match.

21:48
A stunning in-flight goal from Elias Ellefsen a Skipagotu puts the Faroes back within a goal of the Czech Republic at 15:16. The Faroese are still very much in the match, and are responding every time the Czechs pull ahead again.
21:40
Three goals from Matej Klima to one by Teis Horn Rasmussen have given the Czechs a 15:12 lead early in this second half.

21:25 | HALF-TIME
FAROE ISLANDS 11:12 CZECH REPUBLIC
The Faroe Islands are fighting hard and closed the gap from three goals to just one shortly before the break. A Czech direct free throw at the buzzer went a little wide, meaning the Faroese are very much in touch with their opponents and we're set up for a great second half.
21:20
Elias Ellefsen a Skipagotu is still just 18 but is one to watch. He now plays club handball for IK Sävehof in Sweden, and surely his future is very bright.

21:17
Five minutes went by with no goals, as both sides defended furiously. To the delight of the crowd, the dry spell was broken by a Faroese penalty, followed by a solid shot from the Czech Leos Petrovsky - it's 8:11.
21:10
The goalkeepers are being kept busy, but Martin Galia of the Czech Republic is currently leading the saves.

21:05
It's still close at 5:7, with 17 minutes down. The Faroe Islands conceded a penalty which Jakub Hrstka netted, and the Czechs have their first two-goal lead.
20:56
This is a much better start from the Faroe Islands than they made in Brno in March. Back then, the score after 10 minutes was 6:3 to the Czech Republic. Today, it was 3:3. The home side are going toe-to-toe with their opponents, defending and attacking well.
20:49
A slowish start with three goals in the first four minutes - two of them to the Faroe Islands, who are attacking these early stages hard.
20:45
The whistle goes and the Faroese fans get the cheers going for their team. It's great to see a busy arena for this game.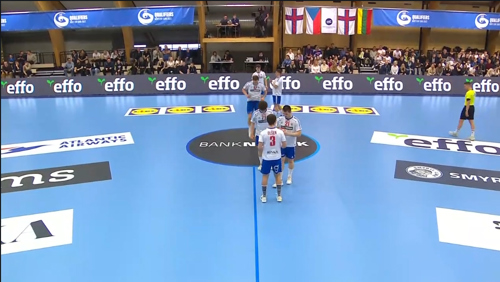 20:38
Nearly time for throw-off in tonight's second match, in front of a busy arena in the Faroe Islands where the home team are being warmly greeted by their fans.
20:00
Play resumes in 45 minutes as the Faroe Islands face the Czech Republic in Torshavn. The Faroese cannot finish any better than fourth but a win would give them a chance of avoiding being in the four worst fourth-ranked teams, who will have to play the relegation round to reach the EHF EURO 2024 qualifiers. 
Meanwhile the Czechs have a real opportunity of ensuring EHF EURO 2022 qualification if they win, as this would leave them with seven points ahead of their closing match against Ukraine on Sunday - at the moment, both are on five points. 

19:35
Tonight's win guarantees that Sweden have won their group. Winning six games from six looks likely - they beat Kosovo 30:16 when they met in Kosovo in November.
19:28 | FULL-TIME
Sweden remain undefeated in these EHF EURO 2022 qualifiers, now with five wins from five matches ahead of Sunday's closing clash with Kosovo in Alingsas. They looked really good tonight, weathering Montenegro's early attack before shifting into a higher gear and closing the game down.
Montenegro are still second in the group with four points, one ahead of Romania, and if they beat Romania or draw on Sunday they will still progress. A loss to Romania, however, would see them out of the competition.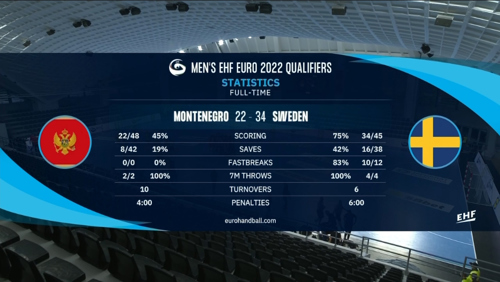 19:23
Vasko Sevaljevic has had a very solid game with six goals from nine attempts. Overall, however, Sweden have just been too good with a slick attack and strong defence serving them well at both ends of the court.

19:20
Felix Claar sends the ball between Mile Mijuskovic's legs and it's a 31:21 lead for Sweden.
19:16
Mikael Aggefors is the only goalkeeper on the Swedish squad tonight, so it's just as well he's having a good game. At the other end of the court, Nebojsa Simic has been replaced by Mile Mijuskovic but Mijuskovic is also finding the going tough. 
Sweden lead 29:20 with just over seven minutes to go.

19:08
With three-quarters of the game played, Sweden lead 27:18 and Montenegro's chances of a win have really slipped away. 
19:02
There has been quite a lot of this type of play from Sweden so far - great communication between Mikael Aggefors and the field players.

19:00
A bad pass by Lucas Pellas is stolen by Marko Lasica and Montenegro have a chance to close back to a four-goal deficit, but Vasko Sevaljevic's shot is saved by Mikael Aggefors and caught by Hampus Wanne - who, uncharacteristically, misses. But 20 seconds later Lukas Sandell does not, and it's 23:17 to Sweden.
18:54
Sweden have picked up where they left off and after only three minutes of the second half, lead 21:16.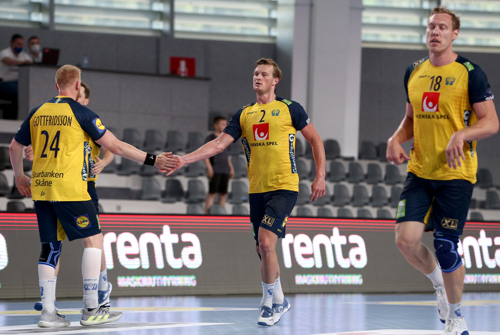 18:44
Although the scoreline is against them, Montenegro are playing well. Check out this rather nice in-flight effort from Filip Vujovic. 

18:37 | HALF-TIME
MONTENEGRO 15:19 SWEDEN
Hampus Wanne is the key to Sweden's success so far, with eight goals from eight attempts - five field goals and three penalties. The world silver medallists go into the break four goals ahead, and Montenegro's hopes of securing their EHF EURO 2022 place tonight rest on whether they can break through the Swedish defence and stop their opposition's fast breaks.

18:31
A lovely goal from Nemaja Grbovic, snatching his chance from a rebound, makes it 14:16 - but Hampus Wanne is there again as Sweden regain possession to make it 14:17, before Daniel Pettersson adds another and Sweden lead by four.
18:27
Yet another fast break by Hampus Wanne, who has scored six from six attempts, gives Sweden a 14:11 lead. Their defence is looking impressively strong too and preventing Montenegro's chances.
18:23
Sweden retake the lead with two quick goals from Albin Lagergren and Hampus Wanne, followed by another Wanne goal on a fast break. Zoran Roganovic calls a timeout. The 12:10 lead is the first time since the fourth minute of the game that either side have led by this margin, emphasising just how close things are.

18:18
A fumbled pass from Montenegro hands the ball to Sweden and Albin Lagergren makes good on the fast break. The two sides are trading blows equally here, with neither gaining dominance.
18:16
Here's Miloš Božovic's equaliser. Things remain close at 8:8 as the clock ticks past 15 minutes played. Hampus Wanne, Vasko Sevaljevic and Nemanja Grbovic have all scored three times so far.

18:12
A penalty successfully netted by Vasko Sevaljevic gives Montenegro a 6:5 lead, the third time now they have led by a goal. But a foul by Mirko Radovic gives Sweden a penalty, which Hampus Wanne quickly sends past Nebojsa Simic and it's level again.
18:05
Just under five minutes in, and Sweden led 3:2 after an early strong showing, but Montenegro are slowly finding their feet and Miloš Božovic equalises. Nebojsa Simic is also producing some great saves in these early moments. We have the makings of a good match on our hands. 
18:00
After two rousing national anthems, we're ready for throw-off. Check out the full squads and follow the key statistics here. 
17:45
Sweden have revealed their starting seven for the match - it's a strong line-up!
17:38
Not long now until Montenegro vs Sweden throws off in Podgorica.
If Sweden win they will remain one of only two teams (the other being Germany) to have won every qualifier so far. But they only beat Montenegro by three goals when they met in Lund in early March, and with the carrot of certain qualification dangling over their heads, the home team tonight will certainly be bringing their A-game to the contest. 
The match throws off in 20 minutes and you can catch it on EHFTV.
17:25
Before the matches tonight throw off there's just time to pop over to YouTube and catch up on the highlights from the last few days of action. How about this thrilling encounter between the Czech Republic and Ukraine which has set them up strongly for today's game in Torshavn?
16:55
In the late match tonight, the Czech Republic can all but secure their place at EHF EURO 2022 with a win at the Faroe Islands. The Czechs have five points on their account and still can finish anywhere from first to third in this group, while the Faroe Islands still have no points and will rank fourth.
The Czech Republic won the reverse fixture in March 28:20 and are expected to open the doors to their 11th EHF EURO participation with another win tonight.

16:22
The first of our two matches tonight means 'business' right away: Montenegro can secure their starting place at next year's EHF EURO if they beat already-qualified Sweden. That would reduce the number of available tickets on Super Sunday to seven.
However, even if Montenegro were to drop one or both points tonight, they are still in with a chance to claim their berth on Sunday, when they meet Romania. Check out our which-third-place-teams-will-qualify story where we have done all the calculations for you.

15:42
Who's hot and who's not in the qualifiers? EHF journalist Björn Pazen has taken a look at all 17 remaining qualifiers, including the two matches tonight, in our preview:
15:30
Welcome back to the Men's EHF EURO 2022 qualifiers live blog! The field for Hungary/Slovakia 2022 is taking shape nicely, as we now know 16 of the 24 teams that will compete at the final tournament: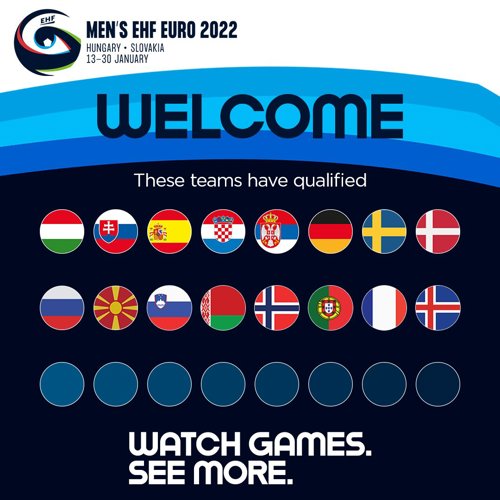 The remaining eight tickets will be booked during the 17 matches that still have to be played: 15 on Sunday and two on Friday. This is the schedule for tonight:
18:00 CEST: Montenegro vs Sweden in group 8
20:45 CEST: Faroe Islands vs Czech Republic in group 3

22:30
Oh, what a night! Six more teams know what they will be doing in January 2022, but there are still some more tickets up for grabs over the weekend.
The schedule for Friday:
18:00 CEST: Montenegro vs Sweden
20:45 CEST: Faroe Islands vs Czech Republic
So, make sure you visit the live blog again tomorrow, and for now we will leave you with some of the best pictures of the night in our gallery:
21:58
Read how Poland and Slovenia give a highly spectacular finish to their duel, with two goals in the last five seconds and the better end for the hosts, although the result also means that Slovenia advance as they are guaranteed to finish in the top-two of group 5:
21:50
One of the big moments from the night came from Poland's Michal Daszek. Well, it was the very last moment from the night, too. A textbook buzzer-beater:

21:44
Oh well, these qualifiers never disappoint, do they?
Maybe you lost track a bit during this bumper day of EHF EURO 2022 qualifiers and EHF EURO Cup action, so here is the overview:
group 1 - Greece vs Serbia 25:27 -> France qualify
group 2 - Bosnia and Herzegovina vs Germany 24:26
group 2 - Estonia vs Austria 27:31
group 4 - Lithuania vs Iceland 29:27 -> Iceland qualify
group 4 - Israel vs Portugal 29:41 -> Portugal qualify
group 5 - Turkey vs Netherlands 24:32 -> Netherlands qualify
group 5 - Poland vs Slovenia 27:26 -> Slovenia qualify
group 6 - Norway vs Latvia 36:17 -> Norway qualify
group 6 - Italy vs Belarus 31:32 -> Belarus qualify
EHF EURO Cup: Croatia vs Slovakia 26:23
You find the updated group standings here on eurohandball.com
21:33
RESULT: POLAND vs SLOVENIA 27:26 (12:10)
Incredible scenes in Poland! Slovenia seem to earn a draw as Domen Novak makes it 26:26 with literally five seconds left on the clock... only for Michal Daszek to give the hosts a 27:26 win with the very last throw of the match. Madness!
Still, this defeat means that Slovenia can start planning their trip to Hungary/Slovakia. Slovenia will now finish in the top two of group 5 for sure, thanks to the better head-to-head comparison with both Poland and Netherlands.

21:22
Read how Norway and Portugal booked their trips to Hungary/Slovakia 2022 with clear wins, while there was heartbreak for Italy with a missed penalty denying them the chance for a draw against Belarus, who are now through: 
21:16
Meanwhile in Poland, Slovenia have found their rhythm and made up that half-time deficit as Blaz Janc nets for 19:19 with less than 14 minutes left.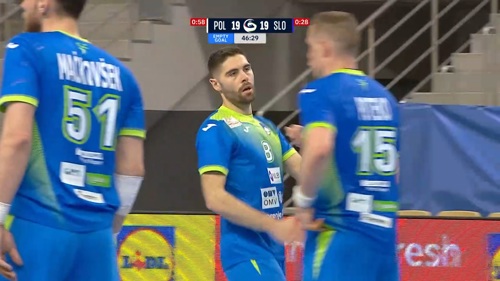 21:07
How close it really was in Italy? Watch this:
20:54
HALF-TIME: POLAND vs SLOVENIA 12:10
Poland have a must-win game since the Dutch victory over Turkey earlier tonight. And so far, they are doing pretty well, leading group 5 leaders Slovenia by two at the break.
20:36
RESULTS:
- ITALY vs BELARUS 31:32 (16:16)
Wow, how close was that?! Italy nearly upset Belarus, but the visitors escape with a one-goal win in Chieti to lock up a top-two finish... and secure their journey to Hungary/Slovakia 2022! 
- ISRAEL vs PORTUGAL 29:41 (13:22)
Never in doubt: Portugal return to the EHF EURO next year after a thumping win in Israel - and with a chance to claim top spot in group 4 as well!
20:25
Read how Lithuania upset Iceland, Netherlands outscored Turkey, and Austria claimed a must-win in Estonia in tonight's qualifiers, while Croatia overcame a first-half scare against Slovakia in the EHF EURO Cup:

20:03
RESULT: ESTONIA vs AUSTRIA 27:31 (13:18)
Austria set up a 'final' against Bosnia and Herzegovina - in Graz, Austria, on Sunday - with the winner joining Germany from group 2 to the EHF EURO 2022. Janko Bozovic and Lukas Hutecek both score six for the visitors tonight, Karl Toom leads with nine for Estonia.
19:50
Some more from that great Lithuania win tonight:
19:48
RESULT: NORWAY vs LATVIA 36:17 (17:11)
Kevin Gulliksen nets 11 as Norway ease past Latvia, who find the net only six times in the entire second half. The ticket to the EHF EURO 2022 is in the pocket for Norway.
19:39
RESULT: LITHUANIA vs ICELAND 29:27 (13:9)
They have done it! Lithuania stun group 4 leaders Iceland thanks to a 12-goal outing from Aidenas Malasinskas. That opens the door for Portugal, currently leading in Israel, to go for the group victory when they meet Lithuania on Sunday.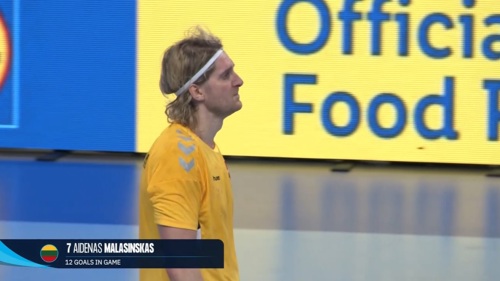 19:33
RESULT: CROATIA vs SLOVAKIA 26:23 (12:13)
A second-half comeback gives Croatia another win in the EHF EURO Cup! They are in with an excellent chance to win the cup when play concludes this weekend.
19:25
RESULT: TURKEY vs NETHERLANDS 24:32 (12:15)
Well done Netherlands, who take a big win in Turkey to close in on their second EHF EURO participation. The duo of (Alec) Smit & (Kay) Smits lead with six and five goals, respectively.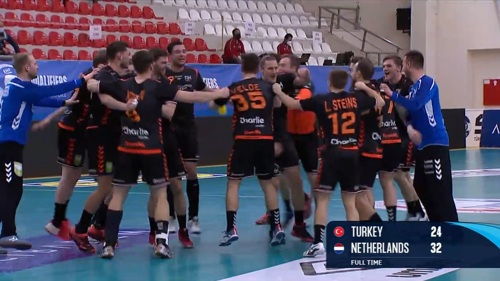 19:19
And this is how Lithuania are doing it:
19:17
Lithuania remain ahead of Iceland by three goals, 21:18, with less than 15 minutes on the clock. If they can keep this up, it would be the surprise of the day so far!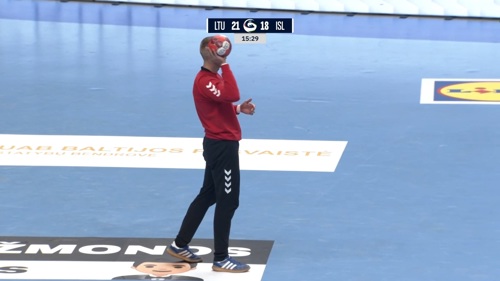 19:06
HALF-TIME: ESTONIA vs AUSTRIA 13:18
Boosted by the loss of their group rivals Bosnia and Herzegovina earlier today, Austria have carved out a big lead over Estonia, although it was even bigger (18:11) until two late goals reduced the gap for the hosts. 
18:58
Did I just mention Sagosen? Here he is:
18:52
HALF-TIME: NORWAY vs LATVIA 17:11
Norway are in control against Latvia, with star player Sander Sagosen leading the pack with four goals from four attempts.
18:41
HALF-TIME: LITHUANIA vs ICELAND 13:9
Not a high-scoring game so far but Lithuania are doing a great job against group 4 leaders Iceland. Portuguese fans might like what they are seeing here...
18:37
HALF-TIME:
- TURKEY vs NETHERLANDS 12:15
- CROATIA vs SLOVAKIA 12:13
Netherlands hold a healthy - but far from decisive - lead in Turkey, while EHF EURO 2022 co-hosts Slovakia are doing well to take the lead over unbeaten Croatia in the EHF EURO Cup.
Remember all matches are streamed live on EHFTV.
18:28
Delightful Dutch:
18:24
Meanwhile our busy Thursday schedule has four matches running (and soon five), with early leads for Netherlands (in Turkey), Lithuania (against Iceland) and Norway (against Latvia), while Croatia want to add another win over Slovakia in the EHF EURO Cup.
18:16
Read how Germany kept their six-year-long winning streak in EHF EURO qualifiers going, leaving Bosnia and Herzegovina to do it all against Austria on Sunday:
17:41
RESULT: BOSNIA AND HERZEGOVINA vs GERMANY 24:26 (15:15)
Germany led 25:24 for the last three minutes and the risk of losing a point only disappeared with Timo Kastening's last-second goal - his seventh of the match. Marcel Schiller led with 10.
The hosts missed a chance to close in on an EHF EURO berth and now probably have to face a true final in Austria on Sunday for second place in group 2.
17:29
Team timeout Germany. Coach Alfred Gislason talks to his players as they can't shrug off the Bosnians in this match and still lead by just one (23:22) - with just under eight minutes left.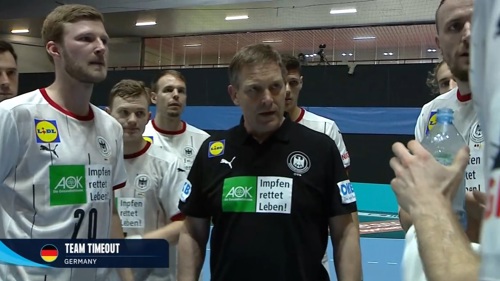 17:18
21:20 to Germany with 15 minutes left. It is goals like these that help Bosnia and Herzegovina keep their opponents in check:
17:02
Read how already qualified Serbia narrowly defeat Greece in the first match today, and how this helps France along the way:
16:51
HALF-TIME: BOSNIA AND HERZGOVINA VS GERMANY 15:15
Germany, already qualified, held a three-goal lead (11:8) at some point but the teams are back to all square at the break. Remember, Bosnia and Herzegovina are ranked second in group 2, with four points from four matches, followed by Estonia and Austria - who meet later today - with two points each.
16:10
The second EHF EURO 2022 qualifier of the day is now underway! Bosnia and Herzegovina are hosting Germany, who are already through to the final tournament. 
Watch live on EHFTV.com or follow the statistics and score on the live ticker. 
15:44
RESULT: GREECE VS SERBIA 25:27
Serbia secure the victory to extend their unbeaten run and make some big decisions with the result. Greece are knocked out of the running for the final tournament with the loss, while France book group 1's second ticket to Hungary and Slovakia.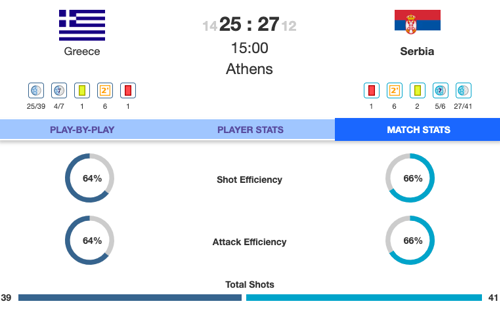 15:38
With three minutes until the final whistle, Serbia are holding steady in front with the score unchanged at 26:23. It seems Serbia are on the path to victory, although Greece could still produce a miracle finish... 
It has been a solid effort all around from Serbia. After Vladimir Cupara opened in goal and made a big penalty save in the first minutes, Dejan Milosavljev added a seven-metre save of his own at a critical point in the game to spur his side to a steady lead. 
15:31
A little the final 10 minutes, Serbia have taken control, leading 26:23. Greece can see their EHF EURO 2022 chance slipping away and must pull off a comeback to keep their hope of reaching the final tournament in Hungary and Slovakia.  
15:09
10 minutes into the second half, the score remains locked, at 16:16. With everything on the line for Greece, the home side have a win within their grasp — and they are putting on a great show as they battle to keep their EHF EURO dream alive. 
14:55
The second half is now live! Two minutes in, Serbia score the first goal of the half and close the gap to one goal, 14:13. 
We already shared one of the best assists from Greece's Efthimios Iliopoulos. Take a look at another of his standout plays in the first half below. 
14:40
HALF-TIME UPDATE: GREECE VS SERBIA 14:12
Greece score the last goal of the half to create a distance of two at the break. Can they hold on and keep their EHF EURO 2022 hopes alive?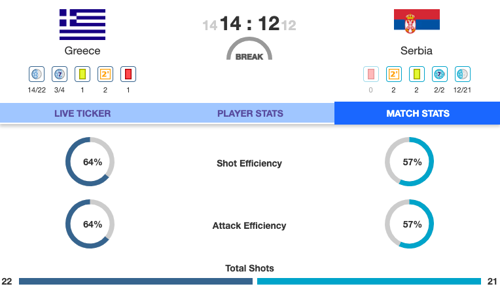 14:33
Always one of the biggest danger mans in offence, Petar Nenadic is putting on a great show for Serbia yet again. Enjoy one of his best assists so far below. 
At the 27-minute mark, Greece lead Serbia 13:12. 
14:25
With just over 10 minutes left in the first half, we are still seeing a neck-and-neck match, with the lead currently for Serbia, 10:9. 
For Greece, Efthimios Iliopoulos is delivering a great game with some superb assists. Check out one of the best below!
14:15
12 minutes into the match and Greece are on track to fight for the vital win so far, with a one-goal edge, at 7:6. 
But Serbia are eager to continue their unbeaten run through the qualifiers and will not make it easy, as Vladimir Cupara showed with this superb penalty save. 
14:01
Throw-off in Athens! Serbia put the first goal on the board courtesy of Petar Nenadic as the match gets underway. 
Follow all the statistics here on the live ticker.
13:30
We are just 30 minutes away from the opening match of the day! Greece vs Serbia gets us started on a big day with nine EHF EURO 2022 qualifiers. 
Following their loss to France on Tuesday, Greece face a must-win situation against Serbia in their bid to reach their first EHF EURO in history. If Serbia win, Greece will be out of the running and France will secure group 1's second place at the final tournament, alongside Serbia. 
The first leg between Greece and Serbia saw a big win for Serbia, 31:21. 
12:46
Yesterday four more teams secured their place at the final tournament in Hungary and Slovakia in January 2022, as Denmark, North Macedonia, Russia, and Sweden raised the total of confirmed participants at the EHF EURO 2022 to 10...
... which still leaves 14 open spots for grabs, to be decided in the remaining qualifiers up to and including Sunday. 
Here is an overview of the qualified teams so far: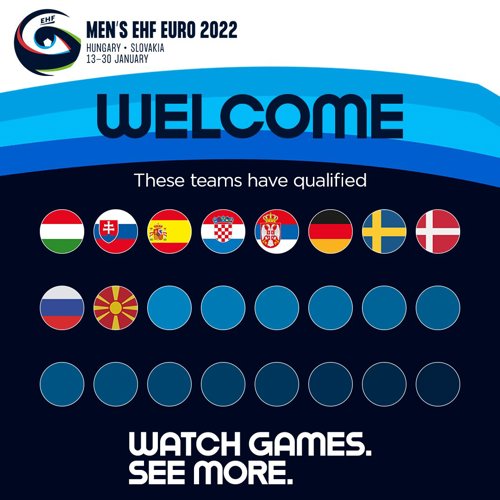 12:30
Good afternoon! Welcome back to the live blog for the decisive week in the Men's EHF EURO 2022 qualifiers.
Coming off a busy Wednesday night, we have an even fuller schedule ahead today, with nine qualifiers in total plus one EHF EURO Cup game - and we already throw off at 14:00 CEST!
You find the updated group standings here on eurohandball.com, and this is the schedule for today:
14:00 CEST
group 1 - Greece vs Serbia
16:20 CEST
group 2 - Bosnia and Herzegovina vs Germany
18:00 CEST
EURO Cup - Croatia vs Slovakia
group 4 - Lithuania vs Iceland
group 5 - Turkey vs Netherlands
18:15 CEST
group 6 - Norway vs Latvia
18:30 CEST
group 2 - Estonia vs Austria
19:00 CEST
group 4 - Israel vs Portugal
group 6 - Italy vs Belarus
20:00 CEST
group 5 - Poland vs Slovenia
22:42
This evening we saw four teams ensure they'll be a part of the EHF EURO 2022 party next January, congratulations to Russia, Denmark, North Macedonia and Sweden.
It's an even bigger day tomorrow with 10 matches in total, so be sure to join us here on the live blog. Goodnight!
22:23
After tonight's pair of EHF EURO Cup clashes, Hungary are top of the four-team competition with 8 points from 5 matches, followed by Croatia (6 points from 3), Spain (2 points from 4) and Slovakia (0 points from 4).
Croatia and Slovakia go at it again on Thursday, then we have Spain vs Slovakia and Hungary vs Croatia to decide the title on Saturday 1 May.



















22:01
RESULT: Spain 28:30 Hungary
It's that man again, Bence Banhidi, who gives Hungary the lead with just three minutes remaining. Dominic Mathé follows up with a penalty and suddenly Spain need to pull off something special in the final throws.
An impressive save from Roland Mikler denies the Spaniards and Hungary are delighted with themselves, snatching a victory to put themselves clear at the top of the EHF EURO Cup.
21:47
With just 10 minutes remaining, Spain still lead by the narrowest margin, 26:25. Hungary's Bence Banhidi has been brilliant on the line with seven goals and will be the target man for these final minutes.
21:32
Spain and Hungary trading goals at the start of the second half with the home side just in front, 20:19, after 38 minutes.
Daniel Sarmiento is doing the most damage in the back court today, firing in six goals so far and as you can see below, they're no simple finishes.

21:13
A remarkable second quarter from Spain saw them come from 9:3 down to lead 15:14 at the break against Hungary in Malaga.
Besides it being an entertaining contest between two teams with interesting playing styles, there's plenty of connections between the teams, with Hungary coach Chema Rodriguez and right wing Pedro Rodriguez hailing from Spain and Spanish back court duo Joan Canellas and Jorge Marqueda plying their trade with Hungarian clubs.
21:05
Spain took their sweet time to get going but now we really have a game on our hands. 13:13 after 26 minutes in a game where both sides are finding most joy down the middle with their playmakers and line players leading the scoring.
20:57 
Montenegro catapult themselves back into contention to qualify with a 27:22 win over Kosovo. They sure know how to get it done at this level and it showed with their ability to go on scoring runs when they needed it most and hold firm in defence throughout the evening. Kosovo will be kicking themselves after looking back at some of their missed opportunities but they are very much still in a period of learning.
20:52
No matter what Kosovo throw at them, Montenegro seem to have a response and they lead 24:21 with 4 minutes remaining.
20:44
A huuuuge save by Nebojsa Simic keeps Montenegro four ahead at 21:17 and that could be a big turning point in this game with just 10 minutes remaining
Meanwhile, Spain had to wait almost 8 minutes to get on the scoreboard at home to Hungary and currently trail 6:2, not an ideal start for the European champions.
20:36
Kosovo are knocking on the door but cannot quite make a breakthrough against Montenegro, who are showing their greater experience at the moment and lead 18:15 with 15 minutes left to play.
20:30
A composed and confident Croatia never really looked troubled as they beat Slovakia 32:24 in the EHF EURO Cup. Although the second half was better, this was another match that highlighted Slovakia's attacking frailties, something they'll need to fix before hosting EHF EURO 2022 in January.
Next up in that competition we have Spain vs Hungary in what promises to be an exciting game. It begins right now!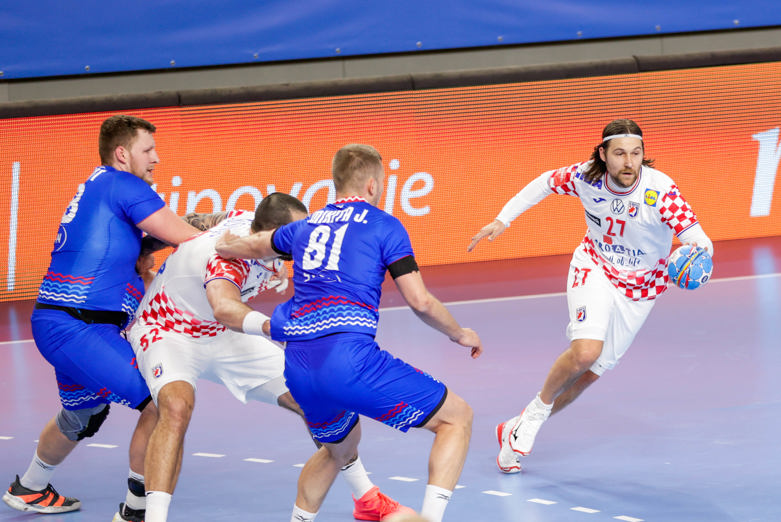 20:21
The second half of Kosovo vs Montenegro is underway with the away side leading 13:10 after a tense first half. The importance of this game is not lost on either set of players and it's certain to guarantee some drama in this second period.

20:07
Russia are the next side to book their passage to the final tournament, but they didn't have things all their own way in a 31:24 win over Faroe Islands and you've got to give them credit for that.
Norway have taken a big step towards qualification with a much-improved second half, resulting in a 28:23 win away to Latvia as Sander Sagosen led all scorers with 9 goals.
19:59
Attacker fouls and turnovers galore in the final minutes as both Switzerland and Denmark feel the strain of the tight finish.
But the world champions hold their nerve as stand-in captain Mads Mensah scores the decisive goal to give Denmark a 30:29 victory and in the end, 12 goals from Andy Schmid is not enough.
The result means both Denmark and North Macedonia are through as the top two in Group 7, while Switzerland must hunt points in Skopje on Sunday in hope of claiming one of the four third-place finisher tickets.
19:50
Emil Jakobsen gives Denmark a 28:27 lead with a steal and goal into an empty net, something Switzerland can not afford at this stage. But Andy Schmid delivers again and we're level with 5 minutes remaining. Thrilling conclusion incoming!
19:41
In the EHF EURO Cup, Slovakia had drawn level midway through the half but that merely sparked Croatia into life as they powered to a 16:10 half-time lead.
In Winterthur, Denmark have closed the gap on their hosts and momentarily took the lead. It's going to be a tall order for Switzerland to find another gear but they have the man to do it. 24:24 with 12 minutes remaining.
19:36
Our final qualifier of the night is underway and it's another hugely important game between Kosovo and Montenegro. And it's showing on the scoreboard, 5 minutes played and the score is 1:1.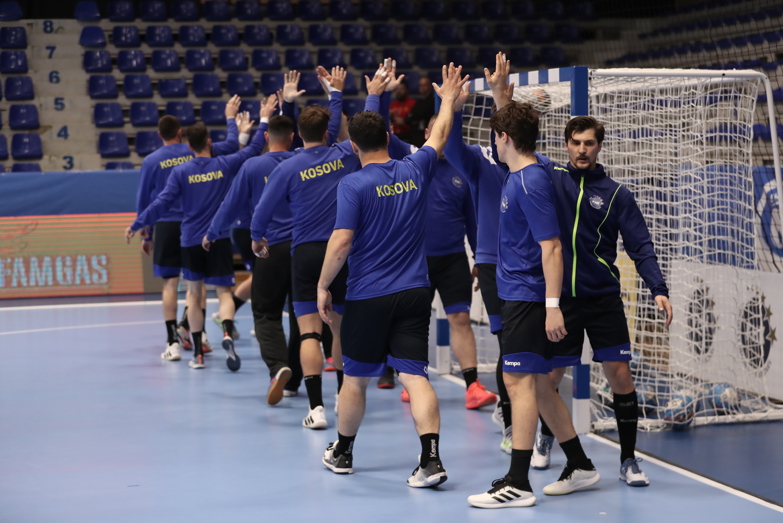 19:28
After a free-flowing first half, the start of the second half has been tighter and a bit nervy. It feels like a crucial time for Switzerland as they try to maintain control of the match and fend off Denmark's advances - 19:17 to the Swiss after 37 minutes.
19:19
Latvia and Norway are engrossed in a real battle so far and at the halfway point, Norway have snatched a 14:13 lead.
Meanwhile the first EHF EURO Cup game of the evening is underway and Croatia hold a 7:5 lead over Slovakia.
19:13
In Moscow, Russia look well on course to book their EHF EURO ticket tonight as they lead Faroe Islands 16:10 at half-time. It has been a very smooth performance from the Russians so far but we've seen second-half surges from the Islanders already in this campaign...
19:08
It's the Andy Schmid show tonight. The Swiss playmaker has scored 8 from 11 shots as his side lead Denmark 17:14 at the break. Can they keep it going?
18:58
Big Dainis Kristopans is another man on a mission tonight as he and Latvia fight for their EHF EURO survival against Norway. Kristopans has scored four of Latvia's eight goals as they have opened up an early two-goal lead.
18:52
Denmark are missing leaders on and off the court tonight and so far, it's showing!
Assistant coach Henrik Kronborg is at the helm today as Nikolaj Jacobsen is recovering from a knee surgery at home, while Mikkel Hansen and Niklas Landin are not in the squad. It's a great chance for some fringe players to make a claim for their position today but it's not looking great at the moment - Switzerland lead 12:8 after 20 minutes.
18:42
Andy Schmid is a man on a mission tonight! Four goals in 10 minutes and Switzerland lead world champions Denmark 9:5!
18:30 - FULL-TIME
Congratulations to Sweden on earning a ticket to EHF EURO 2022 after their dominant 30:23 win over Romania. North Macedonia will have to wait and see if Denmark will do them a favour to book an early ticket as well this evening after beating a spirited Finnish side 27:22, a scoreline which is perhaps a bit harsh.
Despite leading from start to finish, it was a bit too close for comfort for Czech Republic but they won't mind after beating Ukraine 28:26. The sides are now level on points in second place in Group 3 and will meet again in Sunday's group finale.
18:24
As we enjoy the final minutes of our opening throw-offs, a quick reminder that we have three more qualifiers coming up very shortly.
18:30 CEST
Switzerland vs Denmark
Russia vs Faroe Islands
18:40 CEST
Latvia vs Norway
18:18
I may have spoken too soon! Ukraine with a late charge and trail by just one, 24:23 with eight minutes remaining, while the likes of Lazarov and Stoilov have taken control for the Macedonians as they open up a 23:20 lead.
18:09
With Sweden looking certain to win and Galia stopping everything in goal for Czech Republic, it looks like our tightest finale will come in Finland vs North Macedonia, it's 19:19 as we enter the final quarter of the clash.
18:00
Fascinating start to the second half in all three games. Ukraine and Czech Republic have both come out swinging against each other, Finland holding on tightly to their lead and Sweden have raced into a double-digit lead.
17:47
Czech Republic have been very impressive in the first half as they look to tighten their grip on a top-two spot in the group. Matej Klima had led the line in attack for the Czechs with five goals but as you can see below, it has been a fine team performance.
17:38 - HALF TIME
Finland 14:12 North Macedonia
Romania 7:14 Sweden
Ukraine 12:16 Czech Republic
We're hitting the halfway mark in our early throw-offs and two matches, in particular, are very interesting. I said Finland would be tricky underdogs and they are proving to be exactly that with their 7vs6 attack, which Ukraine are slowly finding their way back into the game after a slow start at home.
17:32
An 8-goal run for Sweden has seen them take full control of their clash away to Romania, now leading 12:5 towards the end of the half and looking very comfortable.
17:25
With Ian Martin orchestrating the attack, Finland have opened up a 12:10 lead against the Macedonians and coach Kiril has brought himself on to try remedy the situation with 8 minutes left in the first half.
17:16
Romania are giving world silver medallists Sweden some early headaches in Transylvania but two penalty misses and a couple of wonderful saves by Andreas Palicka have kept Sweden's noses in front, 4:3 after 13 minutes.
17:10
Ola Lindgren and his youthful Finland side have gone with 7vs6 in attack right from the off and it's paying dividens so far with the scores level at 5:5 after nine minutes.
17:05
A very promising start for Czech Republic away to Ukraine as they've raced into a 3:0 lead, after a penalty save by Martin Galia.
16:56
The national anthems are being played and we're just moment away from throw-off in three matches, all live on EHFTV right now!
Finland vs North Macedonia
Romania vs Sweden
Ukraine vs Czech Republic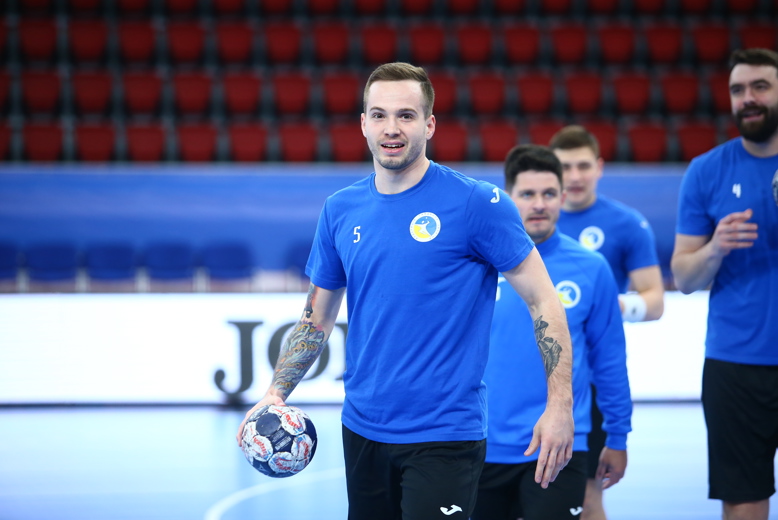 16:48
In fact, there are two Macedonian coaches in the playing squad tonight. Will that experience be enough to take them over the line against tricky underdogs Finland? 
16:37
One of the three upcoming 17:00 throw-offs sees Kiril Lazarov's third match as player-coach for the Macedonians.
The legendary right back is in the playing squad this time, here's what happened the last time he played and coached.
16:08
One of the teams that could book their EHF EURO 2022 ticket today is Sweden. Alongside already qualified Germany, Sweden are the only team in the qualifiers that has yet to drop a single point.
After three straight wins in group 8, the four-time European champions and 2018 runners-up take on second-ranked Romania at 17:00 CEST in a match that could earn Sweden their trip to Hungary and Slovakia.
15:26
Hungary are leading the pack in the EHF EURO Cup, with three wins from their four matches. However, Croatia played only two matches so far - and won twice, while Spain are expected to bounce back after winning just one of their first three games.
You can check the EHF EURO Cup 2022 standings on the dedicated page here on eurohandball.com
So far, Hungary's Dominik Máthé is on top of the scorers' list of the EHF EURO Cup, with 26 goals from four games. Can he hold on to his position over the next few days?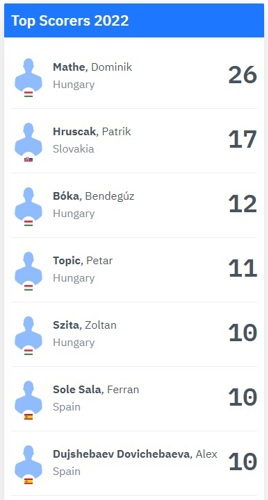 14:46
Wednesday's playing schedule also includes four teams that don't have to worry about qualifying for EHF EURO 2022: Co-hosts Hungary and Slovakia as well as 2020 champions Spain and runners-up Croatia have their places at the finals tournament guaranteed and will continue their battle in the EHF EURO Cup tonight:
19:00 CEST: Slovakia vs Croatia (in Croatia)
20:30 CEST: Spain vs Hungary
12:48
Denmark, North Macedonia, Sweden and Russia could all potentially book tickets to Hungary/Slovakia 2022 if results go their way today.
All of those sides will feel it's a case of when and not if they qualify but that is certainly not the case for Kosovo, who could take a huge leap towards their first major championship if they score a result against Montenegro tonight. Kosovo put themselves in this position thanks to this victory back in March.
11:45
Good morning and welcome back to the live blog! It's a big day for the EHF EURO 2022 qualifers with seven matches, plus two clashes in the EHF EURO Cup.
EHF EURO 2022 qualifiers
17:00 CEST
Finland vs North Macedonia
Romania vs Sweden
Ukraine vs Czech Republic
18:30 CEST
Switzerland vs Denmark
Russia vs Faroe Islands
18:40 CEST
Latvia vs Norway
19:30 CEST
Kosovo vs Montenegro
EHF EURO Cup
19:00 CEST
Slovakia vs Croatia
20:30 CEST
Spain vs Hungary
21:03
And thus, our coverage for this evening comes to a close. All the big favourites get the job done away from home. You can read all the individual reports on each match just above, coverage continues tomorrow with a bumper nine matches on the agenda! See you then!
RESULT: Israel 20:30 Iceland 
It's full-time in Tel Aviv and Iceland left no doubt today who was the better side, backed by two excellent goalkeepers (especially Hallgrimsson with 12 saves), the hosts, who played their second game in 48 hours showed great fighting spirit but were outclassed at both ends of the court.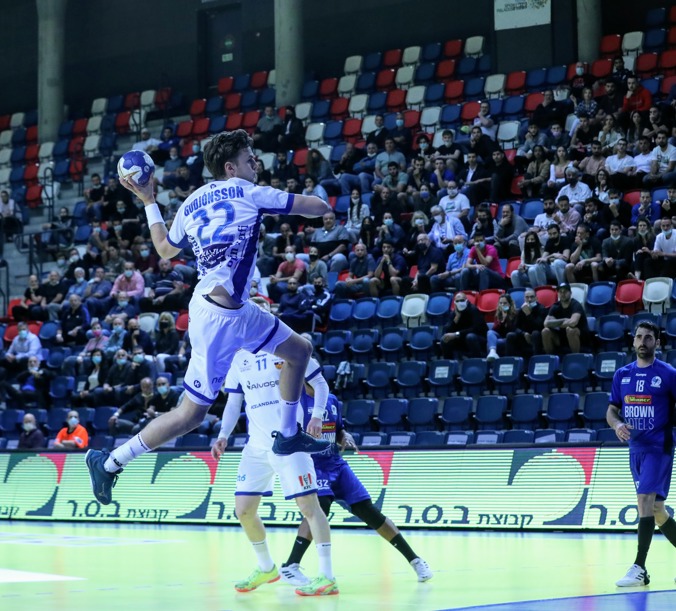 Shout-out has to go to Viggo Kristjansson who had an excellent second half netting all of his five goals in the second 30 minutes. 
RESULT: Greece 31:40 France 
A late red card for Dika Mem but a penalty save by Genty, kept France's nine-goal win intact. They were under real pressure when Greece pulled it back to 33:29 but thanks to Fabregas who was there to net three and pull off a steal, the French were able to put their foot down. France remain in second spot in group 1, now just two points behind group leaders, Serbia.
Fact: Only one team scored 40 goals in the qualifiers so far when Denmark beat Finland 40:22, just ahead of 39:24 of Norway against Italy and the 39:27 score line of Belarus when they faced Lithuania.
20:18
What is happening here?! Some big mistakes in attack by France and Greece's defence suddenly looking rock solid and we have a late rally. Greece 29:34 France

Karampourniotis (4/4) for Greece in the space of four minutes made a huge block, netted two quick goals and a steal - the man is on fire.
20:12
At half-time we have seen the young Hallgrimsson grow more and more into the game. Himself and the Icelandic defence have been a massive task for Israel's tired legs. 
20:07
Greece 23:30 France, and thus it is looking very likely that a France win will mean (not counting the assessed matches against Belgium) their 50th victory in an EHF EURO qualification matches. 

The Kielce line player Nicolas Tournat has really turned it up with his five goals, three coming in the second half. 
19:52
We are 21 minutes gone in the Israel vs Iceland match and it is all Iceland so far with Magnussen leading the scoring with 3 goals. 

The Icelandic defence is really the difference so far. It looks absolutely air-tight with Arnarsson and Gislason in that middle block, they are giving the Israeli backcourt hell and it is showing on the scoreboard - and all that back up Hallgrimsson in goal making some decent stops. Israel 6:12 Iceland  
19:41
HALF-TIME: Greece 16:22 France 
The old-heads are turning up tonight for France with Abalo (3/3) and Guigou (4/4) looking sharpest for the French. 
19:35
France have turned on cruise control in Greece as they lead 22:16, with Porte and Guigou netting four each, both on 100% shooting so far. 


19:26
RESULT: Turkey 22:30 Slovenia
Turkey will have to wait at least until 2024 before they will have another chance to appear at an EHF EURO event, as the loss tonight means they bow out of contention for a spot in Hungary / Slovakia. 

Slovenia, on the other hand, have their foot firmly in the door for EHF EURO 2022 - now two points clear at the top of their group 5. It will be a nice pick-me-up for the side which narrowly missed out on a spot for the Tokyo Olympics in March. 
19:25
Just 5 minutes away from Israel's mammoth task when they take on Iceland in their quest for two wins in 48 hours. 

Watch it here on EHFTV.com 
19:22
Omer Ozan Arifoglu of Turkey sees red for dangerous play when his shot connected Slovenian Miha Zarabec's face.
19:10
Slovenia can't seem to full shake off Turkey, each time they look to pull away, Turkey respond to keep the gap at five. Nevertheless, Dolenec is oozing with confidence out there and looks head and shoulders above the rest, and he is as cool as a cucumber from the penalty spot; he's now 11/12 with six of those coming from the seven-meter spot. 
19:00
Greece vs France has just thrown off over on EHFTV.com, so click HERE if you want to join us there for that! 
18:41
HALF-TIME:
22-year-old Gorkem Bicer is giving the hosts Turkey a ray of hope, his 5/5 is keeping them within reach of Slovenia who will be somewhat content with their performance, should they iron out some of the unforced errors and play with a bit more zest in attack we should see witness them pull away. Dolenec broke is perfect shooting percentage when he missed an underarm shot late in the first but he is Slovenia's top man at the moment with 8/9. 
Another reason for the clear half-time gap was the difference in goalkeeping: While Slovenian Urban Lesjak saved 9 from 18 shots (50%), both Turkish goalkeepers Göktepe and Özmusul had one save from 17 shots. 

Join us on EHFTV.com now for the second half...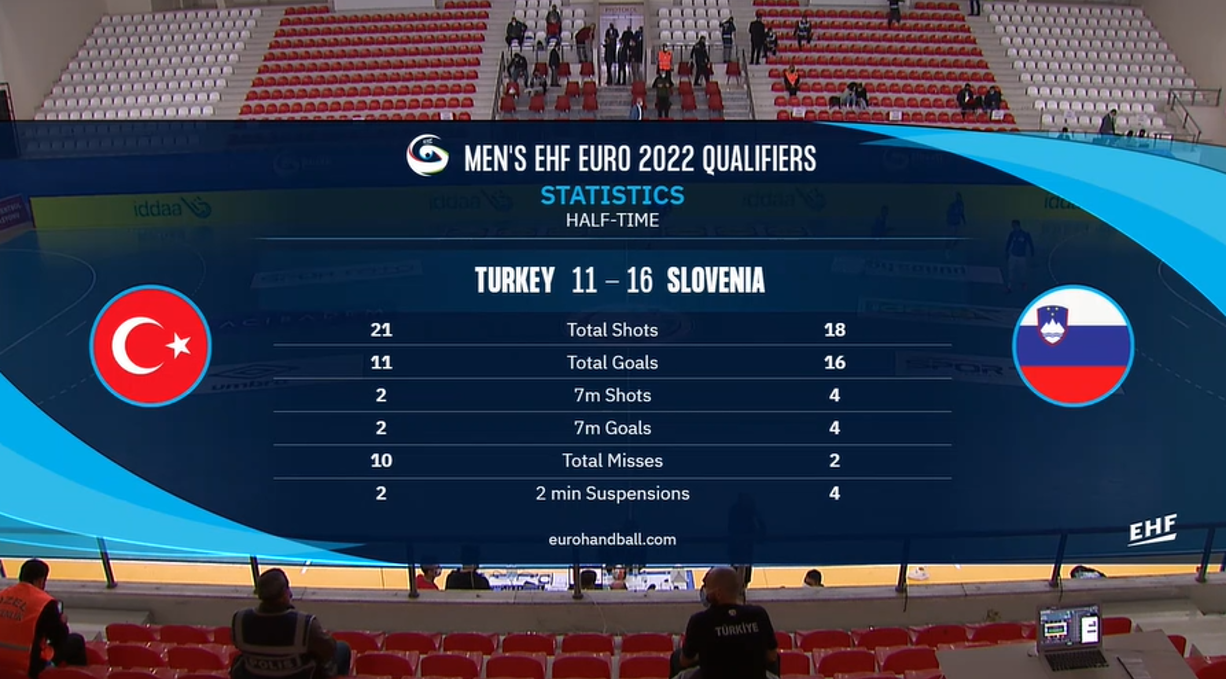 18:28
Jure Dolenec can't be touched so far, he is on fire with 7/7; making it look easy out there. Turkey 9:12 Slovenia.
18:20
And we are about 17 minutes into the first half and we have had seen a bright start from the Turkish hosts

Turkey are looking for their line Mehmet Demirezen a lot, but are often getting stuck / held up one vs one. However, 3/3 from Bicer has helped them to stay in touch with Slovenia, still trailing 9:7.
17:45
For our first match of this evening between Turkey and Slovenia, we have two sides that have met three times before but have not met for an official match since the EHF EURO qualifiers in 1995. Slovenia have a clean record over the Turks with three wins. And can with a win move two points clear at the top of group 5. 

Join us on EHFTV and catch some clips of the warm-up! 
17:15
Good afternoon! Welcome to the live blog for the decisive week of the Men's EHF EURO 2022 qualifiers. We throw off today's action in 45 minutes.
Israel opened proceedings with a 34:28 win against Lithuania on Monday, while we have the next three games coming up for you tonight:
18:00 CEST: Turkey vs Slovenia (group 5)
19:00 CEST: Greece vs France (group 1)
19:30 CEST: Israel vs Iceland (group 4)