Summary: Magdeburg fight for MOTW win; strong away sides highlight round 7
The Machineseeker EHF Champions League 2023/24 returned from its two-week national team break with round 7, which included a thrilling MOTW between Magdeburg and GOG, with the defending title holders taking the points. 
22:38
After the results from today, Barça maintain their position on top of group B while Magdeburg slide into third position as they move two points ahead of their MOTW rivals GOG.
In group A, Aalborg jump up to second thanks to their win against Kiel — the biggest ever against the German powerhouse on their home court. Kielce stay in fifth, while Szeged climb into sixth thanks to their victory. With one point gained from their draw against Kielce, Zagreb add to their tally but fall one position as they are passed by Szeged — but they are still well clear of last-placed Eurofarm Pelister. 
Take a look at all the standings after round 7 here.
It was a tough game in which we made too many mistakes in the first 40 minutes. We got better and better in the second half and were particularly convincing in crunch time. In the end, I'm very proud of my team after all the exertions of the past few days.








22:18 RESULT
Barça leave Plock with the two points, but the win was not easy, with the home side on the hunt to the end. Barça back Dika Mem scores seven for his side, while Tin Lucin nets eight for Plock. 
22:12 RESULT
An incredible MOTW win for Magdeburg that sees them rewarded for a tough fight through the first 50 minutes before a strong finish to secure a clear win in the end. Michael Damgaard earns the Player of the Match award, thanks to his seven-goal effort. 
22:09
Final minutes of the MOTW and Magdeburg have taken control, leading 33:27. It's a remarkable finish for the defending Champions League title holders, as they pull away from the 49th minute, keeping GOG scoreless for seven minutes to open the decisive advantage.  
21:57
Just under 15 minutes to go in the MOTW and it's all square at 26:26. 
Emil Madsen is leading the individual scoring race with eight goals for GOG, while Henrik Jokobsen and Alexander Blonz have both notched up five goals from five shots. Magdeburg back Albin Lagergren also counts five goals at 100 per cent in what is a difficult match for the goalkeepers with low save rates at both ends. 
In Plock, Barça are holding on to their edge but Plock are not making it easy, with the Spanish side in front 23:20. 
21:40
Back for the second half and five minutes in the MOTW is unfolding as a tight battle, with the score at 19:19. At Plock, the home side are fighting back, coming to 13:16. Can they pull off a complete comeback? 
Plock are chasing their second win of the season, after opening the with five straight losses. While Plock took their first victory in round 6, Barça lost for the first time last round, suffering a defeat to Veszprém on the home court — their first loss in Palau Blaugrana since November 2021. 
Plock have beaten Barça only once before, back in 2014. The remaining five mutual matches were won by the Spanish side. 

21:23 HALF-TIME
An impressive comeback from the defending Champions League title holders as Magdeburg draw level with GOG a few minutes before the break and keep it that way as the half-time buzzer sounds. The Danish side still had a slight upper hand towards the end of the half, scoring first and leaving Magdeburg to equalise, but the breather may allow the German team to completely flip the momentum. 
Easy does it for Barça, who lead the whole first half and hold a four-goal advantage at the break in Poland. 
21:01
Timeout Magdeburg as GOG stay clear in control in the 14th minute, leading 8:4 in the MOTW. At Plock, Barça have the edge 6:4. 
For Magdeburg, GOG's defence is proving a big challenge, as they attack at a very low efficiency of 26 per cent and have scored at just 42 per cent. Comparing that to GOG's shooting efficiency of 82 per cent, the numbers speak for themselves. 
20:49
The MOTW is underway with GOG taking an early lead, 3:1, versus Magdeburg as we hit four minutes played. In Plock, the away side are also in charge early on, with Barça in front 2:0 five minutes in. 
Below, take a look at how the draw in Zagreb was secured, after Kielce gained possession with the chance to equalise in the last 30 seconds...
20:35
Let's dive in to some key facts about the MOTW, Magdeburg vs GOG.
This is only the third match in history between these sides, after they met last season, trading wins on the home court — very close wins (36:34 for Magdeburg in Germany and 33:32 for GOG in Denmark). 
Across all competitions, defending Champions League title holders Magdeburg enter this match on a 17-game winning streak. They just won their third straight trophy at the IHF Super Globe in Saudi Arabia on Sunday, beating Füchse Berlin in an extra-time final and Kielce in the semi-final. 
The sides are equal on points on the group B table, having each taken four wins in the season and lost twice. Thanks to a better goal difference, GOG are third while Magdeburg are fourth. With Barça only two points ahead of the two MOTW teams, the winners of this encounter will join the Spanish powerhouse on points. 
20:31
Round 7 is almost over, but it will end with a bang as the MOTW between SC Magdeburg and GOG takes place, along with Plock vs Barça. Both games throw off at 20:45 CET and can be caught live on EHFTV.
The match brought a fair fight, which was extremely difficult for us, as we started nervously and made a lot of mistakes. In the second half, we were able to do what we were prepared for, and this is the reason for our success.















Looking at how good their roster is, we should be happy with this point. Looking at how close we were to securing two, we're obviously disappointed now. We didn't find the right way to deal with their 5-1 defence, but despite everything I feel like we've really given everything we had out there. We've shown everyone that we can play a competitive match against them, and we'll strive for that in Poland as well.
20:25 RESULT
A great fight from Kielce, who led the match only once, at 0:1, and were chasing Zagreb from that point on to finally secure a draw. Zagreb had their last say for the score of 22:20 in the 56th minute, before the Polish team scored the final two goals of the game courtesy of Alex Dujshebaev and Nicolas Tournat. The teams therefore split the two points, and the one point is Zagreb's first earned against Kielce overall. 
20:19 RESULTS
From one goal behind at half-time, Szeged turn a tough first half into a commanding win against Eurofarm Pelister, who are left waiting for their first victory of the season. 
In charge from the 12th minute on, Aalborg earn the two points in style at Kiel. 
19:57
It looks as though the chance for the first win of the season is slipping away from Eurofarm Pelister, as Szeged have extending their advantage to 28:24 at the 45-minute mark. The Hungarian team have improved at both ends of the court compared to the first half — attack efficiency from 43 per cent to 67 per cent, and goalkeeper save rate from 21 per cent to 58 per cent. In 15 minutes, the home side have outscored their opponents 10:5. 
In Zagreb, the Croatian team stay in front of Kielce 19:17 with 12 minutes to go, while Aalborg are showing no mercy at Kiel, with a 23:14 advantage. 
19:45
Back to it in Zagreb, Szeged and Kiel, with the second halves now well underway. While Aalborg have stretched their lead over Kiel to eight at 18:10 in the 39th minute, Zagreb are only just maintaining theirs over Kielce, at 15:14 in the 38th. 
Meanwhile in Hungary, Sgezed have snatched the advantage from Eurofarm Pelister, leading the game for the first time at a score of 22:21 in the 36th minute. 

19:22 HALF-TIME
Impressive stuff from Aalborg as they take a clear advantage into the break in Kiel. The Danish side are looking good to upset THW's comfortable lead on top of the table, as a win here would bring them just one point behind the German team. 
Eurofarm Pelister hold on to the lead by the narrowest of margins — can they keep it to the end? Szeged are dangerously close now and it may be tough for the visitors to maintain the advantage on Hungarian ground. 
After trailing as clear as four goals, Kielce close the gap to Zagreb to give themselves the best chance of taking the away points. 
19:19
Nearing the end of the first half, Aalborg are comfortably in charge on THW Kiel's court — and they can mainly thank a huge game from goalkeeper Niklas Landin for that. With 10 saves at a massive rate of 62 per cent, Landin is causing his former club big problems. 
But it's no picnic scoring at the other end of the court either, as Kiel's Samir Bellahcene is also delivering a big game, with a rate of 44 per cent and a tally of eight saves. 
19:09
19 minutes played and Eurofarm Pelister still have the edge over Szeged, at 13:12. Pelister are one of only two teams yet to take any points in the current season, alongside Celje in group B. 
The Macedonian team are playing their first campaign in the top-flight competition since 2005/06, when they played the group phase for the first and only time until now. Although they bowed out in the group phase last season, Eurofarm saw recent success in the European League, reaching the Last 16 twice in a row, in 2020/21 and 2021/22. 
A win against Szeged would be their first win of the Champions League season and only their second in the group phase overall, as they took one win in the 2005/06 season.  
18:53
Around the five-minute mark, Kiel have a 3:1 lead against Aalborg, while in the eighth minute of their respective clashes, Szeged trail their visitors Eurofarm Pelister 3:4 and Zagreb are off to a strong start with a 6:3 advantage over Kielce. 
It is only the third duel ever between Zagreb and Kielce, and the Croatian team have never won against the Polish side, with both previous encounters, in 2016/17, seeing wins for Kielce. If Zagreb can take the victory here, they will confirm a stronger season than their last couple, with the team recording only three wins in each the 2022/23 and 2021/22 seasons and none in 2020/21. In 2023/24, they have taken two so far, and have plenty of time to add to their record as we are not quite at the midway point yet. 
Kielce played the IHF Super Globe last week, ranking fourth after a defeat to Magdeburg in the semi-final, a rematch of last season's Champions League final won by the German team, and Barça in the play-off for third. 
18:37
As Aalborg visit THW Kiel, it will be the first game back for Kiel's long-time goalkeeper Niklas Landin. Landin played eight seasons with Kiel and won the title with the side in 2020. Landin will face not only his former club but his younger brother Magnus. 
Aalborg have only beaten Kiel once before, while two games ended in draws — and seven saw victories for THW. 
18:22
It's all about group A in the first matches tonight. Group leaders Kiel host Aalborg, who sit fourth, with Kiel hoping to stay clear on top of the group with what would be their sixth win of the season. The German team have 10 points in their account, two ahead of second-placed Kolstad, who played yesterday (beating PSG). If Aalborg take the win, they will jump from fourth to second position on the table. 
Behind Aalborg, in fifth, but equal on seven points are Kielce. The Polish team take on Zagreb, who count five points and rank right behind Kielce on the table, in the Croatian capital. 
Szeged, who host Eurofarm Pelister, are also on five points and occupy seventh position. So it is a tight contest in the middle of the table with two outliers at either end: While Kiel lead clearly — for now at least — Eurofarm are in the lowest position with no points won this season yet. 
With so many teams close on points, these first three games tonight could see a major reshuffle of the group A table.
See all the standings here.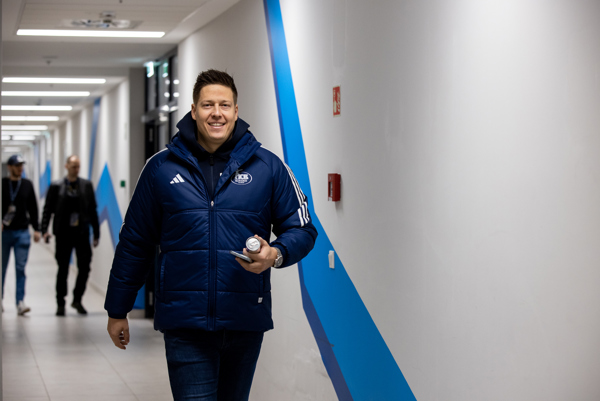 17:58
The second night of round 7 action gets underway in less than an hour, with three games throwing off at 18:45 CET:
The night and round concludes with two games at 20:45 CET:
Read all about what's coming up in the match previews, and catch the games live on EHFTV. 
17:15
With 90 minutes before the first games of the night throw off, welcome back to round 7 of the Machineseeker EHF Champions League! It's MOTW day and that means Tobias Thulin is heading back to Magdeburg, but this time playing for GOG. As you'll find out in our interview, he's looking forward to the return!












Wednesday 15 November
23:45
Finishing off the night with the day review - but we'll be back tomorrow afternoon ahead of the 18:45 CET throw-off of the rest of the round's matches, including MOTW between Magdeburg and GOG at 20:45 CET.
23:05
Click here for the highlights from round 7 of the Machineseeker EHF Champions League - in case you missed a match, or just want to watch the best bits again (and again!)
23:00
Some positive words from Remi Desbonnet, but also realism - we're only halfway through the group phase, after all, and much can still change.
We knew the stakes were high for this match against a rival in a similar position to ours. We were able to impose our rhythm on the match, and it was a team effort, everyone played their part. This reinforces our confidence, but the road is still long to the last 16.
22:45
This was such a good save from Charles Bolzinger!
22:24
Time to review the evening - first, here's some reaction from the coaches of the night's first two winning teams, Kolstad and Veszprém.
We struggled with Kamil Syprzak in the first half, we did some technical mistakes, but Paris also did some mistakes. We played a great second half, also Torbjørn Bergerud stepped up and did a great job in the second. I think Magnus Abelvik Rød played the best game ever in the Kolstad jersey, and those two together gave us the win.
I'm very satisfied with the result, if you win you can't be unsatisfied. But I already told my players, in some periods of the match we didn't play good on defence. Especially in the first half. We fixed that in the second half and won the match.
22:15 | FULL-TIME
Porto will not be happy with their performance today - it started out well, but against a good Montpellier side they could not afford to make the mistakes they did. The game ends with a big double save for Charles Bolzinger, summing up the evening for Porto.
Sebastian Karlsson finishes the game with 10 goals and Bryan Monte seven. Ignacio Plaza is the top scorer for Porto, with four goals. Only André Sousa and Antonio Areia did not score for Porto.
Nikola Mitrevski was pretty solid in goal when he came on midway through the second half, but Remi Desbonnet had a better match overall for Montpellier. 
The result puts Montpellier level on points with Porto - both now have six, and their place in the play-offs looks more comfortable.
22:04
Montpellier have won this, and by some margin, although there's still seven minutes to play. Too many mistakes by Porto and a poor defence have let the visitors down badly.
21:55
There's no doubt about tonight's most impactful player - Sebastian Karlsson is up to nine goals from 11 shots now. The 28-year-old right wing joined Montpellier this season from IK Sävehof in his native Sweden, but he's slotted right into the French club. 
Montpellier lead 29:20.
21:44
Montpellier have come out of the dressing room flying. Another three goals by Sebastian Karlsson, plus another couple from Valentin Porte and Kyllian Villeminot, gives them a 23:13 lead over Porto who find themselves very much on the back foot and forced into several errors.
21:33
The players are coming back on court for the second half - what can Porto do?

21:23 | HALF-TIME
A lapse in the visitors' concentration and a largely unsuccessful period of seven-on-six in the Porto attack put Montpellier ahead, and they stay ahead going into the break - although Porto did manage to stop Montpellier stretching out the lead any further.
Sebastian Karlsson leads the scoring, with five goals. A total of 10 Porto players have scored, but none of them more than twice.
21:12
A 5:0 run gives Montpellier a 14:9 lead. They're gaining in confidence, bolstered by a big save by Remi Desbonnet and a great long-range goal into the empty Porto net which Diogo Rêma Marques can't get back for.

21:02
Daymaro Salina is a key part of the Porto defence but he's just been suspended for a second time, less than 15 minutes into the game - he's going to have to be really careful not to be suspended for a third time in the remaining 45 minutes.
Things remain close as Lucas Pellas nets Montpellier's eighth goal - they lead 8:7.
20:54
After seven minutes, it's all square in Montpellier at 4:4. Generally, Montpellier have been playing better, but Porto have just found a bit of speed and scored a couple of easy goals. 
The Montpellier brass band is playing away as the background to the match.
20:43
Throw-off in Montpellier is imminent.
20:30
In 15 minutes the next match throws off - potentially a bit of a grudge match, as last season hosts Montpellier eliminated tonight's opponents, Porto, with a 35:27 home win. Porto won in round 6 against GOG while Montpellier lost to Magdeburg. Porto are currently fifth in group B with Montpellier sixth and they both know every point counts!
20:18 | FULL-TIME
Wild celebrations in front of the full Trondheim Spektrum as Kolstad's superb second half gives them a 36:31 win against Paris Saint-Germain. The visitors were better in the first half, but Kolstad found something extra in the second as Torbjørn Bergerud stood strong in goal and Magnus Rød was on fire with 11 goals in total. That puts Kolstad level on points with PSG and, for now, ahead of Aalborg and Kielce who play tomorrow night. 
Another win for Veszprém, who have definitely put themselves among the favourites for the quarter-finals this year if not the EHF FINAL4. Hugo Descat is top scorer, netting eight times, while Tim Cokan ends the game with seven for the hosts.
Mai Marguc outscores his big brother, with five goals to Gasper's three, and underlines the insane talent in the family.
20:11
Veszprém hit 40 goals for the third time this season, and are wrapping up another win.
With three minutes to go, it's looking good for Kolstad too as they lead 35:31 and PSG go seven-on-six.
19:57
Andreas Palicka had a decent first half in goal for PSG, but Jannick Green came in after the break. He's not having a brilliant time, though, with no saves so far, and Kolstad now lead 30:26.
Speaking of saves, this first-half compilation is worth checking out.
19:52
A very solid showing by Magnus Rød helps Kolstad level the game and Raul Gonzalez calls a timeout for PSG to steady the ship. Good defensive work from Kolstad, however, means the PSG attack comes to nothing and the hosts have a chance to take the lead - young line player Henning Limstrand does the job, there's a save at the other end by Torbjørn Bergerud, and Rød follows up to give Kolstad a two-goal lead. 
Celje's strong restart has faltered against the Veszprém attack, and the visitors lead 31:22 in Slovenia.
19:45
Celje have had a good restart, closing the gap on Veszprém to four goals. Kolstad continue to pressure PSG and Sander Sagosen has just managed his third goal - so far, it's not a vintage day for the Norwegian back, and Kolstad do need him performing to stand a chance against PSG.
19:38
The second halves are underway, with Kolstad instantly getting a goal back thanks to Gøran Søgard Johannessen.
19:25 | HALF-TIME
It's a pretty close match in Trondheim - although PSG just have the edge, you have a sense that Kolstad are in touch and the game could swing back their way if they are just a little more efficient. Magnus Rød (three goals) and Kamil Syprzak (five) are the top scorers so far.
Celje have not let Veszprém get any further ahead in a spirited performance against the heavy favourites. Tim Cokan is leading the charge with six goals, while 11 Veszprém outfield players have netted in a good team showing. And both Gasper and Mai Marguc have scored twice!
19:13
A timeout for Kolstad as PSG take another two-goal lead, partly thanks to Andreas Palicka having a much better time in goal than Torbjørn Bergerud for Kolstad. 
19:08
Both Sander Sagosen and Kamil Syprzak are suspended at the same time, meaning Kolstad and PSG are both missing arguably their key players for two minutes. 
19:04
There's a period of no goals in Trondheim, as both Kolstad and PSG miss shots, but then PSG go two up with a shot by Kamil Syprzak. 
In Celje, Veszprém have a 10:5 lead now after 15 minutes.
18:51
In both games, the players playing against their former clubs - Sander Sagosen and Gasper Marguc - have already found the net. It's going goal for goal in Norway, while Vespzrém lead 2:0.
18:47
And we're off!
18:40
The Trondheim Spektrum is sold out for this game between Kolstad and PSG. It's a key one for Kolstad, who could rise up the standings if they can beat an in-form Paris side.
18:34
Ahead of throw-off in Trondheim and Celje, match coverage has begun on EHFTV - or tune into your local broadcaster.
18:20
Former Celje player Gasper Marguc is coming home tonight to play against his former club, as well as against his little brother Mai - the third of the three Margucs to progress through the Celje system. Middle brother Gal is now at RK Nexe, playing the EHF European League Men this season. 
Mai Marguc scored three times against Orlen Wisla Plock in the first of his two Champions League appearances this season - Gasper, 16 years his senior, has scored 20 goals so far this year. 
Veszprém are bringing a small squad to Slovenia, with Mikita Vailupau and Yahia Elderaaa missing.

18:08
PSG posted a nice little video yesterday of their last training session before leaving for Norway.
17:53
If you haven't had a chance to check it out already, the round preview is the first stop for all the key facts about the games ahead tonight and tomorrow. 
17:07
Also at 18:45 CET is the throw-off for Kolstad against PSG. In round 5, the Norwegian debutants in the EHF Champions League handed group leaders Kiel their first defeat. In round 6, they lost the Nordic derby in Aalborg. And in round 7 tonight, they play against a former team of their star player Sander Sagosen for the third straight time.
And while a lot of attention will go to Sagosen again, Kolstad have so much more on offer when it comes to offensive power:

16:53
We start the evening in Slovenia, where Celje hope to finally get their first points on the board. However, with joined group B leaders Veszprém coming to town, that is a big ask. Many believe this could be Veszprém's year, and the Hungarian powerhouse does not shy away from all the the expectations, as line player – and three-time EHF Champions League winner – Ludovic Fabregas explains in the first episode of our new 'Dare To Rise' series.

16:41
Thursday's schedule looks cracking with group leaders Kiel (hosting Aalborg) and Barça (visiting Plock) in action as well as the Match of the Week between defending champions Magdeburg and GOG to round it all off. We will take a closer look tomorrow at all five games on Thursday...
... but the three matches today make for a thrilling EHF Champions League night as well.
We close the evening in France, where Montpellier and Porto meet in a potentially crucial match for the play-off spots in group B. Speaking of the play-offs... that is where both teams met last season, with Montpellier advancing.
Porto are a rival that we need to finish ahead of. These two matches will be very important, both teams are close. They have some good athletes, our matches are often good physical battles. They have just lost to Sporting, they will be motivated. We have warned our players.