EHF Champions League
What Magdeburg and Plock's previous meetings reveal about MOTW
Throughout the course of the EHF Champions League Women and the Machineseeker EHF Champions League, data analyst Julian Rux provides the handball community with deep insights into the numbers behind the game, analysing what the data says about teams' and players' performances.
Judging from this season's Machineseeker EHF Champions League results, SC Magdeburg should be the big favourite in their quarter-final match-up against Orlen Wisla Plock. The fact that both were in the same group and Magdeburg finished second with 20 points, while Plock just managed to enter the play-off round in sixth place with nine points, speaks for itself.
The statistics also reflect this. In offence, the German champions rank fourth, scoring 29.7 goals per 50 possessions, while the Polish side is 14th with 26.6 goals per 50 possessions. Adjusting goals to the same number of possessions makes teams actually comparable since the raw number of goals is not only influenced by efficiency but also by the number of possessions – indicating whether a team and their opponents plays rather fast or slow.
As always Magdeburg's strength is their shooting percentage. They have scored on 67.7 per cent of their attempts, which puts them second only behind Paris Saint-Germain. The isolation-heavy and distance shot avoidant playing style of their coach Bennet Wiegert also bears fruit in the Champions League.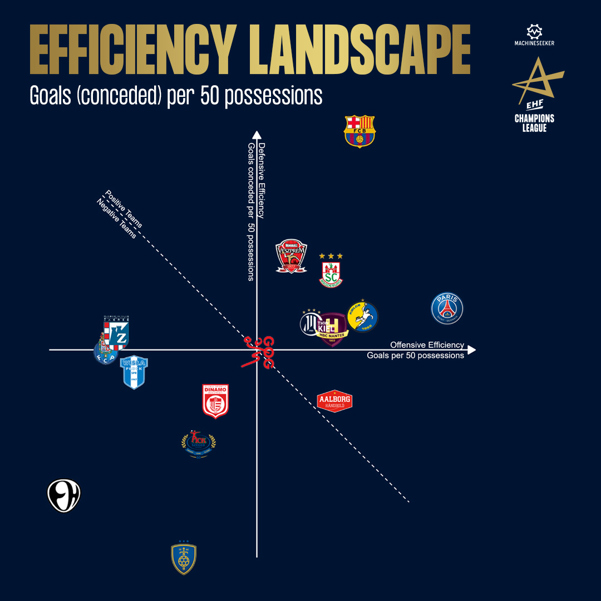 This style of play, on the other hand, is always more prone to turnovers, but at 8.1 per 50 possessions (rank 8) they are still better than Plock's 9.7 (rank 14). On the shooting percentage Plock's difference to Magdeburg is even bigger with 60.4 per cent (rank 13).
While Magdeburg's real hobbyhorse is attack, they are also doing well defensively. Adjusted to 50 possessions they conceded just 27.3 goals, which ranks third. Their big strength is that they allow the third lowest shooting percentage of their opponents of just 61.2 per cent.
Their goalkeeper duo of Nicola Portner and Mike Jensen ranks fourth, saving 29.4 per cent of the attempts on their goal. Especially on penalties they are outstanding as their opponents were successful on just 55.8 per cent of their attempts while Portner and Jensen saved 35.6 per cent.
Plock's defence ranks 11th with 28.8 goals conceded per 50 possessions, and they allow their opponents to have the third-highest shooting percentage. They also force more turnovers per 50 possessions than SCM (9.9 for Plock, 8.3 for Magdeburg).
Two very similar games
Last Wednesday's first leg quarter-final between Magdeburg and Plock was in several ways reminiscent of their group stage match-up in Plock. Neither match had many goals (44 last week, 49 in the group stage). One reason for this was the slow pace as just three games had fewer possessions this season than the 47.5 per team in the first leg, while it was 50 possessions for both in the group stage.
Over the whole season both teams had rather slow matches. Plock's 50.2 is the fewest possessions per game of any team, while Magdeburg was fourth from last with 53.6. In the first meeting in Magdeburg, they were also only marginally faster with 53.0. So we can definitely look forward to another game with - once the transition phase is over - rather long possessions.
But the pace of the game was not the only reason that the first leg was low scoring, as neither team was efficient in attack. Magdeburg's 23.4 goals per 50 possessions were their worst offensive output of the season, Plock's 22.9 (they had one possession more than the German side) their third lowest. In their first clash in Plock, it was not much higher with the home team scoring 25.0 goals per 50 possessions and the guests 24.0.
On Wednesday, Plock even had their worst shooting percentage of the competition (48.9 per cent) and the third worst of all teams. Magdeburg's was their second worst (56.4 per cent); only in the first group phase match in Plock they were worse (53.3 per cent).
Of course, it is not always easy to say whether this was due to the weak offence or the strong defence. Both goalkeepers held their ground well, with Plock's Ignacio Biosca saving 29.6 per cent of shots and Mike Jensen 32.3 per cent. But it was not like in the first clash in Plock where Marcel Jastrzebski and Mike Jensen were outstanding with 44.2 per cent (the second-best amongst all goalkeepers facing at least 30 shots this season) and 42.1 per cent respectively.
In the group stage match in Magdeburg, however, Jensen was the big difference, saving 37.9 per cent while Plock's goalkeepers ended the game with just 21.4 per cent save efficiency. The goalkeepers will definitely play a decisive role again this week.
In contrast to the two games in Plock, the group stage match in Magdeburg was a good shooting game for Magdeburg with 73.3 per cent successful attempts on the goal, while Plock had a shooting percentage of just 64.3 per cent. In addition, every third missed attempt of Magdeburg ended up back in their hands.
Magdeburg's injury woes
But it will be interesting to see to what extent Magdeburg can follow up on their group stage home game because four of their eight top scorers are out due to injury. But from the deciding players of their first clash in Magdeburg only Gisli Kristjánsson is missing. But the Icelander's absence is of course a huge loss as he is probably the most important player in their offence and scored an outstanding eight goals in just 10 attempts back in October.
Kristjánsson's big strength is his quick feet that make him almost unstoppable in one-on-one situations. Accordingly, Magdeburg relied on isolations in the three games against Plock way more than their opponents. From each game the number increased up to 34.0 per cent last week.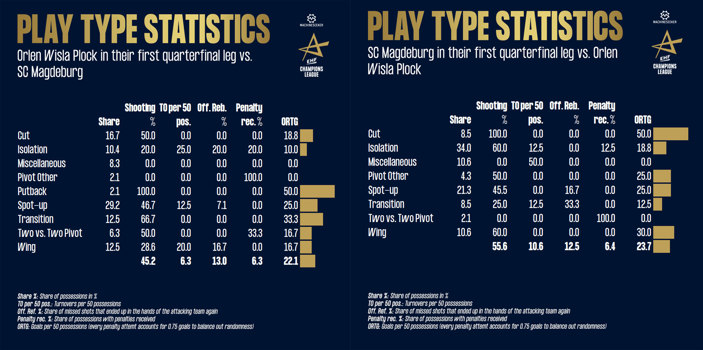 In the first quarter-final leg where Kristjánsson got injured, however, they were very inefficient in isolations with just 18.8 goals scored per 50 possessions. In the other two games they had 31.3 and 28.6. It is going to be interesting how this will develop without their Icelandic star. Isolations are one of 13 different play types that a possession can end with. A detailed explanation of the 13 different play types can be found here.
Plock, in turn, has relied more on the play types run-in, spot-up, transition and two versus two plays where the pivot receives the ball in the end. But their efficiency is erratic. For example, in the two group stage matches against Magdeburg they were very efficient in wing shots, scoring more than 33.3 and 31.3 goals per 50 possessions. But in the first leg of the quarter final, it was just 16.7. Therefore, it's impossible to deduce anything from this for this week's Match of the Week.
More from data analyst Julian Rux can be found at Handballytics.de. There you can read his latest articles, in which he analyses all kinds of handball topics from new, data-based perspectives. You can also find him on Instagram, Facebook and Twitter.
Photo © Jerzy Stankowski Spojrzenia