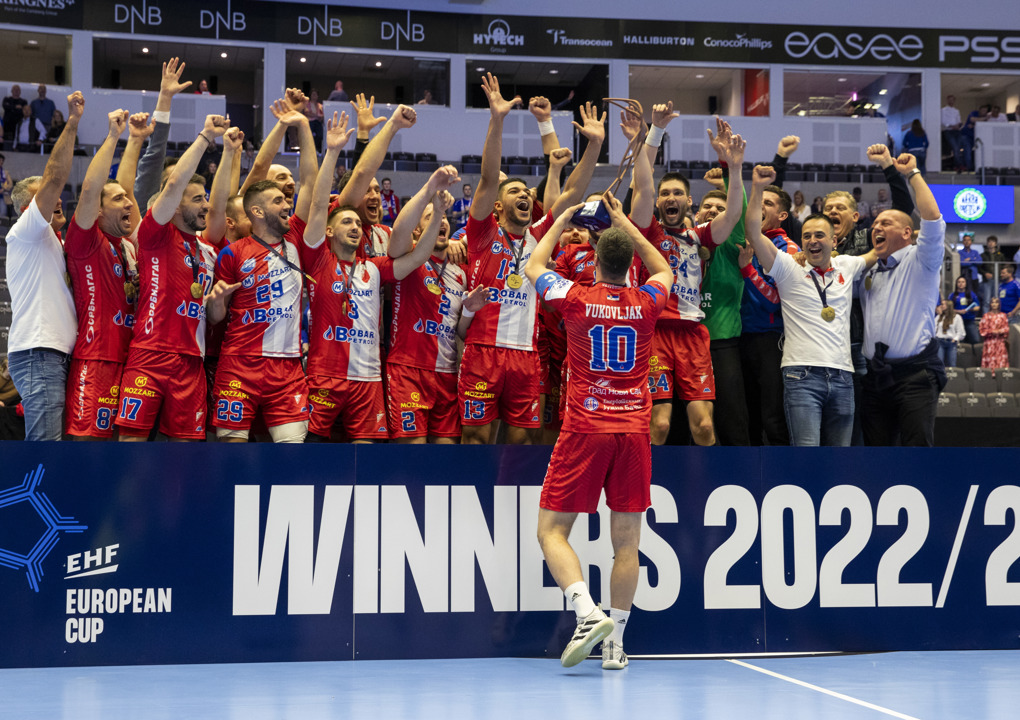 Vojvodina claim maiden European title
A seven-goal win in the first-leg final match gave Vojvodina a good chance to win the EHF European Cup Men, yet their rivals Nærbø IL hoped for a strong comeback on home court.
However, the Norwegian side were unable to win the trophy for the second straight year, as Vojvodina celebrated another victory, this time 25:23, and earned their first ever continental title.
FINAL, SECOND LEG
Nærbø IL (NOR) vs Vojvodina (SRB) 23:25 (10:10)
First leg 23:30. Vojvodina won 55:46 on aggregate
both rivals mainly relied on defence in the first half, and while Nærbø's lead reached three goals at 10:7, Vojvodina drew level 10:10 before the break
powered by Barys Pukhouski in attack, the Serbian team took a 17:15 lead in minute 43, virtually ending Nærbø's hopes for an aggregate win
Pukhouski, who became Vojvodina's top scorer with seven goals, won the third-tier European club competition for the second time in his career after a triumph at the Challenge Cup with SKA Minsk in 2013
Vojvodina's goalkeeper Fran Lucin recorded 11 saves for a 32 per cent save rate, also making a contribution to his team's success
right wing Theodor Svensgård became Nærbø's best scorer in the game, netting eight times
Big plans for future
A team from Serbia had not won a European club competition since 2001, when RK Jugovic Kac triumphed at the Challenge Cup. So Vojvodina not only claimed their maiden continental title, but ended a 22-year-long wait for the Serbian handball.
And this title is not the ultimate dream for the ambitious club from Novi Sad. In the next years, Vojvodina hope to play in the group stage of the EHF European League Men, and some day possibly in the EHF Champions League. So while the Serbian team can now enjoy their success, they have big plans for the future.
Photo: Nærbø IL / Solveig Jåstad