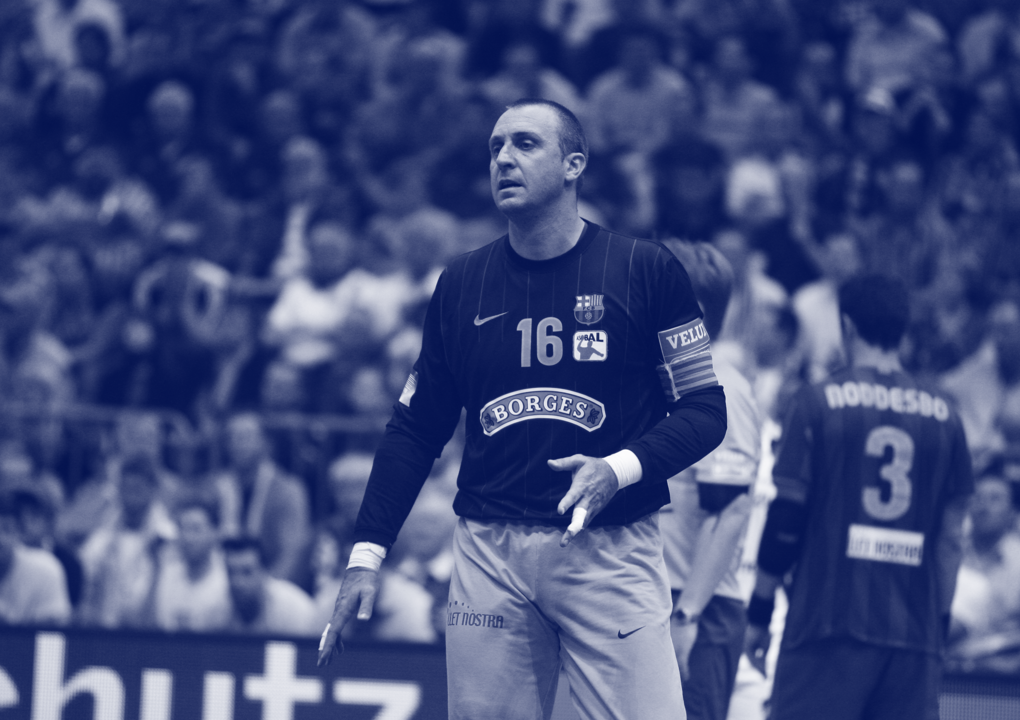 This is me: David Barrufet
David Barrufet was named the top goalkeeper in the world twice and has won six trophies in the EHF Champions League, with a side that dominated the competition with an iron fist for more than a decade. Barça was so good because Barrufet was also excellent and he understood exactly what the DNA of the Cules is. Here is David Barrufet, in his own words, making his story widely known, with the past, the present and a hint of the future ready to be accomplished.
THIS IS ME: DAVID BARRUFET
Remember these words: "Mes Que un Club". It means: "more than a club" in English and it is Barça's motto, one that every player that features in the team will learn by heart and will understand only when he has the badge on his shirt close to his heart.
For me, Barça was surely more than a club, it was basically everything for me. It was the team I played for throughout all my career and which I represented all my life. It was the club that gave me everything and has even retired my number, a thing that will be etched forever in my heart, because it means everything, it is more than a trophy won.

Because it is very hard now, with the globalisation of handball, to find players that have featured for a single club throughout their whole life. For me, it was normal. It suited me, it helped me grow as a person and as a player and I have spent almost all my life there. At least my professional life.
For 22 years, I have played for Barça and have won every possible trophy you could think of with this club. But let me tell you my story, how did I get there and what destiny means. I always like to think that it was a match made in heaven, that it was written for me.
I was born in Barcelona and that was the first thing that fell into place. Of course, you might now about the tradition that the city has in football, with so many great teams and great players featuring in that squad that has a global fanbase. But my brother was playing handball and I think that was the second building block for my career.
I always enjoyed watching him play and then, when I was only eight years old, I tried it for myself. And it was in that moment, my life changed for the better. I truly enjoyed being on the court, playing handball and being part of a team. I immediately thought that this was the best sport one could ever play, it was so entertaining and so fulfilling.

But why not football? Why did I decide to play handball? First, because I enjoyed it so much. And then, because I was quite tall I felt that handball was the right sport for me.
And bear in mind I was only a kid, eight years old. But I knew that this was my destiny, this was the thing that I was going to do all my life and it would change me for the better.
Indeed, it did. There is something magical about handball and there is surely something magical about playing handball for Barça. I started playing there in the younger age categories at 14 years old and I retired only 26 years later.
However, when I started, everything was just a dream in the back of my head. Playing for Barça's senior squad? Nearly impossible, if you ask me. But, step by step, I built a legacy which really makes me really proud. I got a lot of help in my career, I was coached by some of the greatest minds in handball's history and got some teammates which I will never forget. It is always difficult to pinpoint one as my favourite one, because there were so many.
And this is what made us great, this is what made us win so many trophies. The camaraderie, the sheer spirit, the desire to win, the fun we had in handball, on and off the court together. Barça's spirit is truly unique.

Because, I will tell you once again, Barça are much more than a single club. Playing there is a way of life. And I would not trade it for anything, for all the money in the world.
There was, is and will surely be something special about the atmosphere in the "Palau Blaugrana", when the fans flock to the arena to cheer for the team. I would say it is borderline magical, you have to be there to experience it and you will never change it for anything.
I am a one-club man as they say and I am proud of that. Because I had my share of good offers from other clubs, there were plenty during my time as a player in handball. But I always said no. Financially, it would have made sense for me and for my family. But practically? Never.
My dream was always to play for Barça and I would not have it any other way. Some things are more important for me than money. What I wanted was that my family had that sense of security, not moving from town to town or to another country. I always wanted that my kids to spend time with their grandparents, to be together as a family.
Therefore, I stayed at Barça and it was the best decision of my life. Not because I have won the titles, sometimes you do not even about think about the trophies. As a player, you are always focused on the task at hand, on the next game. I know it is a cliché, but it was true for me.

I always tried to have fun on the court, to feel good and to win games. Because if you win games, you always get one step further to the big goal. And we really completed some amazing challenges.
So, if you asked me how many trophies I have won as a player, I would not have known at times. It may sound arrogant, but I was always focused on the next game. Now, in retirement, I always get the info and the statistics and I really feel like I had a beautiful career.
Undoubtedly, you will have bad memories and good memories in your career. I tend to focus only on the best. Which are the best, you might ask? Well, for me, it is easy. Winning the Champions League always brought an amazing feeling, especially in the "Palau", in front of our fans.
There were plenty of such moments and every time I think about them, I feel goosebumps. It has been an amazing feature, the way Barça dominated European handball. Which is, once again, why this is more than a club.
But one of my favourite moments is, like I have previously told you, the retirement of my shirt. It was a moment of pride, it was a recognition for everything I had done in my career. I am very humble about it. I was overcome with emotions, to be recognized in the "Palau" by so many fans. Wow, what a memory!

But, yes, it happened when my playing career was over. Which was difficult to grasp at times. But I have always prepared for this. I like to think that I organise thinks pretty good. Therefore, I always contemplated life after retirement, what I was going to do after I hang up my cleats.
What I liked a lot, apart from handball, since I was little, was the law. What, you have not seen a handball player and a good lawyer? No, I am just joking, but since I was 18, I have studied law and got my degree.
When you are a player, or at least in my days, we had a lot of free time. I was always in love with the law, especially the sporting part of the law, therefore I tried to master this. I got the degree and after my playing days were over, I had a stint in that department for Barça.
It was not that different, it was nothing special for me, because I was just following handball and playing a part in the team that I always loved and cherished. It was, basically, trying to do my best in that respect.

But now I have a new challenge, a new position and a new team. I have been named the sporting director at CS Dinamo București, one of the best teams in that part of the Europe and I have been working closely with one of the coaches that I liked the most in my career, Xavi Pascual.
This is different. While Barça were already an established club and one of the best teams in the world, constantly front and center, Dinamo are trying to make their mark in European handball. This is a totally different project, trying to establish a team step by step, which is always difficult. But I love what I do and together with Xavi and the management of the team, which has a long-term vision, I am confident that we can establish a very good side for the years to come.
I still love handball a lot, because this is what my life has meant. And it is always nice to have your name known wherever you go. Now my son, Ian,  continues with the tradition as I did with my brother  who has also taken up the sport since he was little.
You know, he was part of the team that won the gold medal at the M19 EHF EURO 2022. He has always liked handball and I am humble and very glad for him to try and make a name for himself in the sport. I am, most of all, proud, that he has taken up this sport with so much love and trying to enjoy playing and,  striving every day to improve.
Yes, it is difficult to have a father that had a career as mine was. The pressure is on him, definitely. But I do not want to add more to his shoulders. He will make a path for himself, like I did before. And everything will come full circle, I reckon.
Because, yes, handball gave me all and I gave everything to handball. I was lucky to have won so many titles and play for the club I love for so long. I am simply grateful, because not many players can say that.
David Barrufet,
October 2022