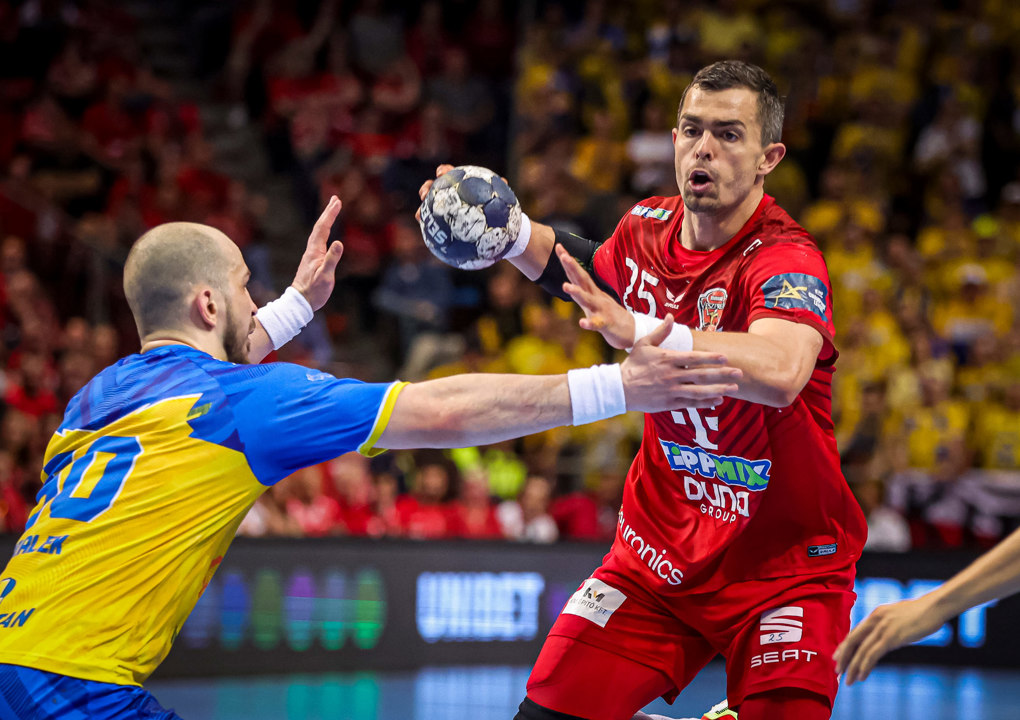 Race to Cologne going down to the wire
The second leg opens Wednesday with the Match of the Week in Germany, where SC Magdeburg and Orlen Wisla Plock meet again after their draw last week. Also, thanks to their four-goal win in Kiel in the first leg, Paris Saint-Germain HB have taken an advantage over THW, which they still have to confirm at home.
On Thursday, Barlinek Industria Kielce and Telekom Veszprém HC start their tie still in the balance after the 29:29 result from the first leg. And titleholders Barça are strong favourites to advance after their 37:30 away win at GOG last week.
QUARTER-FINALS, SECOND LEG
MOTW: SC Magdeburg (GER) vs Orlen Wisla Plock (POL) – first leg 22:22
Wednesday 17 May, 18:45 CEST, live on EHFTV
the first leg ended in 22:22, with Plock scoring the last four goals from 22:18 down but missing the chance to win with the final attack
Magdeburg top scorer Gisli Kristjánsson fractured his ankle in the first leg and is out for the rest of the season, like Ómar Ingi Magnússon and Magnus Saugstrup
Magdeburg's only home defeat in this Champions League season was against PSG; Plock's two away wins were at Porto in the last group game and at Nantes (after a shootout) in the play-offs
Plock's top scorer is Tin Lucin with 79 goals; after Kristjánsson's injury, Magdeburg's leading scorer is right back Kay Smits with 64 goals
while Plock kept their top position in the Polish league without playing, Magdeburg won against Rhein-Neckar Löwen and remained in second place, behind leaders Kiel
It was the tough first leg that we expected and we have to give everything again on Wednesday to make it into the EHF FINAL4. Winning against Rhein-Neckar Löwen last Sunday will give us a huge boost and our fans in the GETEC Arena will take care of the rest.
After the draw in Plock, another tough match awaits us in which both teams want to go to the EHF FINAL4. We know that we are playing against a strong opponent, but also we know that we have our chances.
Paris Saint-Germain HB (FRA) vs THW Kiel (GER) – first leg 31:27
Wednesday 17 May, 20:45 CEST, live on EHFTV
Kiel's Sander Sagosen scored nine times in the first leg, while PSG had four players with six each: Dainis Kristopans, Ferran Sole, Elohim Prandi, and Kamil Syprzak
PSG have lost just once at home across all competitions this season – against Magdeburg (37:33) in a group phase match in December
like in the first leg last week, Kiel are still missing injured Steffen Weinhold and Eric Johansson
the last time Kiel won in Paris was in November 2014: 27:25 in a group phase match; since then, PSG won two games and there were two draws
last weekend, PSG were off while Kiel kept the lead in the Bundesliga thanks to a 37:30 win in Stuttgart on Saturday
We did a very great job in Kiel during the first leg. We were particularly effective defensively, but we could be better in attack. But four goals advantage after the first leg away is a certain advantage. We need to capitalise on this and continue to play our game, to execute our systems well.
Barlinek Industria Kielce (POL) vs Telekom Veszprém HC (HUN) – first leg 29:29
Thursday 18 May, 18:45 CEST, live on EHFTV
in the first leg, both teams led by three goals at some point – Kielce in the first half, Veszprém in the second – but had to settle for a draw in the end
Yehia Elderaa scored some important goals for Veszprém in the closing stages, and six in total, and was named Player of the Match
only one team managed to beat Kielce on their home court this season, in all competitions: Barça claimed a narrow 32:31 win in the last round of the group phase
on the other hand, Veszprém have lost three away matches so far: against PSG, Magdeburg, and Zagreb, and a draw at Dinamo in the group phase
2016 champions Kielce, are eyeing their sixth participation at the EHF FINAL4; Veszprém have been to Cologne seven times since 2010 but are yet to lift the trophy
Kielce had no domestic game in Poland last weekend; Veszprém won against Komló (39:32) in the Hungarian league
I think that everything is open, we are going to start one more match from 0:0. After one tough game what was here in Veszprém I can expect a really difficult match, because Kielce is a fantastic team. Anyway, that I always say, our team showed so many times his character. Only we have to believe that we can do it!
Barça (ESP) vs GOG (DEN) – first leg 37:30
Thursday 18 May, 20:45 CEST, live on EHFTV
Barça aim to stay unbeaten for a 25th straight EHF Champions League match; they have 22 wins and two draws from their last 24 matches
GOG clearly lost the match last week, but Emil Madsen was still the best scorer in the first leg with nine goals; Luka Cindric had eight for Barça
Barça are on their way to an 11th participation in the EHF FINAL4 (since 2010); they won all home matches since November 2021 and have never lost to GOG at home
apart from Emil Madsen (101 goals), GOG also have Simon Pytlick (94) and Lukas Jørgensen (82) among the top six scorers this season
Barça have already been confirmed as Spanish champions but did not play last weekend; GOG defeated Bjerringbro-Silkeborg 30:27 and next meet Skjern Håndbold in the semi-finals of the Danish league
Photos © Aniko Kovacs, Lau Nielsen, Jerzy Stankowski Spojrzenia, Sascha Klahn
In the last three to four years we've been very consistent. Last season we had some adjustments to do with the new coaching staff but this year the team is doing what he wants to do. We are very professional and always with the desire to win every game.