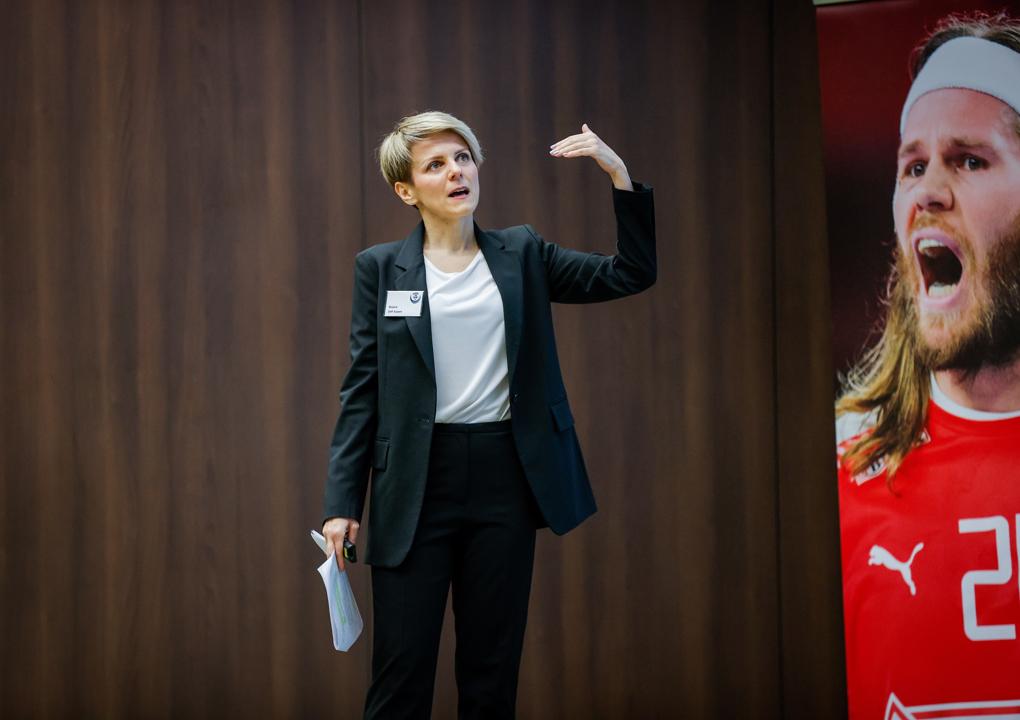 How psychologists help players cope with stress
The tension on top handball players on and off the court can become unbearable, like in many other sports. Aalborg Håndbold star Mikkel Hansen last week became only the latest player to suffer from stress symptoms. Psychologists can help athletes deal with mental health issues.
The news made headlines in the handball world last week. Due to symptoms of stress in the wake of the 2023 IHF World Championship, where his Denmark had won gold, Mikkel Hansen was ordered by doctors to take rest.
"It has been a hectic year for Mikkel," Aalborg sport director Jan Larsen said, referring to Hansen's health issues in the spring of 2022, his subsequent move back to Denmark, and the constant expectations on his shoulders since, both at his club Aalborg and in the national team of Denmark.
"The focus is fully on Mikkel getting the necessary time and professional support to recover," Larsen added. "We are looking forward to Mikkel's return, but right now the most important thing is that he takes care of himself and his family."
The Danish superstar is the latest of high-level athletes to suffer from a mental overload, forcing him off the courts for a while.
"Just 10 years ago, admitting that you were suffering from such symptoms was impossible," says Pascal Niggel, a clinical psychologist who has been working with the French women's national team for a year now.
"The mental topic in the performance was hidden, as if talking about it would be revealing some kind of weakness. Things are starting to evolve."
That's also the experience of Bojana Jelicic, an EHF Expert who specialises in the education of athletes, coaches and team staff.
"Society is more open to discuss mental health topics. Accordingly, athletes are seen more as humans and are able to speak more about their experiences and bring attention to the difficulties that they are facing and struggling with. In my opinion, being able to share vulnerabilities is showing the power of awareness of being human," says Jelicic, who has worked with EHF Champions League side WHC Buducnost BEMAX as well as the national teams of Montenegro and Croatia.
In my opinion, educating the players emotionally is as important as teaching them how to put their foot when they are about to shoot. It has to be a part of their building-up, as handball players and as human beings.
Both Niggel and Jelicic are very clear about it: the best way to prevent stress becoming an issue is to educate young players before they become professional handball players.
"In my opinion, educating the players emotionally is as important as teaching them how to put their foot when they are about to shoot. It has to be a part of their building-up, as handball players and as human beings," Niggel says.
As part of the EHF programme Respect Your Talent, Jelicic has been working with some of sports' biggest talents.
"By raising their awareness, we are empowering our young players to more maturely approach their life and potential professional career," Jelicic says.
"By addressing and educating them on the topic of pressure, what it is, how to recognise it, what are some ways to overcome it or cope with it, we are helping them become more responsible towards their mental health, and themselves in general."
So, what can those up-and-coming players learn from the experience players?
"The players that have remained stable at top level in any sports, such as LeBron James, Leonel Messi or Nikola Karabatic, have simplified their relationship to their sport to the maximum. They accept the fact that the player in front of them will be giving 100 per cent to stop them. And instead of becoming frustrated, they instinctively try to find solutions," says Niggel, who has worked in rugby, mountain climbing and motor racing as well.
With interest in handball growing, pressure on players keeps building.
"The sport is globally becoming a business. Now imagine the level of intensity when all those expectations and demands are placed on athletes – let alone elite ones," Jelicic says.
Psychologists can help players cope with the pressure and the expectations.
"We, the qualified mental health professionals, can help by advocating for mental health in sports, by educating the athletes, coaches, managers, media and others professionally active in the sports industry to reduce the stigma and discrimination," Jelicic says.
"And it is not just about helping the athletes, it is about the coaches, and all the other roles and professionals active in the process of reaching the optimum result."
How does that work for the players of the French national team?
"I try to help them out of the tunnel that their life is, sometimes. Being a mum, being an athlete, sometimes studying, these players just don't take a step back and I try to help them setting priorities in their life," Niggel says.
"Also, I try to tell them they are not going to court every time they play a game. They have the right to fail, no matter what. There is already a lot of pressure on their shoulders, it doesn't help to add even more."
So, what can, or should players do when the stress becomes too much to handle?
Sometimes the best thing a player can do is just stop, at least for a moment. While many top-level players have done so during their careers, only a few acknowledge it.
"It takes courage for an athlete who has been performing on such a top level to decide they need to take a break and rest a bit from the stress. Think about the power of that decision: it is a way of saying: 'Now, it's me time. Now I focus on my well-being only'," Jelicic says.
There is no rule for how long it takes to recover.
"It takes nine months to recover from a torn ACL, but it can take years to heal a torn mental ligament, as I often say," Niggel says. "Some may need a few weeks, others might end their careers."
photos © Uros Hocevar / kolektiff; FFHandball