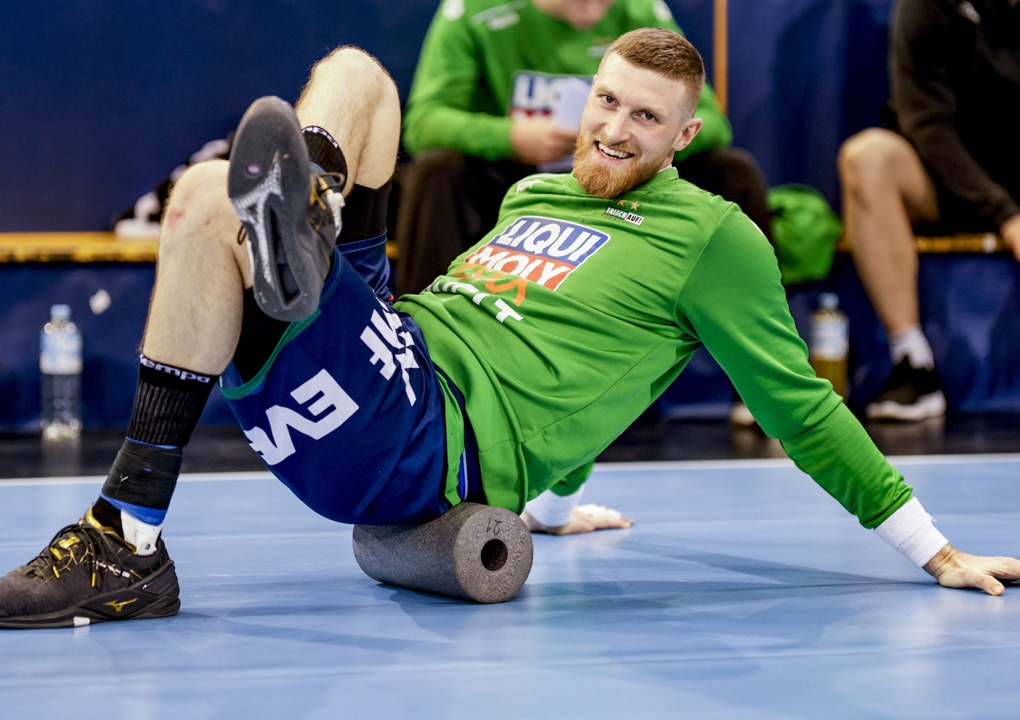 EHF Finals Men 2023 finals quotes
Füchse Berlin (GER)
Jaron Siewert (GER) — coach
On the match: 
"Granollers played a big, big season, and gave a big fight today. This match was emotional on a high level. It was difficult for us in the first half. After the break, we played with more speed and had more space. Similar to the semi-final yesterday, we won the second half clearly."
On his feelings after winning the title:
"I am really happy for the club. We invested so much energy in the whole season. Now it is time to celebrate and I am really happy for what we have achieved. This trophy means a lot to me. I am a young coach at the beginning of my coaching career. Two years ago, we were close but lost the final against Magdeburg — and all of us did not want to have this same feeling again today. The team, the players, the staff deserve the trophy, as I deserve it."
On the EHF Finals in general:

"It was a great performance over two days. We have many great players, not only our MVP Fabian Wiede. And every player played the role he was supposed to. This is a big title for the club. It was not the Champions League, but maybe we can achieve this title in a couple of years. European League became a high-level competition, so everybody shall celebrate this title like a German championship."
Fabian Wiede (GER) — right back
On the match:
"It was a great final, as Granollers played a great match and the end of a great season of them. We all knew it would be a tough match, but we were well prepared. We had a good tactic, we knew what they wanted to play and it really worked."
Dejan Milosavljevic (SRB) — goalkeeper
On his feelings:
"I feel so great, as this was my first title with Füchse Berlin. I hope for more trophies in the next years."
On the match: 
"Granollers showed before what they are able to do against Flensburg and Göppingen. They are tough to beat. We knew that we have to give all we have not to risk to lose this final. We played some weak minutes in the first half, when they were very good. In the second half we gave all we have, and this is shown by the final result."
On the trophy, compared to winning the Champions League in 2019 with Vardar: 
"This was Champions League, now it is European League. I hope in the next years to be able to win the Champions League with Füchse Berlin. Our team deserves to win big titles like in Bundesliga and in Champions League. I played one year for Vardar. It was a great season with great fans. Now I am four years at Berlin with some ups and downs, some injuries. I fought four years to win something big. Now the time has come."
Mathias Gidsel (DEN) — right back
On the trophy win:
"I am happy about winning and being part of the whole Füchse project. It was an important step further to take this trophy and now I am looking forward to celebrate it. It is important to celebrate when you win. This title is important for the fans, the whole project, the club and the city."
Fraikin BM. Granollers (ESP)
Antonio Rama Garcia (ESP) — coach
On the match:
"We are really happy for this season and to be part of the final tournament and of course for playing the final. Obviously we wanted to win, but when we saw Füchse celebrating on the podium it was OK — they clearly beat us. But we are proud, knowing which super players we were facing. They were hard to defend, but the whole tournament was a very good experience for our young players and our legend Antonio Garcia. I hope it is not the last time. I hope for the future to play something like this again."  
Antonio Garcia Robledo (ESP) — back
On the match:
"It is still unbelievable that we played this final tournament. It is still unbelievable that we can compete against those teams which are built to win big tournaments. We have a young team. We want to get closer to those teams. We enjoyed the season, we enjoyed this tournament, we enjoyed to look up to those Füchse giants. We believed we could beat them, but in the end, they were so much better than us. We did not play perfect, and to beat them we would have needed 100 per cent. We will have to work to get back on this big stage."  
Frisch Auf Göppingen (GER)
Jaka Malus (SLO) — back
On the match:
"Montpellier are a really good team. We had put everything into yesterday's semi-final and we were disappointed. It was hard to motivate, but we showed character as a team — we played like a team, we stayed to our plan, and in the last 10 minutes we brought it home."
On whether the 'Balkan boys' were the key to the win: 
"I do not agree that finally the Balkan connection won the game — Frisch Auf won the game as a whole team. We are one team. Yesterday we lost as a team; today we won as a team." 
Markus Baur (GER) — coach
On the match:
"It was not easy for both teams to play today. Regarding this, it was a good match with speed, great goals and excitement. In the last 10 minutes we went ahead up to four goals. This was the difference to win the match. I am happy for my team, it was a very good performance with a good defence, which put a lot of pressure on Montpellier. And we had more saves than yesterday — so the third place is OK. We are happy."
Blaz Blagotinsek (SLO) — line player
On the match: 
"It was a special year for me at Göppingen. I fought like I always did. I am really happy for the third place for me, my teammates and of course our fans who came to Flensburg. It was one special game to complete a really hard weekend. We did not have much time to recover. It is hard to play the next day, but today we did a much better game than yesterday."
Montpellier HB (FRA)
Patrice Canayer (FRA) — coach
On the match:
"It was a good quality match, which was very even until minute 50. Göppingen were more lucid at the end of the game and scored the crucial goals to pull ahead. It was a difficult week for us, but now we have to continue."
Yanis Lenne (FRA) — wing:
On the match:
"It was the third time we played against them, so we knew how Göppingen will play. Finally some details during the game were decisive."