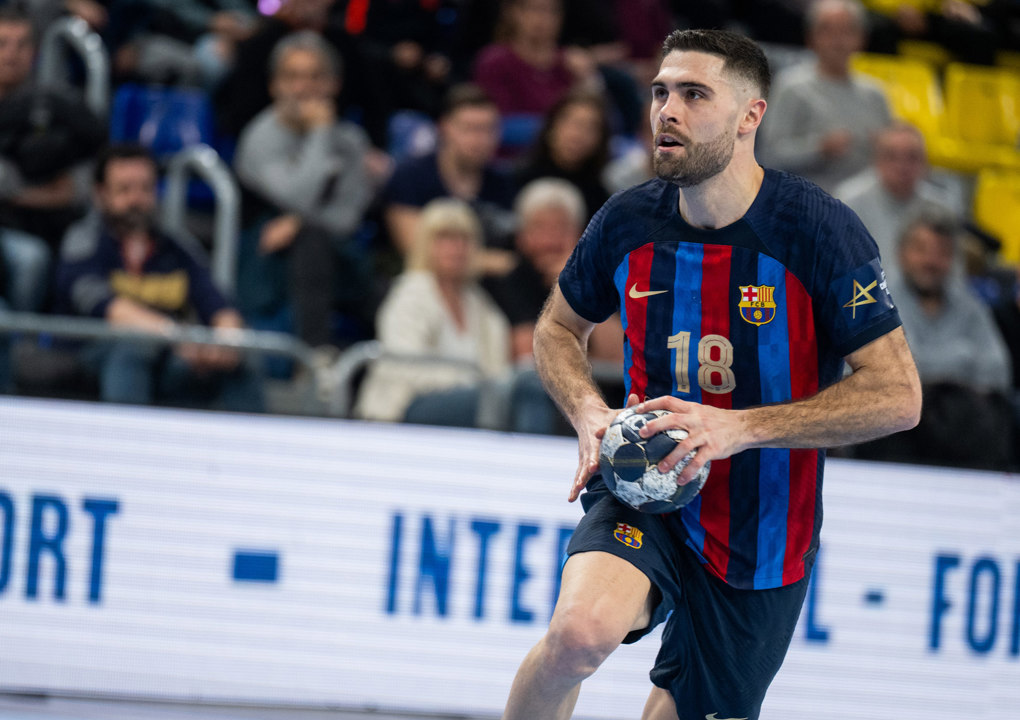 Debutants face former champions for EHF FINAL4 tickets
In the Machineseeker EHF Champions League Match of the Week on Thursday, 2022 EHF FINAL4 participants Barlinek Industria Kielce and Telekom Veszprém HC meet – and only one will get a second consecutive trip to Cologne.
On Wednesday, THW Kiel and Paris Saint-Germain Handball meet for the third straight time to decide which of the two will book their TruckScout 24 EHF FINAL4 ticket. Elsewhere, two quarter-final debutants face two former EHF Champions League winners: Orlen Wisla Plock duel with SC Magdeburg, while GOG host defending champions Barça, who are on a 23-match unbeaten streak.
QUARTER-FINALS, FIRST LEG
Orlen Wisla Plock (POL) vs SC Magdeburg (GER)
Wednesday 10 May, 18:45 CEST, live on EHFTV
the teams duelled in the EHF European League Men semi-final 2021, when Magdeburg beat Plock and went on to win the trophy
Plock eliminated HBC Nantes in the play-offs after the first penalty shoot-out in a knockout match outside the EHF FINAL4 since 2010; Magdeburg skipped the play-offs after finishing second in group B
this is Plock's quarter-final debut, but Magdeburg's fourth – although the first since 2004
Magdeburg have to replace two of their best players: EHF EURO 2022 top scorer Ómar Ingi Magnusson and 2023 world champion Magnus Saugstrup due to long-term injuries
the top scorers of both sides are separated by only one goal: Tin Lucin (Plock) scored 76 times, Gisli Kristjansson netted 75 goals for Magdeburg
in the domestic leagues, Magdeburg beat Bergischer HC 23:21 on Sunday to remain Kiel's top hunter in Bundesliga, while Plock are top of the Polish league, three points ahead of Kielce
It is a very special game for us, for the fans and for the club. We know that we are close to achieving the dream of playing an EHF FINAL4, but we have a great team in front of us that we already played against in the group stage. They know us very well and it will surely be a game that is decided by small details and the support of our fans who will be the eighth player. With the strength they give us we will try to achieve victory.
THW Kiel (GER) vs Paris Saint-Germain HB (FRA)
Wednesday 10 May, 20:45 CEST, live on EHFTV
Paris qualified directly for the quarter-finals by finishing first in group A; Kiel had to go through the play-offs, where they defeated Dinamo Bucuresti (72:60 on aggregate)
this season is the third in a row where Kiel and Paris play against each other at this stage of the competition. Paris reached the EHF FINAL4 in 2021 (63:59 on aggregate) and Kiel in 2022 (63:62 on aggregate)
this game will be the last in the Champions League at the Wunderino Arena for key THW Kiel players Miha Zarabec, Niklas Landin and Sander Sagosen
Paris are still without Nikola Karabatic, as the left back is out until the end of the season with a vein inflammation
three Paris players have scored 70 goals or more this season (Kamil Syprzak, Elohim Prandi and Dainis Kristopans) while Kiel's best scorers, Harald Reinkind and Niclas Ekberg, netted 58 since the start of the season
both teams remain on top of their domestic leagues after their weekend wins: Paris in Limoges (38:31) and Kiel against Hannover-Burgdorf (33:23)
These will be two brutal games. Paris have an incredibly strong team and have had four days to prepare intensively for us. We need the loudest and most emotional 'white wall' of the season on Wednesday to go to Paris with a good feeling after the first leg.
MOTW: Telekom Veszprém HC (HUN) vs Barlinek Industria Kielce (POL)
Thursday 11 May, 18:45 CEST, live on EHFTV
Veszprém booked their quarter-final ticket through the play-offs, where they beat fellow Hungarian side OTP Bank-Pick Szeged 74:56 on aggregate
Kielce have not played a Champions League match since the group phase, as the Polish side progressed straight to the quarter-finals after finishing second in group B
Veszprém and Kielce played 17 times against each other in the Champions League since 2003. The Hungarian side won 11 games and Kielce five
the last time the teams played against each other was in the semi-final last season, when Kielce defeated Veszprém 37:35
Kielce's Arkadiusz Moryto is currently the Champions League's fourth-best scorer, with 84 goals, while Veszprém's Rasmus Lauge netted 78 times already
French right back Nédim Rémili started the season in Kielce before moving to Veszprém in February, making his Champions League debut for them in the play-offs
last weekend, Veszprém enjoyed a tight win in Csurgó (28:27) while Kielce took a much larger one against Tarnów (37:27) in the Polish league
We have seen a lot of their matches and I think they have a better defence than last year. Andreas Wolff is in very good form. They could win matches with their defence and the performance of Wolff. In attack they have a lot of experienced players like Alex Dujshebaev, Igor Karacic or Arkadiusz Moryto. It is difficult to steal balls from them.
I always say that Barcelona, Kiel and Veszprém are the biggest favourites to win the Champions League. Against them we are always David, not Goliath.
GOG (DEN) vs Barça (ESP)
Thursday 12 March, 20:45 CET, live on EHFTV
as in the 2022 finals of the Danish league, GOG eliminated Aalborg Handbold in the Champions League play-offs
it is Barça's 22nd participation in a Champions League quarter-final while for GOG it is the first. The last time Barça missed an EHF FINAL4 was in 2018, since then they made it to every final
Barça have not lost a Champions League match since November 2021. They have won 21 games (including the 2022 final) and drawn twice
GOG finished fourth in their group, but currently have the two best scorers in their squad: Emil Madsen and Simon Pytlick, both on 92 goals. The best Barça scorer is Dika Mem with 74 strikes
Barça have one Danish player in their squad, goalkeeper Emil Nielsen, who played for Skjern before he went abroad to Nantes and then Barcelona
Barça are on top of the Spanish league with 26 wins in the same number of matches, while GOG top their main round group in the Danish league after a 30:30 draw against Fredericia
Photo © Victor Salgado
It's a big game for GOG because we're up against the biggest club in the world and the best team in recent years. It will be a big task, but we are looking forward to performing in a packed arena, and of course we will give it everything we can to see if we can create a surprise.