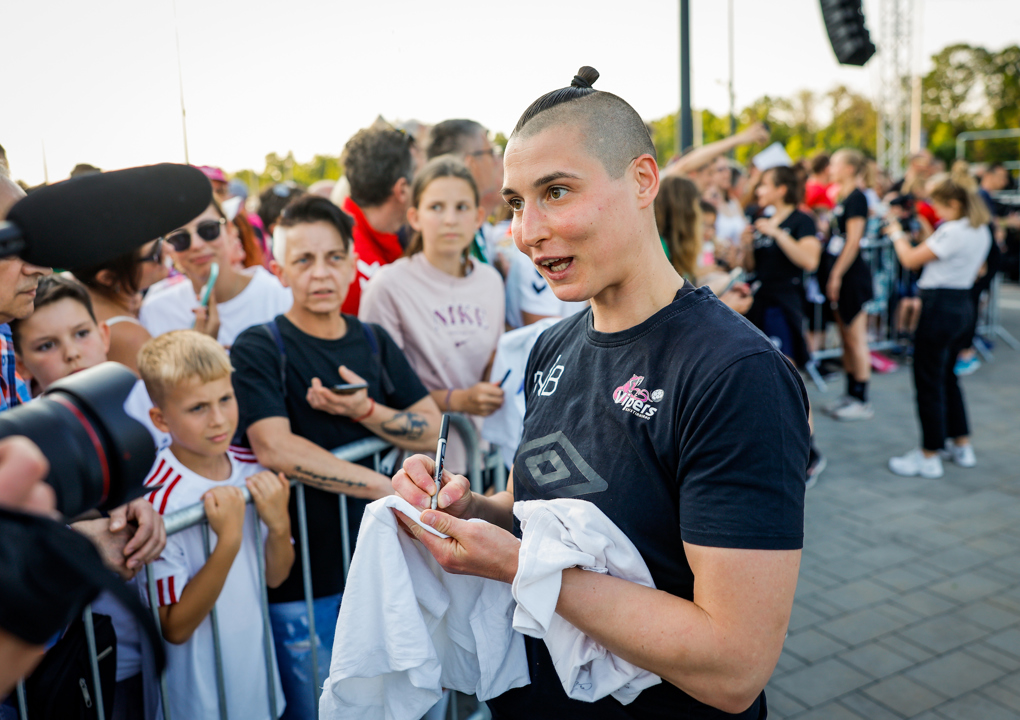 Summary: Semi-finals await; opening party headlines Friday
Excitement is building towards the start of the semi-finals in the EHF Champions League Women 2022/23 and the EHF FINAL4 2023 is now officially underway, with the opening party having taken place at MVM Dome. Here, read all about how the semi-finalists — Vipers, Györ, Esbjerg and FTC — spent their last day before the games begin. 
21:31
The opening party is soon to wrap up, the Twitch show has come to an end and the atmosphere around the team hotel is changing as the players ready themselves for tomorrow's action. The stage is fully set for a big Saturday in Budapest, when we will see the last four teams standing reduced to two in the race for the EHF Champions League 2022/23 trophy.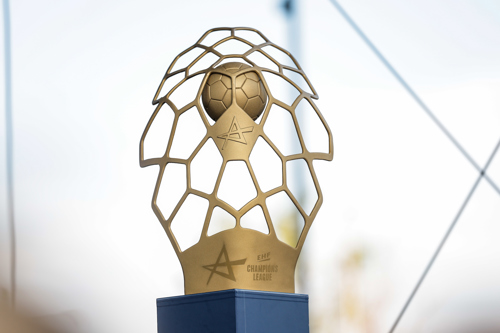 20:37
What a great reception for the teams at the opening party! It's interesting to note some players look very comfortable commanding the crowd off court as well. 
Enjoy the best photos of the evening so far at MVP Dome below. 







































20:18
The team presentations have wrapped up and now the party part of the opening party is really underway, with Lotfi Begi now on stage for a couple of hours. This also means the teams are returning from MVM Dome or are now, with their media duties and opening party participation done, and it is time for fully focused mode to begin. 
Meanwhile, the opening party Twitch show is still on. Check it out here. 
19:28
The opening party Twitch show is now live! Join on the Home of Handball Twitch channel. 
Watch the EHF FINAL4 opening party Twitch show
19:18
The opening party is in full swing, with Team Esbjerg currently on stage and FTC-Rail Cargo Hungaria about to make the fans go absolutely wild as the psuedo-home team take their turn. 
And if you're not in Budapest, you will soon be able to be part of the fun, as the opening party Twitch show begins. This time around, it's the (Un)Informed Handball Hour podcast lads — Chris O'Reilly, Alex Kulesh and Brian Campion — hosting, with special guest, Esbjerg goalkeeper Dinah Eckerle.
O'Reilly will also be the commentator for the weekend, guiding you through the games on EHFTV, while Campion will be spending most of his time behind a camera bringing you gorgeous footage and special moments not caught on TV from around the arena. 
They will be live on the Home of Handball Twitch, right from MVM Dome, from 19:30 until 21:30.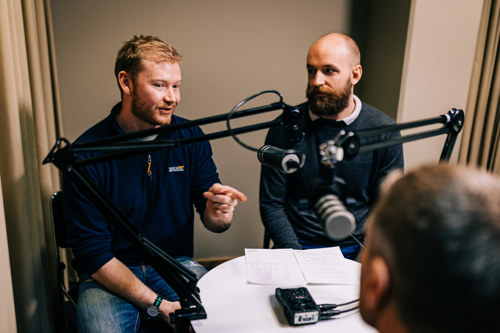 18:12
While Györ are on stage at MVM Dome — and we wait for the photos and other social media content to start rolling in — we also have a behind-the-scenes look at their training session. 
And who's schooling who in these first photos? It looks like Stine Oftedal has plenty of thoughts to share with coach Ambros Martin and perhaps her teammates as well — which is no surprise, given the brilliant leader she is on court. 















17:54
There has been plenty of EHF FINAL4 talk today and in the past weeks, but now we are finally about to get started — the opening party is just minutes away! 
Sure, we will be even more excited tomorrow as the matches draw closer, but this gathering of handball fans and the semi-finalists at the location where the title will be decided, MVM Dome, is the next best thing. 
So what does the opening party entail? The four teams are about to be presented on stage, with Györ up first, followed by Vipers, Esbjerg and FTC. Following the team presentations will be a DJ party with Lotfi Begi. 
Fans will be able to get photos and autographs from the players, take part in activities and games around the fan zone, enjoy food and drink, and get their hands on official merchandise. 
16:33
So the media duty for the players today has come to an end, and focus has now switched to training, with the teams all taking their turns on court prior to the opening party later.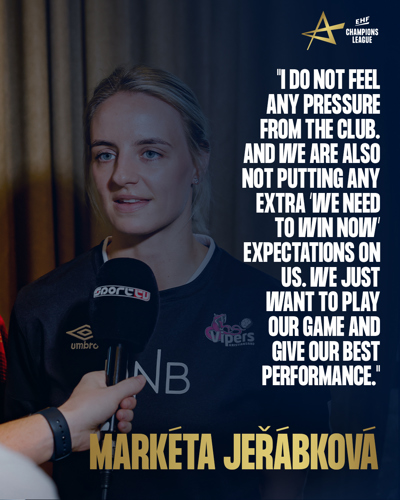 Want to hear more from the teams and their coaches? Read all the quotes from the media calls here. Below, a sneak peak of Esbjerg's training session this afternoon. 
















We proved that we are gritty, we proved that we stay true to ourselves, because this has been a rollercoaster season for us. It was a difficult one. We lost some games by big margins, but we still managed to claw back and be here in Budapest when it mattered.
15:59
I previously mentioned a special feature on FTC coach Gabor Elek coming up — now we have that plus some extra reading material ready for your enjoyment. 
Alongside the story of the Hungarian coach, who is set to leave FTC after a 16-year stint at the end of the season, check out a general roundup of the media calls held today, featuring all four teams, plus a power ranking of the semi-finalists from our journalist Adrian Costeiu. 

15:08
The media calls have concluded with the defending back-to-back title holders Vipers Kristiansand. Should the Norwegian side make it a three-peat this weekend in Budapest, they will join Györ as the only two teams with such a record. They will also make a big leap up certain overall standings — only two clubs have won the EHF Champions League trophy more than three times (Györ and Hypo), but Viborg, Slagelse, Krim and Buducnost have all won it twice. 
Vipers can also take Norway further up the country standings, as Norwegian clubs have taken three titles so far — Vipers' two and Larvik's in 2011. Only Hungary, Denmark and Austria are more represented, with Hungarian and Danish teams having won the trophy seven times each and Austria's Hypo taking it four times (since the current competition began in 1993/94). Norway therefore have the chance to draw level with Austria in this ranking this weekend. 







14:24
The media calls continue, with Györ and Team Esbjerg having their turn speaking to media. While Györ are old hat at the EHF FINAL4 media call now, having played the event the last six editions in a row, Esjberg are playing the pinnacle final weekend for the second time. Last season, the two met in the semi-final stage, with Györ winning 32:27. 
There are a lot of people who call FTC underdogs but I think it would be a mistake if we approach them this way. They proved this season that they are here for a reason and they beat bigger clubs like Metz. We need to perform our best to beat them. We are well prepared for this challenge.

















I expect a tough game, Vipers are an incredible team. They have maybe the best attack in the Champions League and they are running a lot. We have had plenty of time for preparation and talked a lot about them. The challenge is huge, but it is the Champions League semi-final, so it has to be like that.
13:38
The media calls are well underway, with FTC first on the card. Soon, we will be bringing you a special feature on FTC coach Gabor Elek, so stay tuned and in the meantime, enjoy some snaps of the Hungarian side's media call below. If FTC win their semi-final, it will be the long-serving coach's 100th win in European cup competitions with the team. 










This is my first [EHF] FINAL4 and to be here with FTC in the MVM Dome, in front of a record number of spectators, is the perfect picture for me. I play handball for these moments. The great number of the Hungarian supporters in the crowd will be an extra bonus. I cannot wait to enter the field.
12:24
This time tomorrow, we will be in a huge state of anticipation awaiting the start of the semi-finals, with the first — Györ versus Vipers — throwing off at 15:15 CEST. FTC versus Esbjerg will follow at 18:00 CEST. 
Our match previews are ready for you to brush up on all the key facts surrounding the games. Find them below!
11:56
The media calls will begin in just over 30 minutes, with EHF FINAL4 debutants FTC-Rail Cargo Hungaria first up. 
Each club will be represented by a selection of players as well as their head coach, and our own team are ready to bring you plenty of first-hand insight into the upcoming weekend. 
As the weekend unfolds, be sure to follow the EHF Champions League social media channels — Twitter, Instagram and Facebook — as well as the Home of Handball YouTube and TikTok and for plenty of great content. 
And in a few minutes, Friday's Twitch show will be live on the Home of Handball channel. The channel will feature entertaining shows throughout the weekend, with multiple EHF Champions League winner Anja Althaus, Martin Vilstrup and Lucie Marie Kretzschmar as the main hosts. Today, players and coaches will drop by during the media calls for some light-hearted chats with Anja and Martin. 
The Twitch show will return on Saturday and Sunday with a full programme of entertainment planned for before, during and after the matches.
Watch the EHF FINAL4 Twitch show
The relationship with the [EHF] FINAL4 is one of love. A platonic love, of course, but it is exactly the format that can bring the outpour of emotion needed for such a competition, whether you win or you lose a game here. Basically, you have two games in two days to secure the trophy. You just need to ride the wave and see where that gets you.
11:32
Speaking of Györ, their coach Ambros Martin is making his eighth appearance at the EHF FINAL4 — more than any other coach or player. Six of those previous ventures were with Györ, and one was with Rostov-Don. 
He led Györ to four of the five trophies they have won in the top-flight competition, and was also on the bench for their two defeats in the final at the EHF FINAL4 — in 2016 against CSM Bucuresti and in 2022 versus Vipers. 
About those losses, he said, "We lost against Vipers because we played good, but they had a perfect game, without any big mistakes. So that win was totally deserved for them. But the loss against CSM Bucuresti stung a lot, because losing at penalties is definitely heartbreaking.
"It was very difficult to concede that title and that loss, but you learn from everything, from every experience you have, therefore it was something that helped us in the end, Györ won two trophies after that." 
He left Györ once before, in 2018, before returning in 2021. Now, he will depart again, this time to take over the Spain women's national team — his first time leading his own country. 
Read our full feature on Martin and his experience at the EHF FINAL4 here. 
10:50
Looking back to yesterday, team arrivals may seem pretty mundane — but actually we already saw some EHF FINAL4 magic in Györ's arrival. 
As our social media team put it, the EHF FINAL4 is the great event it is not only because of the teams, but due to their great fans. It was an incredible welcome for the Hungarian team as they aim to reclaim the trophy after they last claimed it in 2019. 
Györ are the undoubtedly the queens of the EHF FINAL4, having won four of the titles decided in Budapest across the eight editions played, and reaching the final but finishing as runners-up another two times. 
10:20
Good morning and welcome to day two of our live blog coverage of the EHF FINAL4 2023 in Budapest! 
Yesterday was arrivals day, and all four semi-finalists are now settled in to the team hotel. Today they will participate in the media calls and the opening party — but of course, the main item on the agenda will be semi-final preparation.