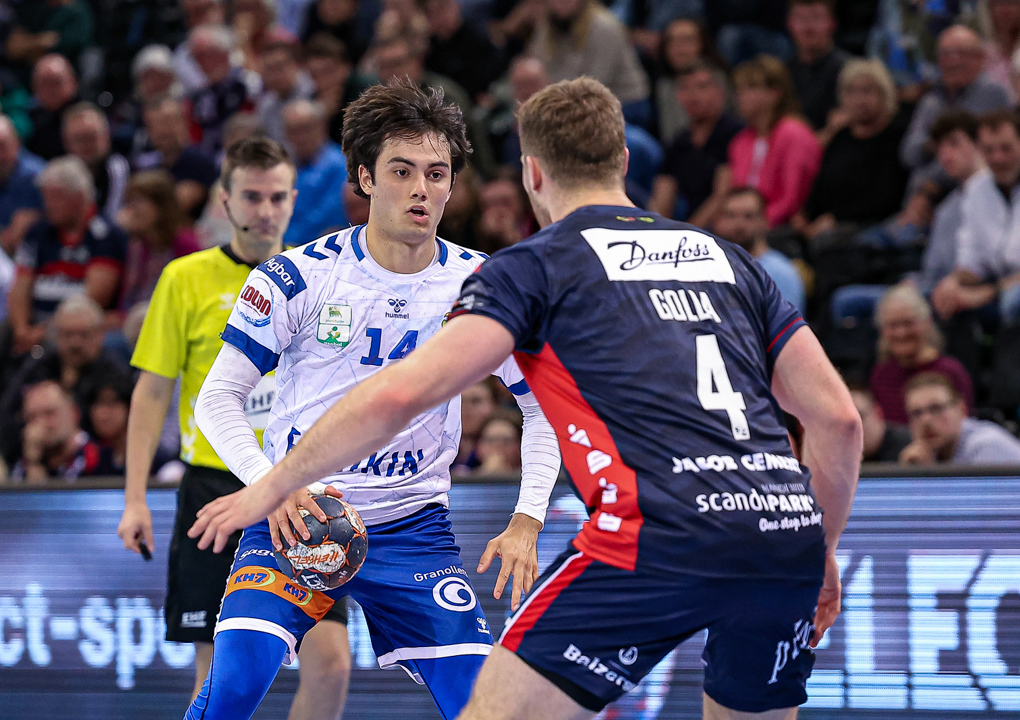 Bruno Reguart: "We have to play a very complete game"
Fraikin BM. Granollers eliminated SG Flensburg-Handewitt on their way to the EHF Finals Men 2023. One of the noteworthy players in the Spanish squad is Bruno Reguart, the young centre back who too part in EHF's Respect Your Talent programme.
BM Granollers are one of the oldest clubs in Spain and they are close to writing another page for the history book of this city that breathes handball.
It's time for big decisions in the EHF European League Men 222/23. Granollers, who had a sneak preview of the EHF Finals venue Campushalle when beating Flensburg in the quarter-finals, join Montpellier HB, Füchse Berlin and Frisch Auf Göppingen at the final tournament this weekend (27/28 May).
After Montpellier and Füchse play the first semi-final on Saturday at 15:30 CEST, Granollers take on Göppingen from 18:00 CEST for the second spot in Sunday's final.
Bruno Reguart, the young Spanish center back, feels prepared for the big game and promises that the team will leave everything on the court.
"We have to play a very complete game. We have to be solid in defence and attack, try to play judiciously and have few turnovers. We are a team that really wants to, so we are going to give our 100 per cent to win," he says.
This irreverent player has a twinkle in his eye when he plays handball, and this great passion first came out when he was six years old.
"At my school in Barcelona the main sport was handball, there was no football or other sports. From there, I started playing with my school friends and from the first moment I loved it. I remember that stage of life with great affection because I started to play my first games with lots of illusion," Bruno remembers.
Our main goal is to compete and get as far as possible, we don't set any limits. We are focused on the first game against Göppingen and we will give our best. When the game is over, we will think about the next one.
The centre back, who turns 20 on Thursday, joined Granollers mid-season from Barça and has had a strong in EHF European League so far, crowned with 26 goals. What has really made the difference in his game?
"The big difference is playing quality minutes in this type of matches, they give you extra experience and that makes you grow as a player," Reguart says.
"I think I can still improve and evolve in many things about my game. Also being able to learn from the most experienced players on the team, like Antonio García, and being able to play with teammates from the junior national team, like Jan (Gurri) for example," he said.  
Reguart and Gurri played together in the Men's 20 EHF EURO 2022, which Spain won by beating hosts Portugal in the final in Matosinhos. The two players combined scored 15 goals in that decisive match, so they are used to showing up at the big moments that really count.
Their semi-final opponents on Saturday, Göppingen are having a disappointing domestic season – ranking 14th in the Bundesliga – but enjoy an excellent European campaign.
So, Reguart has a lot of respect for this German team.
"They have very good players in all positions. Good defence, great finishers, a very complete front line and a great goalkeeper. They are having a great season in Europe, so they will undoubtedly be a very difficult opponent to beat."
Reguart praises Antonio Rama García, who has coached Granollers since 2016/17, for the good run of the Spanish team.
"The balance with this coach is very good. I arrived in the team only recently, but I feel that the coach and the whole team trust me. I understand what the coach asks me to do and it's much easier this way."
Now about to play the EHF Finals Men, Reguart has been part of the EHF Respect Your Talent programme, the project promoting a holistic development of the careers of talented players, both on and off the court.
"We learn a lot of new things related to the world of sport, such as conducting interviews. Many former players tell us about their experiences and give us advice on how to manage many situations that younger players are not used to. I think it's a great initiative", Reguart says.
Asked about Granollers' expectations for Flensburg, his answer is clear.
"Our main goal is to compete and get as far as possible, we don't set any limits," the cenre back says. "We are focused on the first game against Göppingen and we will give our best. When the game is over, we will think about the next one."
photos © Ingrid Anderson-Jensen, Xavier Solanas