15 nations eye gold at YAC 17 Beach Handball EURO
All eyes in European beach handball turn to Türkiye again: three weeks after Antalya staged the ebt finals 2023, Izmir hosts the YAC 17 Beach Handball EURO 2023 from Thursday 29 June through Sunday 2 July. All matches will be streamed live on EHFTV.
It is the 13th edition of the annual Younger Age Category European Championships in beach handball. As the 2022 edition in Prague was an under-16 event, the same generation of players is eligible to compete in the under-17 championships in Izmir.
The lineup of teams for the Men's 17 and the Women's 17 Beach Handball EURO 2023 is identical: the same 15 nations have entered both events, including Hungary as the defending champions for both men and women.
The competition format is identical, too.
The preliminary round on Thursday, Friday, and Saturday morning consists of three round-robin groups with five teams each. The top two teams from each group plus the two best third-ranked teams advance to the quarter-finals on Saturday afternoon.
The semi-finals are scheduled for Sunday morning, followed by the medal matches in the afternoon, concluded by the men's final at 15:30 CEST and the women's final at 16:30 CEST.
All matches on all courts in Izmir are streamed live on EHFTV and are freely accessible without geo-restrictions. The matches can be followed in the official EHF beach handball liveticker, with further coverage provided on the dedicated EHF beach handball account on Instagram.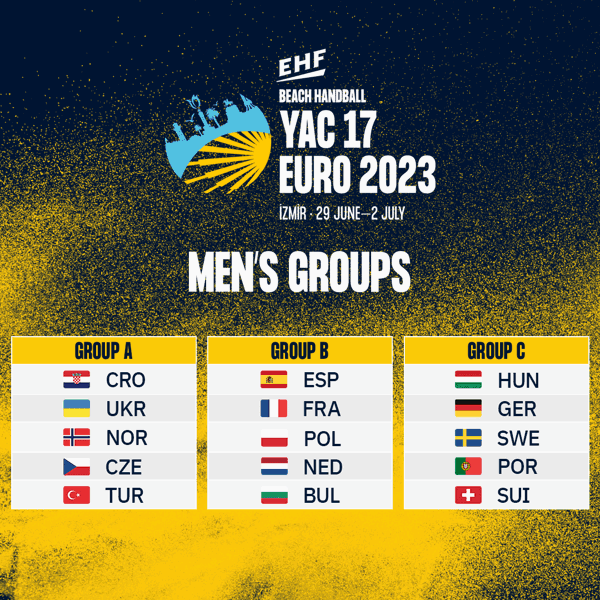 Men's 17 Beach Handball EURO 2023
Defending champions and record four-time winners Hungary face a challenging group C, which also includes 2021 champions Sweden and 2018 winners Germany.
Portugal and Switzerland complete this group, which starts with Germany vs Portugal and Hungary vs Switzerland on Thursday at 10:00 CEST.
Group B is led by Spain, gold medallists in 2016 and 2017 and runners-up in the last two editions in 2021 and 2022, who meet recent semi-finalists Netherlands and Poland.
The other teams in this group are France and Bulgaria, who play against Netherlands and Spain respectively in the two group openers on Thursday at 10:00 CEST.
Looking for their third European title and first since 2019, last year's junior world champions Croatia start in group A against the likes of Norway and hosts Türkiye.
Also in the mix here are Czech Republic and Ukraine; the group starts Thursday with Croatia vs Türkiye and Ukraine vs Czech Republic both at 9:15 CEST.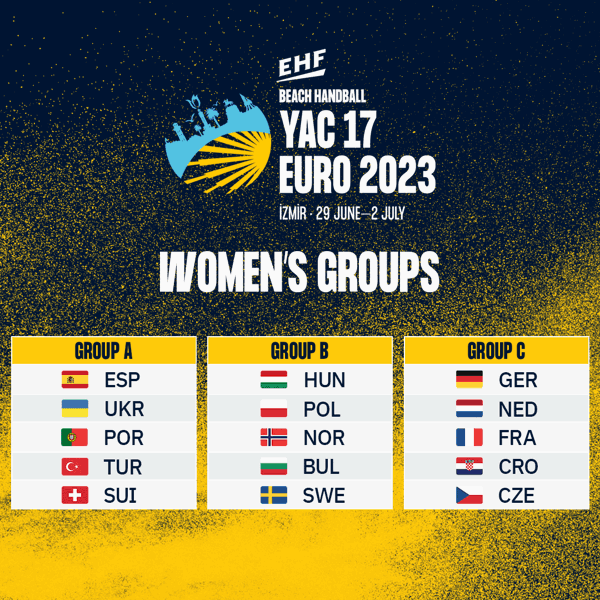 Women's 17 Beach Handball EURO 2023
Hungary are looking to extend their incredible dominance of this competition (nine golds in 12 editions, including in 2021 and 2022) as they start their title defence in group B.
Hungary open against Sweden on Thursday at 8:30 CEST, with Poland playing Bulgaria at the same time; the other team in group B is Norway.
Spain – the last European champions other than Hungary, in 2019, and the 2022 junior world champions – headline group A and start their campaign against Switzerland on Thursday at 8:30 CEST.
Hosts Türkiye meet Ukraine at the same time for the other match in group A, which further consists of Portugal.
Netherlands are the only multiple champions other than Hungary on this level, and they begin their quest for a third title (after 2016 and 2017) in group C against Croatia on Thursday at 9:15 CEST.
Also in this group, Germany take on Czech Republic in the simultaneous match, while France are the other team in group C.
photo © 2022 Uros Hocevar / kolektiff