EHF Champions League
Szeged, Porto, Flensburg & Dinamo seal wins, PSG draw with Barça
Round 10 of the EHF Champions League Men 2021/22 this week was the final round before the competition heads into its two-month winter break. One of the highlights was Match of the Week between Pick Szeged and THW Kiel in the brand new PICK Aréna on Thursday.















THURSDAY 9 DECEMBER
23:10
The EHF Champions League Men resumes with round 11 on 16 February 2022, with highlights including Flensburg vs Kielce. Before then, many of the players will be heading off to join their national teams for the EHF EURO 2022, which throws off on 13 January in Hungary and Slovakia. So there's plenty of handball ahead to fill the gap! 
We hope you've enjoyed all the Champions League action in 2021, and we can't wait to see what 2022 brings. 
We leave you with the current standings!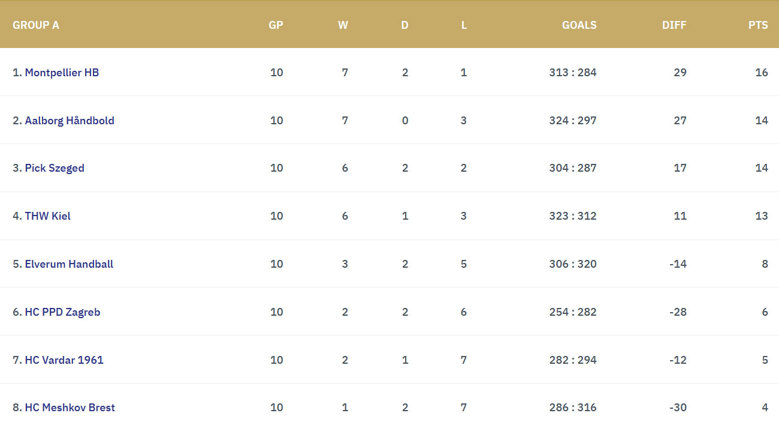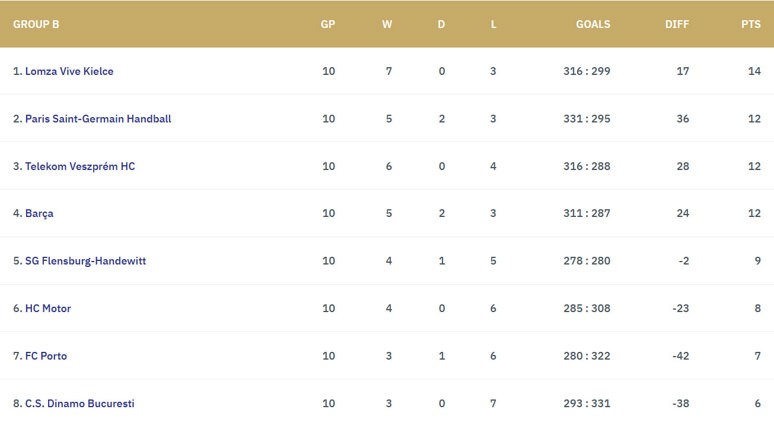 22:58
At the end of one of the best rounds yet, here's a summary of the results. It was all pretty close, with Aalborg's six-goal win against Elverum in their Nordic derby being the biggest victory. There were two draws; Zagreb got their second win; and Porto, Dinamo and Flensburg will all be pretty happy with their points tonight. It sets things up beautifully for an exciting four rounds when we return in February 2022.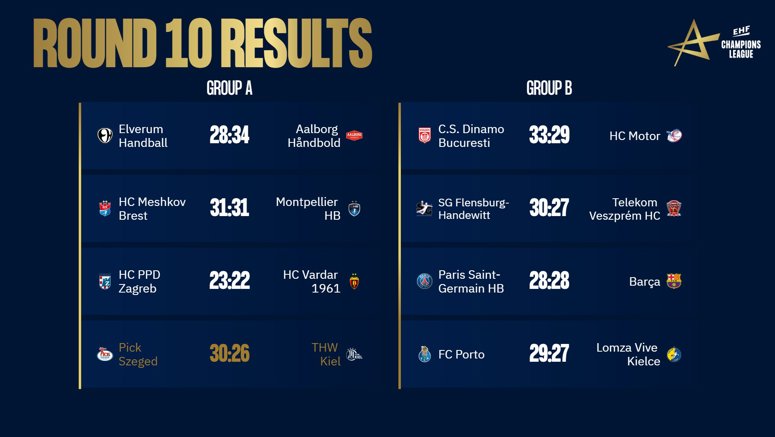 22:47
Quiz time - which of the winning teams tonight impressed you most?
What a way for 2021 action to end. Pick Szeged's 8,100 fans roar them to an inaugural win in their new arena. Bence Bánhidi is named Player of the Match after scoring six times; Harald Reinkind and Niclas Ekberg both scored five times for Kiel. 
Szeged go joint second in group A alongside Aalborg, with 14 points from six wins, two draws and two losses. Kiel are fourth, with 13 points. There are four rounds left, and all to play for ...
A second successive loss for Kielce, and a third win in the season for Porto. The home team played aggressively enough with enough attempts at goal to triumph against Kielce and an in-form Andreas Wolff.
This puts them back in seventh place in the group, with Dinamo dropping down to eighth again despite their earlier win.
Matthieu Grebille nets for PSG with 21 seconds on the clock, equalising after a really exciting match. Barça were stronger for most of the second half, but Paris stayed calm and stayed in touch. Dika Mem had a direct free throw after the buzzer, but it missed the net. 
They split the points, and there are now three group B teams with 12 points after 10 rounds - PSG, Barça and Veszprém.
22:08
Every save Roland Mikler is making is being greeted with huge cheers by the crowd and huge emotion from the goalkeeper. He's stepping up and Pick Szeged are staying in front.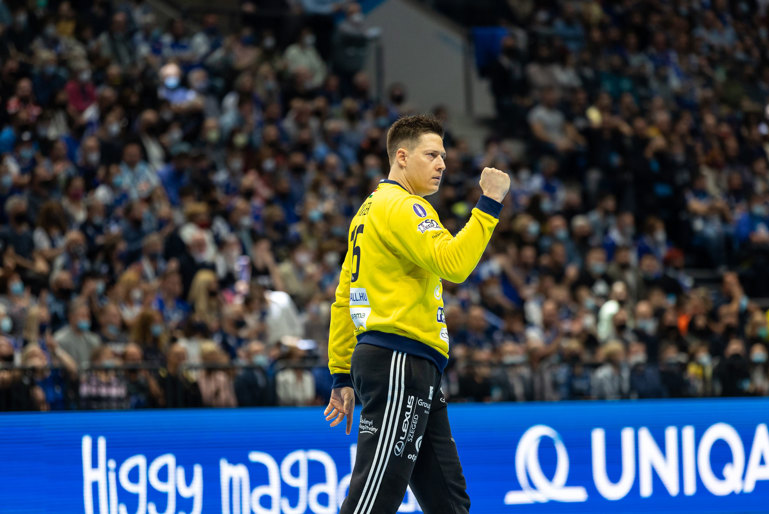 21:55
Halfway through the second half, Szeged have reasserted their authority. Kiel are struggling in defence, and Niklas Landin is struggling in goal.
Porto lead Kielce by two goals, and Barça have taken a two-goal lead in Paris.
21:45
Kiel have made a bit of impact so far in the second half, closing up to four goals. 
Here's a nice Steffen Weinhold moment from the first half to enjoy.
What an appetiser for the upcoming EHF EURO 2022! The brand new PICK Arena, one of three Hungarian venues in January, is sold out with more than 8,100 fans. Szeged made their fans really happy, though Kiel's superstar Sander Sagosen spoiled their hopes by scoring the first goal in the new home. With full power and boosted by the audience, Szeged constantly found the gaps in Kiel's defence. Kiel definitely need to improve in all departments after the break.
21:27 | HALF-TIME
PICK SZEGED 19:13 THW KIEL
In front of their 8,000 fans in their new arena Szeged are having a party. When Kiel closed up, they rallied and pulled away again and with Bogdan Radivojevic's third penalty on the buzzer, they take a six-goal lead.

PARIS SAINT-GERMAIN HB 17:15 BARçA
Barça had a shocking start to their game, but a 4:1 run between the 21st and 24th minute got them back into the match. Neither of the goalkeepers are saving much, and most players have scored at least one goal - in fact, only three PSG field players are yet to find the net.
FC PORTO 14:14 LOMZA VIVE KIELCE
Porto also had a poor start - letting Kielce get as far ahead as 1:6 - but by 23 minutes they had drawn level with Kielce, and even led just before the buzzer. Now it's tied with an enticing second half ahead.
21:15
Roland Mikler is decisively winning the goalkeepers' duel right now, with a save efficiency of over 30 per cent compared to less than 18 per cent for Niklas Landin.

21:12
Kiel are finally easing into the match and finding the goal more easily. Their defence is good too - the Szeged lead is cut to two goals, and the game looks far more even. 
21:05
Elsewhere, PSG lead Barça by five goals after 16 minutes, while Kielce have a four-goal lead against Porto in a relatively low-scoring game.

21:00
Filip Jicha takes a timeout as Kiel trail by four goals. It's time to show we want to win the game, he tells his team. 
Play resumes and Niclas Ekberg promptly scores.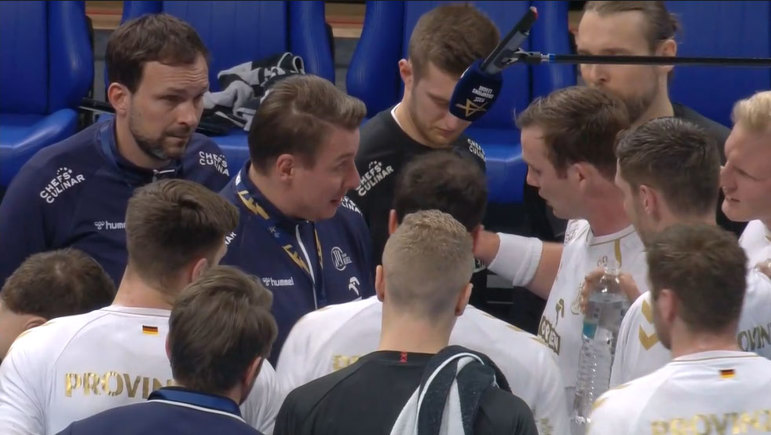 20:54
Early on in MOTW Kiel are playing seven-on-six, and have just conceded two goals into the empty net - Szeged taking advantage of a Roland Mikler save, and then a turnover. Niklas Landin just couldn't run fast enough to get back between the posts.
20:45
As we throw off in the PICK Arena, here are your MOTW squads.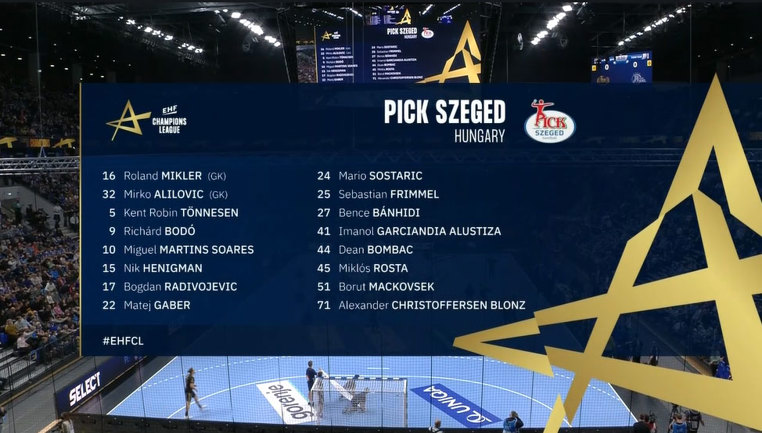 20:30
There's 15 minutes before the last three matches throw off, and here are a few facts.
MOTW: Pick Szeged vs THW Kiel
Szeged lost to Aalborg last week and were passed by Kiel, who defeated Vardar
the teams drew 32:32 in Germany earlier this season – their first draw of 11 duels, with Kiel having won seven times and Szeged three
Kiel have scored the most goals of all group phase teams: 297; Szeged have the third-best defence with 261 goals conceded
the match is the first in Szeged's new arena, which will also host EHF EURO 2022 in January
Paris Saint-Germain HB vs Barça
following their win in MOTW last week against Kielce, PSG are level with Barça in third place with 11 points each
PSG have beaten Barça only once in the CL, back in 2016; Barça won the other seven matches
earlier this season Barça beat PSG 30:27 at home in Palau Blaugrana
nine French Olympic champions are involved in this match: five for PSG, four for Barça
FC Porto vs Lomza Vive Kielce
Kielce suffered their first defeat since round 1 last week in Paris, ending a seven-match winning series, but stayed on top of group B
Porto have not won since round 3 and took just one point from their last six games
Porto have beaten Kielce only once in their eight previous meetings; Kielce won six times and there was one draw














Dinamo also end 2021 in the Champions League on a high with their third win. For now, they move up to seventh in the rankings ahead of Porto - who are about to face Kielce.
Raul Nantes ended the match with 13 goals from 13 shots. With 55 goals so far this season, he's beaten his own record in European competitions - 52 goals for Anaitasuna in the EHF Cup 2017/18.
That's a huge win for Flensburg, who have not had the greatest season. It bumps them up to fifth in the group B standings.
It's the first time they've beaten Veszprém since 2008, and the first time Kentin Mahe has lost to his former club - after winning both quarter-finals in the 2018/19 season.
Mads Mensah Larsen was huge in the final 15 minutes and ends the game as top scorer with seven goals. Benjamin Buric saved 17 shots (38.7 per cent), while Rodrigo Corrales stopped 15 (34.9 per cent).
20:12
Everyone is fighting for every inch and every ball tonight! What a way to end the EHF Champions League for the calendar year.

20:10
The home team fans are on their feet in both arenas with the matches incredibly close. 

20:05
Timeout time, and Momir Ilic tells Veszprém they're moving to seven-on-six in attack. There's less than seven minutes to go, and Flensburg lead 26:23.

20:00
Simon Hald Jensen receives his second two-minute suspension of the game and puts his head in his hands as he walks off court - although it didn't cause a penalty shot for Veszprém. Flensburg are staying in front with the likes of Mads Mensah Larsen fighting hard.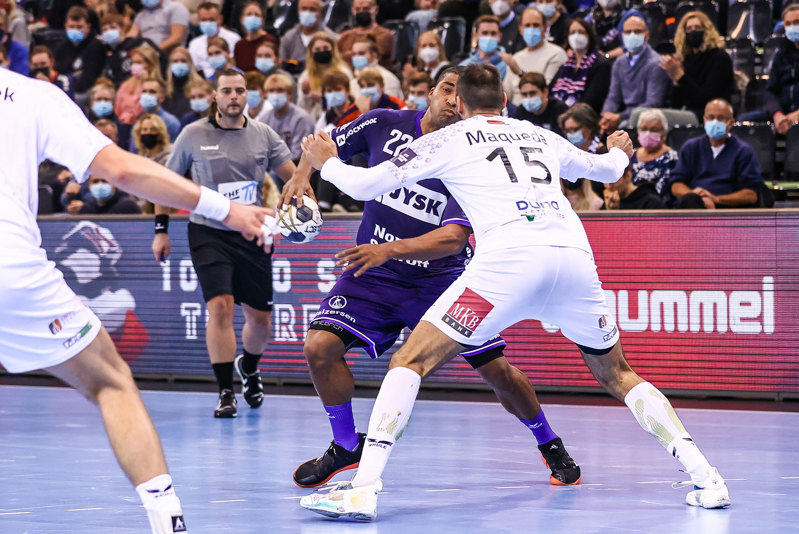 19:53
The ball is stolen and handed off to Kentin Mahe on a fastbreak. The former Flensburg player nets and Veszprém are just two goals down, with lots of time to draw level. 
What have the home team got now?
19:48
Nearly 10 minutes into the second half, and two things are happening in the two matches: a) Raul Nantes is still scoring, and is now 12 from 12; b) Flensburg still lead Veszprém by four or five goals.

19:35
Here are just a few of Raul Nantes' nine goals to enjoy. He's sure to get into double figures, but how many will he hit?

19:25 HALF-TIME | 
SG FLENSBURG-HANDEWITT 16:12 TELEKOM VESZPRÉM HC
Flensburg look the more comfortable of the two sides right now, but Veszprém were starting to show signs of a comeback just towards the end of the half. Rodrigo Corrales recovered from a poor patch to bolster his save efficiency, crucially stopping a couple of Flensburg attempts in the last minute. The second half should be interesting.
C.S. DINAMO 16:14 HC MOTOR
The lead has changed hands several times in an energetic match but it's Dinamo taking the lead to the dressing room. Raul Nantes is largely responsible, although seven other Dinamo players have each scored one goal. On the other end of the court, Viachaslau Bokhan is top scorer with five goals. 
19:18
Over in Bucharest, Dinamo just lead Motor. Raul Nantes has been incredible, scoring nine from nine, but this Saeid Heidarirard save is also definitely worth a look.

19:15
The big difference at the moment has been that Flensburg are more determined in attack and more effective in defence - with Benjamin Buric also in good form. It's helping them hold on to a four or five-goal advantage as the first half draws to a close.
19:05
It did start well for Veszprém though - they just need to find this form again.

19:02
Flensburg have surged into a five-goal lead, and even a time-out by Momir Ilic didn't help Veszprém narrow the gap.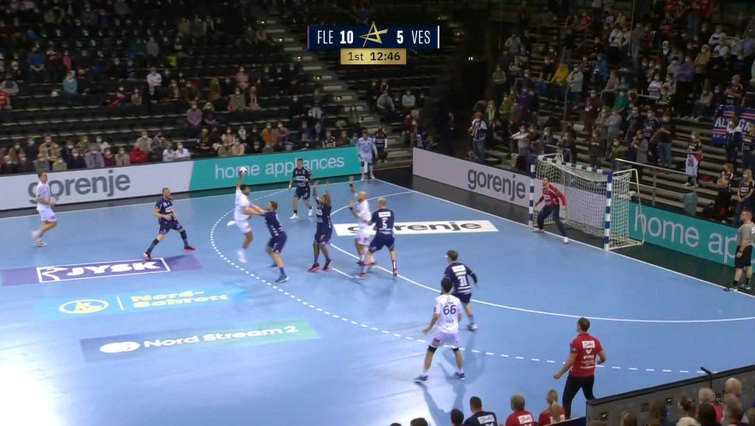 18:55
Johannes Golla is the first Flensburg player to score twice - five of the home team have found the net, despite a pretty impressive 40 per cent save rate from Rodrigo Corrales. The fast, aggressive attack is working for Flensburg.
18:47
Here we go!
Rodrigo Corrales gets Veszprém off to a good start with a fantastic double save, preventing Jim Gottfridsson; Benjamin Buric nearly stops the first Veszprém shot from Mate Lekai but just fails. It's already a fast-moving match with five goals in less than three minutes, and Gasper Marguc has scored twice!
18:38
Here's Veszprém's team for their match against Flensburg, coming up soon ... they're missing Dejan Manaskov, Petar Nenadic and Zoran Ilic.

18:23
Warm-up coverage of the first two matches begins shortly on EHFTV so head over there for the build-up. Later on there will as usual be commentary for MOTW. Hopefully there'll be some more gems like this moment from the round 5 MOTW in Barcelona.

18:05
Coming up at 20:45 CET are three more exciting matches - as well as the MOTW between Szeged and Kiel, we have PSG vs Barça and Porto vs Kielce to look forward to.
Barça have a few French players and to tease the match put together this amusing video (in French).

17:50
The other 18:45 CET match today should also be a cracker. Dinamo Bucuresti welcome HC Motor; when they met in Zaporozhye in October, Motor won 28:27. Dinamo also won their only previous home game against Motor, 35:31 in the 2016/17 group phase.
So far this season, two players from Dinamo and one from Motor are in the top 20 scorers: Valentin Ghionea and Raul Nantes have netted 42 times for Dinamo, Aidenas Malasinskas 41 times for Motor. However, Dinamo have conceded the most goals of all group phase teams: 302. They will need to limit the goals they allow through tonight to beat Motor.
17:00
Flensburg's task in tonight's match against Veszprém is a big one. They have not beaten the Hungarian side since 2008; since then, the clubs have met nine times, with Veszprém winning seven and two games ending in a draw. In round five this season, Veszprém won 28:23. 
Veszprém right wing Gasper Marguc said earlier this week: "It is going to be very important to win if we want to keep our position in the group. Flensburg also need victories, they had many issues this season, but they have more and more players coming back, which makes them even more dangerous."
A few other facts about the match:
Flensburg lost their first game after three straight wins last week in Zaporozhye
Veszprém beat their club record for most goals in a single match: 47:32 against Dinamo
Veszprém are currently second in the group with 12 points, two less than Kielce; while Flensburg are sixth with seven points
16:40
Today's Match of the Week will see Szeged welcome Kiel - after their round 5 draw, we're certain it will be a cracking contest.
Head over to Instagram, Twitter or Facebook to weigh in on the question of which of the teams' two star goalkeepers will make the impact tonight.  

16:15
With two and a half hours before tonight's matches throw off, we're getting the live blog underway with a great addition to the 'This is Me' series. Hampus Wanne has an amazing history in the competition, after shooting to fame in 2014 when he scored the winning penalty in the EHF Champions League final. 
Wanne will be on court with his Flensburg teammates tonight as they welcome Veszprém in a bid to keep their hopes of the play-offs, and the quarter-finals, alive. That match is one of the first two to throw off at 18:45 CET.
Wednesday 8 December
23:10
Here ends our coverage of the opening night of round 10. Lots of spectacle tonight, more to come tomorrow! So join us again then for the last five matches before the EHF Champions League will take a 10-week break for Christmas and the Men's EHF EURO 2022.
Below you can read all what happened in the three matches tonight.
23:03
Let's have a quick look at tomorrow, the final day of EHF Champions League action in 2021. What a great line-up we have on Thursday:
18:45 CET: Flensburg vs Veszprém
18:45 CET: Dinamo vs Motor
20:45 CET: MOTW Szeged vs Kiel
20:45 CET: PSG vs Barça
20:45 CET: Porto vs Kielce
There have been several top contenders but only one game can be the MOTW - and that is the one that will open the PICK Aréna, a lovely multifunctional and newly built state-of-the-art arena in Szeged, which will also be one of the eye-catching venues for the Men's EHF EURO 2022 in January.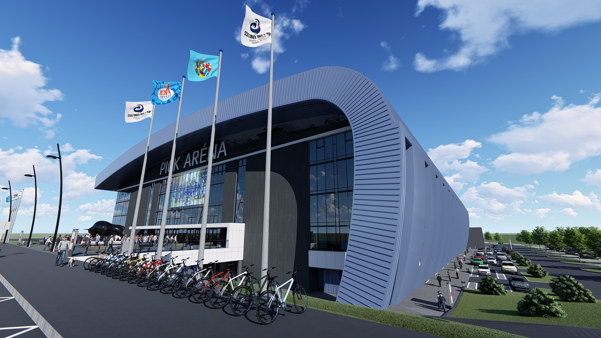 22:41
On the other hand, things are going from bad to worse for Vardar. They started the season with a draw and two wins from their first three matches, only to lose the next seven... That equals their longest losing run in the competition, which lasted from 12 October 2003 to 9 October 2004.
And mind you, they resume the group phase in February 2022... with an away match at leaders Montpellier!


22:32
That win over Vardar is just what Zagreb needed going into the winter break. It is not only a psychological advantage to sit in sixth place for the next two months.
The Croatian federation is happy, too:
Zagreb have done it! In an up-and-down game, they beat Vardar 23:22 in what was always going to be a close match. A pivotal win, possibly, for the Croatian side in the battle for that crucial sixth place in group A, as Zagreb now go into sixth, pushing Vardar down to seventh.
Ivan Cupic the leading scorer with five, but Sandro Obranovic out with an apparent ankle injury. Jeremy Toto and Timur Dibirov scored four each for Vardar, which have to wait until 2022 for the Macedonian club's 5,000th goal in the EHF Champions League.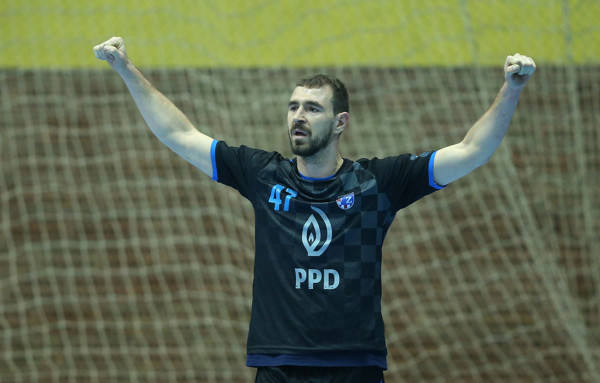 22:09
Nothing really separating Zagreb and Vardar tonight. They swap leads constantly and it is unpredictable who comes out on top.
Some nice goals, as well:

21:53
Remember, Vardar will reach the 5,000-goal mark in their EHF Champions League history if they score 28 times tonight. They lead 18:16 halfway through the second half, so they have 15 minutes for 10 more goals...


21:38
Aalborg took a decisive 34:28 win in the Scandinavian derby against Elverum tonight. Can the Danish side go all the way again to the EHF FINAL4 in Cologne this season? This is what Martin Larsen said after the match in Norway:
That's the goal for us, to participate in the EHF FINAL4 again this year. There is a lot of good teams this season, so you never know, but I think we have the team to do it.

Well done to Zagreb, who faltered after an early 5:2 lead against Vardar but got their act together again before the break for a two-goal lead. Good-old Ivan Cupic the best scorer so far, with five.


21:14
Always nice for a goalkeeper to get some decent saves early on. Those are confidence-builders:

21:03
Zagreb with the better start, Vardar replying with a 6:1 run... Enjoyable game this in Croatia, also thanks to strikes like this one:

20:37
So, tonight's fun continues in Croatia, where Zagreb host Vardar as both competitors are aiming for sixth place in group A, which would earn them a place in the play-offs.
Currently Vardar are sixth, with five points, and the Macedonian side will remain there if they do not lose tonight. However, a home victory would see Zagreb - on four points - leapfrog Vardar into sixth.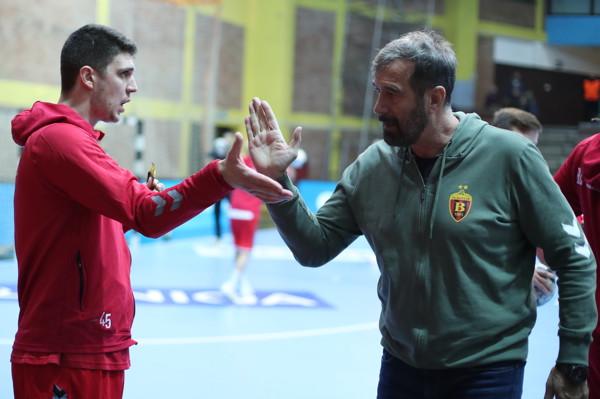 20:29
Before we head on to our last game of tonight - Zagreb vs Vardar in Croatia - let's watch the goal of the night - a stunning combined in-flight and behind-the-back effort from Tobias Grøndahl:
Ouch, here ends Montpellier's winning streak - despite Lucas Pellas netting an incredible 13 times!
Brest have definitely gained confidence from their first win - at Elverum last week - and they deserve to take a point from Montpellier, who are still guaranteed to be the leaders of group A when play resumes in February after the winter break.
Solid win for Aalborg. Elverum miss too many chances up front; top scorer is Dominik Mathe with seven - but he has missed just as many. For Aalborg Kristian Björnsen and Felix Claar lead with six each.


20:13
A final team timeout for Brest; they are now trailing Montpellier by two again... What a game this is!


20:09
Aalborg are cruising in Elverum! Watch this stunning beauty:

19:58
Montpellier's winning streak is under serious threat in Belarus. Brest lead by one goal, with 12 minutes left to play. Remember, Montpellier need one more win to match their all-time best mark of eight wins in a row in the EHF Champions League - a feat they managed twice before in the club's history.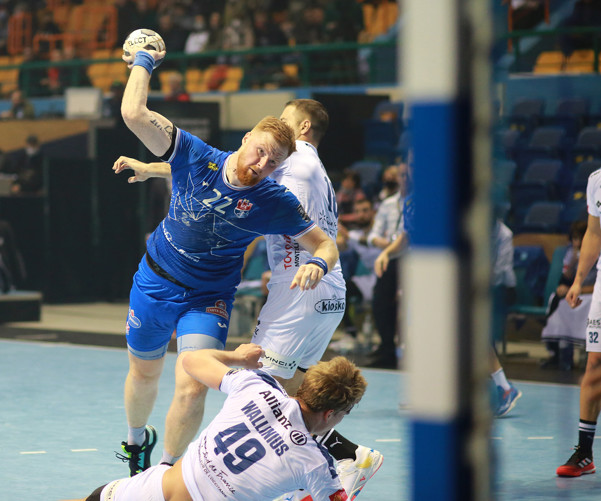 19:38
The save! The joy!

19:21 HALF-TIME
The higher-ranked teams in group B are in the lead in both matches. Lukas Sandell has helped Aalborg to an healthy four-goal lead over Elverum by scoring four in the first half.
Over in Brest, Montpellier have the edge over Brest with Luca Pellas netting six and Karl Wallinius five. Can they hold for a club record-equalling eighth straight win?

19:12
Meanwhile in Belarus, Brest and Montpellier are level - even with Karl Wallinius scoring four quick goals for the visitors:

19:09
Elverum falling four behind (13:9) against Aalborg, no wonder Børge Lund calls for a team timeout.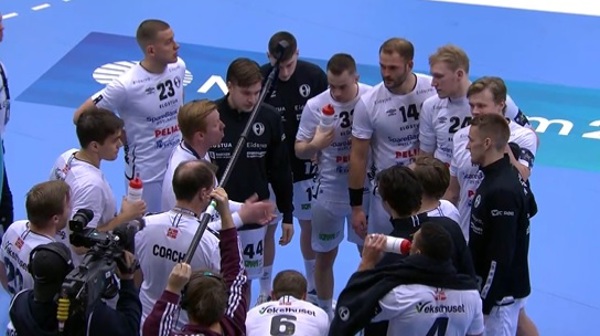 19:04
Before their visit to Norway, Aalborg line player Benjamin Jakobsen said: "Elverum have really shown their strength so far and what they are capable of. I think they surprised many teams in the beginning of this season, a bit like we did last year."
Anyway, Aalborg have taken an early lead tonight:

18:50
We are off and running in Brest and Elverum!
Will Brest hand any gifts to Montpellier tonight..?!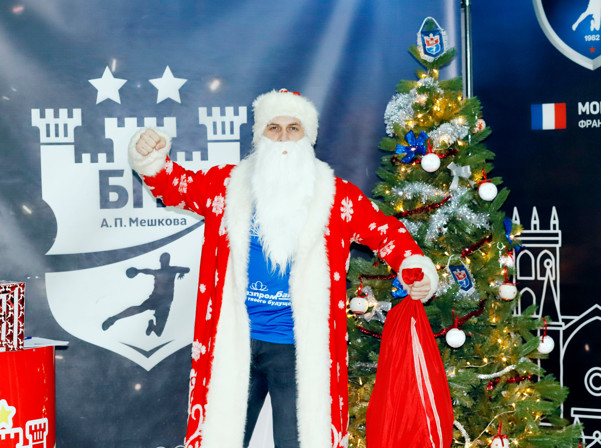 18:42
Also starting at 18:45 CET is the Scandinavian derby between Elverum and Aalborg. The Norwegian side suffered  setback with a home loss to Brest last week, so they will be fired up to set things straight before going into the winter break.
Aalborg are tough opponents of course, but the 2021 finalists have lost their last three away games...

18:29
One of the main questions for tonight: can Montpellier continue their stunning run? The former two-time champions have won their last seven games and would match the club's best streak of eight straight wins if they beat Meshkov Brest in Belarus tonight.
Until a week ago, you would have said: "Sure will Montpellier win this!" But don't forget that Brest are coming off a brilliant win at Elverum last week. How much of a boost is that to them?

18:23
So, most matches of round 10, including MOTW between Szeged and Kiel in that brilliant new PICK Aréna are scheduled for Thursday, but I promise you we have a lot a good stuff coming up tonight as well.
Interestingly, all three matches are from group A, so maybe good to have another look at the group standings going into round 10: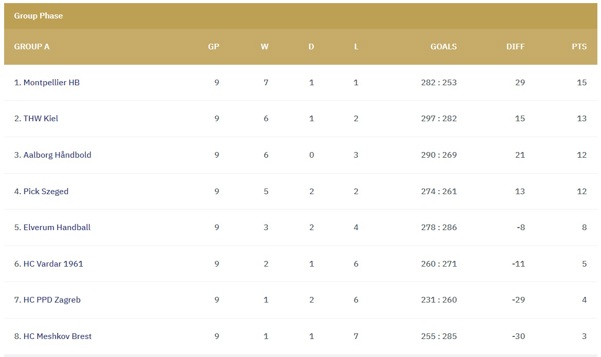 18:11
As usual, read the round preview to get up-to-date on all eight matches:
18:00
Good evening, and welcome to the EHF Champions League Men live blog for the 10th and final round of the calendar year 2021!
All 16 teams want to shine one more time before the competition goes into a 10-week winter break - though we will be seeing a lot of the stars playing at the Men's EHF EURO 2022 in Hungary and Slovakia in January.
Here is what we are going to witness tonight and tomorrow: