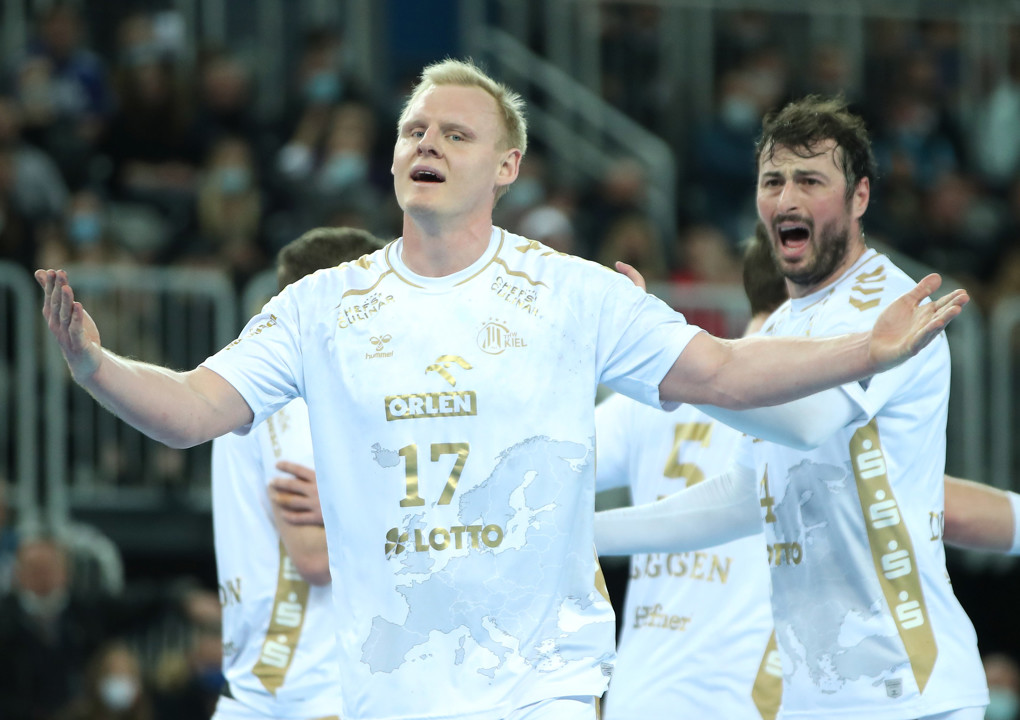 Summary: THW with clutch win; Veszprém beat Kielce
22:59
We close the coverage for the night and we will leave you with the results from all of the round's matches. 

We will see you again for the final round of action next week when we will finally know all the names that will be going to the play-offs and quarter-finals.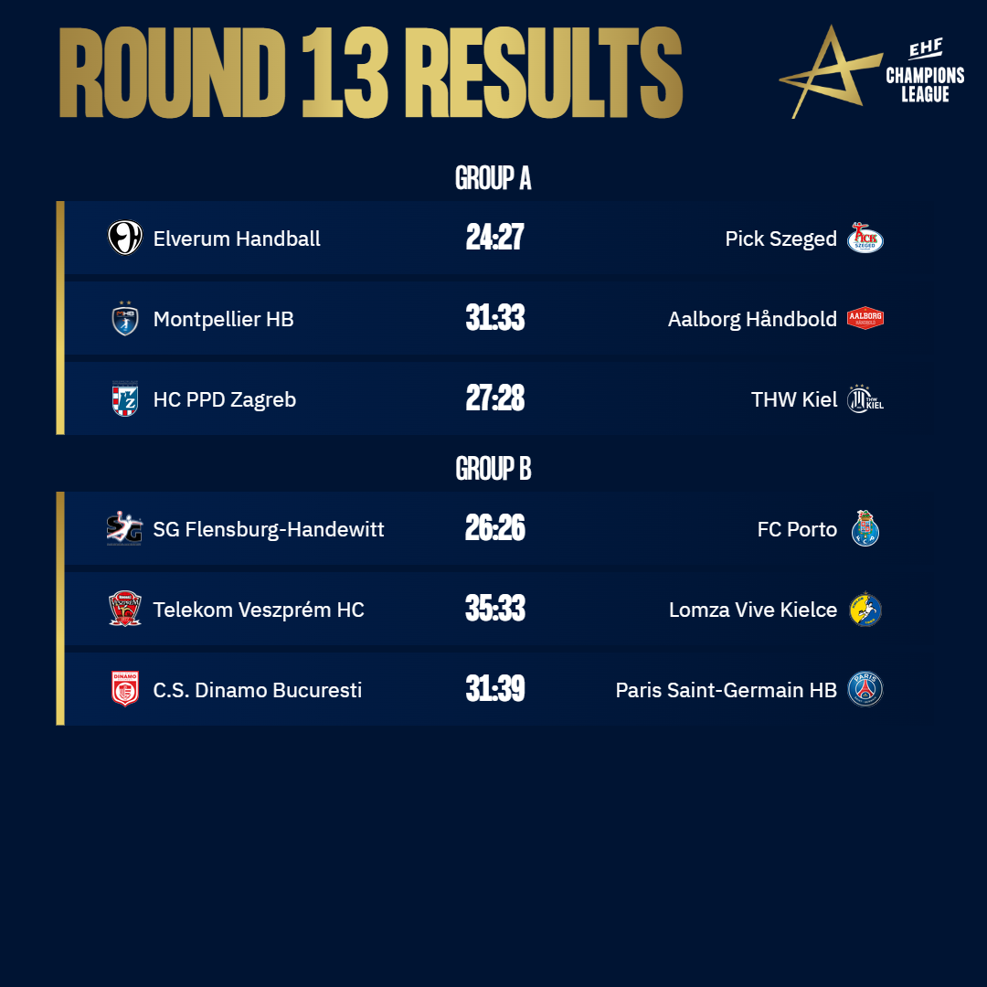 It is a great feeling to score the winning goal. We were aware how hard it would be; we were missing some important players but delivered a splendid performance, reaching a big win in Zagreb.
22:46
In case you missed it... THW pulling off another last-second clutch win.
22:37
THW Kiel now move to second in group A. They sit one point behind group leaders Aalborg who already picked up their quarter-final ticket yesterday. For the final round of the group phase we will have some huge tension down at the bottom of the group. We have only one point between Vardar in fifth (9 points), Elverum in sixth (8 points) and Zagreb in seventh (8 points). Vardar will host Elverum in a direct play-off tie while Zagreb will have the tough ask when they travel to group leaders Aalborg. 








22:23
Harald Reinkind with the clutch goal for the win! Wow, what a finish, what a game! You have to feel bad for Zagreb it was one of their better games this season and they stuck in the game the whole way and played some really nice set plays but had it all ripped away by Reinkind who launched one with the last throw of the game into the bottom left-hand corner. 
22:05
Zagreb are playing some really nice handball tonight. And a win is what they need to move ahead of Elverum and out of the bottom two. THW will move to second in the group if they win. Too hard to call at the moment but my gut feeling is that THW will take a one-goal win. 
21:51
HUGE SAVE by Slavic of Zagreb! And we are back level 19:19, you gotta love the Champions League...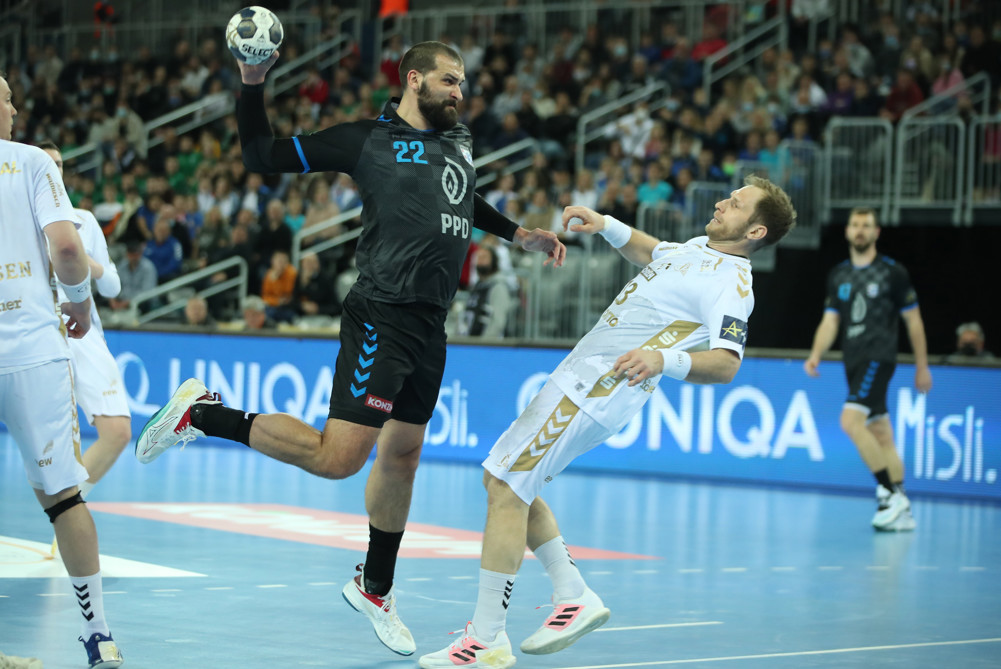 21:50
THW are back in the game! A 4:0 run and the game has turned on its head. 
21:39
THW straight out of the dressing room and 7 vs 6... but it didn't work and Zagreb picked up a turnover for an empty net goal.... 16:13
21:24
Wow! This half was no fluke by Zagreb, their resurgence has really been something else. They are up now due to one thing: defence. Their middle block is causing THW a real headache. And to think of the clear chances they missed, THW are lucky it isn't more. 
Filip Vistorop surprised me with his nice two goals, one was a perfectly timed breakthrough. Another young right back to look out for is also Luka Lovre who also looked sharp.
THW need to change it up in the second half, they tried to go with two lines to find a gap in this defence and it partially worked, but I can't see that working for 30 more minutes, not with this super active Zagreb defence.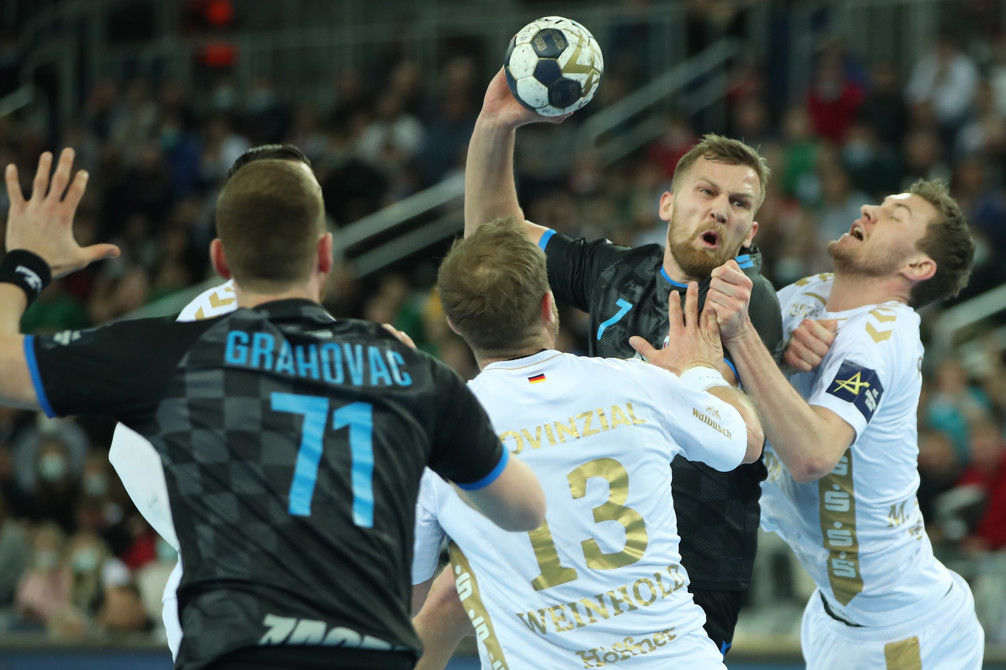 21:07
Now look at this, Zagreb with the lead. 9:7. One of the things I have noticed while watching Zagreb this season is that they are able to match teams but often their game management goes out the window when a few things don't go their way. Let's see if they have settled that issue...
21:05
After a poor start Zagreb have settled and pulled it back level, 6:6. Musa with two for Zagreb and Duvnjak with three are the top scorers for their sides so far.  
20:55
The Zagreb defense here is wide open and THW ae carving them up. It's a timeout for the hosts and currently it's Zagreb 2:5 THW Kiel
20:39
Now onto the next! Up now at 20:45 CET is HC PPD Zagreb vs THW Kiel! Can Zagreb ride their wave of good form? Join us now on EHFTV to find out! 










20:17
Big result for the Hungarian side, they stuck in there and didn't lose their cool when things weren't going their way. They seem to have learned their lesson from last week's second half flop. Well done boys!
20:09
Alex Dujshebaev has been so key for Kielce. As soon as the game was looking to be slipping away from the Polish side he would take on one or two defenders and do it alone to bring them one closer. But they are really suffering with all the 7-meters they are giving away.
20:05
Wolff made a huge penalty save, really important. The game was slipping away from Kielce as they went down by five. But the save has boosted Kielce and they have pulled it back to three. This is a real struggle of wills here. 
19:54
Mahe sprints to ram the ball into the Kielce net and now the hosts are three up! The crowd loves this!
19:51
What a match this is. Not the cleanest handball you will see but full of tension...
19:45
A change in goal for Veszprém: Corrales out, Cupara in! Let's see what the Serbian can do against his old club.
19:39
Sicko for Kielce means business in the second half here for Kielce. He launched a perfect bowling type shot Corrales' legs and just netted again to bring Kielce 21:19 in front.
19:33
Elsewhere PSG have their work cut out for them in Romania against C.S. Dinamo Bucuresti. They were even level at 11:11 and 13:13 but in the last 10 minutes of the half, Remili and Hansen stepped up the tempo and they pulled away to a 20:16 lead. Let's see if Xavi Pascual has an Ace up his sleeve during the half-time break. 
19:21

19:18
Veszprém attempt a double in-flight goal and Igor Karacic gets in the way of one of the wingers and gets himself two minutes, and he doesn't like it one bit. Mahe steps up to take the penalty and slots it home in style.
This all feels very similar to last week's MOTW between Barca and Veszprém when the boys in red had a huge start. Can they put that second half slump behind them? 
19:15
Marguc nets a nice fast break after Kielce rattled the ball off BOTH posts. The hosts are now two up! 15:13...
19:09
A crowd favourite Yahia Omar got us off to a great start earlier in the tie... 
18:55
An expectedly close start here in Hungary between Veszprém and Kielce. As always, the home crowd is as loud as the LANXESS arena. Branko Vujovic just netted the easiest jump shot from right back to make it 7:5 to Kielce. As it stands, Kielce are in the quarter-finals. But we have a long way to go. 

Join us on EHFTV now!
18:30
Kielce have the opportunity to secure their direct ticket to the quarter-finals if they win in Hungary tonight. And that will be the game I will focus on tonight for the blog - but don't worry, I will keep an eye on PSG trip to Romania too. 
The boys from Kielce mean business, they are all dressed up for the big night!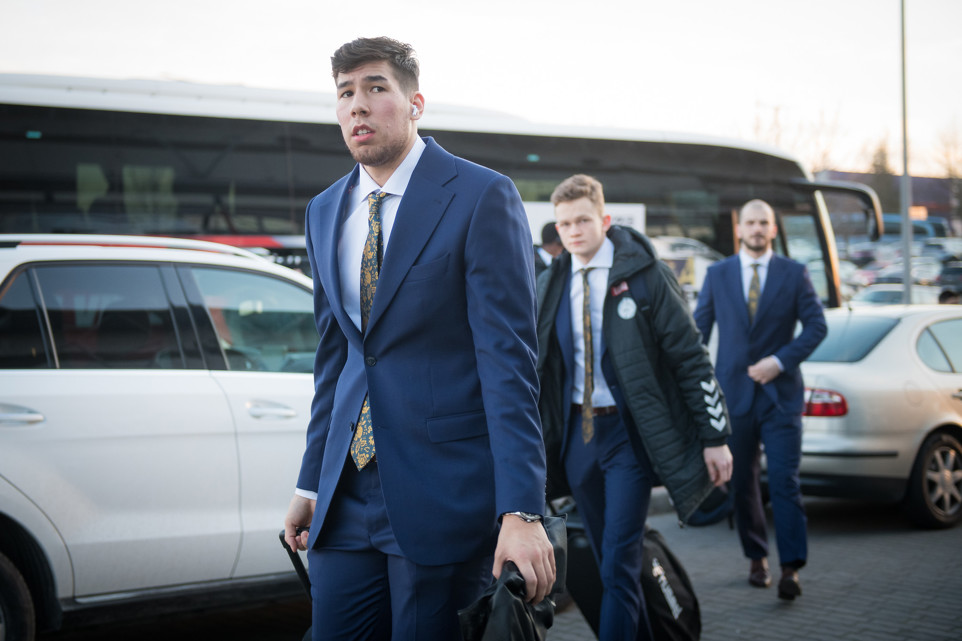 17:58
We are back for another evening of EHF Champions League Men action and boy, do we have some nice action coming up! 

Up at 18:45 (CET) we have the bumper match between Telekom Veszprém KC& Lomza Vive Kielce, also at C.S. Dinamo Bucuresti vs PSG Handball 

WEDNESDAY
23:15
We close tonight's blog and we look forward to seeing you tomorrow for some more EHF Champions League Men action: 
C.S. Dinamo Bucuresti vs Paris Saint-Germain Handball (18:45 CET)
Telekom Veszprem Handball vs Lomza Vive Kielce (18:45 CET)
HC PPD Zagreb vs THW Kiel (20:45 CET)
22:49
It can now be confirmed that Aalborg Håndbold have made it to the quarter-finals with their win over Montpellier tonight, it means only two matches stand in the way of the Danish side making it back to the EHF FINAL4 in Cologne again this year! It is one thing surprising everyone last year but if they do it again this year, it would be outstanding!
22:34
A huge shoutout has to go to Felix Claar for his outstanding performance tonight. It really looked like almost anything he touched turned into gold. He picked up a well-deserved Player of the Match award, great job! 
22:17
Huge performance from Aalborg and they have found their at the right time of the season, they are looking very sharp atm. 
22:12
Back to two goals! Montpellier were seven down at one stage in this second half! It will be a tense last minute!
22:06
It's official! With those 10 goals Claar is top scorer for the moment in the EHF Champions League. 
22:01
Felix Claar is now 8/8. Incredible game. His last goal in particular was tasty, invited the tackle and spun off the defender to open up loads of space.
If Claar scores ten goals, he is new No.1 in the scorer list (until tomorrow...)
21:47
Montpellier are looking to ride their momentum at the moment. They have pulled it back to four goals. They are digging deep but this Aalborg side is a well-oiled machine. Kevin Bonnefoi is having a great second half. He has three big saves so far. 
6/6 for Felix Claar, the Swedish magician strikes again.
The start was quite slow and lacking goals, but then both MOTW teams put the pedal to the medal until the buzzer. Montpellier and Aalborg focused on attack, and both goalkeepers did not receive that much support from their defensive lines. The Swedish trio Lukas Sandell, Felix Claar and Jesper Nielsen was on fire - and a major key for the well-deserved clear half-time advance of the Danish champions. Montpellier must improve a lot to avoid their fourth straight group match without a victory. On the other hand, Aalborg seem to be on a perfect way towards winning the group.
21:23
A nervous start but once Aalborg settled in defence everything came together. The group leaders Aalborg are looking very strong, Montpellier will need to dig deep and improve their shooting efforts. 
21:22
Montpellier get two goals back and they are back within five. It really looked like the game was slipping away from them but they are giving themselves a fighting chance. 
21:11
Aalborg's attack is doing the simple things but doing them really well. As Chris pointed out in the commentary, the Danish side are using their line well. The left or right back beats the first man, draws in the defenders and the line is moving in the opposite direction opening up the defence. Simple. Effective. 
21:00
Julian Bos with THE sidestep of the evening... Not often do you see such a clean at this level, he timed it to perfection. We will have to get the highlight of that for you guys. Montpellier 6:8 Aalborg 
20:54
Seven minutes on the clock and we have an entertaining start to this tie. Hugo Decat nets his second goal to bring it to 3:3! Game on!
20:45
It is throw-off time for the biggest Match of the Week! Join us and Chris O'Reilly now on EHFTV.com for the action between Montpellier HB vs Aalborg Håndbold!
20:28
While you wait, why now catch up with our Timeout with Champions before throw-off! 

Markus sat down with Veron Nacinovic and Jesper Nielsen ahead of the tie, so have a quick watch now before we throw off this week's big game.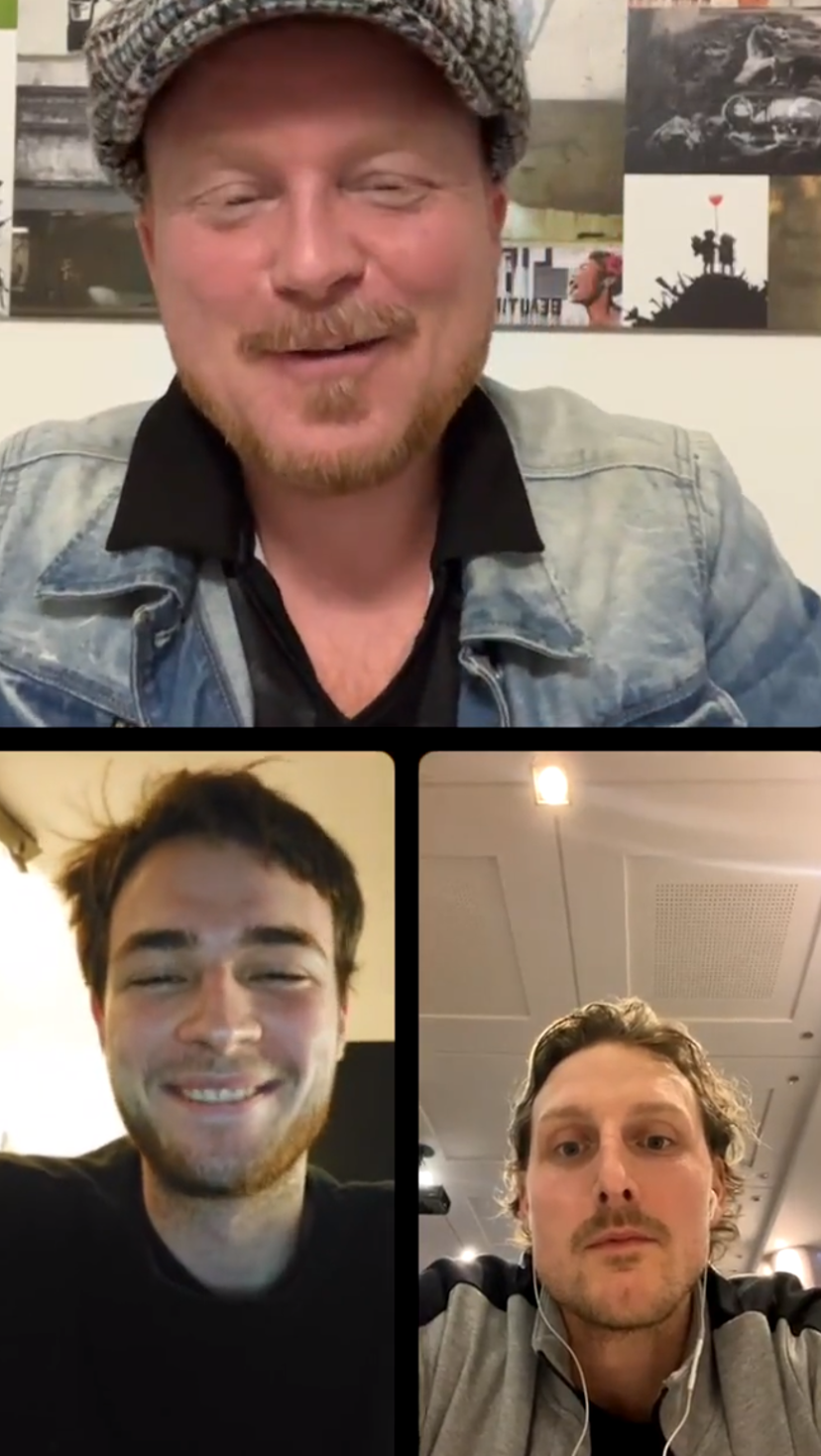 20:20
Now onto Match of the Week between Montpellier HB vs Aalborg Håndbold! Throw-off is of course at 20:45 (CET) and we will be joined by Chris O'Reilly in the commentary box as well as reporting on our Instagram stories channel. 
20:16
In the end the Szeged backcourt was too much to handle for Elverum who put up some great resistance. 

Bodo, Martins and Sostatic were a real headache for the hosts and Banhidi on the line was, as always, a nightmare to deal with his 5 goals. 

Szeged have already qualified for the play-offs and with 16 points on their account, and now with this win can still finish first or second in this group.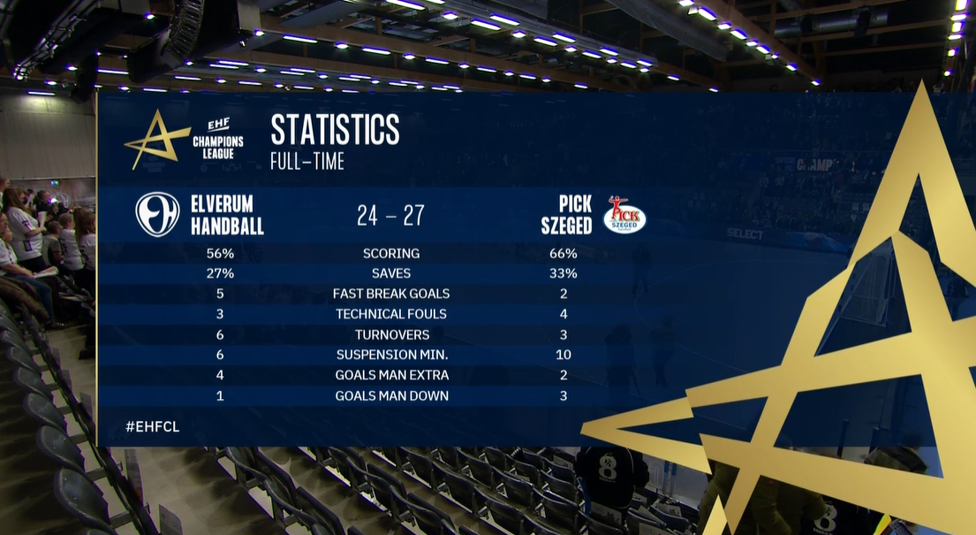 20:09
Backcourts are the difference right now. Szeged's attack looks like too much of handful for Elverum while the host's bright sparks from the first half don't have the same gusto right now and Elverum's backcourt is looking a bit flat. 

Martins has taken on the role of backcourt leader tonight with the absence of Bombac. 
19:59
Oh, look here! Two quick goals (Heldal & Fingren) after a 2-minute suspension of Gaber of Szeged and we are back to a two-goal game. The difference a suspension can make. 20:22.
19:50
Szeged are starting to get a grip on this game. They are now up by three as both ends of their court is starting to bully Elverum. A 3:0 run brings the score up to 20:17 for the visitors. With Bodo netting the last two as he brings his total to four. 
19:22
HALF-TIME: Elverum Handball 12:13 Pick Szeged 
Well, that's a bit of a blow for Elverum, they controlled the whole first half and as time ticked on Szeged were getting more and more into the game. The centre of the court has been where the gold is coming from tonight for the Hungarian side with Banhidi netting four and Martins in CB dictating the play well and has score two. 

Elverum will need to re-light the fire they had in the opening 20 minutes and not let the loss of the lead right before the buzzer get to them. 
19:10
The hero for Elverum so far? Sindre Heldal, he is 4/6 so far and his last goal was a beautiful one. He cut in behind the defense from the wing like a ghost and netted to make it 10:8 for the hosts.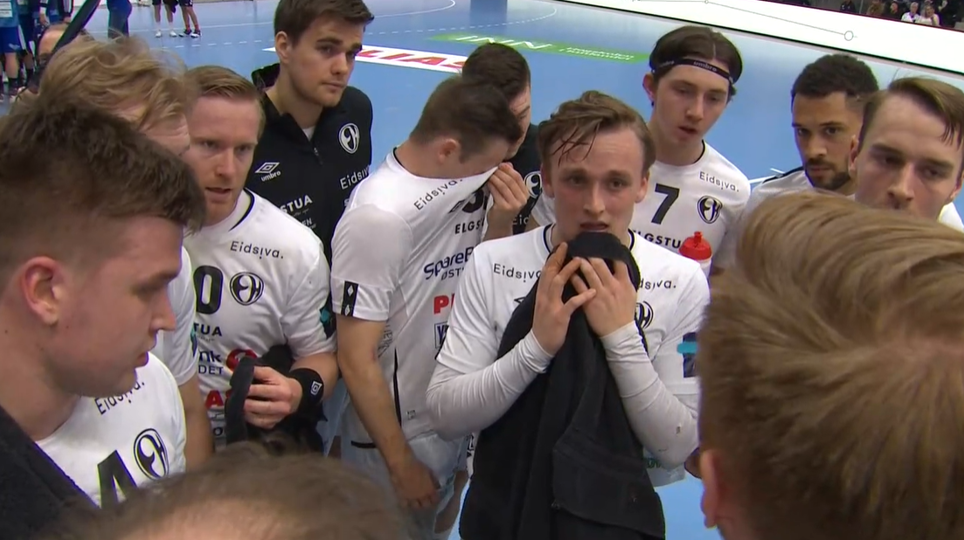 19:04
Elverum looking much more settled in attack and with Grondahl leading the charge with his tricky one vs one skills, they have control of this game.... so far. Elverum 7:5 Szeged.
19:00
Elverum came out to a flying start in the first 5 minutes opening up a 3:0 lead, but Szeged settled and goals from Banhidi and a penalty from Frimmel bring it back to within one. Elverum 3:2 Szeged.
18:15
Throw-off is in 30 minutes on EHFTV.com, this is your warning!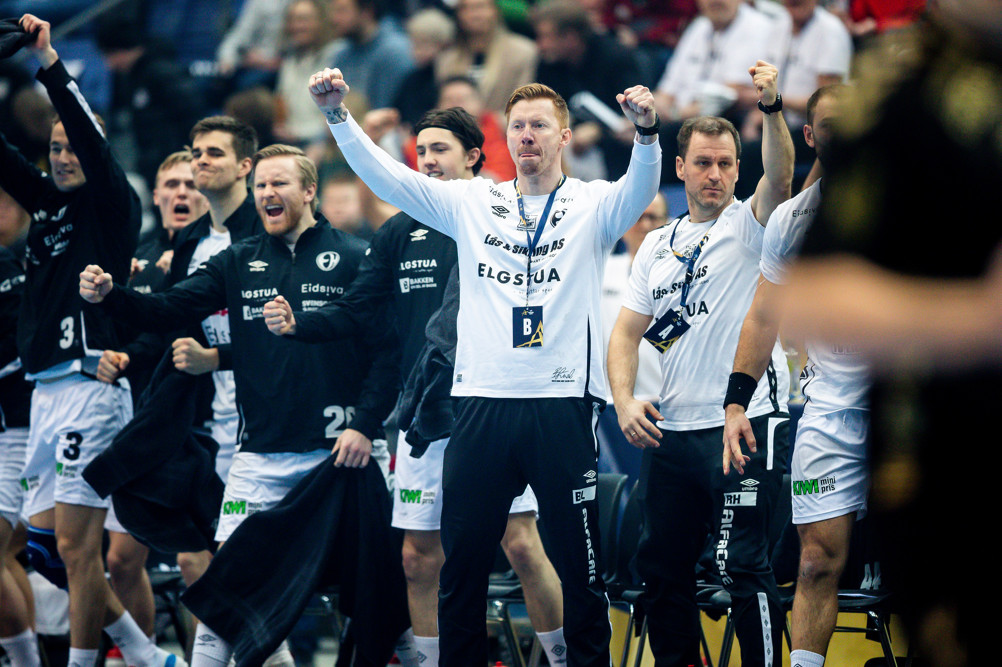 17:55
For tonight's first tie between Elverum Handball & Pick Szeged beat in mind that both teams are missing some of their bigger names. Elverum will be without their young star Dominik Mathe who is their second top scorer this season, while Simen Pettersen will also miss tonight's match. So, some goalscoring power is missing for the hosts.

Szeged will go without Bombac, Tonnesen and of course Stepancic, but will still be strong favourites to take this opening tie of the evening. 
17:00
The Match of the Week sees the former and the current leaders in group A go head-to-head: Montpellier and Aalborg. This one is crucial in the race for the top-two spots in the group; the teams finishing first and second will skip the play-offs and advance directly to the quarter-final.
If Aalborg (currently on 18 points) win the MOTW, they will be guaranteed a top-two finish; if Montpellier (16 points) win, four teams can still make it.
Remember, Aalborg won the reverse fixture in September 36:28, so Montpellier need to win by more than eight goals to gain the advantage in the head-to-head comparison.
16:51
Let's have a look at Elverum vs Szeged once we get closer to the start of that match at 18:45 CET. In the second session at 20:45 CET, we have the MOTW but also Flensburg hosting Porto.
Porto ace Rui Silva featured in the This is me... series on eurohandball.com, so make sure you read his personal story here:
16:42
A nice trio of matches coming up tonight, including the Match of the Week in France between Montpellier and Aalborg:
16:30
Good afternoon and welcome to the live blog covering round 13 of the group phase!
We are on the finishing stretch with just two rounds remaining for the teams to make sure they are going to the play-offs - or the quarter-final directly.
Get informed on all six matches in our round preview: