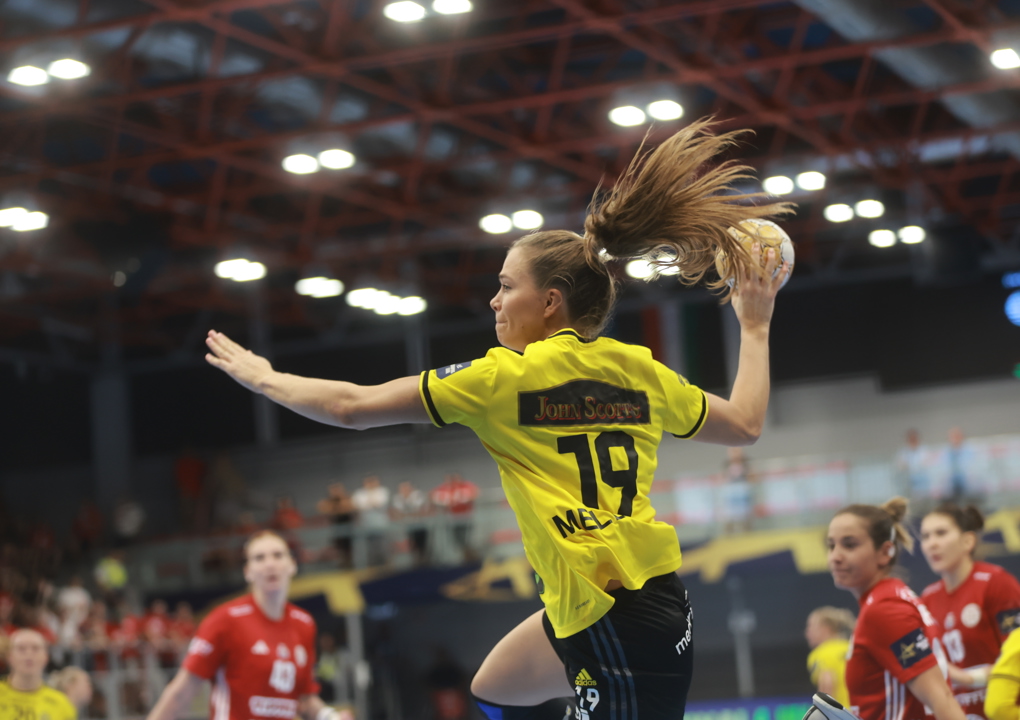 Sävehof host MOTW; Vipers meet FTC in rematch of final
The EHF Champions League Women 2023/24 heads into an entertaining round 2 this weekend – and Scandinavia takes centre stage. In Sweden, IK Sävehof take on Brest Bretagne Handball in the Match of the Week; in Norway, Vipers Kristiansand and FTC-Rail Cargo Hungaria meet again, 15 weeks after their final at the EHF FINAL4 in Budapest. Remarkably, both Vipers and FTC started the new season with a defeat last week.
GROUP A
Györi Audi ETO KC (HUN) vs DVSC Schaeffler (HUN)
Saturday 16 September, 16:00 CEST, live on EHFTV
in the current format of the competition (since 2020/21), this is the first match between two sides from the same country
both teams won their first game last week: Györ in Brest, DVSC at home against Sävehof
DVSC have won all four matches this season: three in the domestic league and one in the EHF Champions League
both teams secured wins in the domestic league on Wednesday evening: Györ defeated MTK Budapest 38:24; DVSC beat NEKA 30:19
Györ have won the last 37 matches against DVSC, who had their last win in an Hungarian league match in October 2008
Györ goalkeeper Rinka Duijndam: "It is really special when teams from the same country meet in an European cup match. We will be fighting for a win, but they will certainly do their best to win the match as well"
MOTW: IK Sävehof (SWE) vs Brest Bretagne Handball (FRA)
Saturday 16 September, 16:00 CEST, live on EHFTV
both teams enter the MOTW seeking a victory to end their respective four-game losing streaks in the EHF Champions League
Brest have not won since beating FTC 24:21 last January; Sävehof's last win even dates back to the year before: 29:26 against Kastamonu Belediyesi GSK in January 2022
Brest have clearly won all four previous duels with Sävehof, with +8 the smallest winning margin
their last duel took place in March 2020 and ended in 29:17 for Brest; only one Sävehof player from that duel is still with the Swedish team; line player Johanna Forsberg
playing in their domestic leagues on Wednesday evening, Sävehof dropped their first point of the season in a 28:28 draw with Västerås, while Brest defeated Nantes 27:23 for their third straight win
It's our first home game of the season, so I hope we can be our best selves against Brest. We'll need to be meticulous and also ensure that we are aggressive on the court.
Odense Håndbold (DEN) vs WHC Buducnost BEMAX (MNE)
Saturday 16 September, 18:00 CEST, live on EHFTV
Odense can seal their 30th win in EHF Champions League history and would become the 23rd team in the competition to hit that mark
Buducnost lead the head-to-head comparison 3-1 after four duels
both sides have conceded losses in the first round and are on the last two places in the group standings
Buducnost left back Nóemi Háfra was with for Odense last season but suffered a season-ending injury after a few games
Buducnost have won just five out of their last 19 away matches in the EHF Champions League
We expect a good match against a good opponent, but we do also expect a victory. Normally Buducnost play very good in defence, and I hope we can run with them and make a very speedy game. It's always difficult to say how the teams are when we are so early but I expect I close game and hope we can take the win in the end.
SG BBM Bietigheim (GER) vs CSM Bucuresti (ROU)
Sunday 17 September, 14:00 CEST, live on EHFTV
Bietigheim and CSM Bucuresti both started the season with convincing wins last week and occupy the top-two spots in the group going into round 2
CSM have a six-game winning streak this season in all competitions, including a 25:21 victory over domestic rivals and fellow EHF Champions League contenders Rapid Bucuresti on Wednesday
Bietigheim coach Jakob Vestergaard was technical director at CSM Bucuresti in 2014-15 and head coach in 2016
CSM have three wins in five mutual matches, including the 27:25 in Germany last season when Cristina Neagu scored her milestone 1,000th goal in the competition
We are looking forward to the first Champions League game in front of our fans. It is of course something special to compete against one of the top favourites. We will give Bucuresti a big fight.
We are very conscious of the fact that it will be a very tough fight on Sunday, just like the two previous games that we played in the last season. Bietigheim is a very physical team with very strong players and we need to give all our energy on the court. I believe we need to focus a lot as well on our recovery, both mentally and physically as the time is short.
GROUP B
Vipers Kristiansand (NOR) vs FTC-Rail Cargo Hungaria (HUN)
Saturday 16 September, 18:00 CEST, live on EHFTV
both finalists from last season had a tough start of the new season
reigning champions Vipers had their nine-game winning streak in the competition ended by Ikast; FTC suffered a 13-goal home defeat against Metz Handball
Vipers have lost a second-round match only twice in six seasons: in 2018 against FTC, and in 2019 against Podravka Vegeta
the All-star right wing of 2022/23, FTC's Angela Malestein, is the competition's top scorer after round 1 with nine goals, together with Metz's Chloé Valentini
the Hungarian side beat Mosonmagyaróvár 30:27 in the Hungarian league this week

FTC head coach Martin Albertsen: "Vipers are also this season one of the best teams. We want to improve a lot from last week and have to show the best fighter spirit again in the Champions League. They have some world class players, and we will find the best plan to stop them"
We are looking forward to playing this game. We face a very experienced team with a lot of experienced players. We have to be prepared in defence to stop their very strong backline, and we have to bring our own strong sides to the court. For us the most important, as always, is to focus on ourselves, but at the same be prepared for what the opponent brings to the game.


CS Rapid Bucuresti (ROU) vs MKS Zaglebie Lubin (POL)
Saturday 16 September, 18:00 CEST, live on EHFTV
Rapid and Lubin both seek their first win of the season; Rapid went down late against Team Esbjerg (30:28) last week; Lubin were outscored by Krim Mercator Ljubljana (36:18)
Sorina Grozav is Rapid's leading scorer with six goals; left wing Kinga Grzyb has five for Lubin
the Romanian side has lost a home match in the EHF Champions League only once: 31:25 against Vipers in the 2022/23 quarter-finals
the two teams have never met before in a European club competition
ahead of the home match, Rapid were defeated in the domestic league 25:21 by rivals CSM Bucuresti 21:25; the Polish league starts on 23 September
We need to keep building from our game in Esbjerg, where we were very satisfied with the concentration, the attitude and the mindset we went into the game with. We have to continue from that and see if we can build a little more. It is a game we have to try to control – Lubin are playing very individually and very fast handball, so we have to be ready.
Krim Mercator Ljubljana (SLO) vs Team Esbjerg (DEN)
Sunday 17 September, 14:00 CEST, live on EHFTV
both sides are looking to add a second victory to their 2023/24 campaign
the game in Slovenia will be Team Esbjerg's 80th in Europe's topflight; so far, they have won 43 times
in round 1, Krim conceded the fewest goals (18) of all 16 teams in the group phase
Krim and Esbjerg have faced each other three times so far; Krim's only win came in 2016
the Danish club remains unbeaten in their domestic league with their latest win against Ringkøbing
Krim has a team of world class players who can create opportunities and goals on their own. So it going to be a tough match and many things have to go our way if we are to win. One of them is that we have to control our emotions and accept, that players like Dmitrieva and Radicevic can score goals out of the blue.
Metz Handball (FRA) vs Ikast Handbold (DEN)
Sunday 17 September, 16:00 CEST, live on EHFTV
Metz and Ikast both impressed in round 1 as they beat the 2022/23 finalists
Metz had a jaw-dropping 13-goal away win at runners-up FTC; Ikast stunned three-time defending champions Vipers
Ikast's new goalkeeper Irma Schjött had 17 saves (46 per cent) in last week's MOTW against Vipers and was named Player of the Match
Metz's Chloé Valentini shares the top spot in the goal scorers list with FTC's Angela Malestein; both netted nine times last week
Ikast can earn the club's 50th win in the EHF Champions League; they competed under their previous name FC Midtjylland until 2018
Metz and Ikast only met twice before – in 2003/04, when both sides took one win
We know, we have a difficult task ahead of us against one of Europe's best teams. In addition, Metz are incredibly strong at home. We will chase our opportunity and believe in our own competences, we can win against all teams if we hit a high level and that is exactly what we are chasing against Metz this weekend.
photo © Istvan Derencsenyi