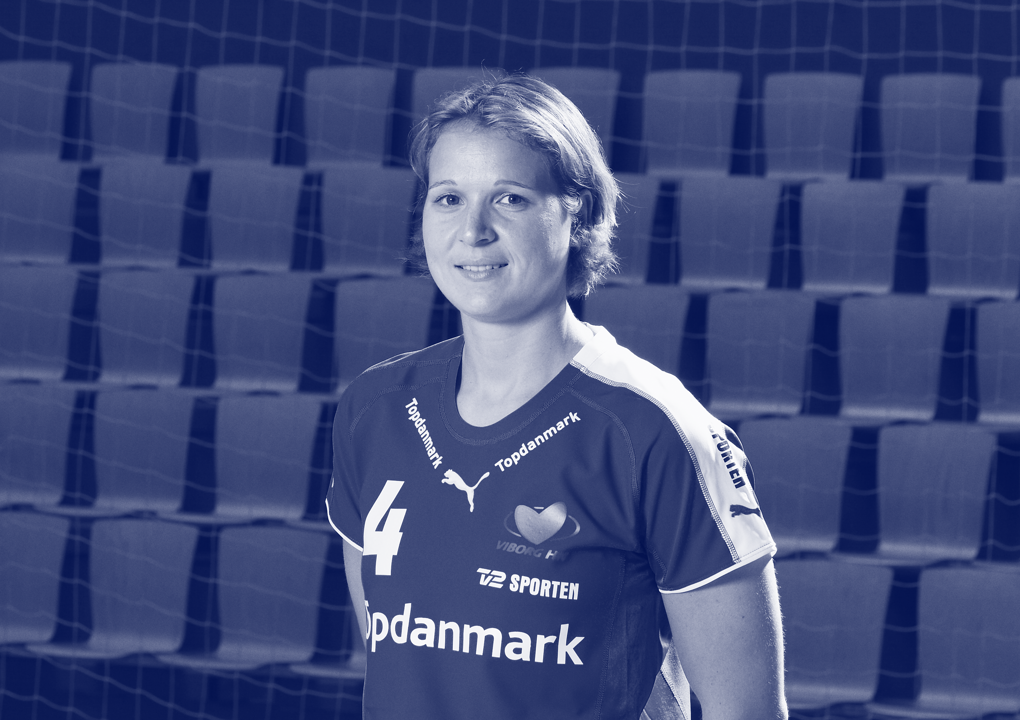 This is me: Grit Jurack
A standout representative of a strong generation of German players, Grit Jurack took the handball world by storm. Jurack's roots were in Leipzig, but international fame became her part after moving to Denmark, where she played eight seasons as right back for Viborg. She won the EHF Champions League three times – once only weeks after the birth of her son – and scored more than 1,500 goals for the German national team. This is her story in her own words.
THIS IS ME: Grit Jurack
When I was a kid, I had tried several sports: first I started with gymnastics and swimming, then track cycling, but after an accident I stopped. Constantly I was doing all disciplines in track and field including even cross country running, as a neighbour in our house in Leipzig was my first coach. And due to my physical constitution, my power and my speed, I was supposed to become a shot putter. Being right ahead of the fall of the Berlin wall, I only thought about this Soviet female shot putter and how they looked like, so I did not want to become like them.
As my mother had been a first league handball player in former GDR – and therefore I had handball in my genes – I started to play handball in a little club in Leipzig. But in the beginning, I disliked handball, as I had to go to all those old-fashioned halls my mother was playing in, when I was a young girl. It was simply boring. But then Gerhard Rohde stepped into my life, my first real handball coach at BSV Schönau – and he immediately changed my interest in playing handball. I was tall, I could throw hard, I was left-handed – an ideal constellation.
I started playing handball right after the Fall of the Berlin wall in 1990, first at Schönau, then I joined the bigger club VfB Leipzig, after I had broken all goal records in the Saxony league with an average of 15 strikes per match. I was 15 years old, and once a week I trained with the VfB women's team – and when I was 16, I was allowed to play Bundesliga with them in October 1993. Some years later, HC Leipzig was founded – and this became my club, with which I won each two German cup trophies and two German league championships.
On 23 January 1996, when I was 18 years old, I had my first international match for the German women's team – and nobody could knew at this point that in the end, I would be all-time German record player with 306 caps and all-time record scorer with 1,581 goals.
Seven months after the debut in the national team, coach Ekke Hoffmann put all his trust in me – and nominated me for the 1996 Olympic Games in Atlanta, the first highlight in my career. I was the kid in the team, and I did not think it over that much, which role I should play. It was so impressive to be part of Olympic Games. You do not remember your matches and results, but you do remember, which sports you have been too, like watching the Dream Team play basketball or several track and field competitions.










In 2001, I took the decision to go abroad, and I went to the globally best women's handball league at that time – to Denmark. I joined Ikast Bording for two seasons, and the start was really tough, when you do not speak their language. But I tried to chat in the trainings as much as I could, but it was a true challenge in a new land, with a new culture. I was not afraid to make mistakes when speaking, and week by week the communication got better and better. And finally, when I had recognized that in interviews with Danish TV they did not need to subtitle me anymore, I knew that I got it. From Leipzig, where we had players from several countries in the squad, I knew how hard it was for them to learn a new language.
And I introduced the board game "The Settlers of Catan", which we always play in the German national team to my Danish teammates, we even had to create or own cards, as this game had not been translated to Danish that time – another help to get settled in the team. Parallel to playing handball in Denmark, I continued studying sports management at DHfK, the famous sports university in Leipzig, as I always wanted to have something else than handball for my later on business life. I had finished my basic studies, but from Denmark I continued it remotely. After two years at Ikast I returned to HC Leipzig and finished my degree at the university.
But already when I had returned, it was clear that my next club will be in Denmark again – mighty Viborg HK was my destination in 2004, and again, nobody could guess that I would stay more than eight years there.
I played with world stars like Bojana Popovic or the Lunde twins, and we were hungry for success, on domestic level and of course in the EHF Champions League. In 2006, we had reached our goal, we won the Champions League, and I became the first ever German player to raise this trophy. I did not play that well in the second leg of the final, but I still remember like it was yesterday, how Heidi Astrup scored the winners' goal against Krim Ljubljana and Valerie Nicolas saved the last shot of them.








In 2009 and 2010, we won the trophy again – in two completely different ways. First, we lost the first leg on home ground against Györ by two goals, after our coach had the crazy idea to have a walk in the zoo for half a day. Then we travelled to the Veszprem Arena, and this atmosphere was amazing and loud, louder than any match before - and we managed to win by three goals thanks to Katrine Lunde, who saved five penalties in that match. We had travelled by charter flight, and I remember how we stormed into the Lidl supermarket next to the arena to get food and drinks as our winners' trophies for our flight back home. At the end of the season, I even was the Champions League scorer by 113 goals.
On 4 February 2010, I gave birth to my first boy, and only nine weeks later, I was back on court for the semi-finals of the Champions League. I was still so slow, slower than all other players on court, but this was my advantage, as everybody on our opponents' side from Larvik expected a speedy game. I even scored, we made it to the finals against Valcea – and we won the first leg at home 28:21. The re-match was played at Bucharest – and this is still my personal magic moment of my Champions League career: of course, the Romanian fans pushed their team to the limit during the match, but when the final whistle had been blown and we won again, they also gave a big hand for us, they are true handball lovers, they cheered for Valcea and applauded for us in a really fair way, recognising that we had been the better team. Chapeau!
Finally, a severe shoulder injury ended my career, I had my farewell match with the national team in my home town Leipzig in October 2012. I was so emotional on that day, recognizing how long I had been a professional player despite some injuries and two pregnancies, and how many records I had broken.
My husband Michael had already started working for the youth academy at SG Flensburg-Handewitt, where he is athletics coach now, so I returned to North Germany, and we settled in the city of Glücksburg. And our life is still a mix of German and Danish. Still handball plays a role, but not the major role. I had been assistant coach and team manager of the German national team, when my former Viborg coach Jakob Vestergaard was the coach. I was part of the first course of the European Handball Manager, and was really impressed by the topics, but also the network we could create among the students. It was a great experience, as we had a great group. In 2017, I was the ambassador of the Women's World Championship in Germany.
As we have a kind of constant commuting between Denmark and Germany, living so close to the border, I used my language skills to have a four-year traineeship at the German-Danish newspaper Flensborg Avis, where I work as an editor now. Parallel I am teacher at a Danish school in Germany.
And I know that I never would become a coach of a professional team or a national team. I love those teams I coach now, boys from eight to 12 years at TSV Glücksburg.  It is really fun to work with them. Handball gave me so much, and this is what I try to teach those boys: Do not specialise too early for only one sport, try as much as you can. And always do a team sport, as you learn so much from it about victories and defeats, friendship, how to cope with frustration. Team sport is a school for life, a school for social competences, for discipline, and for endurance, if you do it in a professional way. My major goals as a coach of those boys is to give a similar playing time for all my players, not to have a constant look on the table, but simply have fun when you play, regardless the result. Everybody has to feel that he is part of the team, no matter, if you win or lose.
Handball widened my horizon, I learnt a language, which I can use now to educate my two boys bilingual, and it gave me so many chances for life.
Grit Jurack
March 2023