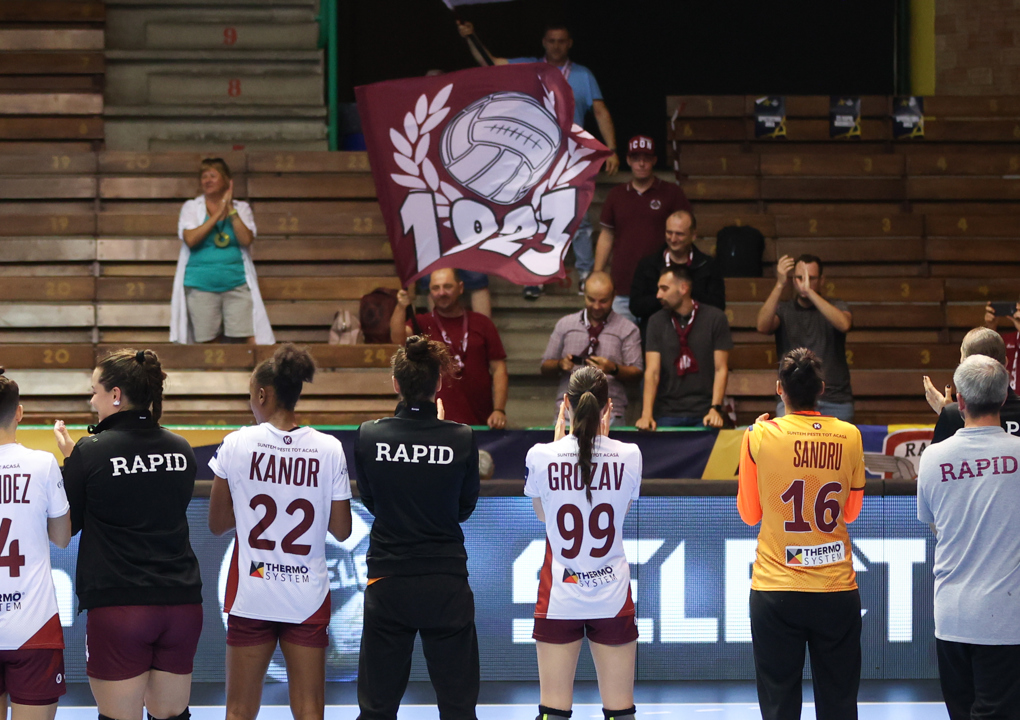 Rapid record a maiden win in their debut
Rapid Bucuresti started their historic EHF Champions League journey with a 31:27 win over Lokomotiva. The Romanian champions travelled to Zagreb as favourites but did not have an easy start to the competition.
Even though in the lead throughout most of the match, Rapid were not able to relax as Lokomotiva were fighting until the very end.
GROUP B
HC Lokomotiva Zagreb - CS Rapid Bucuresti (ROU) 27:31 (12:16)
• youngest CL team this season, Lokomotiva were off to a good start in Zagreb leading for the first seven minutes after a good performance by Tena Petika and Lena Ivancok between the posts
• Rapid Bucuresti made a decisive five-goal run forcing Zagreb head coach Nenad Sostaric to call time-out and rearrange the strategy
• Romanian team was pushing hard in the second half, putting in the spotlight Alexandra-Diana Badea and Ivana Kapitanovic, reaching a match-high seven-goal difference
• Lokomotiva were not making it easy for the opponents, led by the team captain Stela Posavec reduced the trail at the end of the match
Good effort of the youngest team in the CL
Head coach of the Croatia national team and Lokomotiva, Nenad Sostaric steered his club to a win over Podravka in the Croatian championship earning a spot in the top-tier competition. Facing key players' departures from the team he decided to allow young talented players, mostly from Croatia.
20-year-old Klara Birtic, who joined from Split this summer was a team's top scorer with six goals alongside team captain Stela Posavec. Lena Ivancok finished the night with 12 saves with 29 per cent efficiency. The two are just some of those talents. Even though still without a win in the CL, Lokomotiva showed some good effort.












Carlos Viver, Rapid Bucuresti coach: "We were feeling a lot of pressure coming here but I'm happy we managed to win the game in the end. It is never easy to play these first matches of the season away from home and now we have to do our best to analyse our performance, draw conclusions and prepare in the best way possible for what lies ahead."

Nenad Sostaric, Lokomotiva coach: "We were aware we'll have to work hard to slow them down a bit, slow Fernandez and Lacrabere in that attacking transition and I feel like we succeeded. Obviously, playing a team like this, you're not allowed to make mistakes if you want to win the game. Despite of everything, I'd like to congratulate my girls on their performance here today. We have the youngest team in the Champions League group stage and I have to be satisfied with the way they performed in what was the first Champions League match for most of them. We have to keep on working, training and preparing to see how far it can take us this season."

Eliza Buceschi, Rapid Bucuresti centre back: "I am happy to take home these two points. As coach said, we felt pressure coming here as everyone expected us to win. I have to take a minute and congratulate Lokomotiva on their performance here today. I feel like what they are doing will mean so much for Croatian handball in years to come. There are obviously a lot of things we can improve and we'll do everything to be better out there on the court in our next game."

Stela Posavec, Lokomotiva right wing: "It was just as hard as we expected it to be. Huge experience for the whole team, that's for sure. In the end only -4 in what was a very good match for us overall. I feel like we showcased fighting spirit in the middle of the second when Rapid tried to widen the gap. There are still ways to improve and we just have to keep on working hard every day."