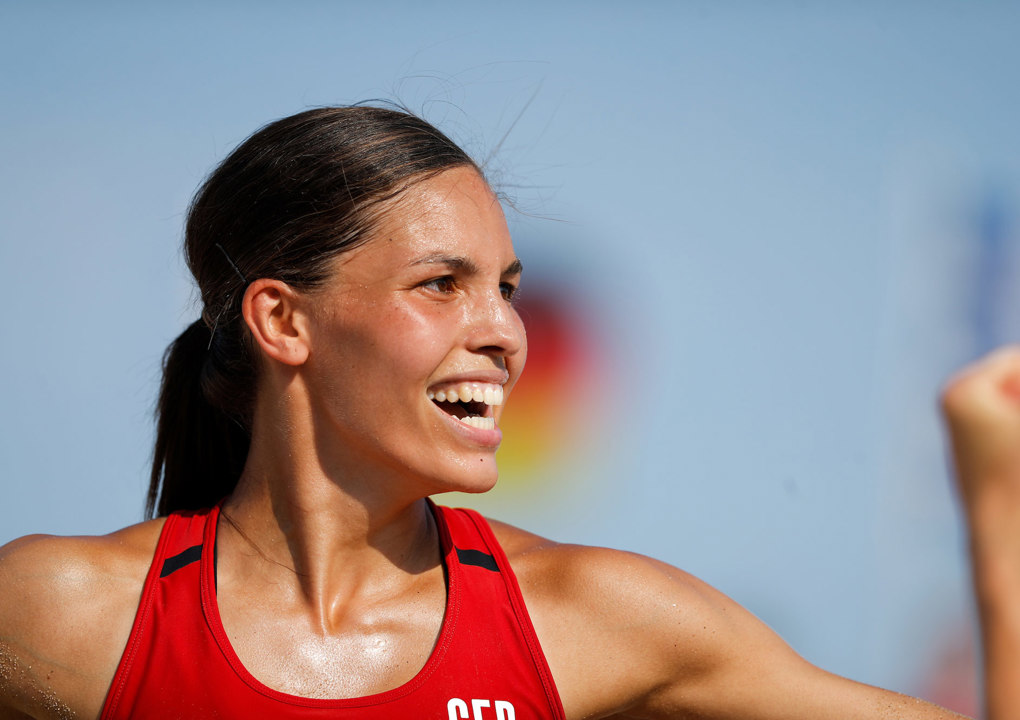 Lucie-Marie Kretzschmar: "I have written my own story"
Over the last two years, Germany women's national team has reached the summit of the beach handball world, now holding the European, world, and World Games titles. One of their key players is Lucie-Marie Kretzschmar, who has stepped out of the shadow of her iconic handball family. This is the third article in a series building up to the EHF Beach Handball EURO 2023 on 24-28 May in Nazaré, Portugal.
For someone who turns only 23 in August, it is hard to believe that Lucie-Marie Kretzschmar is preparing for what will already be her fifth EHF Beach Handball EURO.
However, 'preparing' might not be the right word.
Less than two weeks before the start of the 24-28 May European Championships, the co-captain of the German women's national beach handball team – a role Kretzschmar shares with Kirsten Walter – has a lot of things on her mind, but playing beach handball and defending their 2021 title is not really among them yet.
These are busy times, both at her teachers' education and in the ongoing indoor season with her club HSG Bensheim/Auerbach. In fact, Kretzschmar plays a Bundesliga match in Blomberg less than four days before Germany's first game on sand in Nazaré.
The early scheduling of the Beach Handball EURO in May has forced several players out of the German squad due to indoor commitments, a fate the defending champions share with most other participating teams.
"You can see it all very negative, but that is useless and you cannot change it," Kretzschmar says. "We have built a deep squad through the last years, so I am sure we arrive with a strong team – even if it is not the dialled-in team from the last years. But we are hungry."
Germany stunned the beach handball world by clinching the European title in Varna in 2021, two years after the team had only finished in 10th place in Stare Jablonki, Poland.
The sudden success in Bulgaria, though, has been everything but a one-off: Germany went on to win both the IHF World Championship and The World Games in 2022, and now holds all three major beach handball titles for national teams.
"Every title was a special moment, but the craziest was the European Championship," Kretzschmar recalls the 2021 event. "We were 10th at the previous championship, so the quarter-finals were our big dream, but suddenly everything went our way that tournament. That was a summer fairy tale."
No wonder all eyes will be on Germany as title favourites this time.
"We are very aware every team in Europe is hot to beat us and to end our winning streak," says Kretzschmar, referring to Germany's current series of 25 consecutive wins at major events.
"We know the next defeat will happen one day and we prepare for it mentally. It is a mixture of pressure and motivation: we want to play at this high level we have had in the past years. But we also know beach handball is very unpredictable; each tournament is a new start, and you must somehow manage to get into that flow again."
Looking back at Germany's rise to the top, Kretzschmar calls self-confidence a decisive factor.
As one of the team captains, Kretzschmar plays an instrumental role in the team, but not necessarily as the player who tells others what to do. She and Walter are captains "on paper," as she puts it, but they don't dictate what happens on court.
"We are a very homogeneous group, everyone contributes her part," Kretzschmar says. "I try to get others on board emotionally, to motivate, to bring positive energy into the team. Players can always come and talk to me, they know they can trust me."
A summer without beach handball is just impossible for me. I am very active, also on holidays. I can read a bit or hear music for a while on the beach, but after half an hour, let's say 45 minutes maximum, I need to go into the water and throw a few balls. I just need the action.
Now one of the leading players in her sport, Kretzschmar has come a long way.
Obviously, handball was always going to be a part of her life. Her late grandparents Peter and Waltraud Kretzschmar were famous players in the 1970s, winning multiple world titles and Olympic gold with the GDR. And her father Stefan Kretzschmar is an iconic living legend of the sport.
Handball has always been topic number one in the Kretzschmar family. Her younger brother Elvis is also developing into an outstanding player at SC Magdeburg, and he has recently received his first call-up for the German under-17 national team.
Still, the thought of playing beach handball had not crossed her mind yet when she received a phone call from Alexander Novakovic.
The German Handball Federation (DHB) was trying to revive its beach handball department and Novakovic was looking for indoor players with the right set of skills to play on sand as well.
"He called me, but first I was sceptical," Kretzschmar says, though she accepted the invitation from Novakovic, who is still the women's head coach.
"It was Feuer und Flamme right away, it was love at first sight. I am so happy that this has come along, beach handball has become such an important part of my life. I am still grateful that Alex gave me that opportunity back then."
It marked the young Lucie-Marie's entry in a sport she describes as "athletic, spectacular, and fun."
And the early fire has never extinguished, beach handball keeps burning inside her.
"A summer without beach handball is just impossible for me," Kretzschmar says. "I am very active, also on holidays. I can read a bit or hear music for a while on the beach, but after half an hour, let's say 45 minutes maximum, I need to go into the water and throw a few balls with my brother. I just need the action."
Beach handball goes beyond sheer passion for Kretzschmar. Her honours are piling up: she was named Beach Handball Player of the Year in Germany in 2021 and again in 2022, served as Germany's flag bearer at the closing ceremony of The World Games in 2022, and was awarded last year with the Silberne Lorbeerblatt (Silver Bay Leaf), the highest state honour an athlete in Germany can receive.
Still, her down-to-earth character has not changed. She is not Germany's big star, rather their ultimate team player.
"I know all this would not have been possible without my team, without the people around me. I am very aware of that," she says. "That is why I can never change my attitude, I know I would never have come this far without all the others."
For Kretzschmar, it is never just about her, neither on the court nor off the court.
"I am always looking to make sure that everyone is OK. Sometimes that comes as a disadvantage for myself, that I don't look enough after myself. But it is so important to me that there is harmony, both in the team and in the family as well as with my friends. I want just harmony, no conflicts. That has started early in my life, and it is still the case."
Her Beach Handball EURO journey started as a 15-year-old in Lloret de Mar, Spain, eight years ago, when she joined the senior team after playing the YAC event, and has reached a true highlight with the gold medal two years ago.
"I have written my own story, which is very important for me. I know I would never get out of my family's shadow in handball, they have left such big footprints in the sport," Kretzschmar says. "But beach handball has given me the opportunity to do something no one else in the family has done before. I am very grateful for that opportunity."
Photos © Uros Hocevar, Jozo Cabraja, Axel Heimken / kolektiff