Beach Handball
Groups decided for EHF Beach EURO 2023
The 16 men's and 16 women's teams participating in the EHF Beach EURO 2023 in May now know their preliminary opponents after the draw event in in Nazaré, Portugal.
Germany, who won the women's competition at the EHF Beach EURO 2021, will face that tournament's runners-up Denmark in group A, alongside France and Italy.
2021 bronze medallists Spain are drawn in group D, together with Poland, Croatia and Romania. 
Reigning men's Beach EURO champions Denmark will also play Germany in the group phase, but have avoided 2021 silver medallists and record EURO champions Croatia. Denmark are in group D as well as Romania and Türkiye, while Croatia will play Norway, Poland and the Netherlands in group A.
Hosts Portugal had the right to pick their groups. They chose group B in the women's tournament, against the Netherlands, Ukraine and Türkiye; while the Portuguese men will play Hungary, France and Italy, also in group B.
Women
Group A: Germany, Denmark, France, Italy
Group B: Netherlands, Ukraine, Portugal, Türkiye
Group C: Hungary, Greece, Norway, Slovakia
Group D: Spain, Poland, Croatia, Romania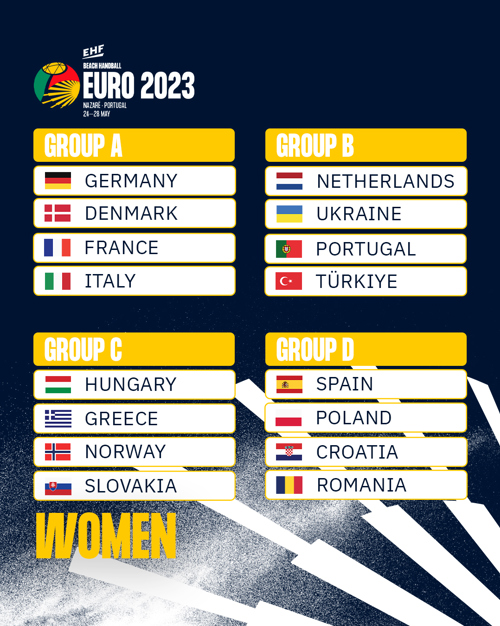 Men
Group A: Croatia, Norway, Poland, Netherlands
Group B: Hungary, France, Portugal, Italy
Group C: Spain, Ukraine, Sweden, Greece
Group D: Denmark, Germany, Romania, Türkiye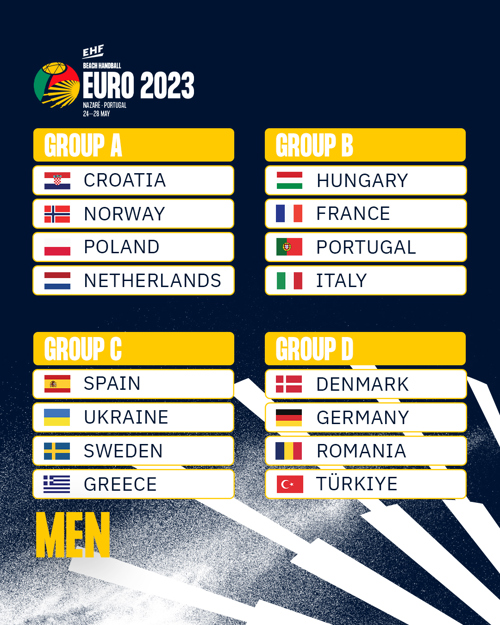 The tournament is set to take place in Nazaré, Portugal, from 24 to 28 May. It is the 13th Beach Handball EURO and the first time Portugal is hosting the senior tournament; Nazaré previously hosted the Younger Age Category Beach Handball EURO 2016.
photos (c) 2023 Márcio Menino, Vitor Estrelinha