Germany's dominance put to the test in Nazaré
The road to glory for the 16 teams at the Women's EHF Beach Handball EURO 2023 in Nazaré starts on Wednesday (24 May). Can defending champions Germany continue their dominance from recent years? Will Denmark claim back the title they won in 2019? Might Spain finally go all the way this time? Here is an in-depth preview looking at all four groups of the preliminary round.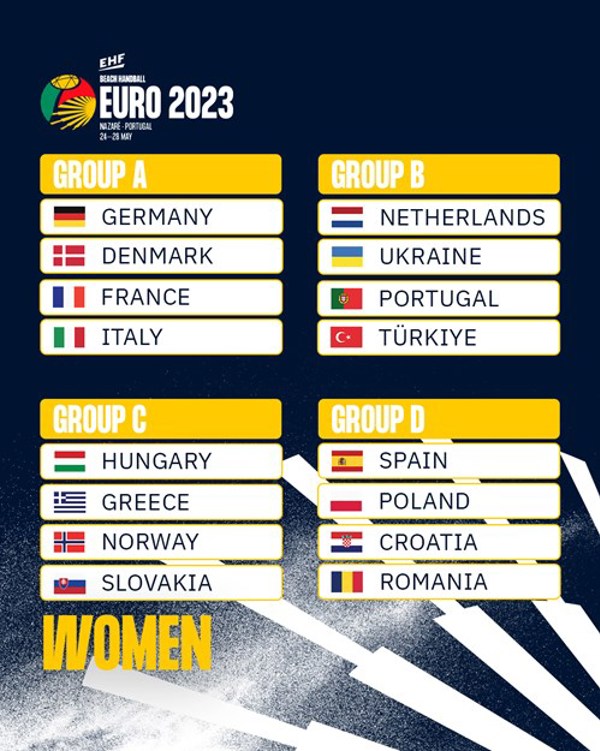 Group A
Germany
Participations (incl. 2023): 10
Best result: Winners (2006, 2021)
France
Participations (incl. 2023): 6
Best result: 7th (2017)
Italy
Participations (incl. 2023): 13
Best result: Winners (2009)
Denmark
Participations (incl. 2023): 8
Best result: Winners (2019)
What. A. Group! Three (former) European champions, including the last two – who also played the final against each other in Varna two years ago. Germany against Denmark is definitely one of the matches to watch in the preliminary round.
No other national team has dominated international beach handball in recent years like the defending European champions have. Semi-finalists at each of the first five Beach Handball EURO events in the 2000s, including gold medallists in 2006, Germany then completely disappeared from the radar. They even didn't take part for several years until current head coach Alexander Novakovic started to revive beach handball within the German Handball Federation. Still, their initial results – 13th in 2015, 14th in 2017, 10th in 2019 – did not indicate what was going to happen in 2021, with their stunning run to gold in Varna. They backed it up with the world and World Games titles in 2022 and arrive in Nazaré on a 25-match unbeaten streak.
Appearing in four of the last six EHF Beach Handball EURO finals and winning one of them – in 2019, Denmark are stable title contenders. One name has been vastly connected to those recent successes: Line Gyldenløve Kristensen, who has over 100 caps for Denmark and is playing her seventh (!) EURO in 2023. The MVP from 2021 leads a fine blend of experienced players and hungry talents, who just came up short two years ago when they defended their title from 2019, reaching the final again but running into an unbeatable Germany side.
One has got to feel for the other two teams in group A and their main round chances. Italy are one of two nations – alongside Ukraine – who have featured in all 12 Beach Handball EURO events so far. Italy reached three semi-finals in four tournaments between 2009 and 2015, racking up one gold (2009) and two bronzes (2011, 2015), but have not landed another top-10 result since. And France? Their track record includes one top-10 result in total – seventh in 2017.
Group B
Portugal
Participations (incl. 2023): 3
Best result: 5th (2021)
Ukraine
Participations (incl. 2023): 13
Best result: Winners (2000)
Netherlands
Participations (incl. 2023): 8
Best result: 3rd (2019)
North Macedonia
Participations (incl. 2023): 6
Best result: 6th (2004, 2007)
Beach Handball EURO 2023 in Nazaré, it is time to shine for Portugal! While their club teams have been at the forefront of international beach handball for some time now, the national team want to use the showcase event on home soil to finally leave their mark, too. It is only the third time Portugal take part in a EURO, but their run to fifth place in 2021 shows that maybe even the semi-finals might be possible for the team of head coach Agustín Rodríguez. During the draw in February, hosts Portugal had the right to pick their group and they opted to join Ukraine, Netherlands, and North Macedonia in group B.
Ukraine won the very first Beach Handball EURO 23 years ago, but have not won another medal since, though they appeared in two more semi-finals, most recently in 2013. The team got their worst result in Varna two years ago, when they placed 14th, and they arrive in Nazaré amid difficult circumstances for the country. North Macedonia reached the quarter-finals several times in the past, but have only been part of one of the last five EURO tournaments – in 2019 in Stare Jablonki, where they finished 20th.
Four years after winning bronze for the nation's first ever beach handball medal on senior level, Netherlands are eager to get at least back to the semi-finals again in 2023. Led by a trio of vastly experienced players – goalkeeper Claudia ter Wal, Linnet Popping, and Isabel Barnard – the Dutch are coming off a bronze medal from last year's World Championship. The junior team had their path to gold at the YAC 17 EURO two years ago only blocked by Hungary in the final, indicating orange might be a colour to look out for in Nazaré again – both on the court and on the stands, where their fans usually are main contributors to the atmosphere. For all those reasons, the match against hosts Portugal promises to be fitting start of the tournament.
Group C
Slovakia
Participations (incl. 2023): 2
Best result: 13th (2007)
Norway
Participations (incl. 2023): 12
Best result: Winners (2017)
Hungary
Participations (incl. 2023): 12
Best result: Winners (2013, 2015)
Greece
Participations (incl. 2023): 7
Best result: 6th (2017)
Two former European champions, one former world champion, one outsider: group C has an intriguing lineup. It features two teams that only missed the inaugural Beach Handball EURO in 2000 but have been present ever since – and have made their presence feel, too: Hungary and Norway are both gold medallists, and the latter appeared in six straight semi-finals between 2007 and 2017, which earned them two silvers and two bronzes before finally clinching the gold in 2017. They won five World Championship medals in the meantime, too, including gold in 2010.
Norway returned to the semi-finals in 2021 but lost to Denmark before getting beaten by Spain in the bronze medal match. Another Norwegian appearance in the medal matches on the concluding Sunday of the Beach Handball EURO 2023 would certainly not mark a huge upset.
Hungary have not quite had a similar dominant stretch over a full decade as Norway had in 2007-17, but they did land back-to-back titles in 2013 and 2015. Since then, and since the retirement of legend Kitti Gróz, Hungary's fortunes have been going up and down. They returned to the final four years ago – losing to Denmark – but stayed far away from the medal ranks in both 2017 and 2021. In Varna, however, they were the first team to take a set from eventual champions German and lost that quarter-final in the decisive shootout only by a single point (7:6).
Anyway, if the pendulum keeps swinging in this rhythm, the 2023 should be a good year again for the team around star player Renáta Csiki. And with the junior team landing the YAC 17 title two years ago, there is no doubt Hungary remain a team that will be in contention at any major event in the near future.
Norway are not the only former world champions in this group, as Greece lifted that trophy as debutants in 2018. They hosted the World Championship last year and went to the semi-finals again. Greece are yet to achieve similar results at a European Championship, where two quarter-finals – in 2017 and 2019 – have been their best achievements so far. While they will be favourites against Slovakia, who only appear in their second-ever EURO, they will also need to finish ahead of either Norway or Hungary to make it into the main round.
Group D
Croatia
Participations (incl. 2023): 11
Best result: Winners (2007, 2011)
Poland
Participations (incl. 2023): 9
Best result: 2nd (2017)
Romania
Participations (incl. 2023): 3
Best result: 17th (2019, 2021)
Spain
Participations (incl. 2023): 13
Best result: 3rd (2017, 2021)
One team looking to find their way back to old glory, two teams who have been close to gold in the recent past and finally want to make that final step in Nazaré: group D promises an interesting battle between two-time former champions Croatia, 2017 runners-up Poland, and two-time bronze medallists Spain.
As the nation that dominated the sport both on the women's and the men's side in those years, Croatia finished in the medal ranks in each of their first five Beach Handball EURO appearances, between 2004 and 2011. This golden era included two titles – including the one from their home event in Umag in 2011 – to go with a silver and two bronze medals.
However, in the next five events, Croatia got to only one more quarter-final – in 2019. Their impressive medal collection, however, has been awaiting extension for 12 years now. And still, Croatia are never to be underestimated.
Poland will certainly not do that. They have been quarter-finalists four times, and their strong run in the 2017 European Championship was only stopped by Norway in the final. A noteworthy member of the 2023 squad is Iwona Niedzwiedz, the 43-year-old former left back who score more than 500 goals for the Polish national indoor team until her retirement in 2017.
Romania are entering their third straight EURO, and are guaranteed to get their best-ever finish, since they were 17th both previous times, while the 2023 editions includes 16 participants in total.
A deeper run in the tournament can be expected from Spain. One will hardly find a more consistent force in women's beach handball. Ever present at the Beach Handball EURO, they have never finished worse than eight. However, they are yet to appear in a final, let alone win one. But with three semi-finals over the last four European Championships, including two bronze medals, there is every reason to put Spain high on the prediction lists once again – even more so since they did win a world title (in 2016) and finished runners-up at the global championship a year ago. And with their junior team also taking silver at the YAC 17 EURO two years ago, Spain look set to continue their consistency.
all photos (c) 2021 kolektiff images