Denmark top new EHF men's national team ranking
If a handball match was to be decided on paper and not on court, the Danish men's national team would currently be any tournament's favourite.
With 448 points, the 2023 world champions top the newly released EHF men's national team ranking ahead of Sweden (424) and Spain (400). __PRESENT
The ranking took into consideration the final ranking at the three most recent major international handball tournaments, namely the 2021 and 2023 Men's IHF World Championships and the Men's EHF EURO 2022, including their respective qualification matches.
The first place at any of the three championships was worth 160 points, a third rank equalled 128 points - and with Denmark's double gold in 2021 and 2023 and a bronze medal in 2022 no other team achieved more points.
The Men's EHF EURO 2024 in Germany was not part of this ranking as the final tournament is still to be played. The tournament's hosts are currently ranked sixth with 264 points.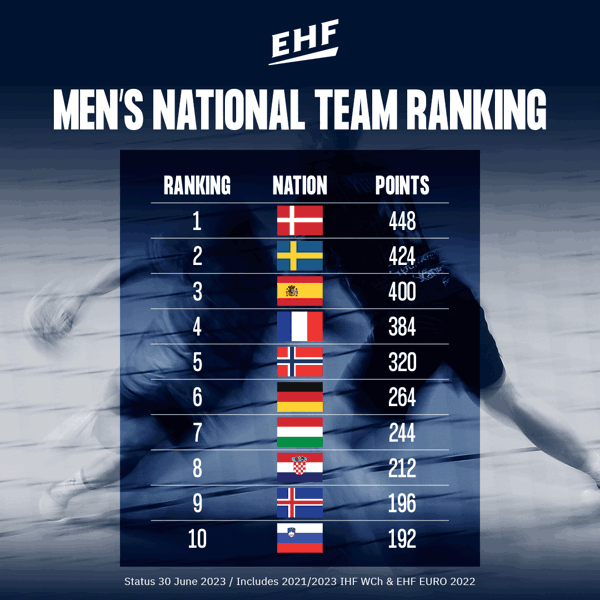 The ranking is the basis for the distribution of teams to the different parts of the European qualification road to the 2025 Men's IHF World Championship in Croatia, Denmark and Norway.
The draw for Phase 1 takes place on Wednesday, 5 July at 11:00 CEST (live stream available on youtube.com/thehomeofhandball)
The ranking will be next updated after the conclusion of the upcoming EHF EURO on 28 January 2024. That ranking will then be the basis for the seeding of teams for the EHF EURO 2026 Qualifiers, for which the draw is scheduled in spring 2024.
EHF Men's National Team Ranking