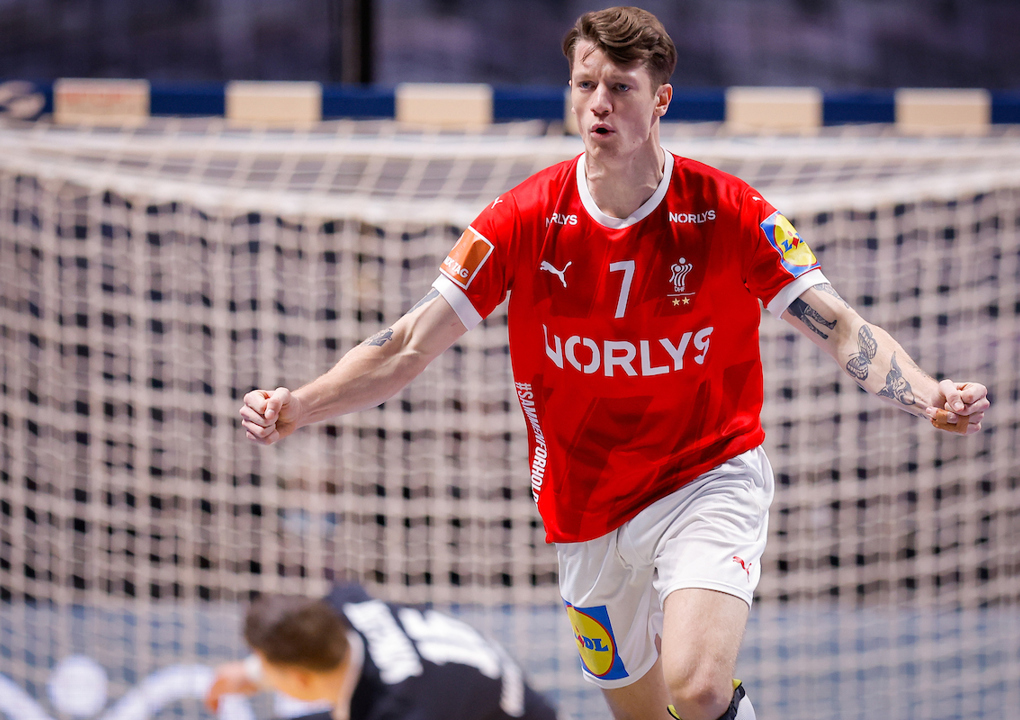 Denmark keep title defence on track, meet Spain next
The semi-finals of the 2023 IHF Men's World Championship in Poland and Sweden are an all-European affair again. Titleholders Denmark as well as France, Spain and co-hosts Sweden all won their quarter-finals on Wednesday – although in very different styles.
In Friday's semi-finals, Spain meet Denmark in Gdansk at 18:00 CET before France take on Sweden in Stockholm at 21:00 CET. The final is scheduled for Sunday in Stockholm.
the standout tie in the quarter-finals was Spain against Norway, which needed two periods of extra time before Spain were confirmed as the winners: 35:34
Norway led 25:24 and had possession with less than 20 seconds left of regular time, but Spain grabbed a turnover and saw Daniel Dujshebaev score in the last second (25:25) to take the match into extra time
the first 10 additional minutes brought no decision (29:29) but it was Daniel Dujshebaev again who ultimately netted the winner for Spain after 80 nail-biting minutes
Spain's next opponents had a way easier path to the semi-finals, as Denmark outplayed Hungary for a stunning 40:23 victory
the defending champions had already done the damage by half-time (21:12) but kept going in the second half, as Mathias Gidsel became their leading scorer with nine goals
Sweden ended the dreams of Egypt, the last non-European contenders in the race, who had also reached the quarter-finals two years ago when they only went down to Denmark in a penalty shootout
this time, however, Sweden proved just too strong and finished the job within 60 minutes, building a five-goal half-time gap (14:9) – after Egypt had failed to score for more than seven straight minutes – on their way to a 26:22 victory
France had their patience tested against Germany, who built a substantial lead early on
the match was completely in the balance at the break (16:16) but France only went ahead for the first time when Dika Mem netted for 21:20 about 10 minutes into the second half
the match was decided when Ludovic Fabregas made it 29:24 with less than eight minutes left; in the end, France won by seven: 35:28












Déjà-vu: 2021 semi-finalists go on repeat in 2023
Spain against Denmark and France against Sweden as the semi-finals sounds familiar? Indeed, the semi-final pairings of the 2023 World Championship are identical to those from the 2021 tournament in Egypt.
Two years ago, Denmark (35:33 against Spain) and Sweden (32:26 against France) advanced to the final. In the end, Denmark would successfully defend their maiden world title from 2019.
Can Denmark make it three-in-a-row? It would be a unique achievement, since no nation has lifted the world trophy more than two straight times. Romania (in the 1960s and 70s) and France (from 2009-17) once won gold four times within five editions, but they both had their runs interrupted after two wins.
Friday's semi-finals include eight of the last nine world champions; only 2007 winners Germany are missing. In this period, France won four times while both Denmark and Spain lifted the trophy twice.
But even Sweden would not make for a first-time winner, of course, since they won four titles in the past. Their most recent success, however, dates back to 1999.
Their home crowd in Stockholm would love to see that 24-year drought come to an end on Sunday.
2023 IHF Men's World Championship
Semi-finals, Friday:
> 18:00 CET, Gdansk: Spain vs Denmark
> 21:00 CET, Stockholm: France vs Sweden
Medal matches, Sunday:
> 18:00 CET, Stockholm: third-place match
> 20:30 CET, Stockholm: final
More information can be found on the official Poland-Sweden 2023 website; livestreams of all matches are available on the IHF YouTube channel.
all photos © 2023 Anze Malovrh, Sasa Pahic Szabo, Jozo Cabraja / kolektiff