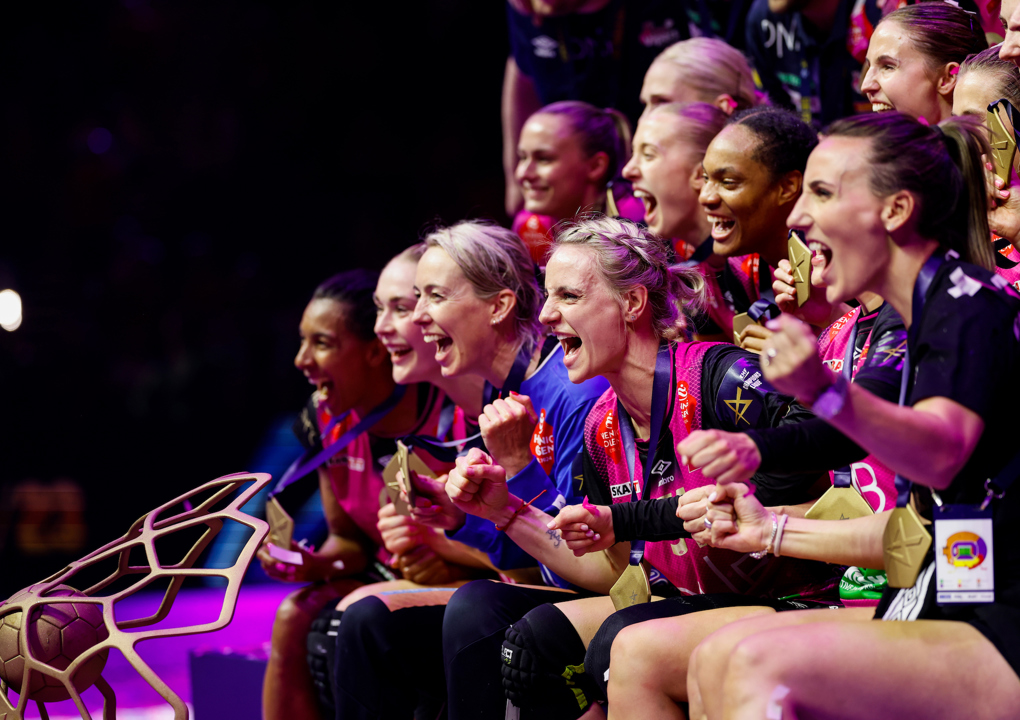 Summary: Vipers take third straight trophy
Vipers again! The final of the EHF Champions League Women 2022/23 saw Vipers Kristiansand defending their title against FTC-Rail Cargo Hungaria with a powerful 28:24 win, as their right back Anna Vyakhireva was named MVP. In the 3/4 match, Györ held off a great comeback from Esbjerg to take the win and third position. 

21:52
The season is wrapped up, the trophy is on its way to Norway, and that means we are coming to the end of our live blog coverage of the EHF FINAL4 2023 — and the EHF Champions League Women 2022/23! 
We hope you enjoyed the ride as much as we did. We are already impatient for next season to begin. 
Congratulations to Vipers! See you in 2023/24. 
21:44
What a season, what a final, what a moment for Vipers! And not only them, but for finalists FTC as well, as the Hungarian team equalled their best result in the EHF Champions League after a wait of over two decades. Enjoy the best photos of the awarding ceremony below. 
















21:30
So Katrine Lunde now stands alone as the sole record holder for titles won in the EHF Champions League Women — with Viborg in 2009 and 2010, Györ in 2013 and 2014, and Vipers in 2021, 2022 and 2023.
Only one male player has the same record: Andrei Xepkin. Xepkin won the trophy six times with Barcelona and once with Kiel, spanning from 1996 to 2007. 
But Lunde's record is arguably more impressive, given she did it with three teams and that the achievement spans 14 years — a long career of playing a valuable role in winning titles. She adds the trophy to a huge cabinet of medals won with the national team, including multiple titles in all major competitions — the EHF EURO, the World Championship and the Olympic Games. 
21:25
Another huge individual achievement recorded on Sunday night in Budapest was that of Vipers' wing Jana Knedlikova, who has now won the EHF Champions League title six seasons in a row. She raised the trophy with Györ in 2017, 2018 and 2019, and then with Vipers in 2021, 2022 and now 2023. 
The Czech wing has been vital in Vipers' record, scoring over 50 goals every season she has spent in Norway. 
About her achievement, Knedlikova said: "I just choose good teams! I am kidding. When I came to Vipers, I believed in the same goals as we had before with Györ. Of course, now it is hard to meet them after those nice years there. But now I am wearing a pink jersey and I won the EHF FINAL4 with Vipers. I am very proud."
20:35
What a final! Now let's relive it as many ways as possible...first, check out the highlights of how Vipers took their third title. 
Next, hear all about what the coaches, Ole Gjekstad (Vipers) and Gabor Elek (FTC), and players Katrine Lunde and Alicia Stolle had to say about the trophy game in the press conference. 
And last but not least, read how today's games unfolded in our match reviews. 

20:19
Here we have it — Vipers' moment receiving the trophy! Vipers third consecutive title, and goalkeeper Katrine Lunde's seventh overall. Lunde now stands alone at the top of the multiple individual trophies ranking. 
20:12
Vipers have raised their trophy and the court in MVM Dome is now dusted with pink confetti — and the new and returning champions are not the only ones to receive a trophy. Esbjerg back Henny Reistad received her award as the top scorer of the season, after scoring 142 goals, while Vipers' right back Anna Vyakhireva was named MVP of the EHF FINAL4 2023.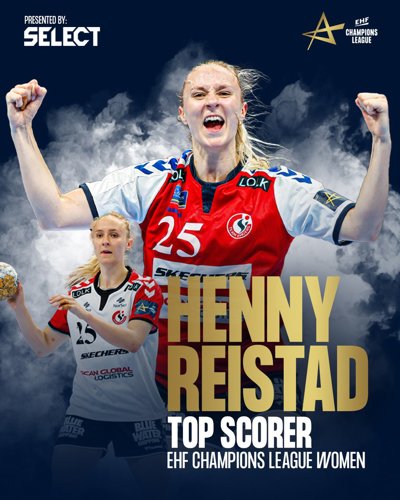 It is the fourth MVP award in Vyakhireva's career, after she received the nod for both the last Olympic Games, at Rio 2016 and Tokyo 2020, as well as for the EHF EURO 2018. But it is her first MVP nod for an international club competition, and her first Champions League trophy. 
This is a dream come true. I came here to Vipers because of the champion spirit, the team spirit, and to win this trophy. I made a good choice. I am so proud of myself and the team.

















They were the best team all season, playing a very fast-paced brand of handball. Congratulations to them, because they deserve it. Now, we are very sad — we lost the final — but in a few days we will celebrate this amazing season, from the record win against Most, to the comeback against Metz and this [EHF] FINAL4. It has been amazing. Now we suffer, but we will celebrate later. Also, bringing so many fans into the arena in Budapest was simply amazing. It is something that needs to be celebrated too.
It was Vipers from start to finish in the final of the EHF Champions League Women 2022/23 — the Norwegian team clinch a four-goal victory in the end, securing their third consecutive trophy. 
Just over two minutes to go and Vipers' stars come off court and start to celebrate — although Katrine Lunde signals caution to her teammates.
But the chance for an FTC comeback now is all but nothing. 
Into the final five minutes of the final and it's now or never for FTC, as Vipers stay clear in front, but the margin is still possible to overcome with a dominant finish...
Vipers are very much looking at equalling Györ's record for three titles in a row in the EHF Champions League now, and coach Ole Gjekstad seems confident as he signals for several of the bench players to get ready to enter the court for their taste of the final. 
The final reaches the 50-minute mark and Vipers' stay clearly in front — and the defending back-to-back title holders can smell victory now. 
The Norwegian side's top stars are in phenomenal form in crunchtime, with Anna Vyakhireva having netted six goals now and dished five assists, while Katrine Lunde is now on 14 saves and maintains a rate of almost 50 per cent. Backs Jamina Roberts and Marketa Jerabkova and wing Sunniva Andersen are also important scorers for the side, combining for 14 goals. 
The atmosphere in MV Dome is intensifying as we enter the final 15 minutes of the final and Vipers maintain their commanding lead. 
Although Vipers have outscored FTC, their attacking efficiency is quite low, highlighting that FTC's defence supported by some great saves from Kinga Janurik is certainly not weak. But Katrine Lunde and Vipers' defence are proving even harder to beat. 
12 minutes into the second period, FTC are fighting hard to come back but Vipers are holding on to their lead clearly, and it is thanks in large part to a huge performance from Katrine Lunde this period. The goalkeeper has a save rate of 62 per cent for this half, with five saves so far, including some spectacular stops on clear chances for FTC. 
Vipers have far outscored FTC in this half, with the partial for this period at 8:3. 

Five minutes played in the second period and FTC have been dealt a blow as key defender Zsuzsanna Tomori receives a direct red card following a hit to Anna Vyakhireva in the face. 
Good news for FTC — Andrea Lekic has returned to court and is therefore clearly not ruled out due to the minor injury sustained in the first half. 
Not so good news for FTC — Vipers have quickly increased the distance to four goals after a run of goals from backs Anna Vyakhireva and Jamina Roberts. 
The second half resumes much as the first began — Vipers are the first one the board, thanks to Anna Vyakhireva, and Katrine Lunde saves FTC's first attempt at the other end of the court. 

FTC back Szandra Szöllosi-Zácsik has the last say in the half and we go to the break with a one-goal score line in the final. 
After her superb start, Katrine Lunde's saves dropped off but she still won the battle between the posts, with six stops in the first period. Vipers back Anna Vyakhireva has the most impressive attacking stats from the opening half, with four goals and four assists, plus one steal at the other end of the court.
Into the last minute of the half now and, with the help of some great saves from Kinga Janurik, FTC have reduced the gap to two. With the Hungarian side now in attack, it is a vital chance to make it a one-goal game before the break and ensure level footing for the second period. 
There could be bad news for FTC, as Andrea Lekic has taken a hard hit in defence and come off court. Lekic was vital in FTC's victory in the semi-final, with the experience of the 2013 IHF World Player of the Year key in fuelling the team's comeback. If she cannot return to the match, her absence will certainly be noticed. 
The clock hits 20 minutes with Vipers still comfortably in front, but FTC threatening to close the gap. 
Nine of Vipers' 12 goals have come from the back court, led by four from Anna Vyakhireva, who has gone to the bench for a rest as Oceane Sercien Ugolin comes into right back. Left back Jamina Roberts has headed off court as well, for Ragnhild Dahl, while FTC have also shuffled their back court. Szandra Szöllosi-Zácsik and Alicia Stolle have come on for Emily Bölk and Katrin Klujber. 
In the playmaker positions, Marketa Jerabkova and Andrea Lekic stay in command for their respective sides. 
FTC coach Gabor Elek calls a timeout right on the 15-minute mark, as Vipers continue in control. In goal, the Hungarian side have just replaced Blanka Bíró with Kinga Janurik, after no saves for Bíró in the opening minutes — Vipers have missed just one shot for a huge efficiency of 90 per cent. Meanwhile, Katrine Lunde stays on an extremely impressive save rate of 60 per cent in Vipers' goal. 
Tough for FTC early on, but the entry of Andrea Lekic around the 11-minute mark has an immediate impact as she sets up Emily Bölk to net a scorcher from outside and give her team a boost. Lekic started on the bench while Zita Szucsánszki led from playmaker. 
The score board shows Vipers dominating early, although the match on court looks evenly matched. The key difference so far is a player who has made a huge mark on the EHF FINAL4: Katrine Lunde. Standing behind Vipers' strong defence, Lunde has saved two shots for a rate of 67 per cent. 
At the other end of the court, Vipers have scored on all their attempts, with Marketa Jerabkova and Anna Vyakhireva netting two apiece from the back court. 
Vipers goalkeeper Katrine Lunde saves the first attempt from FTC and the MVP of the EHF FINAL4 2022, Marketa Jerabkova, scores the first of the final. 
Starting whistle! FTC begin in attack as the final gets underway. 
17:55
Vipers are on court and we are about to welcome FTC — to undoubtedly deafening cheers. We are only minutes from throw-off in the final of the EHF Champions League Women 2022/23!
17:44
The finalists have left the court and throw-off in the EHF Champions League Women 2022/23 is imminent! 
See where to watch the final in your country here. For a more interactive viewing experience, join the Home of Handball Twitch watch-along. 














17:16
That feeling when you're about to have a huge game and lead your team to third at the EHF FINAL4...what a game from Sandra Toft! Let's see which individuals will shine in the final between Vipers and FTC.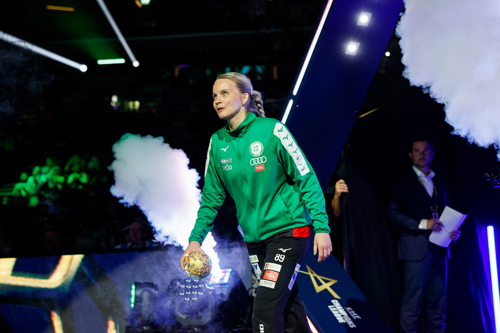 The finalists are now on court in MVM Dome, completing their running and stretching before starting to get their throwing arms in. 





















It means a lot for us because after yesterday it was really hard to bounce back. We just wanted to come here and win the title. To win the bronze medal is nice, but it was tough. We expected them to rest a bit for the domestic league, but they pushed on and on.
Györ clinch third at the EHF FINAL4 for the second time and maintain their record of always taking at least one win in Budapest. It was an incredible comeback from Esbjerg, who had the chance to equalise with a final attack, but could not, leaving Györ to hold on and take the narrowest of wins. 
Just over two and a half minutes remain and it's a one-goal game. Remember, if the match ends level, we go directly to penalties to find the winners. 
If Esbjerg are defeated here, they will be left waiting for their first win at the EHF FINAL4, after losing both matches last year on their debut. For Györ, it would mean they keep their record of never leaving the EHF FINAL4 without at least one win. 
With her save rate having dropped, Sandra Toft comes off court for Amandine Leynaud to enter Györ's goal as the clock hits 53 minutes. She counts 15 saves in her tally. 
It's as close as it can get now, with Esbjerg having equalised several times — first at 22:22 in the 48th minute — but Györ still holding the edge as they strike first and Esbjerg chase. 
What a comeback this is from Esjberg. From nine behind at the start of the half, the Danish side have fought back to be within one goal as the final 10 minutes of the game nears. 
Below, see the 50th EHF FINAL4 goal from Nora Mørk I mentioned earlier, as the Esbjerg back joined a small group of players who have reached that milestone. 
Henny Reistad has done it! With just over 15 minutes to go, the Norwegian back scores a penalty, which is her third goal of the game and her 58th overall at the EHF FINAL4. With that, the 24-year-old now sits on top of a list of legends, as she passes Nycke Groot and Anita Görbicz. 
Timeout Györ in minute 43. A run of five unanswered goals sees Esbjerg pull Györ back within reach — and now we really have a game on our hands. 
Esbjerg's 14th goal saw a special milestone for one player: Nora Mørk joined an elite club of six other players who have reached the 50-goal mark at the EHF FINAL4. 
It looked very dangerous for a minute but Esbjerg manage to pull the difference back a touch, scoring two quick goals to reduce — and one of those was from none other than Henny Reistad, which means she is now level with Anita Görbicz and Nycke Groot as the all-time top scorer of the EHF FINAL4, with 57 goals. One more, and she is alone on top. 
Györ are quick to add to their tally as the second half resumes, pulling further away on the score board and putting Esjberg dangerously near a double-digit deficit. And of course, Toft also added to her tally already, with another great save. 
Meanwhile, the finalists are starting to arrive at MVM Dome, with FTC already in the arena to start their preparations. 

What an incredible first half from Györ — and especially Sandra Toft in goal. The Danish keeper finishes the first 30 minutes with 13 saves — a figure that would be impressive for an entire match, but is absolutely otherworldly in one half. 
After starting off court, Györ line player Linn Blohm became the top scorer of the first half, with four goals. Adding her goals together with fellow line player Kari Brattset, as they combine for six, underlines how much Györ are carving up Esbjerg's defence, as they find those easy scoring chances from the line. 
Sandra Toft Sunday in MVM Dome — the Danish goalkeeper adds a goal of her own into Esbjerg's empty goal, with three minutes left before the break. 
The current score line is particularly surprising given the two group phase matches between the teams ended with differences of just two and one goal — nothing anywhere as clear as this. But, though Esbjerg are facing a very big comeback task here, it is not insurmountable. 
Esbjerg continue switching their tactics, changing to 5-1 defence with Kaja Kamp Nielsen shallow in front, as they maintain seven-on-six in attack. In goal, coach Jesper Jensen has replaced Amalie Milling with Anna Kristensen. Five minutes to go in the first half. 
When a goalkeeper has a day like this, there is not much their opponents can do about it: Sandra Toft is stopping almost everything that comes her way and paving the way for her side to completely relax in attack, as they have no pressure with a very comfortable lead as we enter the final 10 minutes of the half. 
Toft now counts 10 saves against 15 shots, for a rate of 66 per cent. Scoring-wise, Stine Oftedal is leading with three for Györ. 
Timeout Esbjerg as Györ hit a five-goal lead thanks to a long-range shot into the empty net from Line Haugsted. The Danish side have swtiched to seven-against-six as they aim to get back on equal footing, playing with two line players — Vilde Ingstad Mortensen and Kathrine Heindahl. 
13 minutes in and Györ are really profiting from an top-form Sandra Toft, who now counts six saves at a rate of 67 per cent. 
It is a very different situation from Györ's game yesterday, where the oustanding attack and sheer volume of shots in the record breaking high-scoring EHF FINAL4 semi-final meant that none of the goalkeepers had a big impact. Of course, Toft is able to do her job so well in part because of the effective defence in front of her, but she has also saved a few open chances from six metres and the wing. 
Eight minutes played and we have a great contest with Györ currently in front by one. Henny Reistad has netted one goal so far, which means she has levelled with Cristina Neagu as the third top scorer in the history of the EHF FINAL4, with 56 goals now. 
But the star of this match so far is Györ goalkeeper Sandra Toft, who has made four saves against seven shots for a huge rate of 57 per cent at this point. 
Below, take a look at this great spidercam view of MVM Dome, as we enjoy a superb atmosphere again. 
The finals of the EHF Champions League Women 2022/23 are underway! A couple of minutes in, we have already seen two goals and two saves, as Danish goalkeepers Sandra Toft (Györ) and Amalie Milling (Esbjerg) make a stop a piece, while Esbjerg's Marit Jacobsen scores the first goal before Ana Gros strikes for Györ. 
But remember, aside from the position at stake, the main goal scorer we are keeping an eye on in this match is Henny Reistad — three goals and she becomes the all-time top scorer of the EHF FINAL4! 
14:56
While Esbjerg complete the final part of their warm-up, running some four-on-four, Györ leave the court for their final pre-game chat. 
See where you can watch the match in your country here. Interested in a different kind of viewing experience? Join the watch-along on the Home of Handball Twitch.  








14:26
Warm-up is now underway for the 3/4 match, with Esbjerg and Györ on court in MVM Dome. 
Some information about the regulations for the finals: Should regular time in the 3/4 game end in a draw, the winners will be decided with a penalty shootout — no periods of extra time. 
In the final, if the 60-minute whistle brings a draw, one period of extra time (two x five minutes) will be played, then penalties. 
14:07
Team Esbjerg and Györ have arrived at MVM Dome and will soon take the court for their warm-up for the 3/4 placement match. 
Meanwhile, let's take a look at some key facts around the final, Vipers vs FTC. 
The scenario between the teams could hardly be more different, as Vipers are aiming to take their third consecutive trophy and equal Györ's record for back-to-back titles in the EHF Champions League. They arrive in the final with only two lost games in the whole season.
On the other side, FTC have reached the final once, more than two decades ago, and are targeting their first trophy. And in terms of the season record, no team has had more losses than FTC on the path to the final — but they have performed when it mattered, as coach Gabor Elek put it perfectly in the media call on Friday: 
"We proved that we are gritty, we proved that we stay true to ourselves, because this has been a rollercoaster season for us. It was a difficult one. We lost some games by big margins, but we still managed to claw back and be here in Budapest when it mattered." 
The semi-final win was Elek's 100th victory leading FTC in European cup competitions. He will leave the club at the end of the season after 16 years on the bench. Read our exclusive feature with Elek, published before the semi-finals, here. 
It will be the ninth clash overall between the sides, with Vipers having taken four victories in the previous games and FTC three. One match ended in a draw. 
Although Vipers' season record may be much stronger than FTC's, the two group phase games betwen the two were as close as they come — a 26:26 draw in Hungary and a 27:26 victory for Vipers in Norway. 
To win tomorrow [Sunday] would be something that I cannot name yet. We do not have too much time to prepare, however, I truly believe that we have an advantage by playing freely.

When two defeated teams face each other the result will always be unpredictable. What I can say is that I expect a really tough match. Both physically and mentally.
12:16
A few hours from throw-off in the 3/4 placement match, let's take a closer look at this game: Györ vs Team Esbjerg. 
Györ are in their eighth appearance at the EHF FINAL4 and have never finished fourth. In fact, it is only their second time in the 3/4 game, after they lost the semi-final in 2020/21 to Brest Bretagne following extra time and penalties. The Hungarian side certainly want a win here, to finish the season on a high and ensure an ideal departure for coach Ambros Martin, who is leaving the club to take over the Spain national team. 
Esbjerg are in only their second EHF FINAL4 and have yet to win a game in Budapest, as they were defeated in both matches last season and the semi-final yesterday. 
The teams met twice this season, in the group phase, at the end of which Györ ranked second in group B and Esbjerg third. Györ won both the group phase clashes, but both were also close — 31:29 and 29:28. 
11:33
Although the matches are the clear highlight of the EHF FINAL4, there is plenty of other entertainment, like the fan zone and pre-match shows. Check out some photos of the pre-semi-final shows we enjoyed yesterday in MVM Dome below. 







11:20
So many magical moments in the semi-finals, and one that absolutely stood out was the goal from Emily Bölk that took FTC to the final, as she scored in the last seconds — from nine metres, over three defenders, and bounced passed the keeper. Relive it below. 
Her mother, Andrea Bölk, was also a top handball player, but never played the Champions League. She did win the City Cup, the former iteration of the EHF European Cup, in 1994 though. Andrea Bölk was also world champion in 1993 and took EHF EURO silver in 1994. Coincidentally — or fate? — the first season of the EHF Champions League was 1993/94. 
10:47
What a semi-finals day! Two wins secured only in the dying seconds, scoring records smashed, world women's handball attendance record broken, EHF FINAL4 rookies reached the trophy game and Vipers absolutely stunned us all — so much happened, there were some things we completely forgot to talk about. So let's get today properly started with those. 
FTC back to final after 21 years
It is FTC's first EHF FINAL4 and therefore their first trophy match in this format of the competition, but the Hungarian side did contest the final of the EHF Champions League once before, in 2001/02. That was in the old format of the finals, when the teams met for two legs to determine the winner based on an aggregate score.
Playing against Macedonian team Kometal D.P. Skopje, FTC lost 49:51 on aggregate. After winning the first leg 27:25, they were defeated 22:26. So, the Hungarian team would celebrate their first title in the competition with a win today. 
Katrine Lunde targeting seventh title
Four players share the record for most titles in the EHF Champions League Women: Vipers Katrine Lunde, Esbjerg's Nora Mørk, and retired Bojana Popovic and Ausra Fridrikas, who have all won six trophies. 
Today, Lunde has the chance to step onto the top of this particular podium alone, as she could celebrate her seventh trophy if Vipers take the victory in the final. She previously won with Viborg in 2009 and 2010, Györ in 2013 and 2014, and then Vipers in 2021 and 2022.
Lunde was the very first MVP of the EHF FINAL4, at the debut edition in 2014.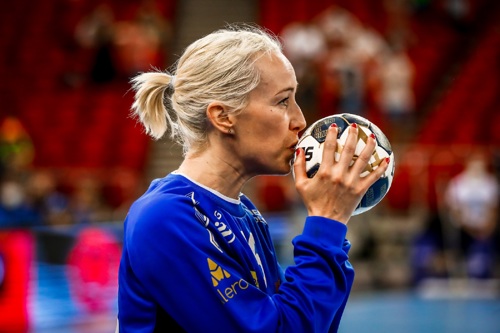 Henny Reistad eyes all-time top scorer record
She is the top scorer of the season — a crown that is essentially locked up, as she leads the standings clearly — and today, barring some unforeseen circumstance that prevents her from her usual goal scoring, Henny Reistad should become the all-time top scorer of the EHF FINAL4.
Prior to the finals, Reistad has scored 55 goals in her three appearances on the final weekend, including seven yesterday in the semi-final. That puts her level with Isabelle Gullden, one behind Cristina Neagu, and two behind the joint-leaders, Nycke Groot and Anita Görbicz. Three goals and she will be first — and still with many years ahead of her, as she is only 24. 
10:39
A third straight trophy for Vipers or a first for FTC? Get stuck into today's finals with our preview below. 
10:00
Good morning and welcome to the final day of the EHF Champions League Women 2022/23! Today, Vipers Kristiansand and FTC-Rail Cargo Hungaria will battle for the title, after victories in the semi-finals on Saturday. 
The full schedule: 
Final: Vipers vs FTC 18:00 CEST
3/4 placement match: Györ vs Team Esbjerg 15:15 CEST
Recap how the teams reached the final with the semi-final match reviews below. Also check out the live blog from Saturday to read all about how the day unfolded.