SUMMARY: Odense beat group A leaders; Krim win MOTW
In the final round before the Women's EHF EURO 2022, round 6 of the EHF Champions League Women 2022/23 group phase featured eight more matches as the teams looked to finish on a high before the break.
On Sunday, in Match of the Week, Krim Mercator Ljubljana claimed a valuable 24:22 victory in a tight encounter against Brest Bretagne Handball.
18:33
As the EHF Champions League Women group phase takes a break until the start of December, check out eurohandball.com throughout November for coverage of the Women's EHF EURO 2022.
The group phase standings at the end of round 6 are available here, and the match review of Odense's triumph over Bietigheim can be found below. Good night!
We are very proud and satisfied about the match today. It was a fantastic and tough match – and we expected that. Bietigheim have transformed themselves and they have a high level, and it is has been good to follow their development. Even though we have been in the Champions League for a couple of years, we still have a long way to go. But today I think we showed a level that was really, really good.
I think we have another role in the EHF Champions League this season compared to two years ago. I think we have a really good team, and we showed in the last matches that we can win against the very good teams. We are very strong in our defence and in our fast breaks, but this was not possible today. But we want to work on this, and I think we can beat the strong teams.
18:12
As we mentioned at the end of Odense's win against Bietigheim, Mie Højlund and Julia Maidhof received the player of the match awards for their respective teams.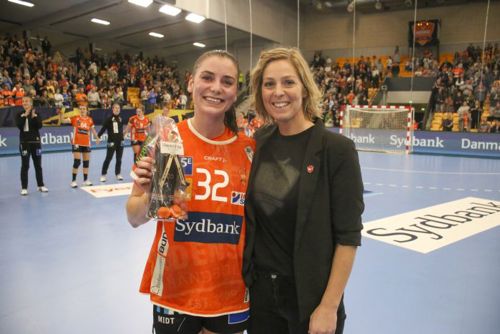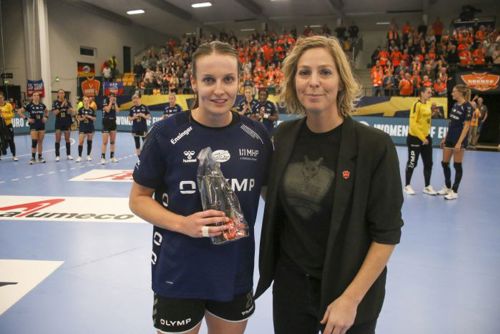 18:03
Here is the full overview of the results from round 6 of the EHF Champions League Women group phase 2022/23.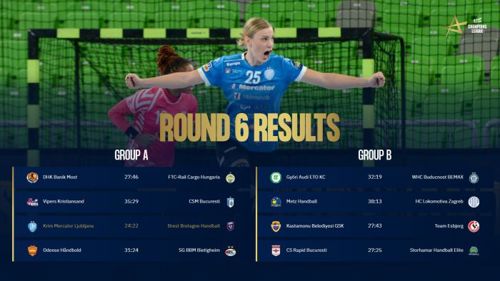 17:45
Adrian Costeiu's match reviews for our first three games of Sunday afternoon can be read if you click below.
17:35
Odense take an impressive seven-goal win against Bietigheim to end the German side's unbeaten run in the EHF Champions League Women 2022/23 season.
Odense's attack, led by a superb performance from Mie Højlund, outclassed Bietigheim from the start of the match until the final whistle. In the process, Odense scored more goals against Bietigheim in an EHF Champions League match this season than any other side so far.
Højlund finished as Odense's top scorer with 10 goals, while Julia Maidhof topped Bietigheim's scorers with seven players – and both players received the player of the match award for their respective sides.
Odense remain in fifth place in group A but are now two points clear of Krim and Brest Bretagne.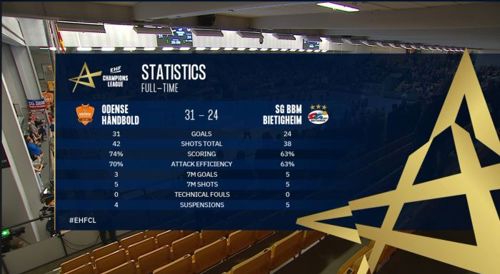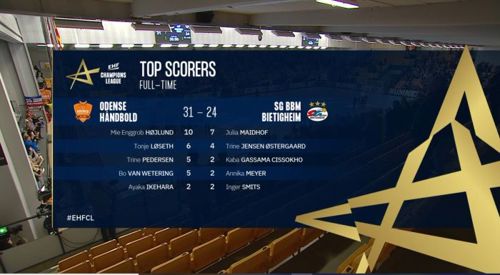 17:17
Odense have capitalised on a double suspension for Bietigheim to take a 27:20 lead with eight minutes remaining. Unless something remarkable happens, Bietigheim's unbeaten run is about to end. 
17:11
Althea Reindhart is having an excellent evening in goal for Odense. Pushing away Bietigheim's shots from nine metres is proving a straightforward task for Odense's number one goalkeeper.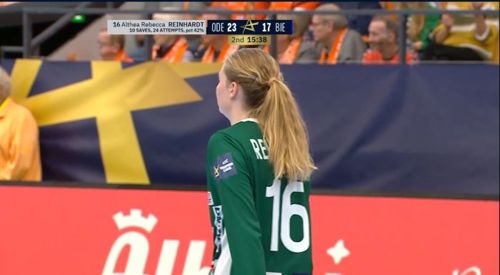 17:05
It's the theme of the match for Odense: Mie Højlund beats whoever is standing at right back in defence for Bietigheim, and then she either shoots or gives the ball to her left wing.
Bietigheim aren't having much success in trying to thwart the Danish left back, and Odense have extended their lead to 22:17 after 43 minutes.
It was a tough game. We knew it was an important game for us. We really needed to win here, but I think at the beginning we did not play well in attack. They played smart when they were a few goals in front of us. We both played a good game, but they were smarter than us and won

16:50
Will instinctive shooting like this effort from Inger Smits hold the key to the second half for Bietigheim? The German side's shooting percentage stands at 66.7 per cent – but they have only had 18 attempts.
16:44
Despite a fightback from Bietigheim in the last 10 minutes of the first half, Odense have a two-goal cushion over their Germain opponents at half-time.
Indeed, Bietigheim's response to the deficit in the first half only truly came in the last five minutes through a 3:0 run that reduced Odense's lead from 13:9 to 13:12. Trine Pedersen's goal for Odense just before the buzzer has given them a 14:12 lead after 30 minutes.
Notably, Gabriela Moreschi has made four saves from seven shots faced for Bietigheim since replacing Melinda Szikora. If the German side are to claim the two points and extend their lead at the top of group A, they will need to limit the impact of Odense's Mie Højlund, who scored five goals in the opening 15 minutes. 
The key today was the defence. We were really concrete and focused on playing good defence. In every game we had some problems when starting the second half, but today we managed to hold on in the defence and that is how we kept the difference in goals.
16:23
Markus Gaugisch has brought in Brazilian goalkeeper Gabriela Moreschi to replace Melinda Szikora. It hasn't been a move that the German coach has needed to make too often so far this season, but with Szikora having a save percentage below 10 per cent after she had faced more than 10 shots, it is a logical decision.
16:17
With 15 minutes gone in Denmark, Bietigheim are struggling to contain Odense's attack. Mie Højlund has been at the heart of Odense's impressive start, scoring five goals from five shots, while Melinda Szikora has only made one save for Bietigheim from 12 shots faced. Odense lead 11:7. 
16:01
Odense have opened our final round 6 match with a goal on their first attack from Tonje Løseth.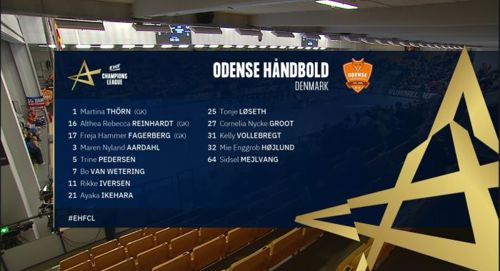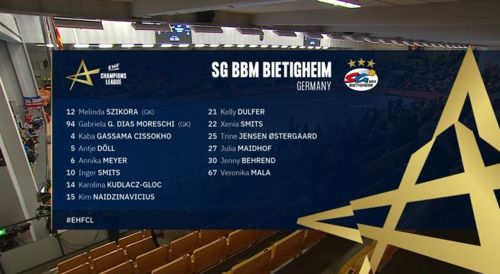 15:54
We have less than 10 minutes to go until our final match of round 6. Bietigheim will move two points clear at the top of group A if they win, whereas Odense will have two points more than Krim and Brest if they claim a home win in Denmark. 

15:48
Before we move away from the Match of the Week for now, here are the scorers and a shot of Barbara Arenhart picking up her award as the Player of the Match.
It is also worth mentioning that Krim have moved above Brest in group A on goal difference.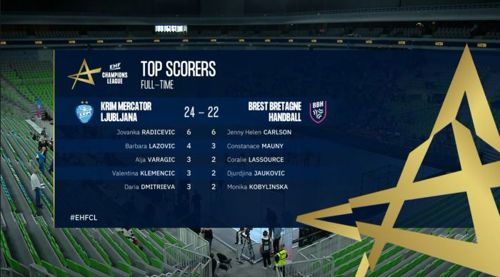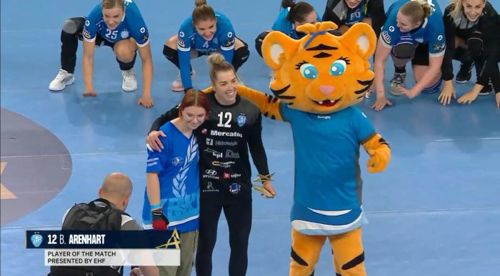 15:43
On a weekend for huge scores, Team Esbjerg scored more than 40 goals as they beat Kastamonu in Turkey.
Perhaps more significantly, Rapid Bucuresti salvaged their unbeaten record with a comeback in the second half against Storhamar. Rapid Bucuresti now have 10 points in group B – the same number as group leaders Györ – and are back in second place.
15:39
Krim secure a two-goal win in Match of the Week against Brest Bretagne after a magnificent from goalkeeping performance from Barbara Arenhart. Arenhart made an incredible 20 saves from 42 shots faced to finish with a save percentage of 48 per cent. 
In a match highlighted by performances from the goalkeepers, Cléopatre Darleux also recorded a save percentage above 40 per cent for Brest. However, Jenny Carlson was arguably the French side's best player. Thanks to her driving and darting runs, Carlson scored six goals – the same number as Jovanka Radicevic, Krim's top scorer. 
With the win in Match of the Week, Krim have joined Brest on four points in group A.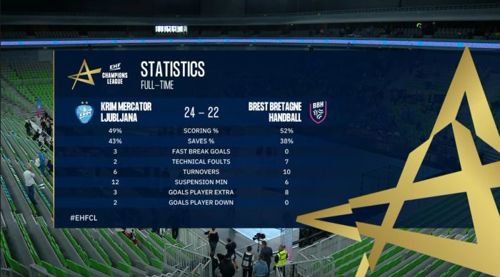 15:23
As we enter the last six minutes, Krim have a five-goal advantage, 22:17, and appear on course to seal their second victory in group A. While their shooting percentage remains below 50 per cent, Barbara Arenhart's save percentage stands at almost 53 per cent.
15:13
Brest coach Pablo Morel calls a timeout. As is almost customary for a coach of a team trailing by five goals or more with time running out, he mentions that his side will use "seven against six" in attack.
Meanwhile, check out Barbara Arenhart at her best for Krim. If Brest are to come back, they will need to find a way past Arenhart.
15:10
With Radicevic, Stanko and Dmitrieva all missing penalties for Krim, Alja Varagic is now on penalty duty. The Slovenian side have extended their lead to four goals, 17:13, with a quarter of the game remaining. 
15:07
It's a game where scoring remains a challenge for both teams, which is creating a gripping contest, but Jovanka Radicevic is only four goals away from tying Anita Görbicz's all-time record in the EHF Champions League.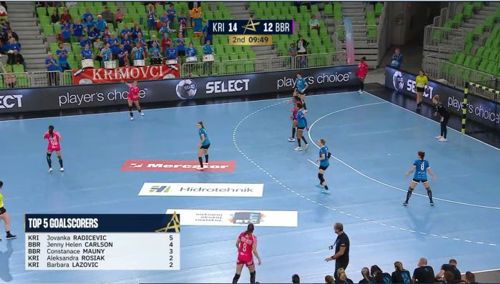 14:58
The second half of the Match of the Week is under way in Slovenia, and Cléopatre Darleux has denied Jovanka Radicevic from the seven-metre line. When Tjaša Stanko stepped up to take Krim's next penalty, she hit the post. Krim lead 13:11 after 35 minutes.
In case you wanted to see the EHFTV graphics with the scorers and goal timeline from the first half, here they are.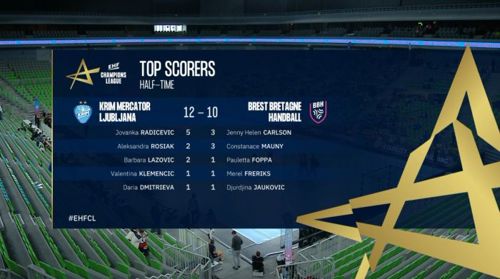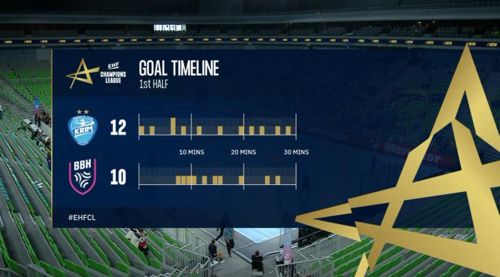 14:48
Beyza Irem Türkoglu, who played for Kastamonu from 2019 until 2021, is Esbjerg's top scorer after the first half in Turkey. The Turkish left wing has scored four goals from five shots for the Danish club.
14:45
Both Scandinavian sides are in front at the break in our two matches in group B, which is not something that you would necessarily have expected. While Team Esbjerg are in a commanding position after scoring 25 goals in the first half against Kastamonu, Storhamar have a slender lead against unbeaten Romanian side Rapid Bucuresti. 
14:40
A low-scoring first half in Match of the Week ends with Krim having a two-goal advantage, 12:10, over Brest Bretagne.
After Krim made a strong start with a 4:0 run, with Jovanka Radicevic scoring her first three shots, Brest worked their way back into the game via a couple off excellent finishes from Constance Mauny and some break through moves from Jenny Carlson.
As you would expect in a contest where the defences have held the upper hand, the goalkeepers have had a huge impact during the first half. According to the official match page, Barbara Arenhart has made 13 saves from 23 shots faced for Krim, while Brest's Cléopatre Darleux has stopped nine shots from 20 faced.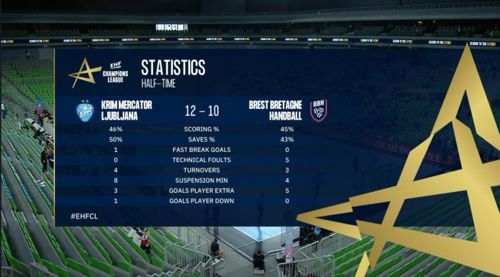 14:29
Suspensions are one part of the game where Krim would probably like to improve. While a tough and strong defence is necessary to support Arenhart in goal, Krim have received four suspensions in the first 25 minutes – and each suspension has been picked up by a different player. Krim lead 10:9.
14:26
Barbara Arenhart and Cléopatre Darleux both have save percentages above 35 per cent after 22 minutes. Indeed, Arenhart's is above 45 per cent, but Darleux made the first big one-on-one stop of the half.
14:24
For the most part, Brest are trying to be more patient in attack than Krim. However, despite the fact that the French side have drawn level, their shooting percentage is below 50 per cent. 
14:11
After a 4:0 start for Krim, with Jovanka Radicevic scoring three goals from three shots, Brest have responded with two goals from Constance Mauny on the left wing. Krim's lead could have been bigger if Daria Dmitrieva hadn't fired a penalty over Darleux and the bar.
14:02
Krim's noisiest supporters are set to cheer the team on for the next 60 minutes.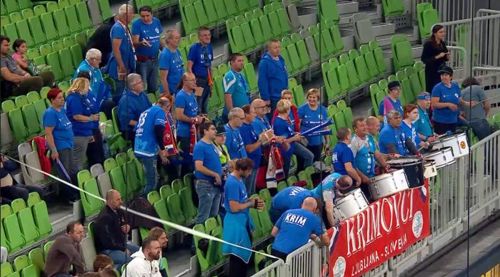 13:48
Don't forget that the three matches starting at 14:00 CEST are available live on EHFTV – though geo-blocking may apply in your country
Watch MOTW: Krim Mercator Ljubljana vs Brest Bretagne Handball
Watch: CS Rapid Bucuresti vs Storhamar Handball Elite
Watch: Kastamonu Belediyesi GSK vs Team Esbjerg 
13:42
Brest are two points ahead of Krim in the group A standings – but this afternoon's match may be a significant factor in deciding the final play-off berth when the group phase concludes in February 2023.
Brest left wing Coralie Lassource understands the significance for her side of winning their final match before the break for the Women's EHF EURO 2022. 
"It's going to be a game with a lot at stake. I think it will be a big atmosphere and there will be a lot of tension. The difficulty for us is that we will not be at home. We are keen to win, to play a good match, especially after our defeat against Odense. We want to go for the victory before the international break and, above all, to produce the best game possible," said Coralie Lassource. 
13:35
Krim coach Dragan Adzic is confident that his side will be familiar with their French opponents this afternoon.
"Brest is an opponent we know. They have already played quite a few matches, so we were able to perform a qualitative analysis. We know all their strengths. We are preparing for the match as much as possible; we have learned something from each match," said Adzic on Thursday.
Interestingly, Krim have not faced Brest since February 2020, when they lost both matches in the main round of the EHF Champions League. 
From the match on 29 February 2020, players highlighted bold remain at Brest or Krim.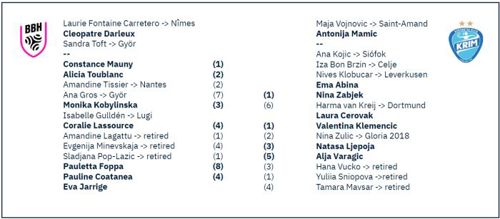 13:25
At 14:00 CEST, we have the Match of the Week between Krim and Brest Bretagne. Krim right wing Jovanka Radicevic and Brest Bretagne left back Djurdjina Jaukovic have both scored 29 goals in the EHF Champions League this season. Significantly, Jovanka Radicevic is just nine goals short of Anita Görbicz's all-time record of 1,016 goals in the EHF Champions League.
Speaking on Thursday, Radicevic put some emphasis on Jaukovic's contribution to Brest since her return from injury.   
"The game will be the game of the week. It means a lot to both teams, so I expect us to play well in both halves and come out victorious. Despite the fact that we have lost games, there were many good things. Brest plays a lot on Djurdjina Jaukovic, but we must not forget the other players who are just as good. Jaukovic is the engine of the team; she he pulls all the strings and gives them stability," said Jovanka Radicevic.
13:15
Good afternoon and welcome to Sunday's coverage from round 6 of the EHF Champions League Women group phase 2022/23.
We begin this afternoon with a correction for an error made on Saturday: FTC's 46 goals scored against did not the tie for the record for the most goals scored in an EHF Champions League match. FTC broke their club record for most goals scored, and Most equalled their record for most goals conceded, but WHC Vardar still hold the competition record for their 47:29 win against RK Krim Mercator in March 2015.
We played with the same feeling and the same intensity until the end, putting Lokomotiva under pressure, and I'm happy with that beyond the difference in the score. It was important to win tonight in front of our public with a good atmosphere, which makes me even happier.
20:30
The match reviews for our final three games of Saturday are now online for you to read.
You can find out more about how Vipers, Györ and Metz recorded wins over CSM Bucuresti, Buducnost and Lokomotiva Zagreb, respectively.
The live blog will return at 13:00 CEST on Sunday for coverage of four more EHF Champions League matches.
14:00 CEST
MOTW: Krim Mercator Ljubljana vs Brest Bretagne Handball
CS Rapid Bucuresti vs Storhamar Handball Elite
Kastamonu Belediyesi GSK vs Team Esbjerg
16:00 CEST
Odense Håndbold vs SG BBM Bietigheim
20:20
With Vipers Kristiansand ending CSM Bucuresti's unbeaten record this evening, only Bietigheim and Rapid Bucuresti remain unbeaten in this season's group phase.
On Sunday, Bietigheim have what appears a tricky away match against Odense, who beat Brest in round 5, while Rapid Bucuresti face Storhamar. Storhamar's two wins season this came against Kastamonu and Lokomotiva Zagreb – the teams currently occupying the bottom two places in group B. 

20:10
Kristina Jörgensen was one of three players to score six or more times for Metz against Lokomotiva Zagreb. With the French side in complete control of the match, there was an opportunity for the Danish back to taste some in-flight action early in the second half.
20:01
We have some post-match reaction after Györ's win over Buducnost from Silje Solberg and Bojana Popovic. 
"It is always good to have a good defence in front of me, so I had a lot of help and we were playing with our heart. Everyone enjoyed playing today and it was a really good feeling to be on court. I am proud of my team and I think it was great teamwork today," said Silje Solberg, Györ goalkeeper
"It was difficult for us, of course, but sometimes we found some good solutions in attack. We fought until the end, but I have a young team, so it was good training for us to improve and learn from Győr. In the first half we made a lot of mistakes, so there was a big pressure on us, even though we have been working hard, but I hope we will be able to learn from them," said Bojana Popovic, Buducnost coach.













19:46
The goal timeline of the second half between Vipers and CSM shows that the away side's scoring drought in the first 10 minutes after half-time made the difference. Once Vipers had established a lead at the start of the second half, their proficient attack didn't relent.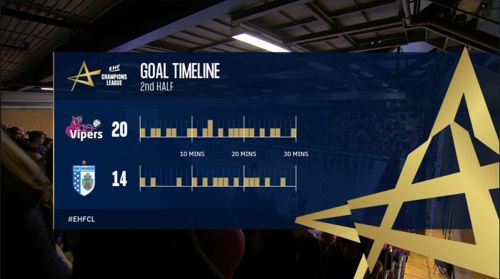 19:42
In group B, Metz have recorded an enormous 25-goal home win against Lokomotiva Zagreb, who join Banik Most as the only teams in the competition with six losses from six matches. Metz now have nine points in group B and are one ahead of Rapid Bucuresti. The Romanian side will host Storhamar on Sunday.
After their win against Buducnost, Györ will retain first place in group B at the end of round 6. Györ now have 10 points and a vastly superior goal difference in comparison to Rapid Bucuresti.
19:32
Vipers Kristiansand record a six-goal win against CSM Bucuresti in the Aquarama Kristiansand to move above the Romanian side in the group A standings.
Markéta Jerábková finished with 11 goals from 16 shots for Vipers, while Cristina Neagu's efficiency for CSM was lower after she scored 10 goals from 19 shots.
For CSM, this is their first defeat of the EHF Champions League season.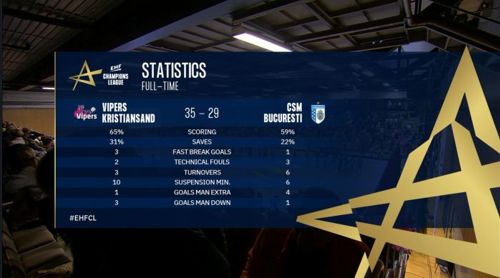 19:24
Vipers, Metz and Györ have all passed the 30-goal mark in their matches. Importantly, Vipers currently lead 34:28 against CSM, and they need at least a six-goal win to take second place at the end of this evening.
19:22
A Norwegian team is heading for victory in group A – and Stine Oftedal is beating Buducnost's defence as Györ do likewise in their group B encounter.
19:19
Ole Gustav Gjekstad calls a timeout with Vipers leading 31:27 with less than seven minutes remaining.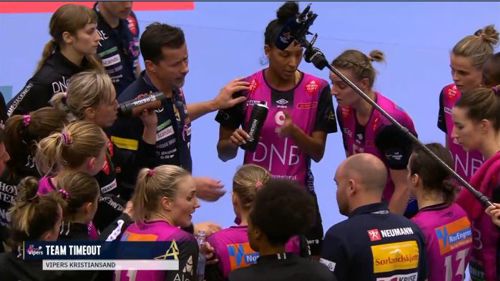 19:15
It doesn't tell the whole story as to why Vipers are in front, but Jerábková and Lunde are winning their effective head-to-head battles against Neagu and Davidsen.
Markéta Jerábková: 11 goals from 16 shots.
Cristina Neagu: nine goals from 16 shots.
Katrine Lunde: 10 saves from 35 shots faced.
Marie Skurtveit Davidsen: eight saves from 31 shots faced.
19:11
In the most careless manner, Emilie Hegh Arntzen loses the ball off the throw-off and Jana Knedlikova converts an empty net chance to give Vipers a 28:23 advantage.
19:05
Malin Larsen Aune pumps her first after disrupting Vipers' attack and causing a turnover. CSM coach Adrian Vasile said during a timeout that he was going to play "seven against six" on their next attack.
19:03
This match is tilting in Vipers' favour. While CSM need to strike right balance between Neagu – who has scored six goals from 12 shots – having a positive influence and doing too much, they simply need more moments like this right now.
18:57
While Jerábková was serving a suspension for Vipers, Ragnhild Dahl unleashed a powerful shot to extend Vipers' lead to 19:17. Sunniva Næs Andersen's latest goal from the left wing has made it 20:17 in the Norwegian side's favour.
18:51
Siraba Dembele Pavlovic scored CSM's first goal against Vipers and finished the first half with four goals from five shots. She was the Romanian side's joint top scorer after 30 minutes, but Cristina Neagu is now on five goals after firing in another goal at the start of the second half.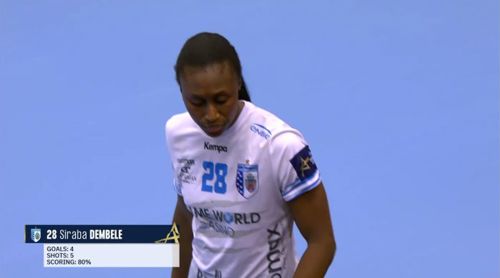 18:45
Elsewhere in the EHF Champions League Women, Metz have seized control of their match against Lokomotiva Zagreb, with Bruna de Paula scoring five goals in the first half, while Györ hold a six-goal advantage against Budcunost
18:41
After an engaging first half in the Aquarama Kristiansand, Vipers Kristiansand and CSM Bucuresti cannot be separated. The away side had the upper hand in the opening quarter, establishing a 10:8 lead, but Vipers have responded through Markéta Jerábková and Jana Knedlikova. The Czech pair account for nine of Vipers' 15 goals in the first half.
Katrine Lunde and Marie Skurtveit Davidsen both had good moments in goal the first half. Indeed, if not for Davidsen's eight saves, five of which came in the last five minutes of the first half, CSM might have found themselves trailing at the break.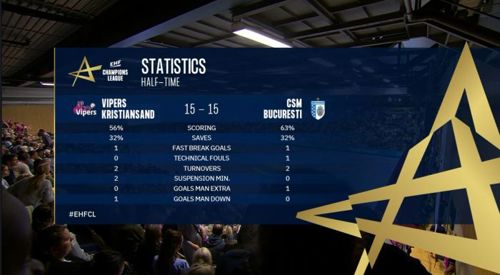 18:27
The Jerábková-Knedlikova combination drew Vipers level at 12:12, and Knedlikova's fourth goal has given the Norwegian side a 14:13 lead after 24 minutes. 
Meanwhile, check out Anna Vyakhireva's assist in the first 10 minutes for Vipers. 
18:21
Markéta Jerábková is largely driving Vipers' attack. The Czech back has officially taken seven of the Norwegian side's 16 shots so far, and she is playing in the centre of their back court. Her pass to Jana Knedlikova set up a fast break chance that her Czech teammate took to reduce the deficit to one goal, 11:10.
18:13
Cristina Neagu failed to score with her first two shots – but she didn't make the same mistake with her third. CSM have an 8:6 advantage after 12 minutes in Norway.
18:09
Of course, CSM are not without Norwegian players, and Marie Skurtveit Davidsen and Emilie Hegh Arntzen have just issued a reminder to the hosts about what they can do. After Davidsen made a top save at one end of the court, Arntzen converted a penalty to give CSM an early 5:2 lead.
18:02
Left wings are to the fore in the first two minutes as Sunniva Næs Andersen (Vipers) and Siraba Dembele Pavlovic (CSM) open the scoring for their sides.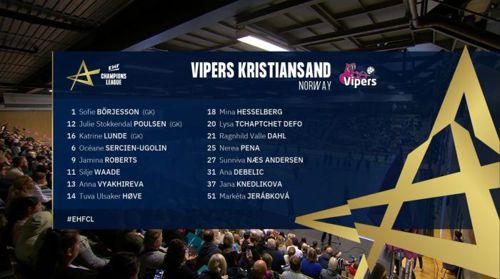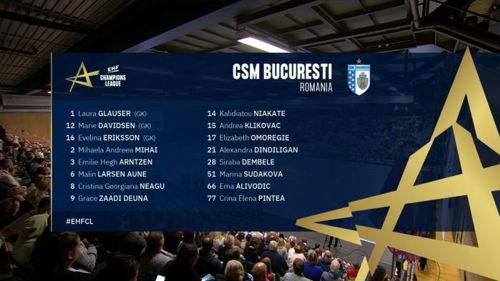 17:59
CSM are seemingly not without some support in Kristiansand.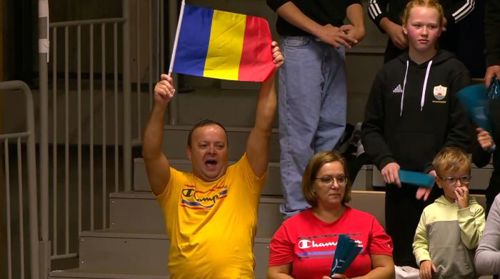 17:53
The throw-off for Vipers Kristiansand vs CSM Bucuresti is less than seven minutes away – but that is more than enough time for you to read the match review of FTC's thumping win over Banik Most. The review is available if you click on the link below.










17:45
If you can watch the action, three matches that throw-off at 18:00 CEST are up next on EHFTV. Our focus on the blog will be on Vipers Kristiansand vs CSM Bucuresti. 
WATCH: Györi Audi ETO KC vs WHC Buducnost BEMAX
WATCH: Metz Handball vs HC Lokomotiva Zagreb
WATCH: Vipers Kristiansand vs CSM Bucuresti
17:40
As we said earlier, Andrea Lekic controlled the match for FTC from the centre of the court. The Serbian centre back scored five goals from six shots, including this strike from somewhere close to nine metres, but her overall influence on the game was more than just how many goals she scored.
17:35
We are awaiting confirmation of how many goals Charlotte Cholevová scored for Most. The EHFTV graphic below says eight goals but the EHF ticker and match page displayed seven goals. Either way, the Czech left back deserves credit for her fine finish to the match.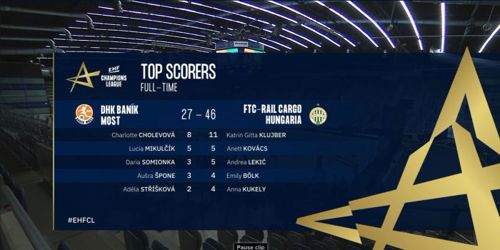 17:32
FTC equal the record for the most goals scored in an EHF Champions League match as they secure a 19-goal win over Banik Most.
While Katrin Kljuber, FTC's top scorer, finished with 11 goals after adding three more to her tally in the second half, Charlotte Cholevová was Most's top scorer after her late scoring burst.
After recording their third win of the season, FTC now have seven points in group A. Meanwhile, Most's wait for a first win goes on.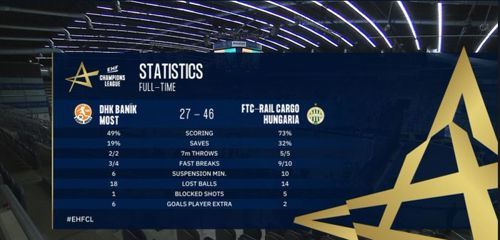 17:22
It is looking less likely that FTC will break the record for the most goals scored in an EHF Champions League Women match. With three and a half minutes remaining, FTC lead 43:23 against Most.
17:16
"Nice pass by Andrea Lekic to Dragana Cvijic," says the announcer in the Rocknet Arena.
Indeed, the link-up between FTC's Serbian duo was nice, and Andrea Lekic has largely controlled the game from her position in the centre of FTC's back court. 
17:13
Klujber opens her account for the second half and is now the top scorer of the EHF Champions League Women 2022/23. FTC have had 48 shots in 47 minutes, which illustrates how high the tempo has been throughout the match, and their shooting percentage is still above 70 per cent.
17:07
For those who like their facts and figures, FTC need to score 47 goals to break the record for the most goals scored in an EHF Champions League match. 
The current record of 46 goals is jointly held by Bietigheim (vs Most, September 2022) and Györ (vs Most, October 2019).
17:02
Polish line player Daria Somionka is still smiling as she scores her third goal for Most. However, FTC lead 30:14 after 38 minutes and remain on course for a huge victory.
16:58
Some positive news for Most: goalkeeper Dominika Müllnerová has stopped Katrin Klujber's first two attempts of the second half.
Incidentally, if Klujber scores another goal in this match, she will hold outright first place in the top scorer standings for the EHF Champions League Women 2022/23.

16:49
Before the second half begins in the Czech Republic, let us take a look at the historic goal timeline from the first half between Most and FTC. There were seven individual minutes in the opening 30 minutes where FTC scored two goals.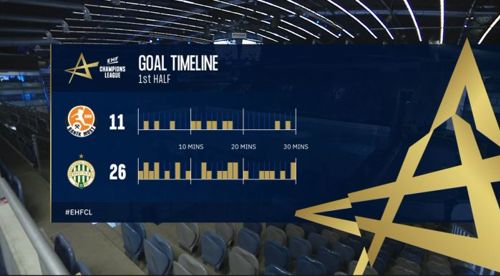 16:47
Katrin Klujber has already had an excellent afternoon in the Czech Republic. If Klujber spends a lot of time on the court in the second half, she could put some distance between herself and the other players contending for the top scorer title in the EHF Champions League Women this season.
16:41
After thoroughly dominating the first half, FTC have a 15-goal lead at the break against Banik Most.
For Banik Most, who conceded a record 25 goals in the first half against CSM Bucuresti in round 5, they have endured another record-breaking performance in the first 30 minutes – this time from FTC.
With Katrin Klujber scoring eight goals in the first half, FTC have scored 79 per cent of their shots as they have raced away to an unassailable position.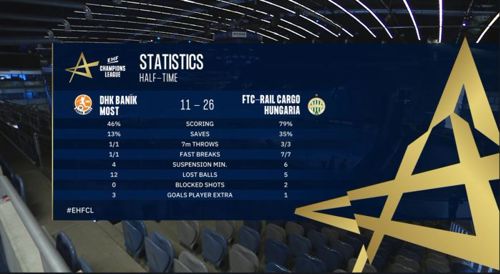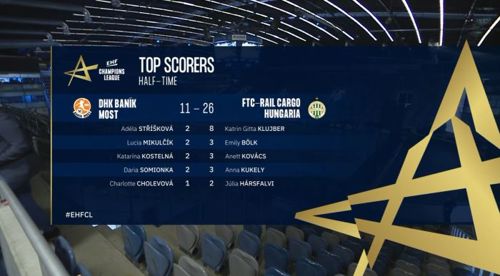 16:29
FTC intercepting or cutting out Most's fast break opportunities has been a feature of the first half. Unfortunately for Most, FTC's steals have contributed to the Czech side's total of 10 lost balls.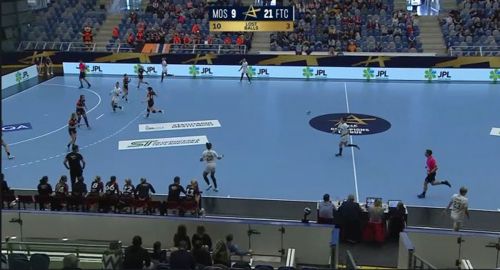 16:22
Emily Bölk scores a lob goal for FTC, her third of the game, and the Hungarian side have now scored 19 goals in just under 19 minutes to lead 19:9.
16:20
Ellen Janssen picks up a suspension for Most after Julia Harsfalvi finds a way to finish a fast break move for FTC. While Most have had some good moments in attack, the consistency of FTC's play is far superior. 
16:11
Katrin Klujber moving across the court to find a gap through the centre of Most's defence is creating serious problems for the Czech side. The Hungarian right back has just scored a fast break goal to extend FTC's lead to 9:3.
16:05
FTC have produced a rapid start to take a 5:1 lead after three minutes. The Hungarian side are moving the ball quickly in attack and have capitalised on any mistakes from Most.
15:59
The crowd in the Rocknet Arena is not the biggest that you will see in the EHF Champions League, but it is building as we near the throw-off for Most vs FTC.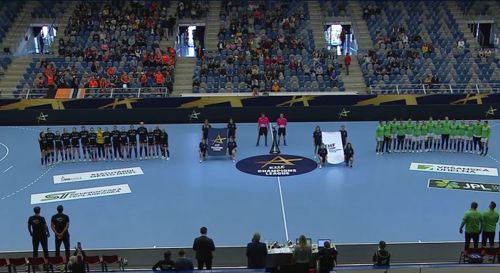 15:55
The countdown to the throw-off between Banik Most and FTC is under way on EHFTV.
Watch: DHK Banik Most vs FTC Rail Cargo-Hungaria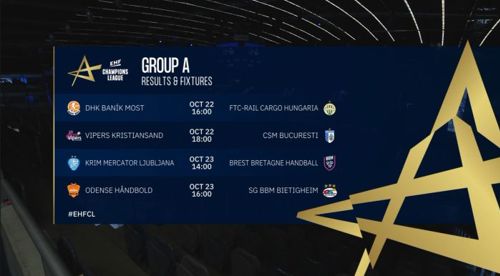 15:46
Most left back Tatiana Šutranová believes that the Czech side's performances are improving as they play more matches in the EHF Champions League. When Šutranová spoke on Thursday, she was hopeful that Banik Most can earn their first points in group A when they face FTC.
"Even if we have lost in our last match in Bucharest, I can see progress in our play. We are getting better in every match. I hope that we will show it in our upcoming match, and I hope it will lead to our first points in the Champions League. Some people think that it's a cliché, but this competition is a great experience for all of us, and we are taking from each match a lot for our future," said Tatiana Šutranová.
15:38
If FTC beat Banik Most in our first match this afternoon, the Hungarian side will join Vipers Kristiansand on seven points in group A. However, that may only be temporary, as Vipers face CSM Bucuresti in a mouth-watering clash at 18:00 CEST.
The defending champions could claim second place in group A if they beat CSM by six goals or more. Of course, with CSM being one of the three unbeaten sides remaining in this season's group phase, Vipers will be more than happy if they simply win.
15:30
Banik Most enter this afternoon's match against FTC on the back of five consecutive defeats in group A. For the Czech side, their narrowest loss came in round 4 against Brest Bretagne (31:26) – but they have lost by 10 goals or more in their other four games.
Head coach Adrian Struzik believes that Most need to improve their shooting percentage from their last outing against CSM Bucuresti.
"Our last match in Bucharest wasn't bad, although CSM have much stronger players then us. Our biggest problem was our shooting percentage; we had just three shots less than our opponent. This is the main thing we are focusing on right now," said Adrian Struzik.
15:15
Good afternoon and welcome to Saturday's coverage from round 6 of the EHF Champions League Women 2022/23.
As you probably know, this is the last round before the Women's EHF EURO 2022 begins in November. After this weekend, the 16 teams in the EHF Champions League will not play again until the start of December.
After the first five rounds of the competition, Bietigheim and CSM Bucuresti are at the top of group A with nine points. In group B, Györ and Rapid Bucuresti head the standings with eight points each.
This afternoon, though, we will start with a match between FTC-Rail Cargo Hungaria, who are in fourth place in group A, and DHK Banik Most, who have lost all five of their matches this season.
For more on the weekend's matches, check out the round 6 preview.