Summary: Krim secure last play-off spot as CSM fail to take first place
The last round of the group phase will decide the last sides making the play-offs as well as the crunch Match of the Week in Györ which will confirm the last direct quarter-final ticket. 
on Saturday Györ beat Esbjerg 29:28 to take the last quarter-final ticket; Vipers cruise to a 36:29 victory over Brest
on Sunday Bietigheim got a big win against Most but it was not enough to send them through, as CSM lost to Krim, sending the Slovenian side through
CSM's loss meant Vipers secured first place in group A
also on Sunday: FTC beat Odense; Metz came from behind to beat Storhamar and Rapid beat Lokomotiva
all matches live on EHFTV (geo-restrictions may apply)
18:50
ROAD TO BUDAPEST
Now that the group phase has been completed, here are the fixtures for the Play-offs
The first legs are due to be played on 18/19 March, and the second legs on 25/26 March
Metz Handball, Györi Audi ETO KC, Vipers Kristiansand and CSM Bucuresti have all advanced straight to the Quarter-finals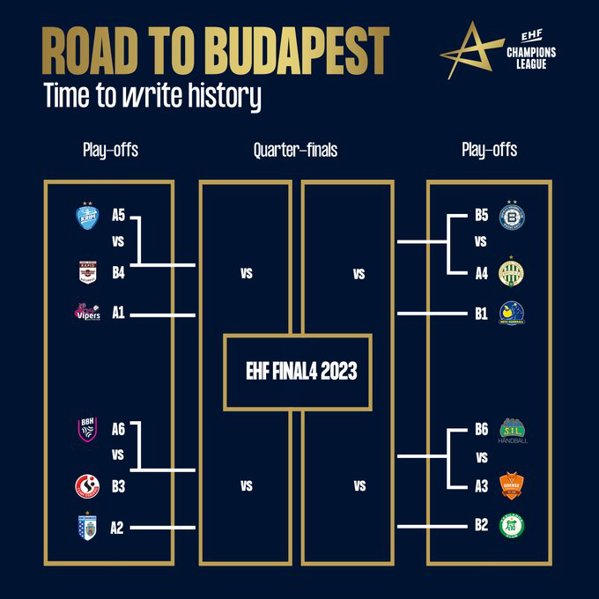 18:48
Thank you all for joining us over this weekend! We will leave you with an update on the Road to Budapest as we look forward to the knockout stages...
18:40
Missed any of this evening's action? Catch up with our awesome reviews
18:20
What a way to close out the group phase!
Take a look at some of the very best photos of the day
You can find more on our social media, @ehfcl, and in the match review galleries











We had many situations in which we had a match point. Unfortunately, we could not use these moments. Not to advance with 12 points is of course very disappointed and sad.
17:55
A reminder of the main qualification news today
Krim beat CSM Bucuresti to qualify from group A
that result meant CSM failed to take top spot from Vipers
and that Bietigheim's huge win over Banik Most was not enough to see them through
I am very proud of my players – how they reacted to this tough match because it was to survive for us. I think we can build on this for the next match against Rapid. I am very proud that we succeeded and thank all the fans that were in the hall today.
17:40
13 goals for Rapid's Orlane Kanor today... THIRTEEN!
17:34
FULL-TIME
Terrific comeback from Metz means they win by two and finish group B with 25 points from a possible 28!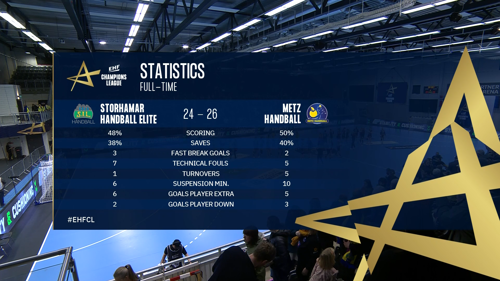 17:30
Full-time
Rapid kept their momentum going for the full 60 minutes to beat Lokomotiva 27:22
While FTC fought off Odense's last minute challenge and scored the final goal of their match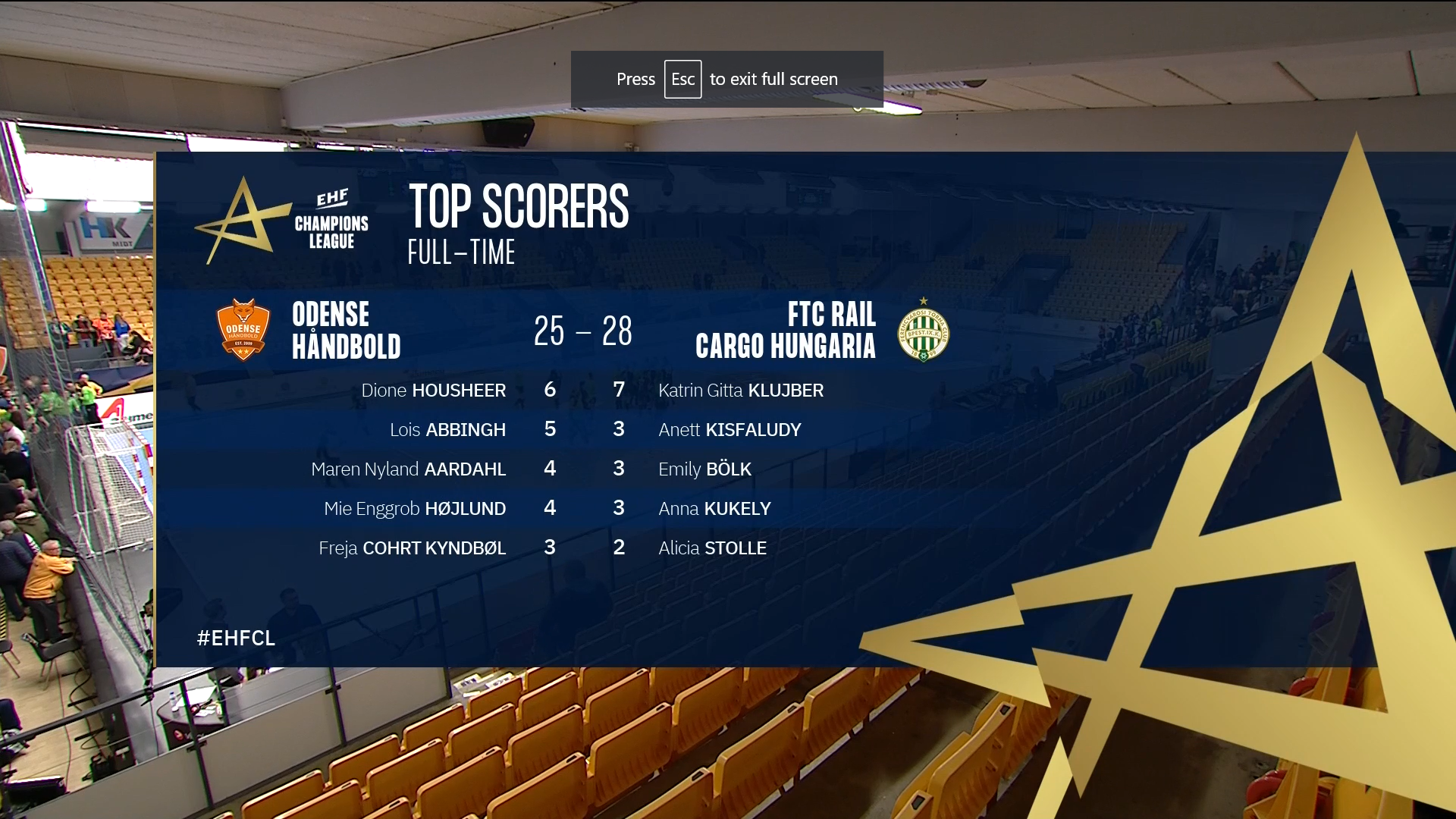 17:25
Odense are still 2 down going into the final minute and take a time-out to try and salvage something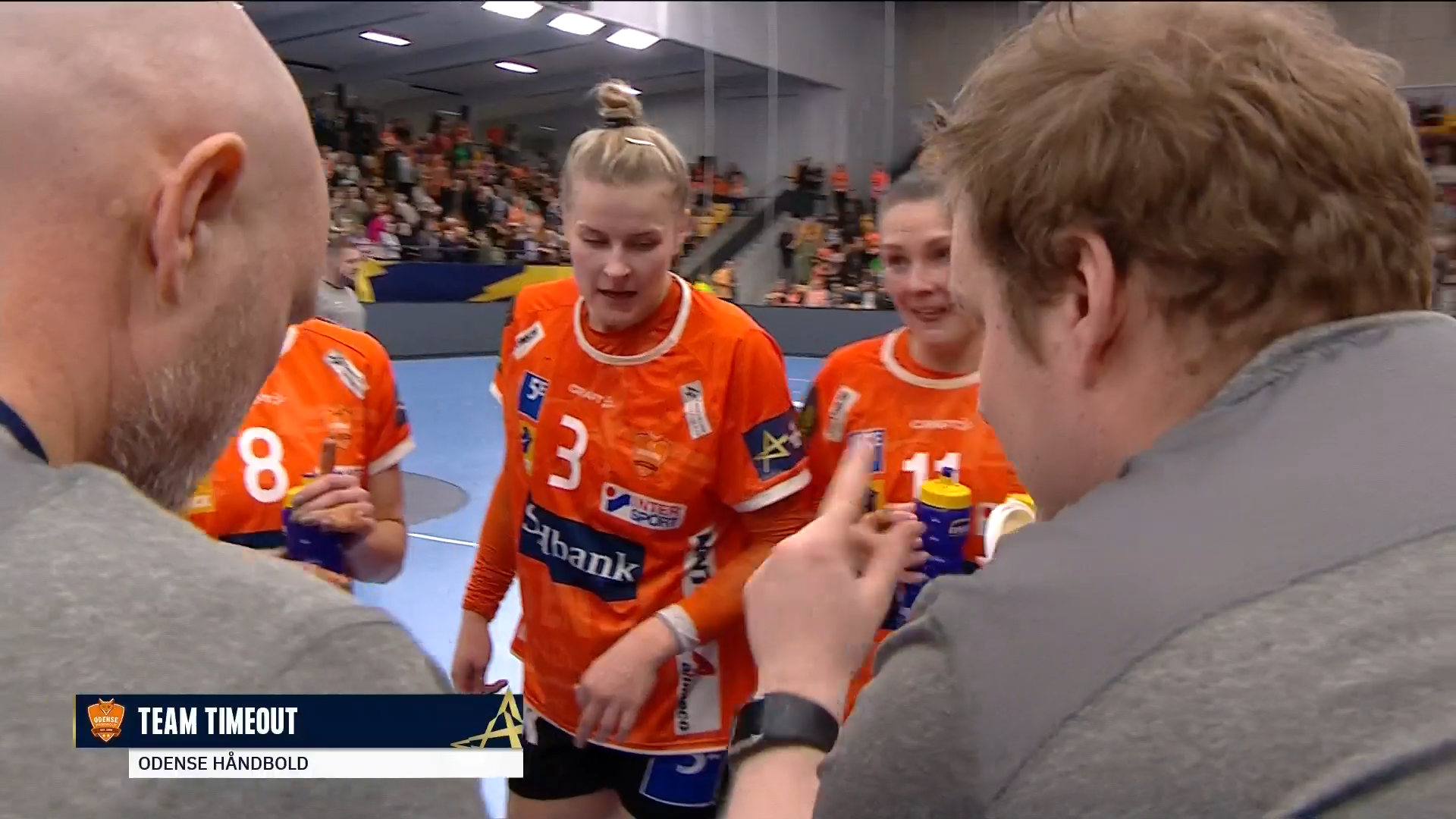 17:20
Five minutes remaining in Odense and the visitors lead by 2
Seven minutes to go in Storhamar and the visitors lead by 2
Three minutes to go in Bucharest and the hosts lead by 4
17:15
Yes, you did read that correctly a few minutes ago... Metz are now well in control against Storhamar!
Did the hosts get a little carried away earlier on?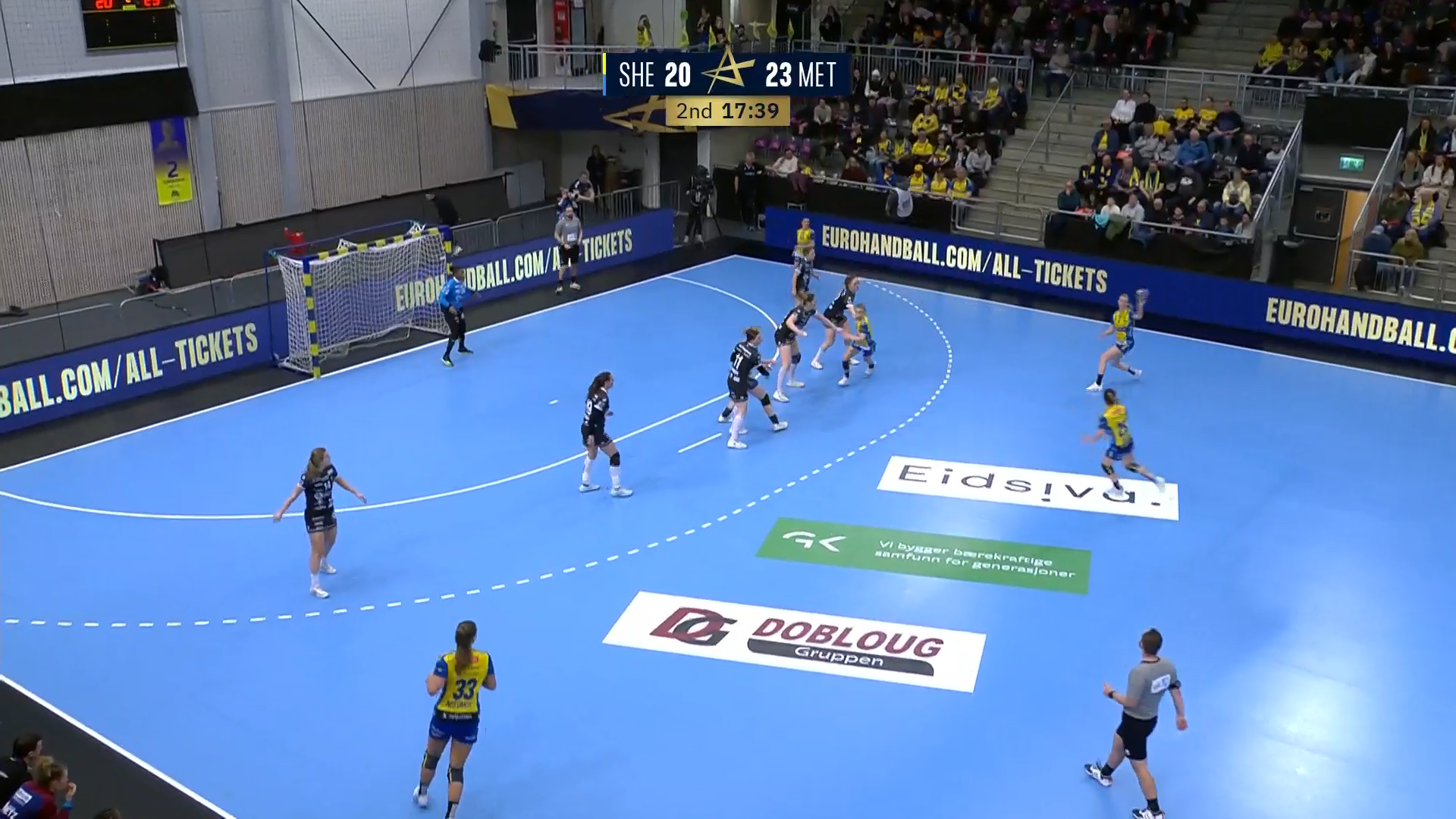 17:12
Goalkeepers. They're different. You see?
17:11
Goalkeepers. They're different.
17:08
Into the last 15 minutes of the EHF Champions League Women group phase
Odense 18:21 FTC
Rapid 21:19 Lokomotiva
Storhamar 19:22 Metz



17:02
They were 8:1 down... and now they trail by 1!
Still work to be done for Metz but they've shown why they're top dogs in group B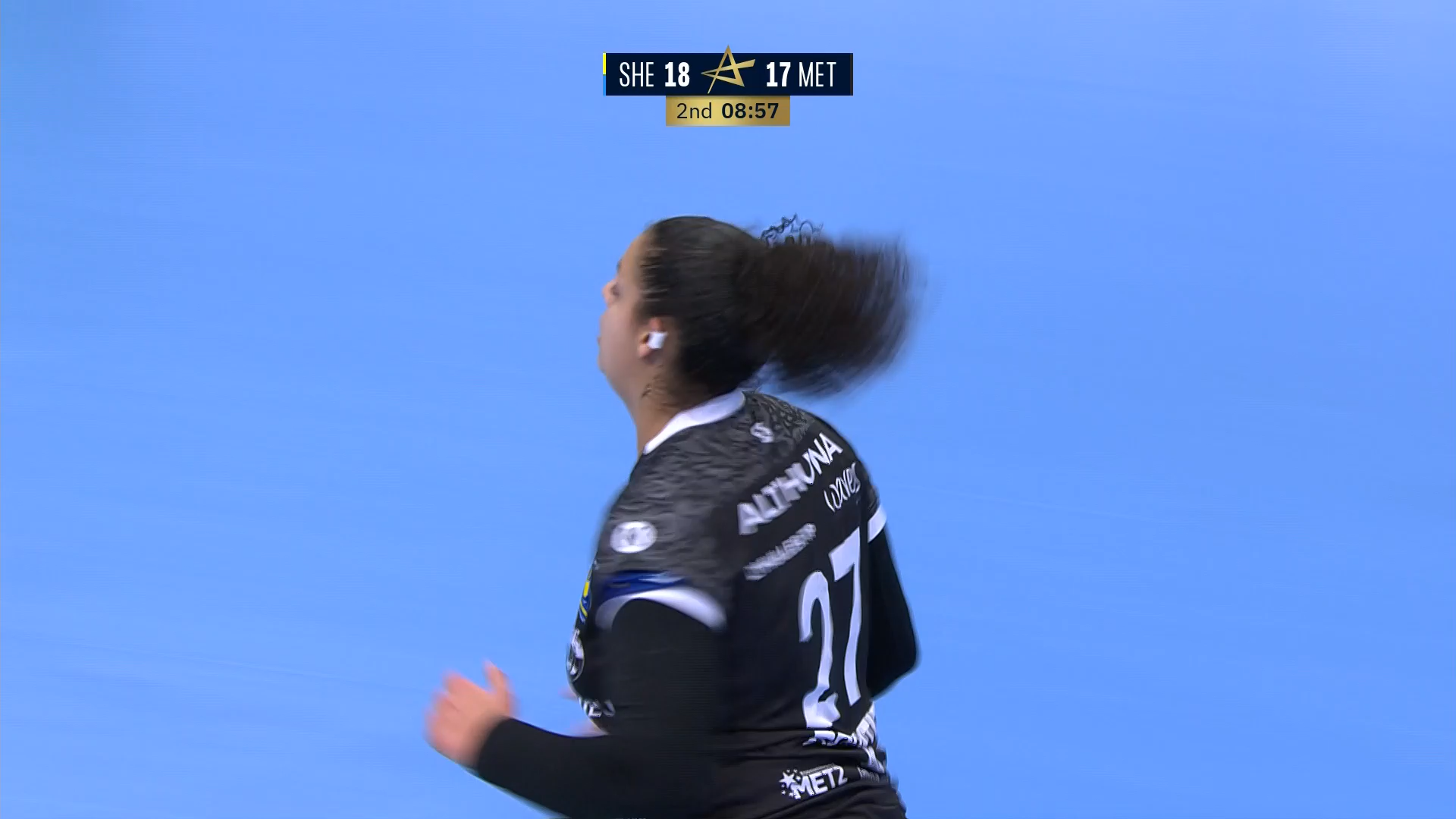 16:57
We'll never get bored of seeing this atmosphere at Rapid!
Lokomotiva cut the gap to 1 before Rapid reply with 1 of their own
16:52
Second half action around Europe is getting started, and remember you can watch live on EHFTV or follow on social media @ehfcl
16:45
While we wait for the second half action, be sure to check out the reviews of our two incredible matches from earlier today!
16:38
Half-time
Thanks to stuff like this, Rapid lead 15:12 at the break over Lokomotiva!
16:37
Half-time
FTC turned on the style midway through the half to open up a clear lead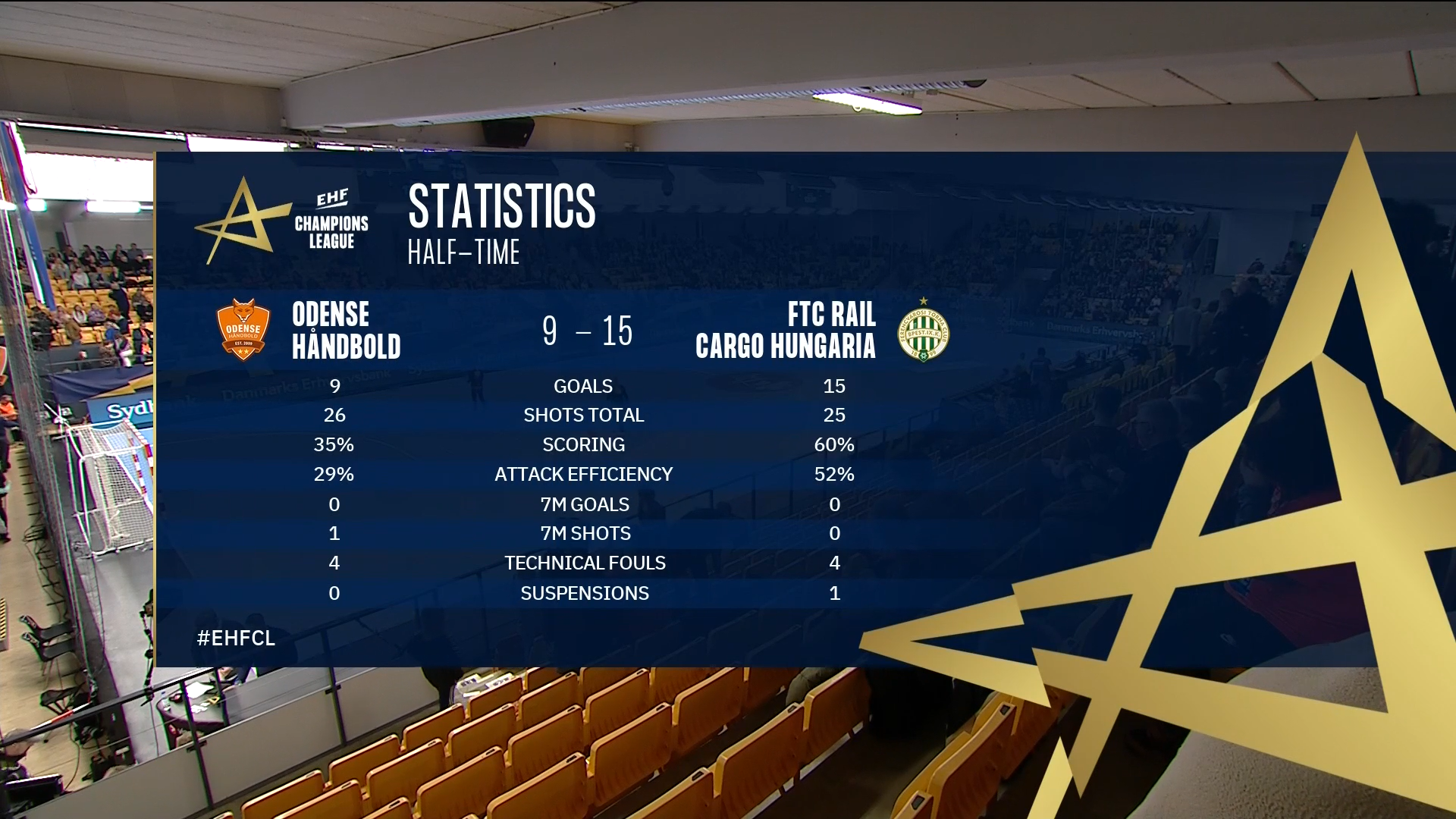 16:36
Half-time
The group winners do finally get going but Storhamar have put in a great performance!

16:29
We think Storhamar are enjoying the End of Group Phase Party!
They are 14:8 up!
16:26
FTC turned 7:8 into 7:11, but let's see how Odense respond to the player advantage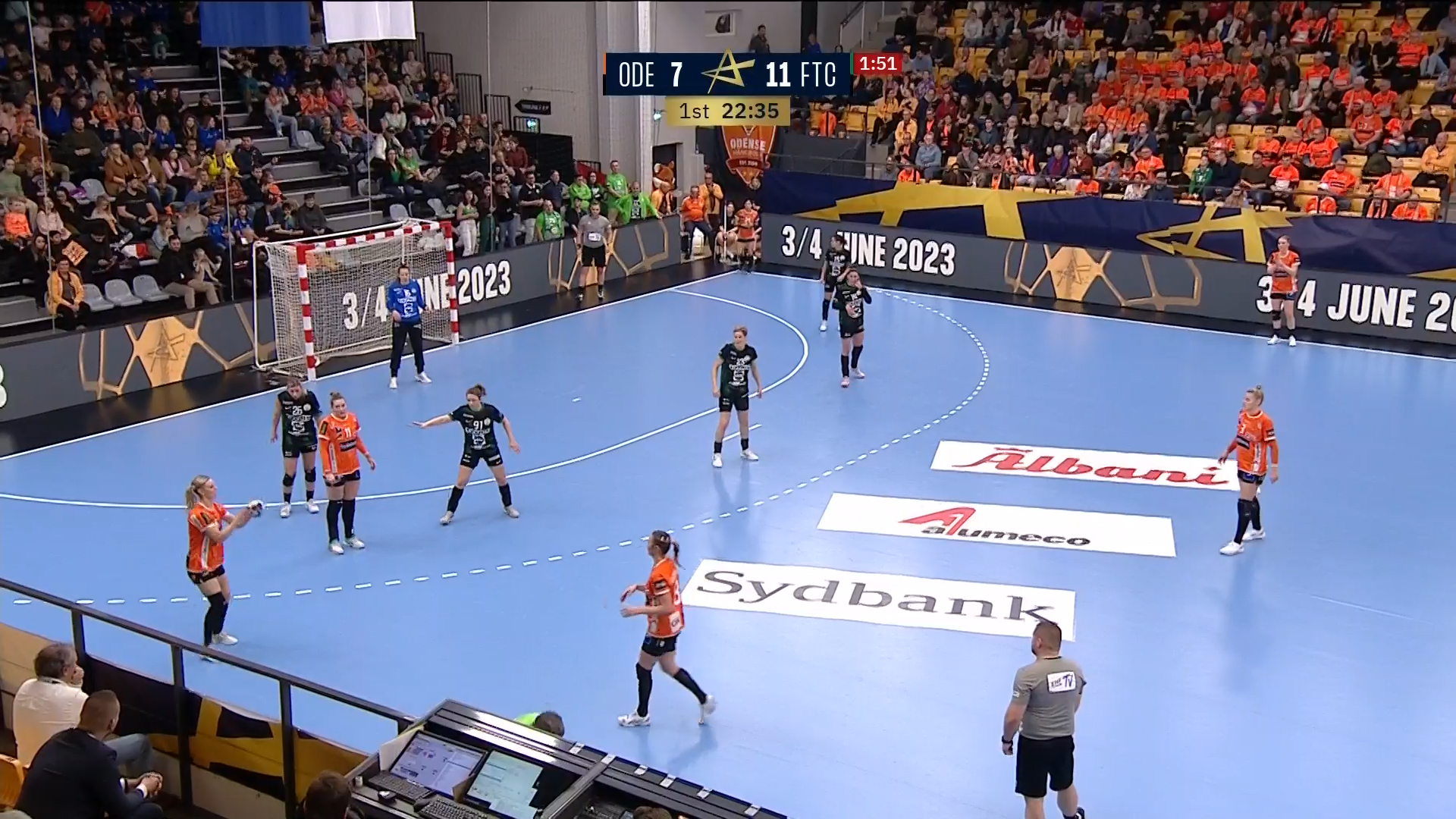 16:24
Lokomotiva scored from this attack to make it 12:9 as they try to end their season on a high!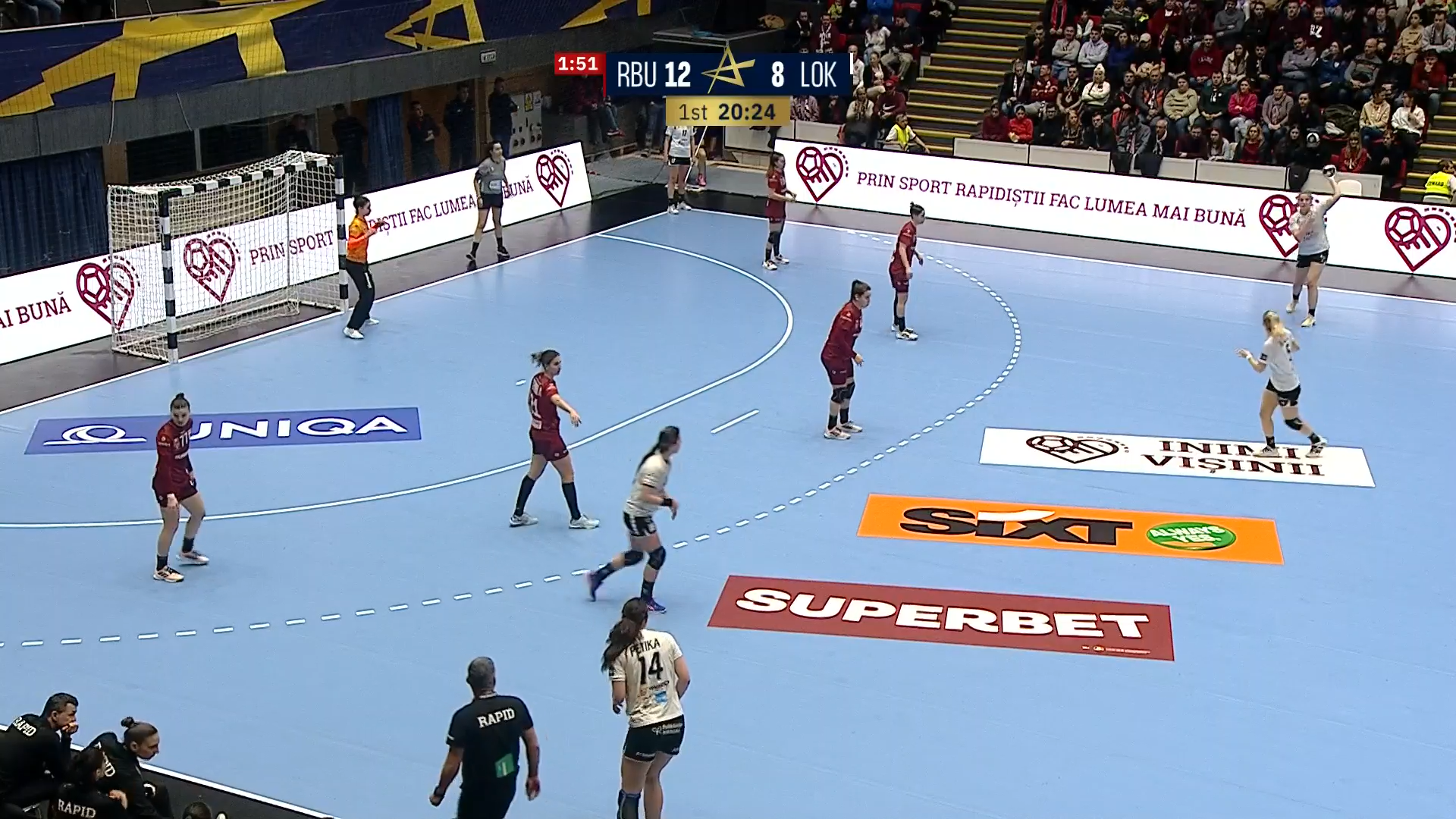 16:20
Approaching the 20 minute mark and it's still a healthy 12:5 lead for the home side!
16:13
What did Storhamar have for breakfast this morning? They were 8:1 up against Metz!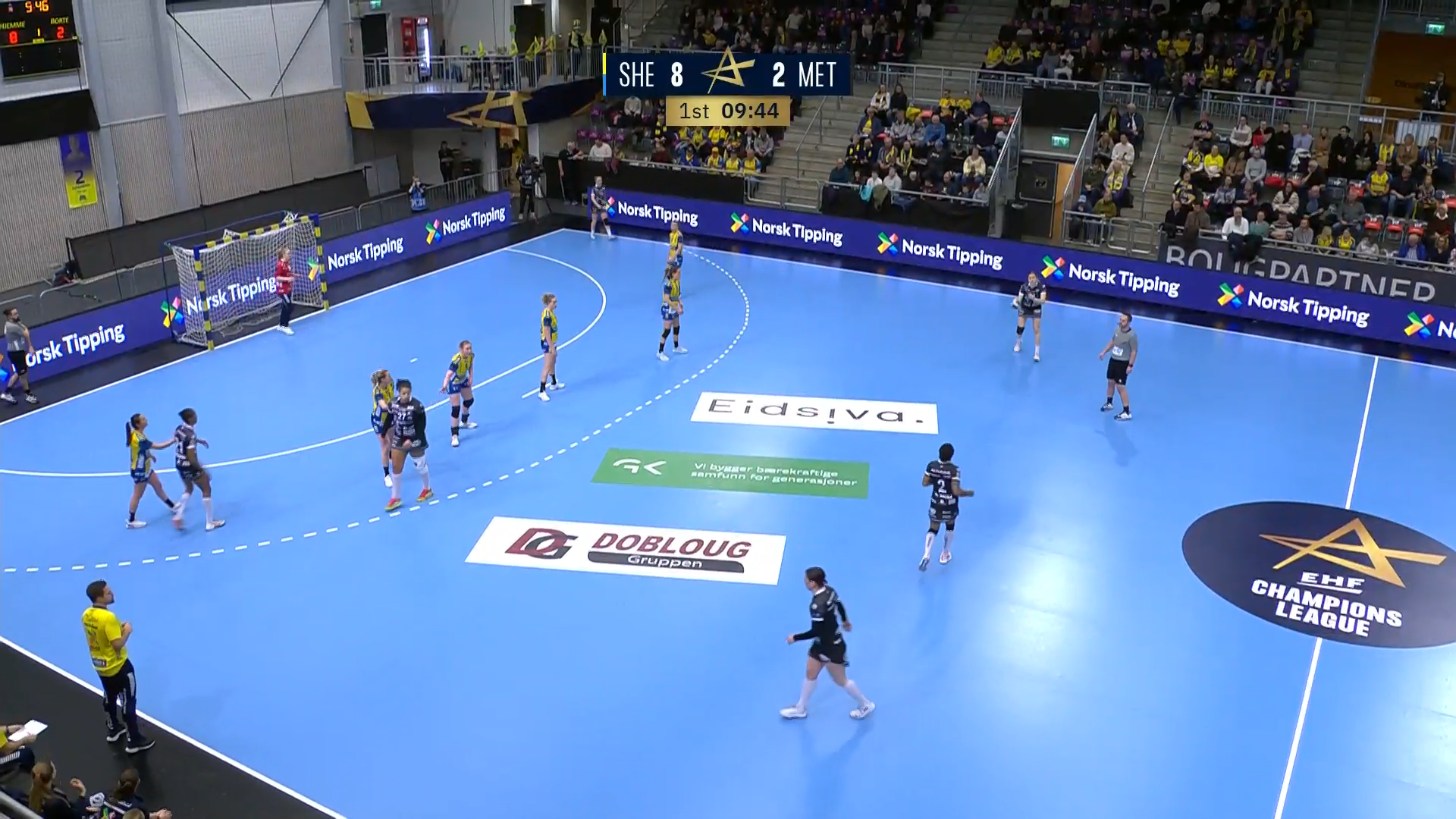 16:06
Lively start in Odense with both teams going goal for goal!
Rapid, meanwhile, have raced into a 5:1 lead over Zagreb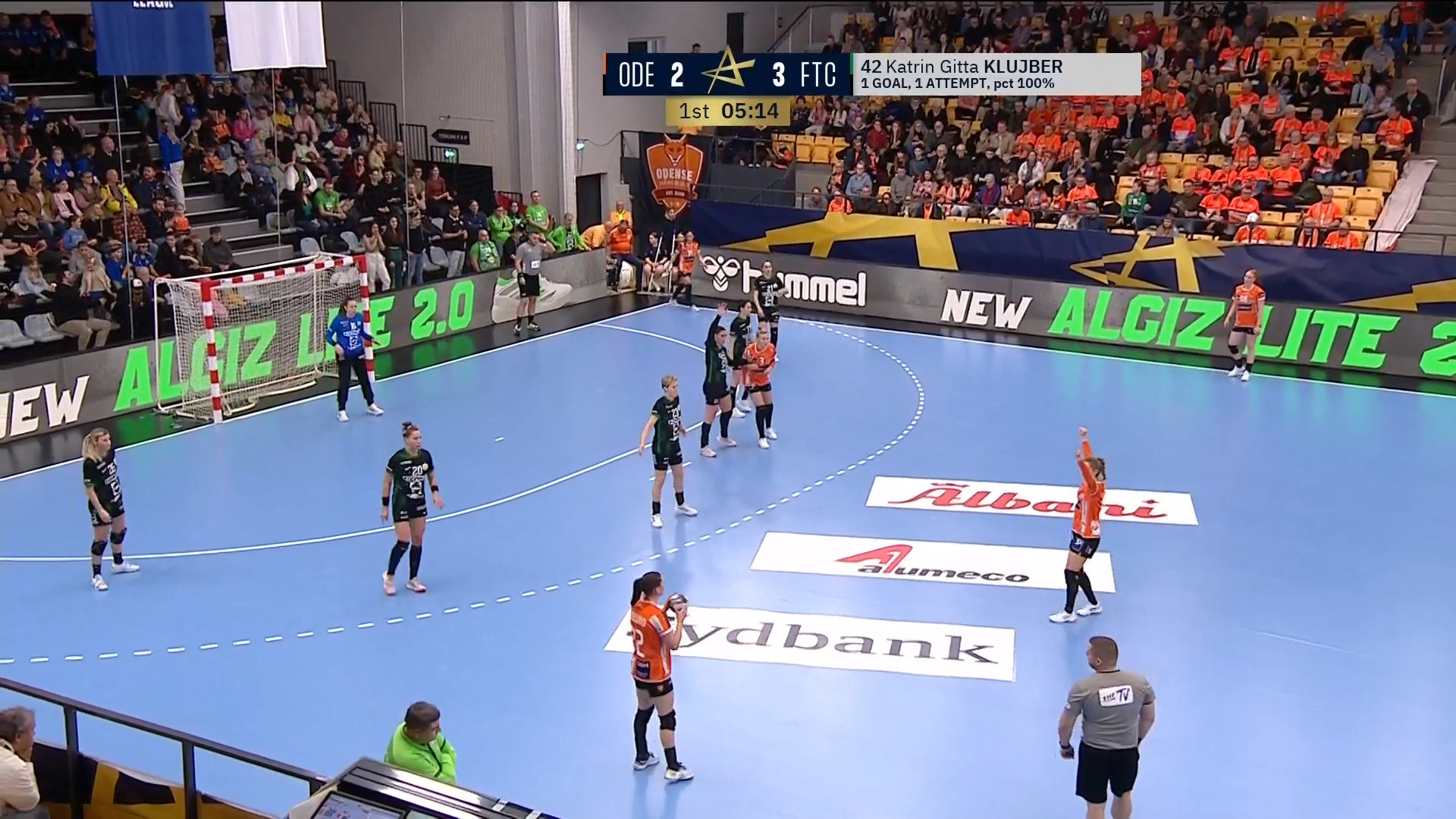 15:59
Things are about to get underway in the last 3 ties of the whole group stage, where things are more straightforward in group B
Metz will finish 1st and Storhamar 6th, regardless of their result
Rapid will finish 4th, and Lokomotiva 8th
And in group A
Simple! Let's just enjoy some handball!
15:50
Everyone got their breath back? Good! We have 3 more matches starting in 10 minutes to complete the group phase for 2022-23!





15:36
Bietigheim had a job to do today, they played so well, but the other result went against them.
15:33
What a result in Ljubljana!
Krim were seventh this morning, but they've pulled off a shock against CSM to grab themselves a ticket to the play-offs!
CSM will have to settle for second place in the group!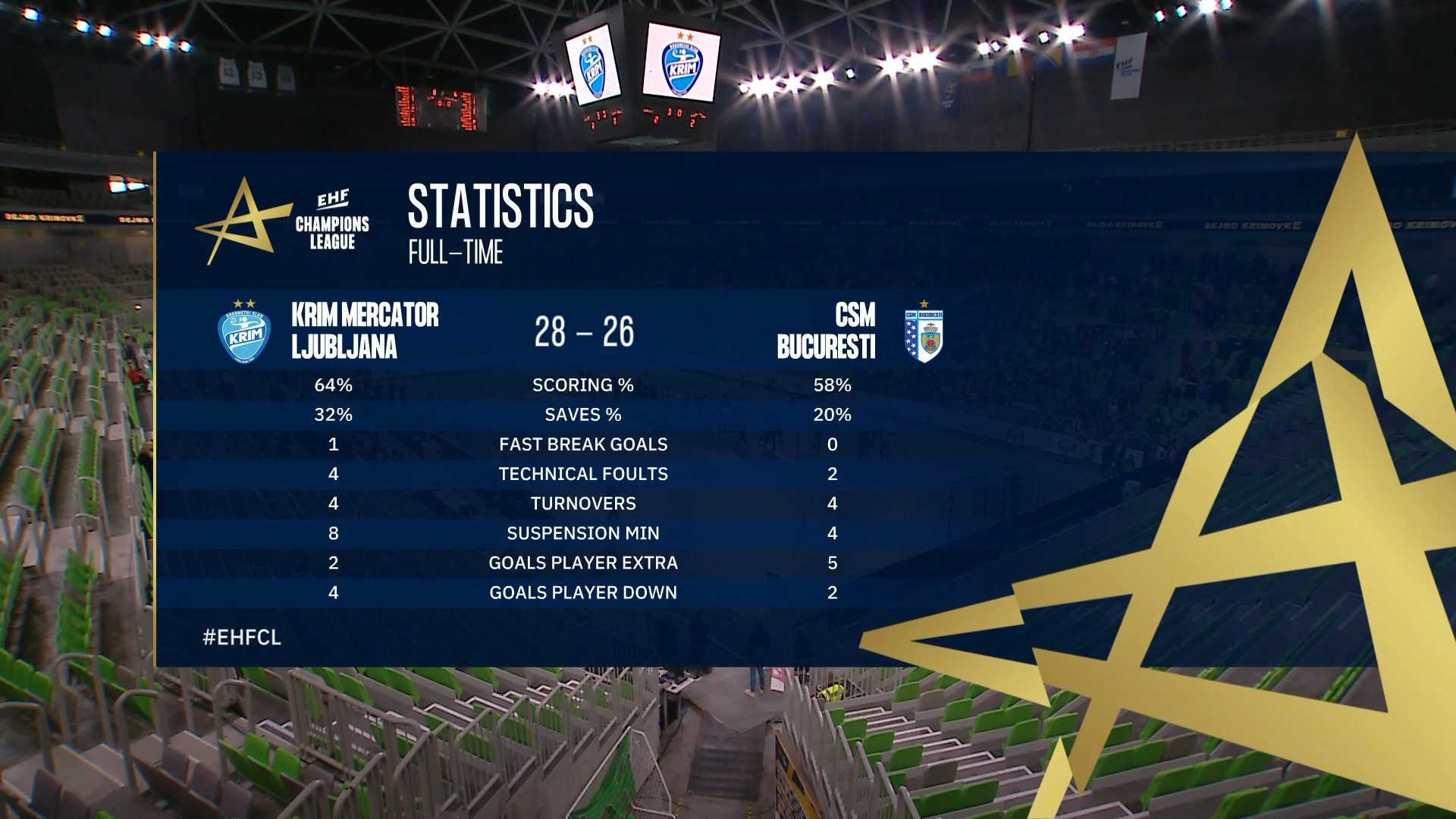 15:31
KRIM HAVE DONE IT!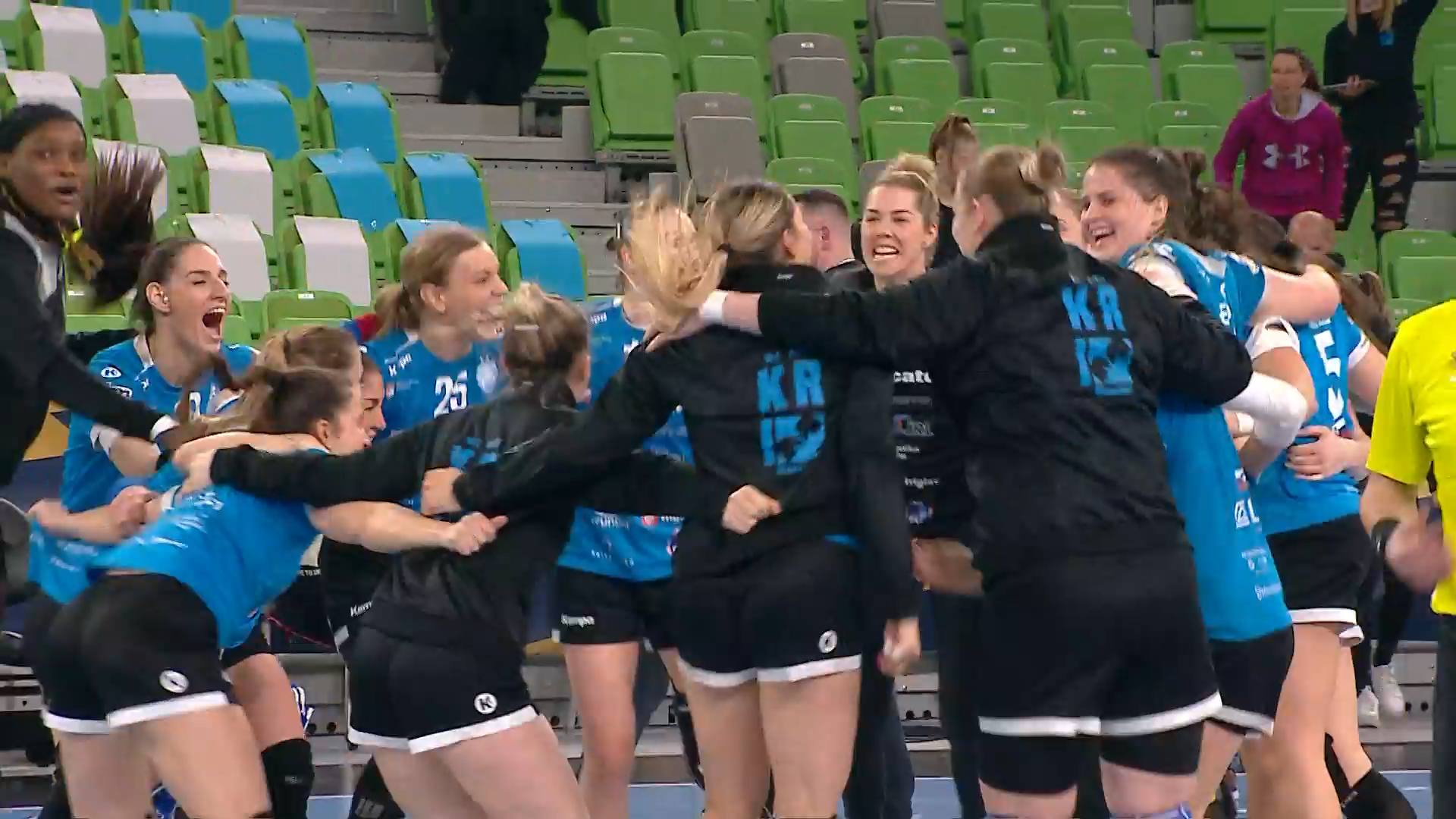 15:30
HUGE save by Risovic in the last minute preserves a two goal lead!
15:28
Their defence holds out before Radicevic scores again!
Are they going to do it?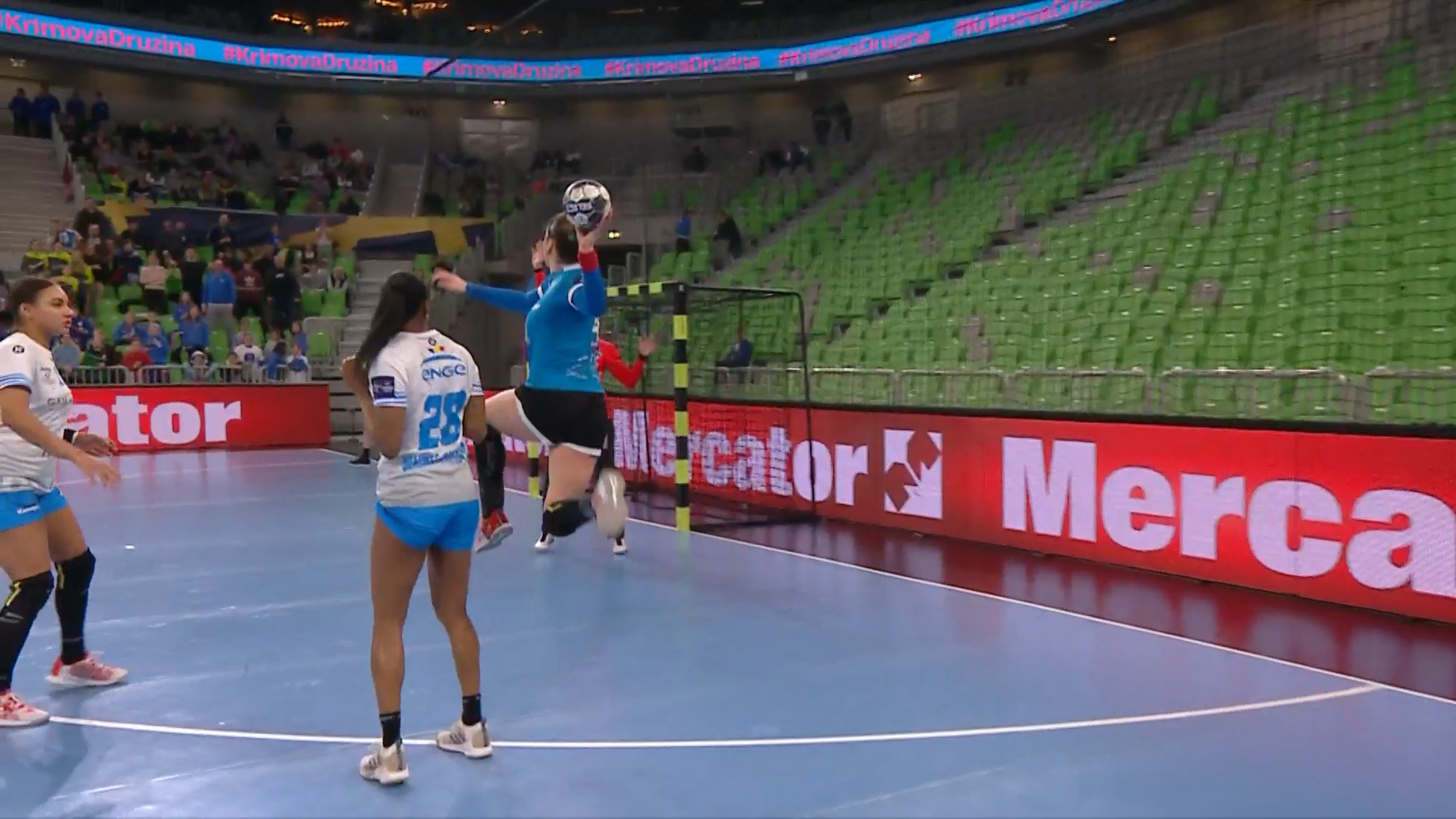 15:27
Into the last 3 minutes in Slovenia, Krim holding on 28:26!
15:25
Full-time
BBM tie the record number of goals in a Champions League Women match, beating Most by 22!
But will it be enough?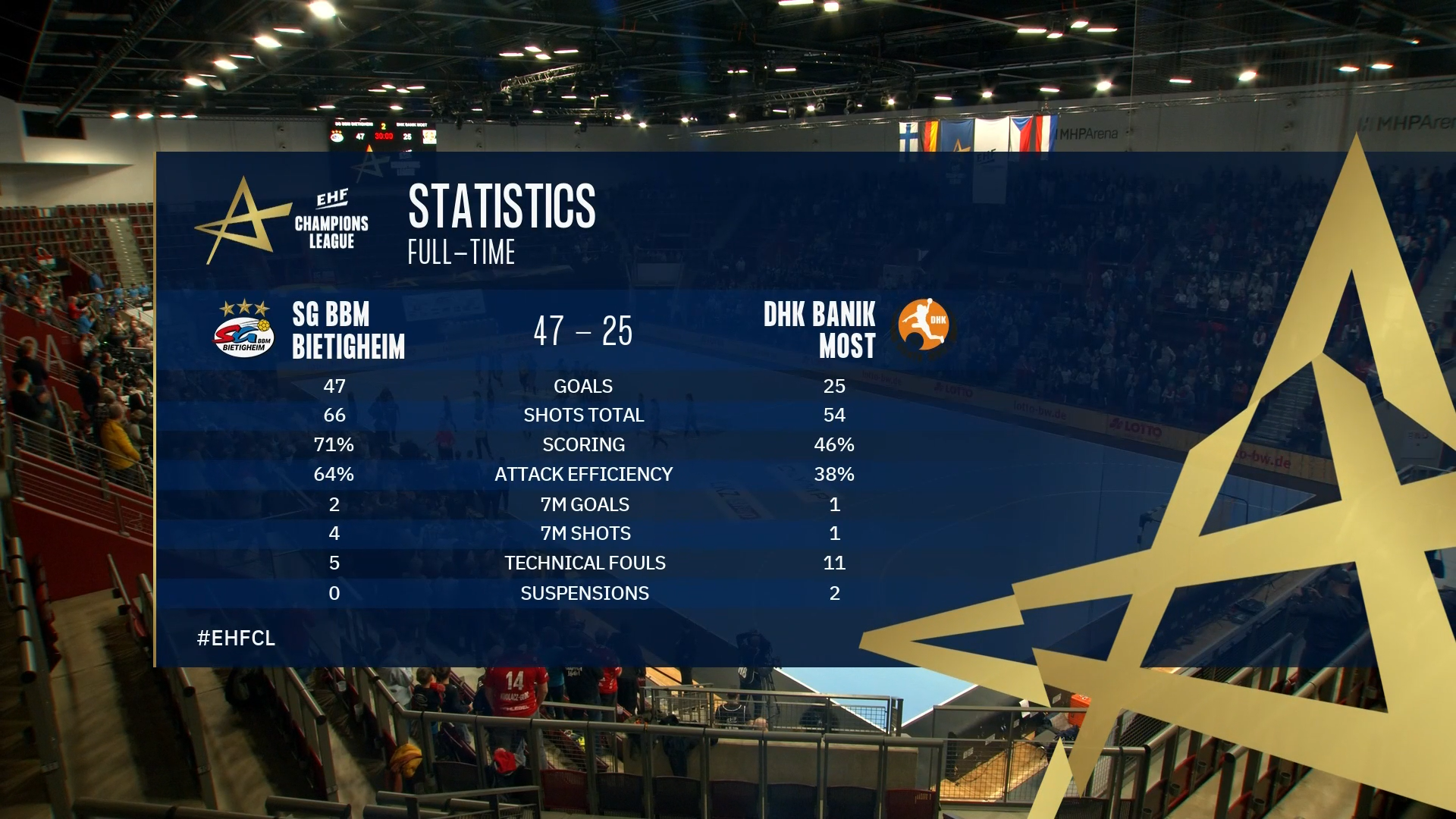 15:19
Time-out Krim this time
They lead by 1 with around 7 minutes remaining
TENSE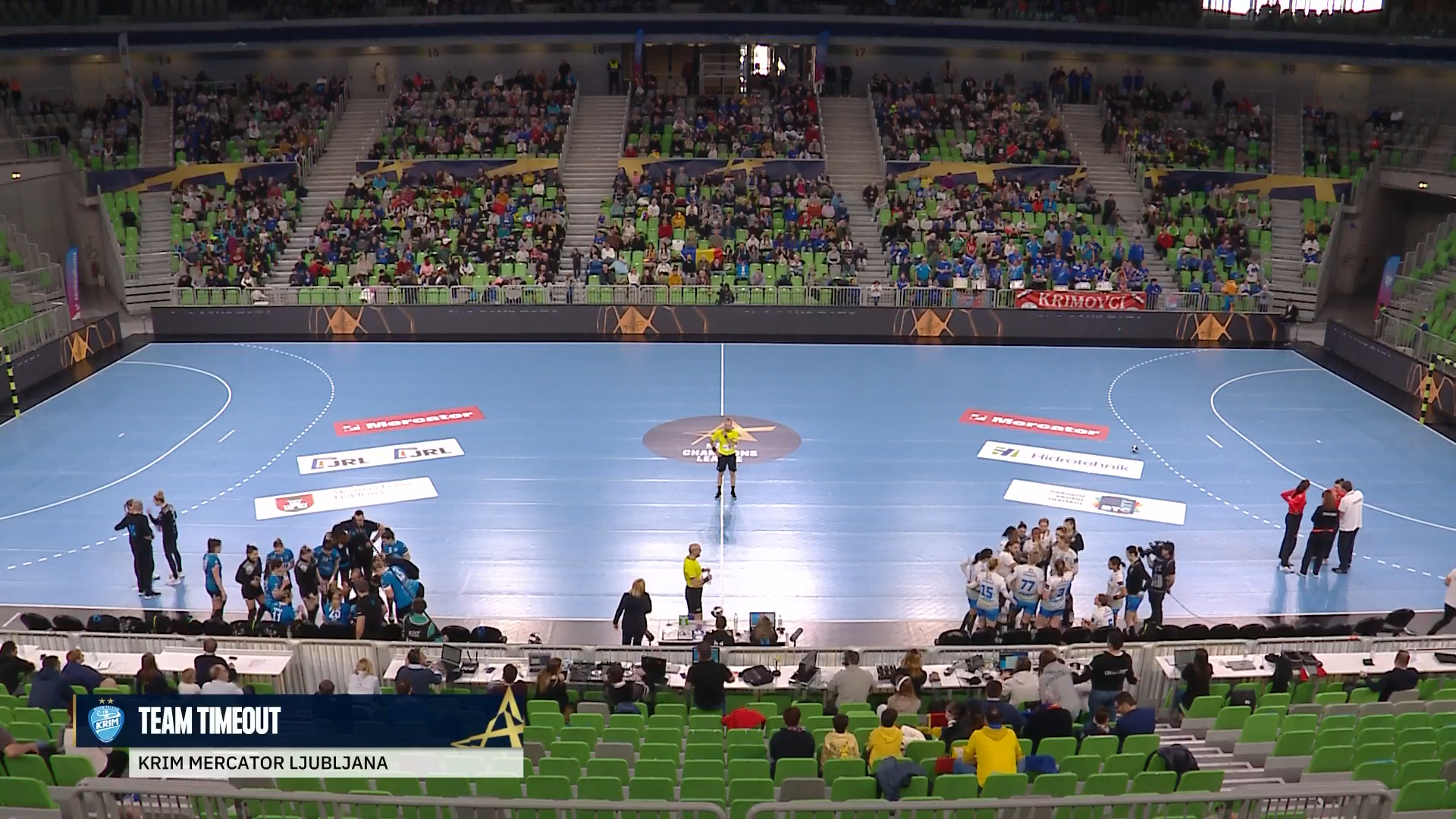 15:14
It's all happening in Ljubljana! Barbara Lazovic is just one of the reasons Krim are leading again with 10 minutes to play.
25:23 to Krim and CSM have been forced to take a time-out!
15:11
But CSM aren't going to roll over and give up first place! 
They hit back quickly to level things once more at 22:22!
15:04
Change of goalkeeper but Krim make the brighter start to the half again!
They lead 21:19
15:02
High fives on the Most bench as they score on 3 attacks in a row! 
Chances of a comeback still pretty low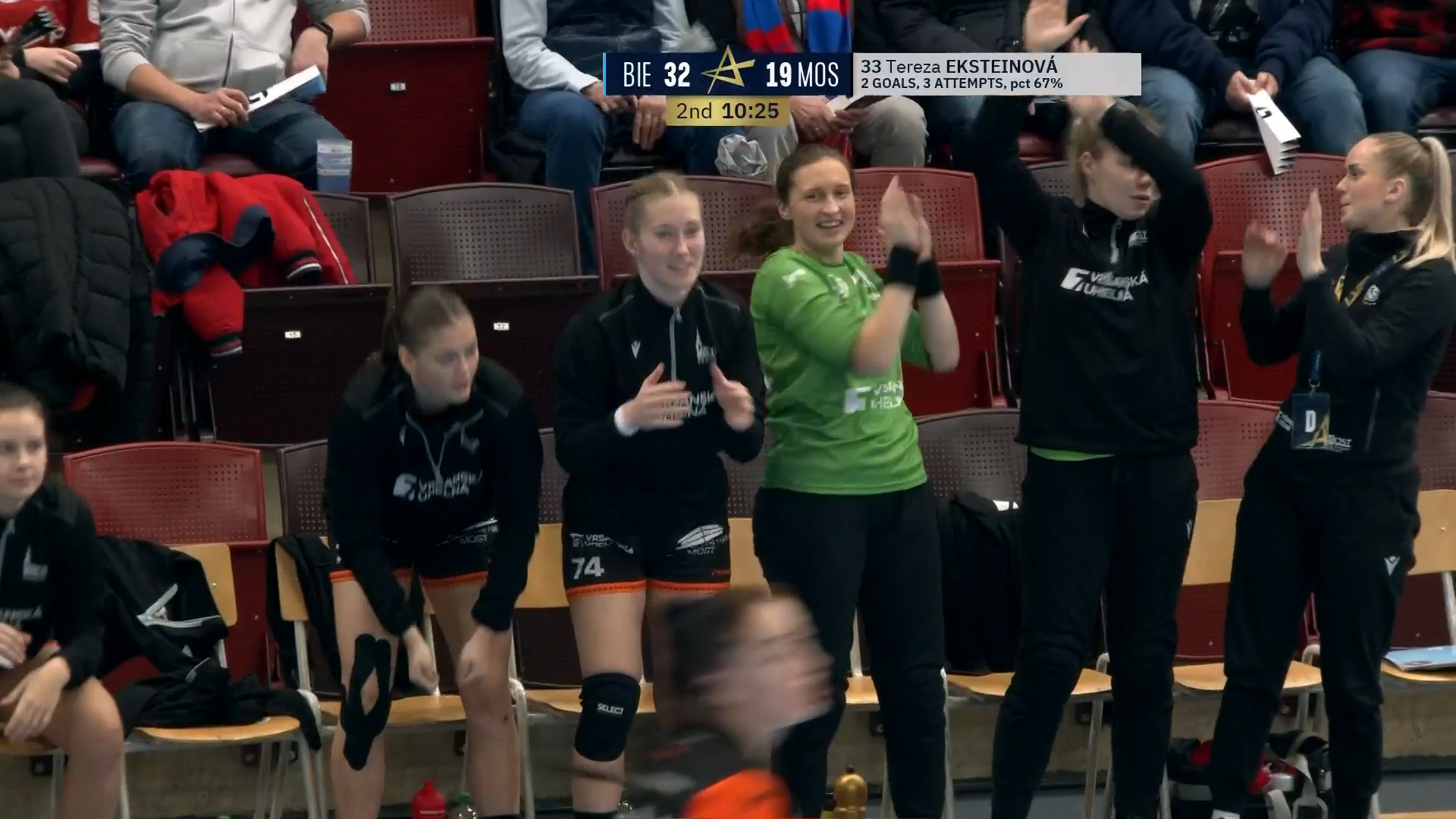 14:59
Suddenly CSM's shooting is deserting them!
Krim take advantage and the lead! 17:16
14:56
It's SO tightly poised at Krim! The CSM defence holds firm again on this attack!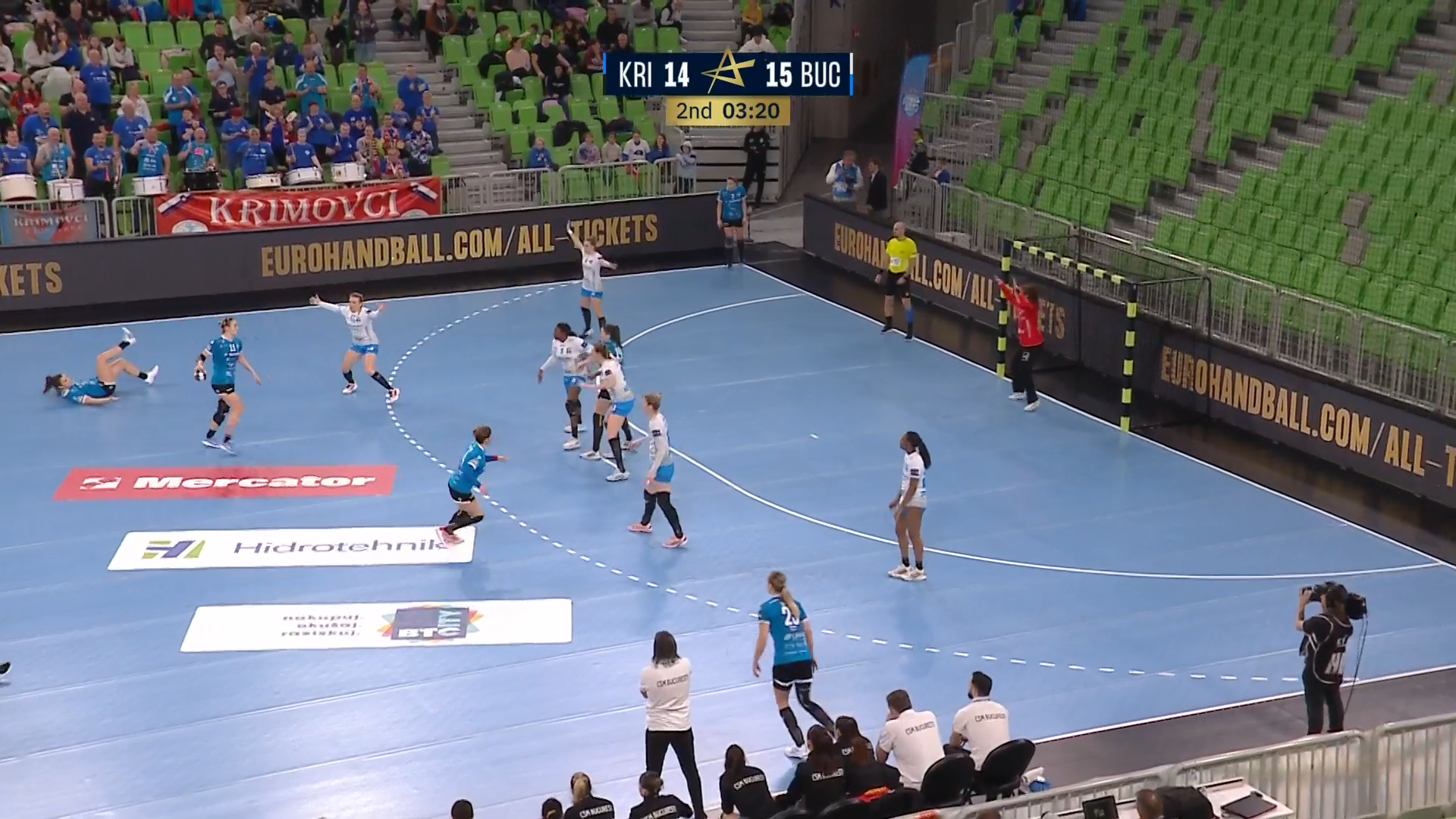 14:50
Just before the second halves get going, have a look at some top images from the first 30 minutes!





14:44
13.5 matches down... 13.5 tough days at the office for Most!
But still, they have entertained us with some glorious skill!
Exhibit A...
14:42
Here you go! Cristina Neagu's 100th goal of the campaign!
How does she keep that consistency up year after year?
14:39
Half-time!
A much tighter contest in Ljubljana!
AND WHAT DOES IT MEAN?
As things stand, CSM Bucuresti will top group A
SG BBM Bietigheim and Brest Bretagne will go to the play-offs
Krim Mercator will be eliminated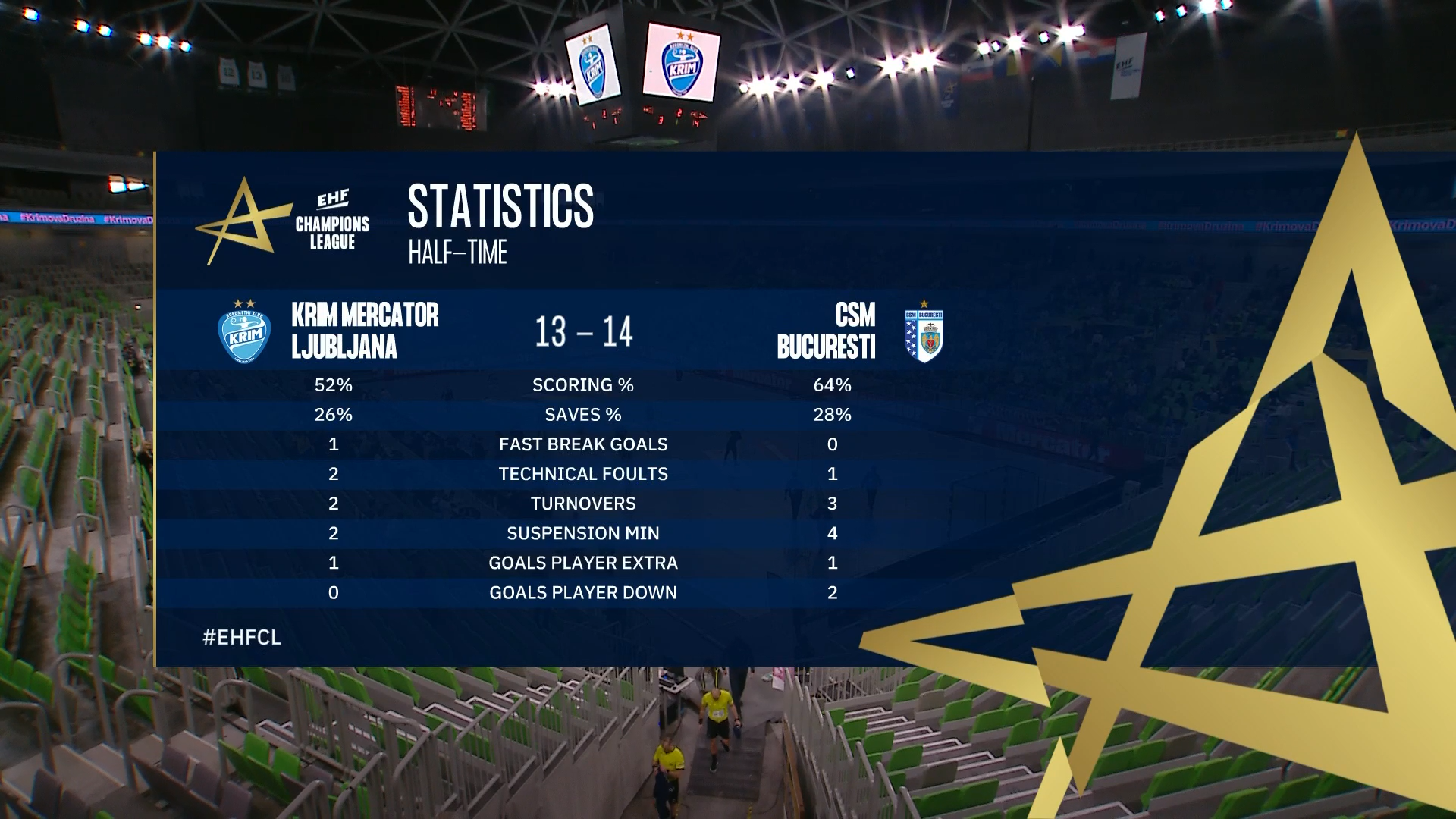 14:37
Half-time!
BBM are cruuuuuising to the win over Banik Most.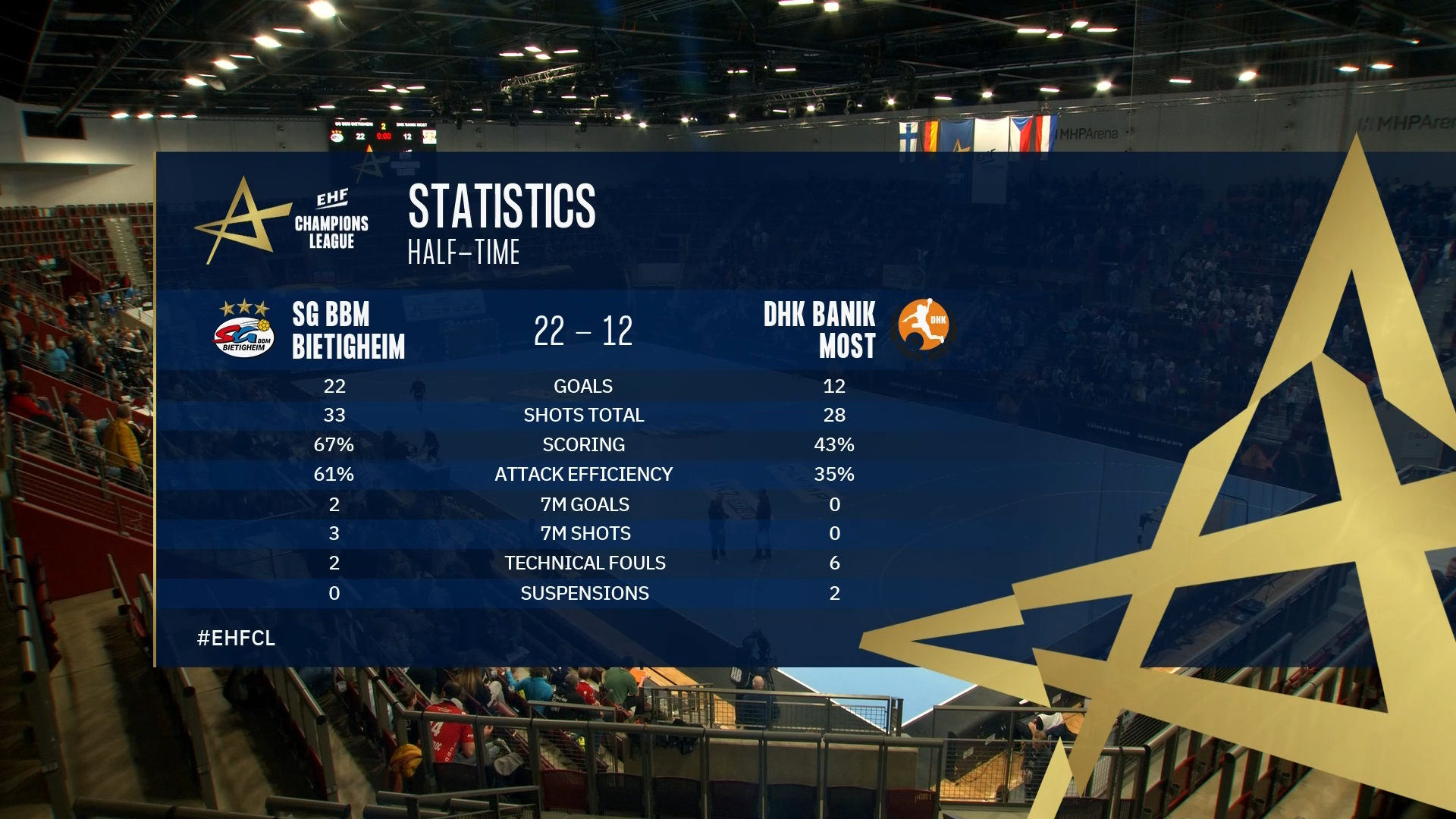 14:33
In Slovenia, CSM finished of this attack to go two goals up for the first time!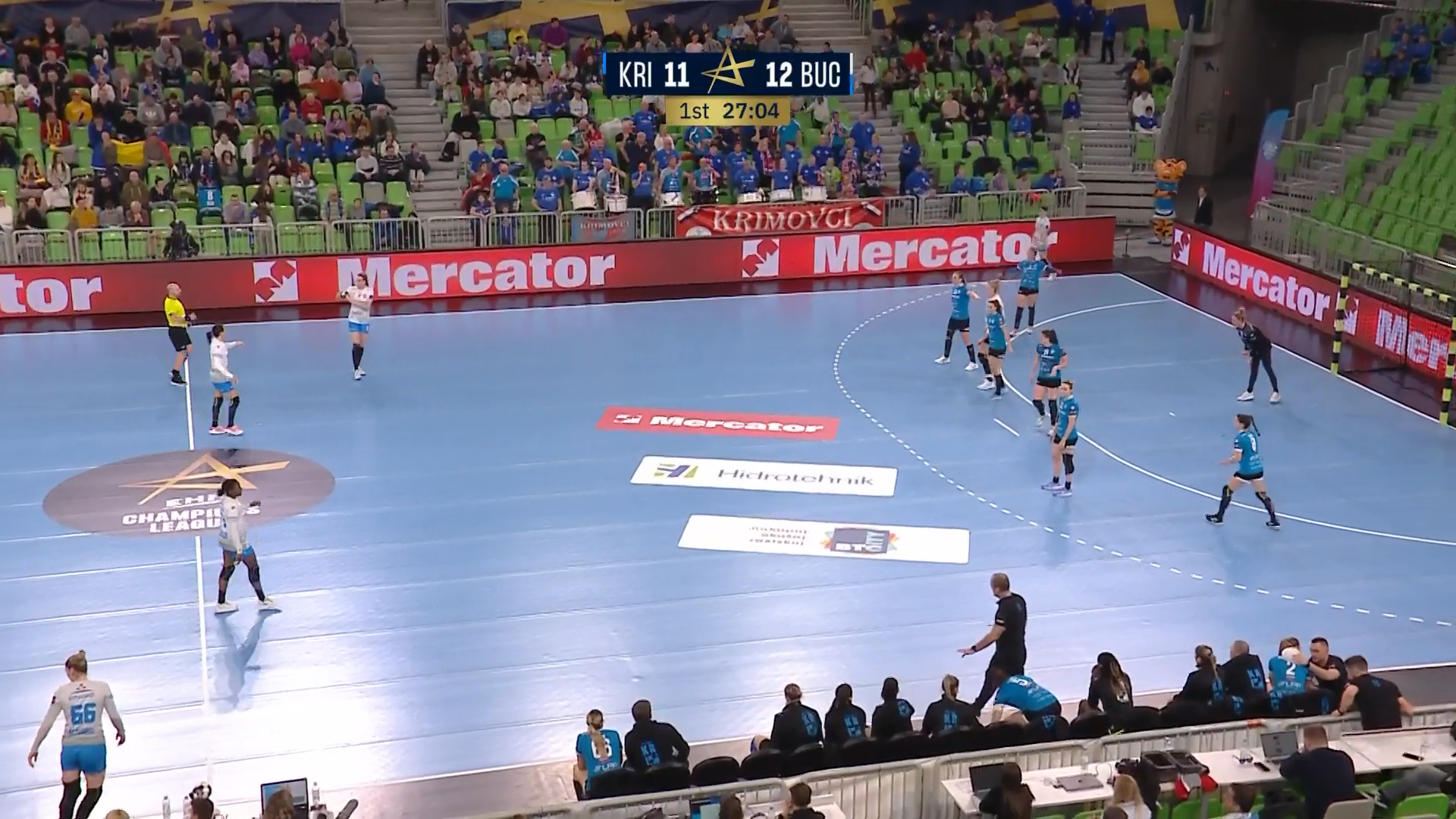 14:30
Xenia Smits is dancing like BBM have a 10-goal lead over Most... which now is exactly what they have!
19:9 as we enter the final 5 minutes of the half
14:25
The tide is turning in Ljubljana, CSM have levelled things up at 8:8
It took them a while to get going, as we see here...
14:19
We're midway through the first-halves of our early matches.
Krim lead by 2
Bietigheim lead by 6
Both scores are bad news for Brest fans
14:16
One of those Jovanka Radicevic goals we were telling you about!
Krim now lead 7:4 in a must-win game against a side gunning for top spot. 
They're certainly doing alright so far!
14:11
TON UP!
Cristina Neagu scores her first of the match, but more importantly, her 100th Champions League goal of the season!
The third year in a row she reaches that milestone!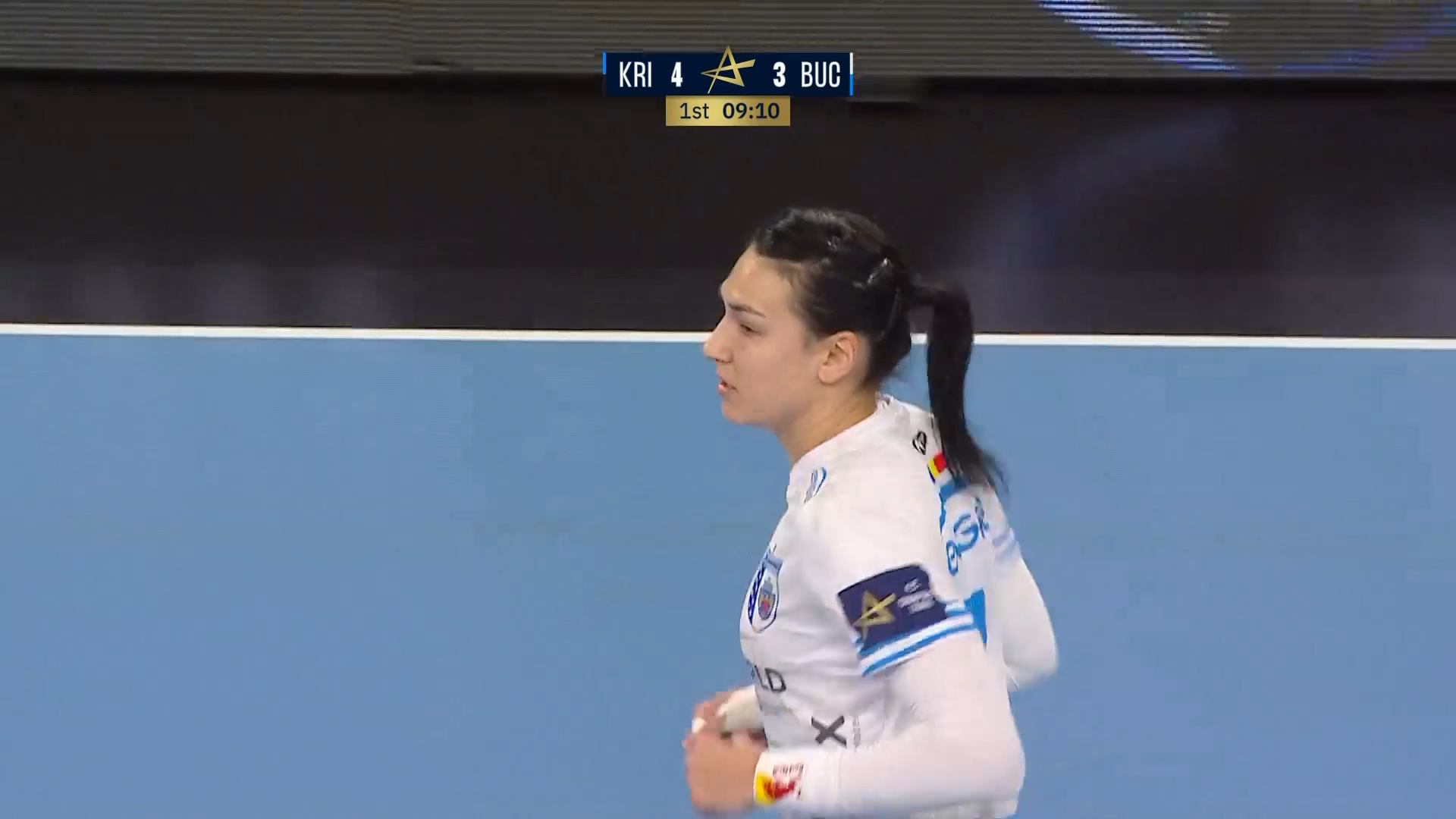 14:08
Most have been forced into an early time-out, they're 5:1 down to BBM. It's their last chance to get points on the board and already it's looking like a tall order!

14:05
Great start from Krim! Two Jovanka Radicevic goals give them the early advantage over CSM!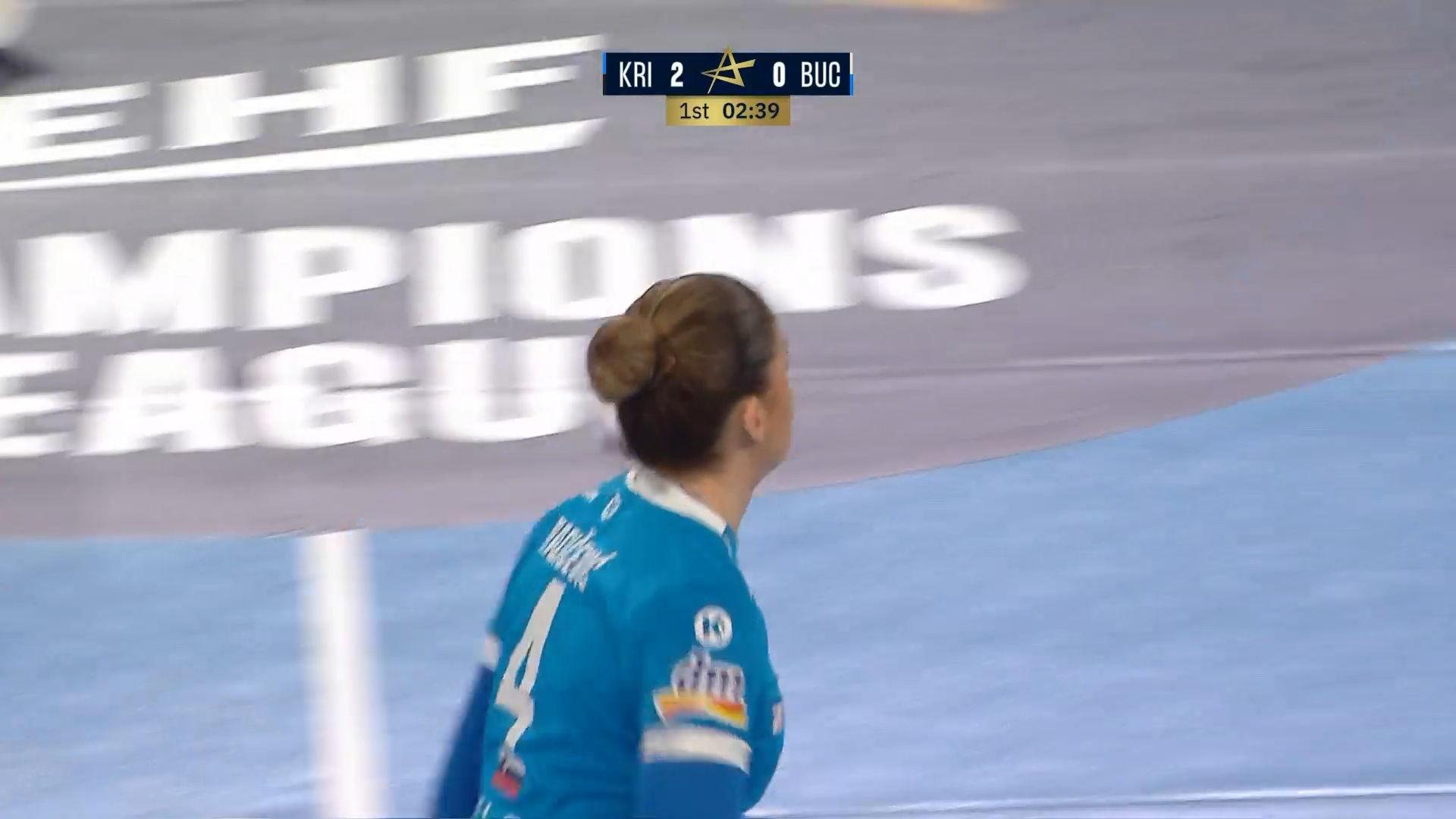 14:00
Time to get underway in Slovenia and Germany!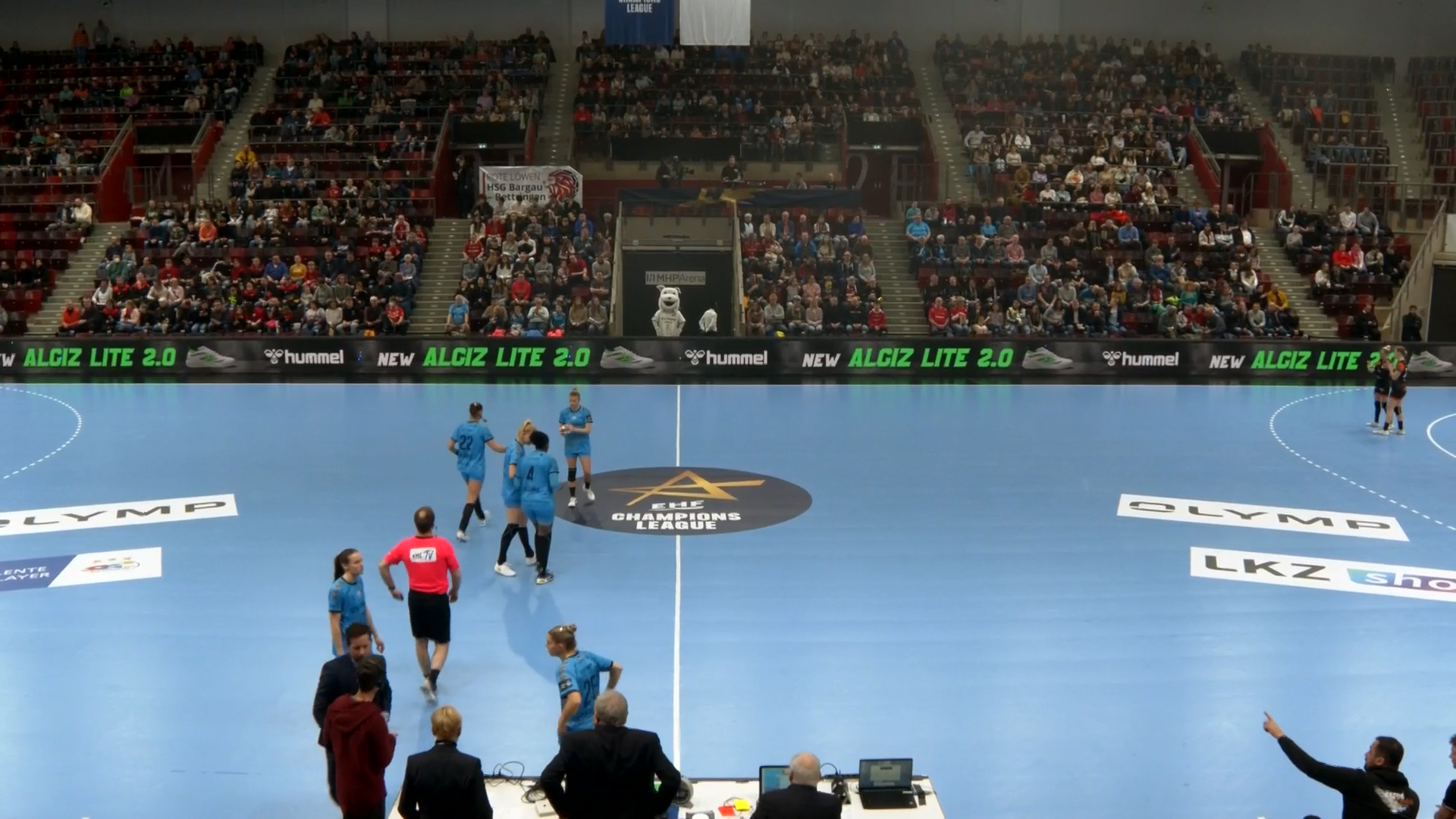 13:50
Tactics, done! Stretching, done! Team talk, done! All smiles? Yes! 
We're 10 minutes away from throw-off in our openers!




13:40
And depending on where you're joining us from, you can watch today's matches live on EHFTV
13:37
So much will be determined in our two 14:00 CET matches this afternoon!

Krim and Bietigheim are trying to secure play-off places, Brest will be hoping they have done enough to go through.
Meanwhile CSM Bucuresti want to take first place from Vipers!
Use our preview and guide to what teams need to progress to follow all the permutations!
13:30
Good afternoon everyone and welcome back to this weekend's coverage of the EHF Champions League Women!
The first two of five matches to complete both round 14 AND the WHOLE group phase are coming up!
Saturday 11 February











20:20
Catch up on tonight's action with the match reviews, below.
Tomorrow, five matches will close out the group phase.
Can CSM retake top spot in group A, or will Krim spoil the party and book themselves a quarter-final spot in the process?
Will Cristina Neagu go back to the top of the top scorer standings?
Who will miss out on the play-offs in group A - Krim or Bietigheim?
All these questions will be answered tomorrow afternoon, so come back then for the dramatic end to what has been a brilliant group phase so far.
20:03
Straight from the press conference, some thoughts from coaches Ambros Martin and Jesper Jensen.
It was not an easy game, because both of the teams knew that the victory means a lot regarding the upcoming procedure of the Champions League. One of the key was our belief, we were able to win by one goal – we could steal balls even against seven-against-six play. We are one step more closer to our goals, nothing has changed – there will be a bit of rest for the players and I wish good luck for Esbjerg. I would like to say thanks for my team for this amazing game!
This was a good advertisement for handball, we could be proud of this match today. Of course it is disappointing that we lost with one goal even if we had the lead 10 minutes before the end of the game. I think we should be proud of our performance, they were able to play a good match – of course we had mistakes but we played as a team together.
19:50
That was the fifth time Györ and Esbjerg have met and it's the fifth win for Györ - although it was also the closest match they have played. In fact the margin has got closer each time - from six goals in the main round in 2016/17, to five in the EHF FINAL4 semi-final last year, to two in round 1 this season. 
Still, Györ maintain their unbroken run of quarter-finals and must surely now be eyeing up yet another EHF FINAL4?


19:35 | FULL-TIME
Kathrine Heindahl scores just before the buzzer, but that's not enough for Esbjerg. Györ book their place in the quarter-finals and Esbjerg will finish third; Rapid, regardless of tomorrow's result against Lokomotiva, will be fourth in the group.
Estelle Nze Minko is Player of the Match - she scored only four times but played a key role in defence throughout, making three steals. 
Henny Reistad is top scorer with a huge 12 goals - her last penalty was her 400th in the Champions League, and she's now leading the season's scorer rankings with 107 goals to 99 for Cristina Neagu.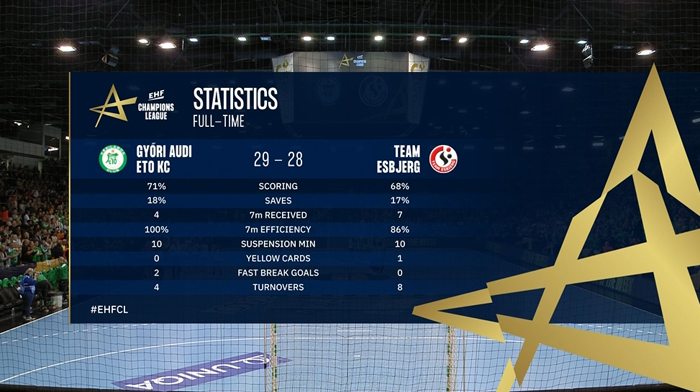 Vipers have won their 50th Champions League match, and put pressure on CSM to win tomorrow to stay top of the group. Brest will wait for tomorrow's results to know where they finish.
19:27
Timeout time by Jesper Jensen and Esbjerg go to seven-on-six in attack. Two minutes for Esbjerg to do something extraordinary.
19:25
Two quick goals from Viktória Gyori-Lukács give Györ a 27:26 lead. Remember, Esbjerg must win to take the quarter-final ticket.
19:23
For the first time, Amandine Leynaud steps on to court to take a penalty by Henny Reistad: Reistad scores. Still, Leynaud gets a big cheer from her fans.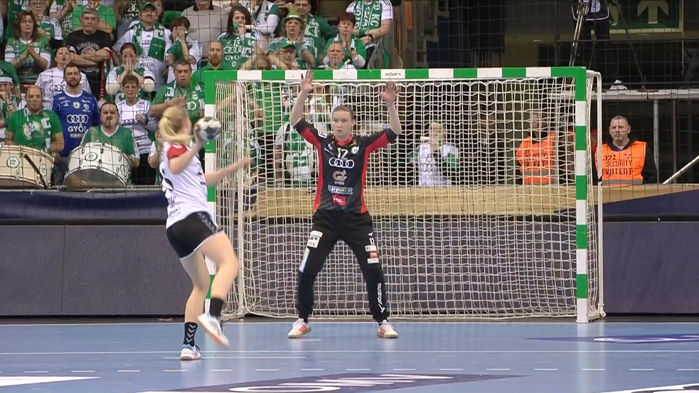 19:20
Less than seven minutes to go, and Estelle Nze Minko makes it 24:24. Wow. 
19:16
Ten minutes to play, and the score is 22:23. It's impossible to call a winner, although Esbjerg just have the upper hand ...
19:11
Another Reistad goal put Esbjerg ahead again, and after Györ's next attack failed Jesper Jensen called a timeout. Now, Esbjerg lead 21:19 and the home team are on the back foot.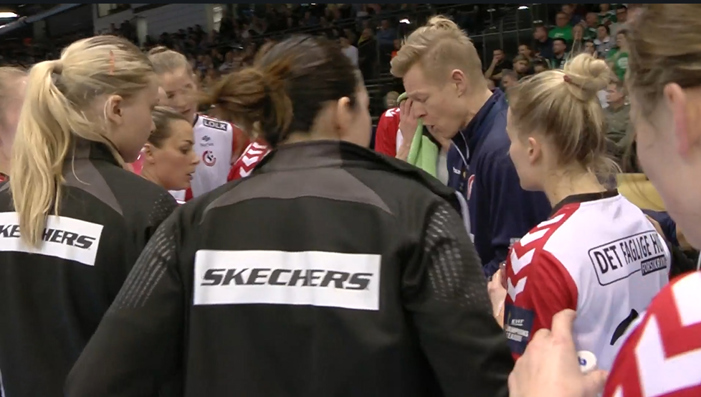 19:09
A note about Brest vs Vipers: the reigning champions, led by Markéta Jerábková, have taken control and lead 29:22, with about 16 minutes to go. Brest put up a good fight for more than half the game but the Norwegian side have piled on the pressure and showed their quality.
19:05
And we're back level at 18:18!
Henny Reistad just scored her fifth goal of the match, and her 100th goal of this Champions League season. Last year, she ended up on 104 goals and joint third with Ana Gros in the top scorer rankings - she'll surely be above that this year.
19:02
Györ and Esbjerg are still mostly going goal-for-goal, but a good steal and goal just now by Viktória Gyori-Lukács gave them a two-goal lead once more, and a Sandra Toft save helps preserve it (though she's still not having her best day).
18:54
The matches are back underway and Brest have already caught Vipers back up.
18:44 | HALF-TIME
Nora Mørk sneaks a goal past Sandra Toft just before the buzzer, and we go to the break with both teams knowing that this match is very far from over. It's gritty, hard-fought handball and defence is key - the side which comes out on top at the end will surely be the one who finds a way to hold their line while being more effective in attack.
The top scorers are Mørk and Ana Gros, both on three goals. Györ have held Henny Reistad to just two strikes in the first 30 minutes, but another three would make her the first player to score 100 goals in this season (Cristina Neagu is on 99 ahead of CSM's match tomorrow in Krim).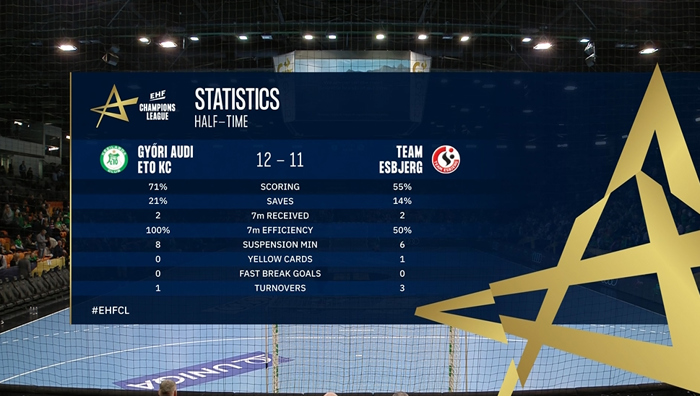 18:38 | HALF-TIME
It was neck-and-neck most of the way through the first half in Brest, but a 5:2 run by Vipers in the last three and a half minutes took them to a two-goal lead. Monika Koblylinska is top scorer so far, with five goals; Markéta Jerábková has scored four for Vipers.


18:33
The timeout helped give Györ a two-goal lead for the first time; soon after, Esbjerg conceded a penalty and Ana Gros scored it. 
Noteworthy so far is that the goalkeepers are not having a great day - more shots have bounced off posts or gone wide than been actually saved. Even Nora Mørk hit the post on a penalty.
18:28
"The most important thing is the intensity in defence," says Ambros Martin, who called a timeout at 8:7 after 21 minutes. He adds: "Keep playing."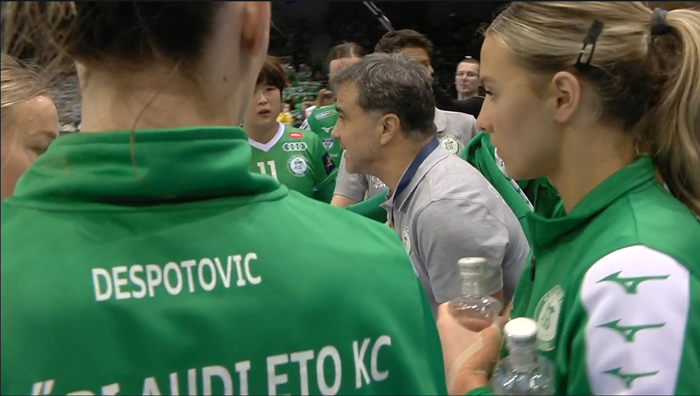 18:22
Signs are this is going to be a fairly low-scoring match - just 13 goals in the first 17 minutes. Lots of nerves and lots of defensive play.
Although, not this shot from Mette Tranborg!
18:15
There's a cracking atmosphere in the arena, with lots of singing and chanting even though we're still not a quarter of the way through the game. The teams are exchanging goals - Esbjerg have had a couple of unlucky moments with shots hitting the posts, but Györ are missing too. Are the nerves showing? It's 5:5.
In Brest, it's 7:7 between Brest and Vipers.
18:08
To start with, things were going slightly better for Györ - they defended effectively in Esbjerg's first two attacks and two of Henny Reistad's shots went nowhere. But Reistad is now on the scoreboard and Esbjerg have their first lead at 3:2. 
Early days yet ...
17:55
Our coverage has begun on EHFTV - the teams are being introduced and it sounds like there's a good full arena in Györ as well as in Brest!
17:45
While our focus this afternoon will be on MOTW, a few thoughts on the other game ...
Vipers booked their quarter-final ticket already and will win the group if they cut the one-point gap separating them from CSM, as Vipers hold the tiebreaker in the event of a draw. Brest could still end up anywhere between fourth and sixth places in group A, depending on the result of this game and the others in the group tomorrow. They are currently fifth, with 12 points, two more than Bietigheim and one less than FTC-Rail Cargo Hungaria.
A win for Vipers would be their 50th in the Champions League, making them the 15th team to reach this milestone. 

17:40
Here's Györ's squad for the match:
And a look at Esbjerg's warm-up!

17:30
So here's how Match of the Week is looking. 
A win or draw for Györ would mean they finish second in the group and go directly to the quarter-finals, while Esbjerg would finish third. A win for Esbjerg would give them the quarter-final place. 
Györ finish second if they lose today and if Rapid Bucuresti fail to beat Lokomotiva tomorrow. If Rapid beat Lokomotiva and Györ lose today, Györ finish fourth.
It's fair to say it's been a while since Györ were in such a position - they have lost three matches this season, the same number as in the past four seasons combined, and have reached the quarter-finals every year since 2006/07.
Esbjerg come to Hungary also with three losses, among them the 29:31 defeat to Györ way back in round 1. 
The two sides know each other well both on club and international level and their squads include 11 players from the EHF EURO 2022 final. Norway's Stine Oftedal plays for Györ; Henny Reistad, Nora Mørk, Kristine Breistøl and Vilde Ingstad for Esbjerg. Danish silver medallists Kathrine Heindahl, Kaja Kamp, Mette Tranborg and Michaela Møller play for Esbjerg; Sandra Toft and Anne Mette Hansen for Györ.
However, one Norwegian is missing today - Györ goalkeeper Silje Solberg is pregnant and will not play for the rest of the season; Amandine Leynaud is coming out of retirement to replace her. It will be fascinating to see Leynaud back on court. 
Before the match, EHF journalist Adrian Costeiu caught up with Anne Mette Hansen to find out what her thoughts were about the challenge ahead.
17:20
Welcome to the live blog for the very last round of the EHF Champions League Women group phase 2022/23 - it's come along so quickly!
Today is starting slightly later than originally planned due to the cancellation of the scheduled match between WHC Buducnost BEMAX and Kastamonu Belediyesi GSK. That was because of the devastating earthquake in Türkiye and Syria earlier this week. Buducnost were awarded a 10:0 win, but the cancellation does not change the teams' finishing positions in the group.
However, we have two matches to look forward to today and five tomorrow. Today's highlight is the epic Match of the Week between Györi Audi ETO KC and Team Esbjerg, which will decide the last remaining direct quarter-final place; at the same time, Brest and Vipers both know a win would help them finish as high up the table as they possibly can. They throw off in 40 minutes at 18:00 CET.
Read the round preview and the key calculations for the weekend.