SUMMARY: Esbjerg and FTC join Vipers and Györ in Budapest
The four EHF FINAL4 participants were confirmed this weekend in the second leg of the EHF Champions League Women quarter-finals. Vipers Kristiansand and Györi Audi ETO KC took the first two spots; FTC-Rail Cargo Hungaria and Team Esbjerg joined them after away victories on Sunday to complete the line-up ready for history in Budapest.












18:45
That's all from us. It's been a great weekend of Champions League drama.
The EHF FINAL4 at the start of June will certainly make history: if Vipers win, it would be their third consecutive victory, matching Györ's achievements between 2017 and 2019. Victory for Györ would consolidate their position as record champions. Meanwhile Esbjerg and FTC are both in with a chance of becoming first-time champions.
Whatever happens, there is certain to be plenty of incredible handball action ahead!
18:30
The draw for the EHF FINAL4 Women will take place on Tuesday 9 May in Budapest. Before then, tickets are on sale so if you want to join the four qualified teams at the MVM Dome on 3/4 June, click here.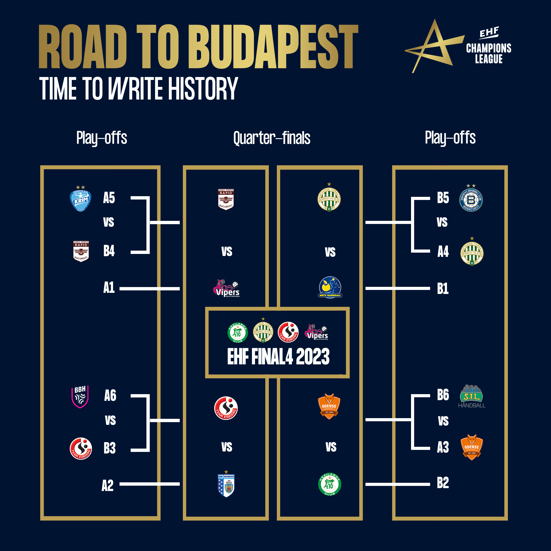 Buy your EHF FINAL4 tickets
Want to be in Budapest as the teams write history?
Buy tickets here
18:07
With all places booked, it's time to write history in Budapest. But which team will lift the trophy? Vote now!
17:54
Hot off the press, here are the match reviews for what turned out to be a superb final day of knockout handball in the EHF Champions League Women! Can you believe there are just four matches remaining this season?
17:50
Kristine Breistøl spoke to the TV cameras after Esbjerg's win - here's what she had to say.
It was a really tough game. It's always special to come here, it's one of the hardest away games to play. Bucuresti is a tough team, they will never give up, they will fight hard, and we needed to work really hard to get the win today.

You can feel the audience the whole way. Every time you make a mistake or miss a goal, you know they will just make more noise than they did the last time. So we were really under pressure, but we have a good base and we know what we need to do to win, and we found that in the second half.

17:36 | FULL-TIME
A great second half from Esbjerg secures them the win and their ticket to Budapest with a 65:59 aggregate win. For a second year running, CSM have found the Danish side too hot to handle at this stage of the competition. Left back Kristine Breistøl is named Player of the Match with seven goals from 10 attempts plus two assists.
CSM are devastated, understandably. Like Metz earlier they would have expected their group phase to translate into an EHF FINAL4 ticket.
The result also pretty much guarantees that Henny Reistad will be the top scorer of the EHF Champions League Women 2022/23. With 130 goals she is 23 goals clear of Markéta Jerábková from Vipers, her nearest rival left in the competition.
CSM end the day by bidding farewell to Andrea Klikovac and Siraba Dembele Pavlovic, who are leaving the team this season.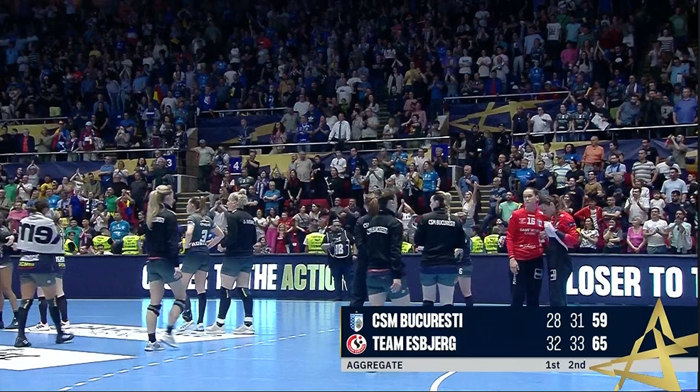 17:22
Esbjerg now have an seven-goal aggregate lead (28:25 in this game), and with seven minutes left the result looks fairly clear. Jesper Jensen asks for a timeout, focusing his players in these crucial last phases.
17:15
CSM lose Crina Pintea too with a third two-minute suspension, and she goes to sit next to Emilie Hegh Arntzen in the stands. 
Adrian Vasile takes a timeout to remind his team to keep fighting. They need to make up six goals in just under 13 minutes to force a penalty shootout.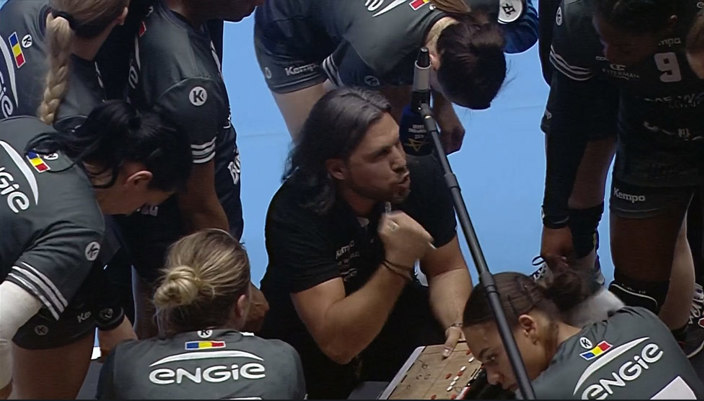 17:11
You have to give the CSM fans huge credit for the noise they're making, which keeps Bucuresti in the fight as they take advantage of a Mette Tranborg suspension to close back up to a one-goal deficit just as Esbjerg looked like they might be moving away again. 
It's a fast and physical game with both sides defending hard. Amalie Milling is now in goal for Esbjerg, and having the best game of her team's three goalkeepers.
17:03
CSM lose Emilie Hegh Arntzen to a red card after a collision with Vilde Ingstad while the Esbjerg line player was shooting. Ingstad fell hard on her back. With Crina Pintea also suspended Esbjerg are in a power play situation, and Sanna Solberg uses the opportunity to score. Esbjerg lead 21:20, and by five goals on aggregate.
16:57
It would have been fascinating to hear Jesper Jensen's half-time talk to Esbjerg - they've come out on fire, levelling the match within two minutes. 
16:52
Just 30 minutes before we know the full line-up for the EHF FINAL4 - and it could include either CSM or Esbjerg at this point!
16:39 | HALF-TIME
This is turning into an excellent Match of the Week; CSM responding well to Esbjerg's fast start and now attacking hard in search of the aggregate lead. 
Elizabeth Omoregie is leading the charge with five goals; for Esbjerg, Kristine Breistøl and Henny Reistad have both scored three times. Defensively, Adrian Vasile's decision to put Laura Glauser in goal after Evelina Eriksson's poor start is paying off - Glauser's made five saves (35.7 per cent).
16:30
With a three-goal run CSM take a 17:14 lead, and cut Esbjerg's aggregate advantage to a single goal. Game on in Bucharest!
16:25
Data analyst Julian Rux suggested that Cristina Neagu needed more support for CSM to succeed today, and she's having a reasonable day out so far, with four goals from five shots including a penalty to keep things level.
16:18
Intriguingly, both CSM and Esbjerg have brought three goalkeepers to the game - perhaps in recognition of the crucial role they can play in important matches? So far, Anna Kristensen is having most success for Esbjerg, while Evelina Eriksson has already been replaced by Laura Glauser between the CSM posts after a poor start.
CSM have equalised, but Esbjerg retain a four-goal aggregate lead.
16:13
There is a LOT of noise in the Sala Polivalenta as Esbjerg continue to lead CSM - but the hosts are closing in, and Cristina Neagu makes it a 6:7 game with her first goal. 
16:05
Three shots attempted and scored by Esbjerg, and three shots missed for CSM before Elizabeth Omoregie finds the net. CSM are playing catch-up instantly. 
15:57
The Match of the Week between CSM and Esbjerg is about to start. CSM are in their fifth quarter-finals, but have not reached the EHF FINAL4 since 2018. Esbjerg played in Budapest last season for the first time, whetting their appetite for a second straight appearance.
The game features the competition's two top scorers, Cristina Neagu and Henny Reistad. Who will have the greater impact today? Watch live on EHFTV to find out (remember geo-restrictions may apply).
15:48
Reaction from players Kristina Jörgensen and Angela Malestein, who both played important roles for their teams in that game. 
We played really bad today, almost everything missed. We missed so many shots in the end and we played stupid in defence. It's really embarrassing and I'm really disappointed. We needed to be more concentrated during the whole game. We know FTC is an experienced team with a lot of experienced players who play really good. We needed to win this game for all these amazing fans, and we are really sad and disappointed about ourselves and the performance we made today.
This is my dream, why I started to play handball, why I play outside of my country, and we dd not come here to lose. We just fought for what we could today, we did everything, and this is what happened. I'm so happy.

We had some ups and downs during the season, we could play really good, we played really bad, but I know one thing for sure – we fight like hell and we will never give up.

15:37 | FULL-TIME
What. A. Match!
Driven by Blanka Bíró's crucial saves and a tremendous second-half performance by Angela Malestein, FTC book their place in their first-ever EHF FINAL4 after beating Metz 59:58 on aggregate. This is their 11th quarter-finals, but they've never before managed to make it to Budapest. That means there will be two Hungarian teams present, and surely a packed arena.
Metz's Champions League season ends. They had a superb group phase but couldn't bring it home when it mattered.
15:29
Metz turn over the ball at a moment when they need to score. FTC start their attack before Gabor Elek calls his last timeout, with 23 seconds to play. FTC lead by one goal on aggregate.
15:27
The Metz fans are singing and Camille Depuiset makes a crucial save as the clock ticks into the last minute. Bruna de Paula is fouled by Zsuzanna Tomori, who receives her third suspension, and Metz have a chance to level the aggregate score and force a penalty shootout. It's 26:33.
15:24
Four minutes to play, and FTC lead by eight goals in this match and by two on aggregate. Sarah Bouktit makes it seven again with another penalty. 
Which team has the nerve to see this through?
15:19
Metz are just making too many mistakes, and not capitalising enough when they do have possession. Sarah Bouktit netted a good penalty and Camille Depuiset is still making some good saves, but FTC are continuing to look strong. 
Emmanuel Mayonnade is looking a little bit anxious, as well he might. FTC now lead by seven, and by one on aggregate.

15:12
And the hugely experienced Andrea Lekic gives FTC that crucial six-goal lead, before Bruna de Paula pegs it back to 22:27. Metz are having to dig deep now, with 13 minutes remaining and their ticket to Budapest in the balance.
It's becoming a bit of a goalkeeper's battle too, with Blanka Bíró going up against Camille Depuiset and both performing well.
15:06
Nervous times for Metz. FTC lead 25:20 and have the momentum. One more goal, and that seemingly huge aggregate lead is gone entirely.
15:00
Metz are not having much joy since the game restarted. FTC lead 22:19 and the aggregate lead is cut to three goals. Angela Malestein has been key, scoring three times in seven minutes.
14:53
The arena announcer is revving up the fans and the match restarts, with Metz still in a strong position to progress to Budapest and FTC playing catch-up.
14:39 | HALF-TIME
After a half in which neither team were able to consolidate a decisive lead, it's still level at the break. This has echoes of yesterday's game between Vipers and Rapid, which was decided in the last 15 minutes after Rapid's attack crumbled. Can FTC do better in Metz?
14:30
The timeout worked and FTC took a 13:12 lead, although thanks to Laura Kanor and Bruna de Paula Metz have instantly responded to regain a 15:14 advantage.
Kristina Jörgensen has been the hardest-working player for Metz so far, scoring four goals from four shots and adding an assist and a steal for good measyr.
14:25
Nerves are showing for both teams; Bruna de Paula just tried a shot but sent it rocketing past the posts instead of into the net. She falls to the court, raising her hands in despair.
Gabor Elek calls a timeout with FTC trailing 9:11. If FTC don't react soon they have little hope of making up the bigger gap from last week.
14:20
It's already a much better game for Katrin Klujber today than last week - she's added three goals to her season tally. It's still all square at 9:9, which is fine for Metz given their first-leg lead.
14:10
Eight minutes played, eight goals scored - four apiece. It's a very even game so far.
14:04
And we're off!
It's good to see Camila Micijevic back in the Metz squad after being injured last July. She hasn't started the match, but after such a long rehab period that's not a surprise.
13:50
This is your 10-minute warning - coverage has begun on EHFTV. Settle in for an afternoon of history-making handball!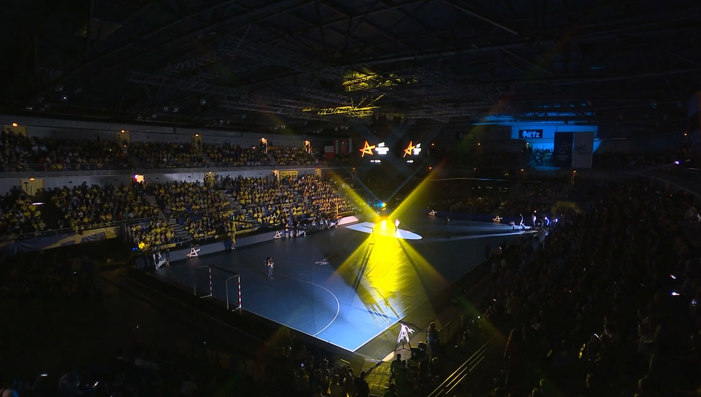 13:42
There's two pieces you ought to read to get yourselves ready for the Match of the Week, which closes the round at 16:00 CEST. 
First, a great data analysis by Julian Rux on what CSM need to do to turn around their four-goal deficit against Esbjerg: in summary, better defence, as well as better support for Cristina Neagu. 
Secondly, journalist Adrian Costeiu spoke to Siraba Dembélé Pavlović about her desire to win the Champions League before she retires.
You've just got time to look at both before today's first game throws off!
13:25
Despite Metz's six-goal lead over FTC, the French club are not taking anything for granted - as Tamara Horacek told EHF journalist Kevin Domas for one of our features this week.
Still, the odds seem to be on Metz's side. They have won the last 10 matches in the competition and have looked consistently strong throughout. FTC have had a decent season and Katrin Klujber is one of the top scorers of the competition, but last week Metz kept her to a single goal. The visitors need something special to join their fellow Hungarian side Györ in the EHF FINAL4.
13:10
Not long now until the second day of the second leg of the EHF Champions League Women quarter-finals throw off, beginning at 14:00 CEST with Metz vs FTC. Metz have a six-goal lead after a dominant performance last week in Hungary, and after a superb season will want to book themselves another trip back there in a few weeks' time. 











SATURDAY 6 MAY
20:20
That's all from us for today. Join us again tomorrow for the last two quarter-finals, including the Match of the Week at 16:00 CEST between CSM Bucuresti and Team Esbjerg. The blog will be live from 13:00 CEST and the first throw-off is at 14:00 CEST. See you tomorrow!
20:14
The highlights of both matches are now available on YouTube and Facebook - click here for the full quarter-final highlights playlist including both legs.
20:00
Here are today's two match reviews, recapping all the action as Vipers and Györ both booked another trip to the EHF FINAL4. 
18:45
Here's what Lois Abbingh and Kari Brattset Dale had to say right after the game - disappointment on the one side, joy on the other.
The emotions were high in the arena, with the fans singing in tribute to the players, and the players returning with their own salutes to the sea of green who keep on supporting them.
I'm so happy and I'm so proud of us. We're finally there, we've been waiting for this game for so long. Finally we are here, and to do it at home in this arena is amazing.
We couldn't really play our game today. Our defence was not as good and tough as it was last week, then we also don't help the goalkeeper so much of course, then you see it's hard for us to run the counter-attack in which we are quite good. If we don't have a good defence and don't have the saves then we cannot run. Then we made a little bit too many technical mistakes.

19:31 | FULL-TIME
Right from the start Györ showed how much they wanted that. It was a dominant performance from a team who know how to win the big matches. Odense did what they could but just could not keep up the pace or defend well enough against the Hungarian attack. It's a 66:55 aggregate win.
Ana Gros is top scorer with those 10 goals; Sandra Toft made eight saves while Odense's goalkeepers combined for 10 in total.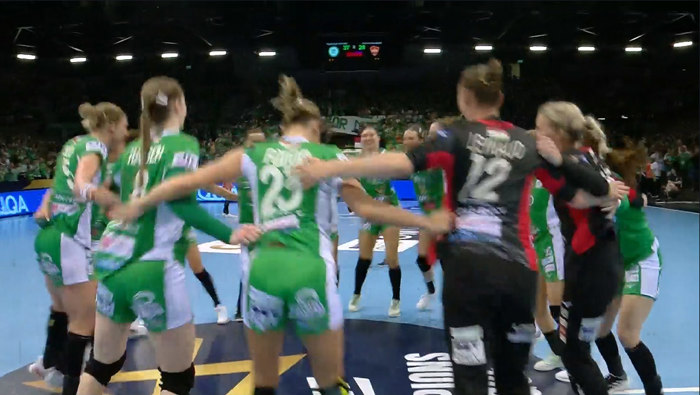 19:26
Inside the last three minutes, and Ambros Martin and the Györ fans are already celebrating another trip to Budapest.
19:18
Sandra Toft takes a break while Amandine Leynaud takes a penalty from Maren Aardahl, which Aardahl scores. It's 33:24.
Ana Gros is up to 10 goals in this game and is just unstoppable. 
19:08
Anne Mette Hansen makes it 30 goals for Györ, and they're running away with this. Still, in a timeout soon after, there is focus in Ambros Martin's instructions and a clear sense that the record champions plan to keep on pushing.
18:59
A 4:0 run for Györ gets the second half off to a miserable start, if you're an Odense fan.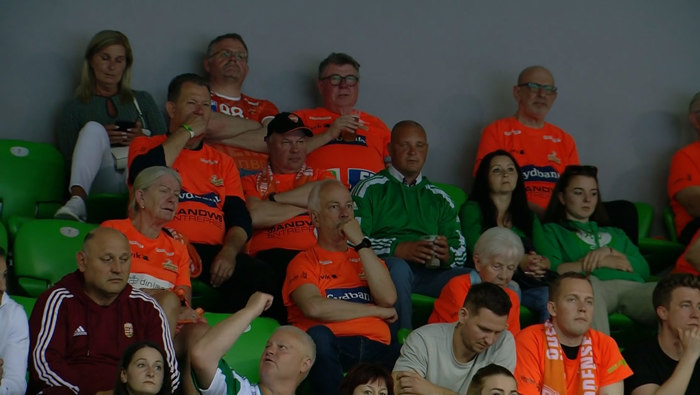 18:54
The whistle blows and Györ are 30 minutes away from booking an eighth EHF FINAL4.
18:39 | HALF-TIME
As things stand, Györ are well on their way to Budapest. They have extended last week's two-goal lead to nine and Odense can't find the solutions to the home team's aggressive, fast attack. Ana Gros and Nadine Schatzl have both played big roles, while on the other side Bo van Wetering is doing her best to keep Odense in it.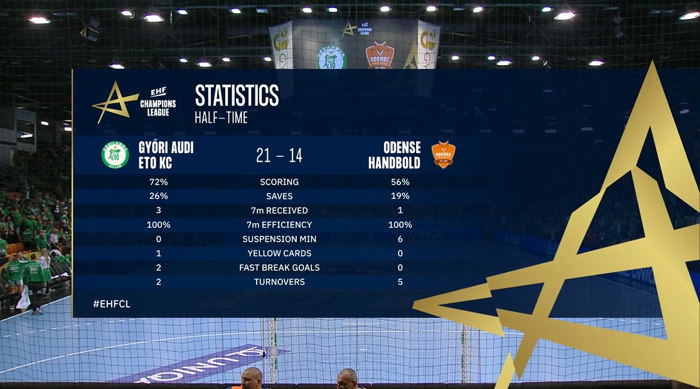 18:33
Bo van Wetering is currently Odense's top scorer with six goals. Nobody else has managed more than two. 

18:27
At 15:10, Ulrik Kirkely - who, remember, is to replace Ambros Martin as Györ coach next season - calls a timeout to try and get Odense back in the game. The visitors are facing a strong defensive effort from Györ and the attack following the timeout comes to nothing.

18:17
Just incredible pace from Györ out of the blocks. They now lead 11:7, which gives them a six-goal aggregate lead. Ana Gros is on absolute fire.

18:13
Now 10 minutes in, the match is a bit less one-sided. Odense are finding ways past Györ and it's 7:5. Sandra Toft looks a bit frustrated with just two saves so far.
18:05
Wow, what a statement of intent from Györ! Less than three minutes played and they already lead 4:1, with Odense's defence unable to do anything in response.
17:53
One team is on their way to Budapest. Who will join them?
Györ are defending a two-goal lead from the first leg on their way to what would be their eighth EHF FINAL4, and they've only lost at home once this season (to Metz). But Odense are good away, having won five of their eight games as visitors. This will hopefully be exciting!
We're live on EHFTV with the build-up.
17:43
Straight from the court, some thoughts from the players, before we turn our attention to the second match of the day.
It was a bit of a rough start, they came with a lot of speed so we were struggling in the first half. But in the second half we really stepped up in defence, and it was really good.
We did what we could, we tried to do our best. It wasn't enough, of course Vipers were the better team in both games. We had a good season, it was the first time for our team in the Champions League and I am really proud of everything that we did this year.

17:35 | FULL-TIME
Vipers are through to another EHF FINAL4 - after a close 45 minutes, they simply took control. They win by an aggregate total of 15 goals (71:56).
It's the end of a remarkable debut season for Rapid, who almost managed to escape the play-offs and go straight to the quarter-finals. We will definitely be seeing more of them.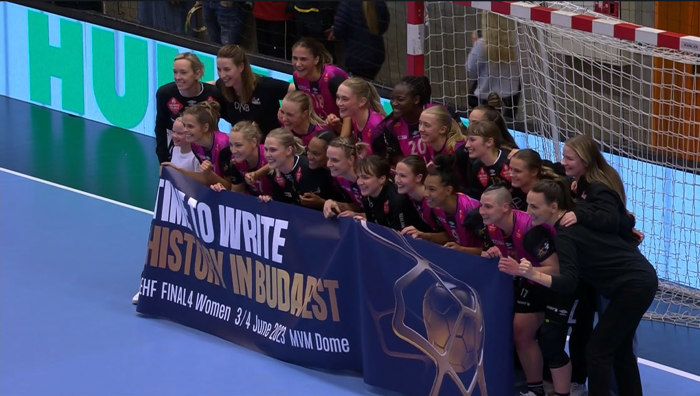 17:26
How much fun are Vipers having now?
17:22
Great goalkeepers can win crunch matches, and today Katrine Lunde stepped up. After a solid first half she's kept up the form, and is now at a 39.5 per cent save rate (15 out of 38 shots), helping Vipers to a huge 36:26 lead. The party has begun in Norway.
17:15
Just when it matters, Vipers have turned the screw, scoring four times in five minutes while Rapid have scored nothing. The visitors' defence has crumbled and the defending champions now have a 12-goal aggregate lead. 
"We need to show the right attitude," says Kim Rasmussen in another timeout, reminding his team 14 minutes of handball remain. Rapid are going seven-on-six in an attempt to leave the tournament with their heads as high as possible.
17:10
Why is Kim Rasmussen so focused on Anna Vyakhireva, you ask? Well, in addition to her five goals, she's the queen of assists for Vipers, with seven so far in the game.
17:08
Another timeout for Rapid. Kim Rasmussen tells his team to let the ball work for them, to play 5-1 defence when Anna Vyakhireva is off and 6-0 when she's on. "It's only minus two," he adds.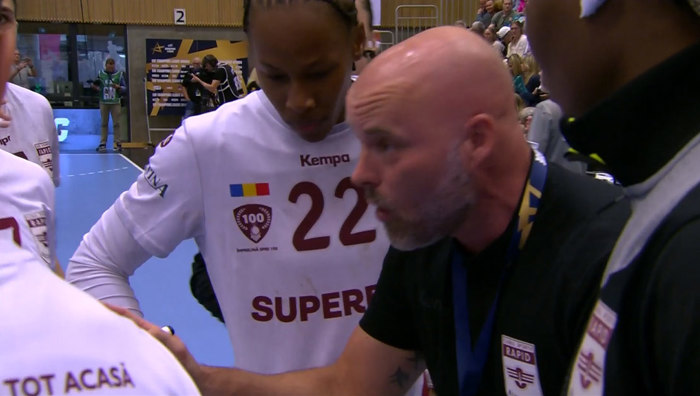 17:05
Ten minutes into the second half and there's no real change, although Vipers have just gone 25:24 up and Katrine Lunde stopped Rapid's return attack, giving the hosts a chance to take a two-goal lead - a rare thing in the game so far. 
16:55
Back underway for the second half. What can Rapid do?
16:42 | HALF-TIME
So it's all square at the break in a pretty high-scoring game with lots of quick attacks and some spectacular shots. But Rapid still have a six-goal mountain to climb if they do not want their debut Champions League season to end here, and so far Vipers have had an answer to most of the questions.
Anna Vyakhireva, Markéta Jerábková, Eliza Buceschi and Lorena Ostase have all scored four times. Katrine Lunde made eight saves and Diana Ciuca seven, underlining how equal things are.

16:34
We now have a clip of Jamina Roberts' steal from a bit earlier. Great reactions from the Swedish star!
16:30
This is really a close match, with Rapid giving everything they can, although Vipers still hold a comfortable aggregate lead.
16:23
Rapid can't afford mistakes like these; as Azenaide Carlos is trying to pass the ball back to Diana Ciuca after defending a Vipers attack, Jamina Roberts intercepts and scores.
A couple of plays later, Ole Gjekstad takes his first timeout to tell Vipers to attack more.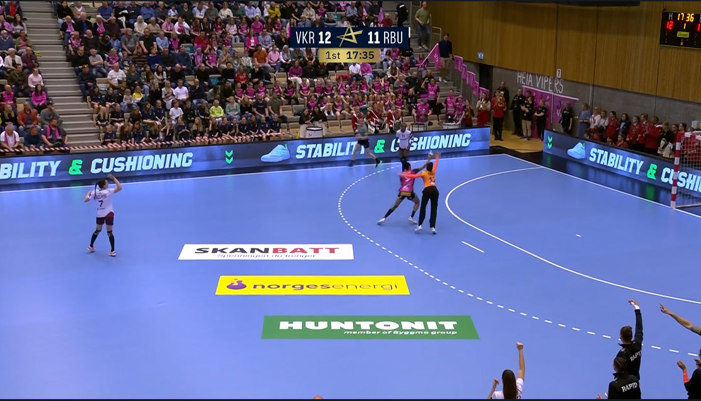 16:20
Timeout time for Rapid with the score at 12:10 to Vipers. Kim Rasmussen has clear instructions for his team - Eliza Buceschi needs to switch things up more, and they have to pay more attention to Anna Vyakhireva who has netted four times already.
16:14
There's no consistent pace yet to the game, but both teams are finding more effectiveness in fast play, as shown here by Estavana Polman.
16:10
Rapid soon have Vipers on the defensive, taking a 4:2 lead with two goals in less than 40 seconds. It's time for the champions to make a come back, and come back they do. Katarina Jezic shows why she's been brought in, scoring twice as the home team bring it back to 5:5. 
16:04
A good start for Vipers sees them strong in attack and defence. Their top scorer of the season, Markéta Jerábková, misses her first shot, but second top scorer Anna Vyakhireva makes good on her attempt. 
Rapid equalise after three minutes courtesy of their second top scorer Eliza Buceschi, in a neat bit of symmetry.
15:57
The teams are being introduced and we're moments away from the second leg of the quarter-finals getting underway.
A reminder: Vipers beat Rapid 31:25 last week and have won the last seven home games they've played. Will the sea of pink-clad fans in Kristiansand be able to celebrate a third consecutive trip to Budapest? We'll find out soon!
15:45
The second match up today pitches record champions Györi Audi ETO KC against Odense Håndbold. Györ hold a two-goal advantage after the first leg. 
Keen to play her part is line player Kari Brattset Dale, who is back - and back in form - after missing much of the past 12 months through maternity leave. EHF journalist Adrian Costeiu found out what that return has been like in an interview with Brattset Dale this week.
15:30
A new face in the Vipers team last weekend was Croatia's Katarina Jezic, who arrived to bolster the defending champions' team after starting the season at now-eliminated Kastamonu Belediyesi GSK. 
Vipers delivered the first home defeat for CS Rapid Bucuresti last week and are now just 60 minutes away from reaching their third consecutive EHF FINAL4 and a chance to try and defend their title in Budapest. Jezic told EHF journalist Danijela Vekić this week how much she is enjoying her experience in Norway, and why she thinks Vipers will be even better today. Read more here.
15:20
And here's the full schedule for the weekend. With just one match at a time, you can focus on every minute of every game using our match tickers and watching live on EHFTV (geo-restrictions may apply if a local broadcaster is showing the game).

15:15
Welcome to coverage of the second leg of the EHF Champions League Women quarter-finals! Over four hours of handball in the next two days, the four teams heading to the EHF FINAL4 in Budapest will be determined. 
What better way to find out what's in store than to read our round preview? Click here!