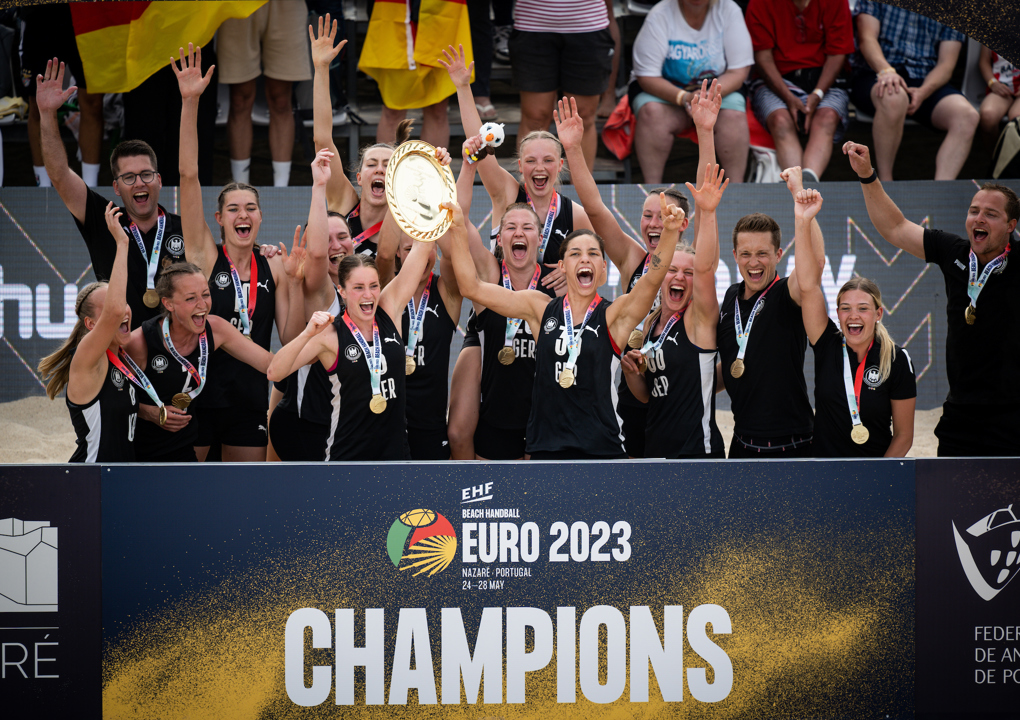 SUMMARY: Best of the beach – gold for Germany and Hungary
The EHF Beach Handball EURO 2023 in Nazaré ended Sunday with the medal and the placement matches. Hungary defeated Germany in the men's final for their first gold medal, but Germany did win the women's title again, coming from behind to defeat first-time finalists Netherlands.











19:00
What. A Tournament! What. A. Pair. Of. Champions!
The Hungarian men leave Nazaré as first-time champions; the German women repeat their triumph from 2021 to win their third title. You can watch the highlights of both finals below.
Hard to realise the EHF Beach Handball EURO 2023 is already over. These must have been among the five fastest day of my life. It was such a pleasure to cover the event here in Nazaré in stunning and welcoming Portugal with the entire EHF team. And while I usually dislike qualifications like "the best XXX tournament ever," I believe many agree with me saying this has indeed been the best EHF Beach Handball EURO so far.
It was great to guide you through those five days, thanks for joining, and no other way to close this last live blog than with a awards ceremony gallery.
From me, Eric Willemsen, it is boa noite from Nazaré! Take care, and see you next time.
18:07
With play at the EHF Beach Handball EURO 2023 now officially done and the awards ceremony in full flow, we can update the All-star Teams with the top scorers and fair play teams. They now look as follows:
Men's EHF Beach Handball EURO 2023 All-star Team
Goalkeeper:
Defender:
MVP:
Top scorer:
Domingo Jesús Luis Mosquera (ESP) – 135 points
Fair Play Team:
Women's EHF Beach Handball EURO 2023 All-star Team
Goalkeeper:
Defender:
MVP:
María Asunción Batista Portero (ESP)
Top scorer:
María Asunción Batista Portero (ESP) – 135 points
Fair Play Team:
17:52
Germany, they bend, but they never break. Coming from behind to take the final into a shootout, and then convincingly winning that one!
Let's hear some first reaction after the game from both champions and the runners-up:
We are an amazing team. I love my team! It was tough, (Netherlands) were very good, but we an amazing team and we did it again.
We are very happy. I think we have a very young team, a very new team, so we didn't expect to come so far. Overall, we are very happy with this result.
17:38 GERMANY WIN WOMEN'S GOLD, NETHERLANDS SILVER
Germany have done it again! They were on the brink of their first loss in 34 matches, but turn the tide in the second half of the last period and dominating the shootout. And again it is Lucie-Marie Kretzschmar who scores the decisive one-pointer for 7:4.
And what a tournament for Netherlands! So close to the title like never before, but of course their best ever EURO result, a year after winning bronze at the World Championship.
17:31
A shootout it is. Netherlands cannot hold on to a 10:6 lead and drop the second set 20:14.
17:27
Is this final going down to the wire? Netherlands win the first set and lead by four points (10:6) in the second, but Germany suddenly find their stride for an eight-goal unanswered run: 14:10.
17:14
Netherlands do hold on to their lead and take the opener 20:18. Their blocking in defence, lead by Anna Buter, is up to an amazing level again, one of the key factors that have brought them so far.
17:11
20:16 Netherlands! Germany led early on but the team in orange has seriously stepped up in defence since and now lead by four, with half a minute in the first period.
16:55
Can you believe it?! We are going to see the very last match of the 13th Beach Handball European Championships.
It is the women's final between titleholders Germany and 2019 bronze medallists Netherlands. No better way to finish the tournament than a proper derby between neighbouring countries.
16:49
Hungary crown their excellent run this tournament with gold; Germany only just missed out on the highest stop of the podium. Here are the first reactions after the men's final:
It was amazing. Everyone did their best and I am so happy. I don't know why but I had a feeling two days ago that we are going to win this championship. That was really cool. And I was just waiting for today as I knew something good was going to happen.
In offence we made more mistakes than Hungary, so they deserve to win in that regard. Our defence was good all in all and (All-star goalkeeper) Moritz Ebert did a fantastic job again. So, a little bit of luck and we could have won.
16:32 HUNGARY WIN MEN'S GOLD, GERMANY SILVER
Hungary have done it! They are European champions for the first time. Not the best match they have played all tournament, but of course, there has been so much at stake today.
A deserved 2:0 win (20:16: 20:18) in their second EURO final, after that silver from 2006.
Germany equal their best result ever, silver from 2004. Great to see them back at the top of Europe, where their women's team arrived two years ago!
16:24
Halfway through the second period and we are all square: 12:12. Hungary seem a bit less rusty, but let's see...
16:12
It is advantage Hungary, 20:16. Still a lot in this one, as you feel both teams have not really lived up to their performance level that they have shown before this week.
The nerves of possibly becoming first-time champions?
16:09
What a dynamic final! Germany with the better start, but Hungary taking over command and building a four-point lead with about a minute left.
Advantage Hungary?
15:55
As fast as the sport of beach handball is, let's quickly get on the next game...
... the men's final! Bring it on, Hungary and Germany! It will be a first-time champion, as both teams lost the only previous final they played – but that is quite some time ago: Hungary in 2006, Germany in 2004.
15:47
She earned the MVP title at 14:00 CEST, she added bronze some 90 minutes later... Let's hear from Spanish great Asun Batista:
I am really... I don't know how to describe it. I am so proud of my team. That what I am, is because of them. I am really proud of my national team. I don't know how (we won the shootout), it is like an explosion of emotions.
15:39 SPAIN WIN WOMEN'S BRONZE
Another heartbreak for the hosts: after the men, the women also miss out on a medal in their home Beach Handball EURO.
But all credits to Spain, who just nailed the shootout (7:2) to take the bronze, adding to the bronze they won two years ago and the gold from six years ago.
15:31
The hosts can still earn their first ever Beach Handball EURO medal! The women's team draws level with Spain, winning the second set 18:12 and taking this bronze medal match into a shootout.
15:18
Meanwhile on court 1, Spain have won the first set against hosts Portugal in the women's bronze medal match (19:18) in Asun Batista's first match as freshly crowned MVP of this EURO.
14:52
You have probably noticed it already: we are live on Twitch again! This time not with the Sunset Show – would be a bit early for that... – but with a watch-along. Apart from the Beach Handball EURO here in Nazaré, there is also the final day of the EHF Finals Men 2023 in Flensburg.
The show is hosted by Bengt Kunkel (moderator) and Arnor Gunnarsson (Bergischer HC) and you can expect guests like Alex Kulesh, Márcio Menino and Emma Friis.
14:46
Denmark win their third straight medal, adding bronze to the two golds. Let's hear from Nikolaj Mogensen:
It was a tough match. It is always hard playing against the home team. I am just so happy we got the bronze medal.
14:34 DENMARK WIN MEN'S BRONZE
Denmark have got their medal! It is bronze for the Scandanivian side, who overcome strong resistance from the hosts Portugal, whose fourth place is still their best ever. 
14:19
+++ BREAKING NEWS +++
The All-star Teams have been revealed! Well over 4,000 fans (!) took part in the online vote, which ended just a quarter of an hour ago with the following result:
MEN:
Goalkeeper: Moritz Ebert (GER)
Defender: Francisco Santos (POR)
MVP: Gabriel Conceição (POR)
WOMEN:
Goalkeeper: Ditte Folden Vind (DEN)
Defender: Catarina Oliveira (POR)
MVP: María Asunción Batista Portero (ESP)
Read all about it here:
14:16
Denmark take the opening set in what has already become a thriller against Portugal. Martin Vilstrup nets a penalty for the golden goal: 24:22.
14:00
Crunch time at the EHF Beach Handball EURO 2023 starts here and now!
The two-time titleholders from Denmark won't get the men's gold again this year, but won't have to leave empty-handed – if they beat Portugal in the bronze medal match.
Join us on for live coverage on EHFTV! (Geo-restrictions apply in certain regions.)
13:50
Before he head into the medal matches in 10 minutes time: Earlier we mentioned the EHF Beach Handball EURO 2023 serving as qualification for the 2024 IHF Beach Handball World Championships – at a venue yet to be confirmed.
Based on the results from 2022, the IHF has allocated Europe five spots in the men's, and six in the women's event, plus Croatia's men and Germany's women as the defending champions.
So, the qualified teams currently are:
MEN: Croatia (champions), Hungary, Germany, Portugal, Denmark, Spain (top 5 Beach Handball EURO)
WOMEN: Germany (champions), Netherlands, Spain, Portugal, Norway, Greece, Denmark (top 7 Beach Handball EURO, since Germany are in the top 6)
12:31
Norway finish in fifth place in the women's event! They beat Greece 2:0.
Denmark – the 2019 champions and 2021 runners-up – settle for seventh place, beating Croatia 2:0 to punch their ticket to the European Games. So, while the men's team of Croatia just snatched the last ticket to the European Games, the women's team just misses out.
11:51
Just to give you an idea how close these championships are: France and Netherlands both won two of their three matches in the preliminary round and were just unlucky to miss out on the main round and a top eight finish.
This morning, they played on court 3 in the 13/14 placement match. France won 2:1.
11:42
Croatia secure their place at the European Games! As reigning world and The World Games champions, they obviously hoped for much more than seventh place, but that is where they finish following their 2:0 win over Ukraine this morning.
And Spain, disappointed to lose their quarter-final against Portugal that kept them out of the medal matches, at least finish in fifth, beating Norway 2:0 in the first match on court 1 today.
11:13
Every day of this Beach Handball EURO has been full of highlights – and Saturday has been no exception:
10:48
Of course, all eyes are on the medal matches this afternoon, but that doesn't mean there is nothing at stake in the morning.
The top five of the men's event and the top six of the women's event qualify for the 2024 IHF Beach Handball World Championships.
And in the men's 7/8 placement match, for instance, Ukraine are taking on Croatia and the winners will be the last team to grab a ticket for the European Games in Tarnów next month, as the top 7 of the Beach Handball EURO and hosts Poland will make up the field for that event (which was also the reason this EURO had to be staged as early as May this time...)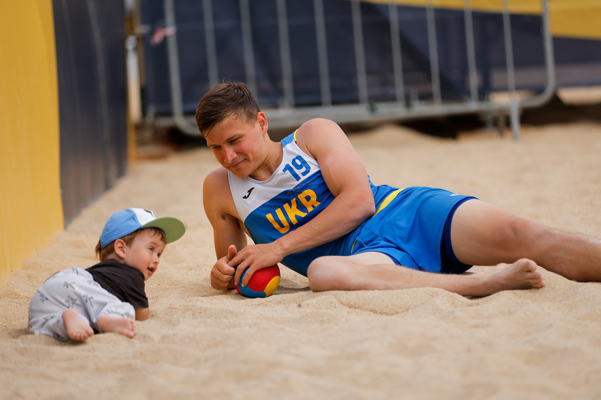 10:40
Bom dia from Nazaré, unfortunately for the last time.
Welcome to the live blog for the fifth and last day of the EHF Beach Handball EURO 2023. We are going to find out the final ranking for all 32 teams that have pleased us over this week here on the Portuguese coast.
The medal matches start at 14:00 CEST, but before that, make sure to cast your vote for the EHF Beach Handball EURO 2023 All-star Teams as voting closes at 14:00 CEST.
As usual, let's start with a look back at the Top 5 Plays from yesterday: