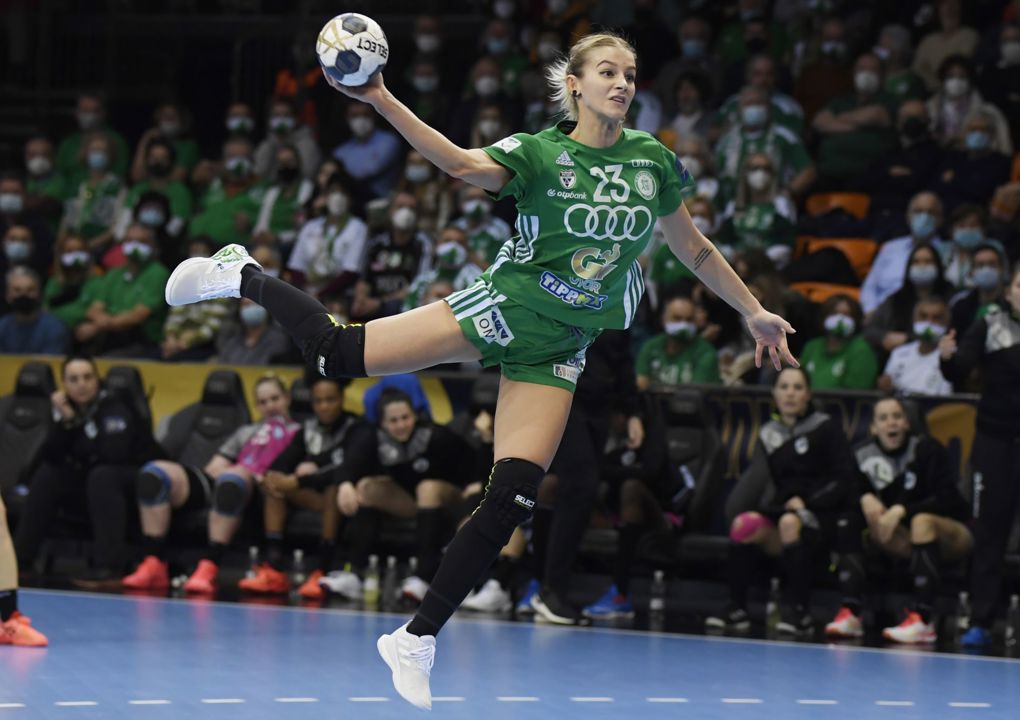 Three tickets to Budapest up for grabs
As six teams chase three EHF FINAL4 Women spots in Budapest, the EHF Champions League Women quarter-finals will throw off on Saturday and Sunday with three first leg matches.
In the Match of the Week on Sunday, CSM Bucuresti and Team Esbjerg will meet for the third time this season, after the Danish team claimed three points from their Romanian rivals in the group phase.
Defending champions Vipers Kristiansand and Krim Mercator Ljubljana also faced each other in the group phase, with the Norwegian team winning both games, but Krim hope to do better with Ana Gros in their squad.
Brest Bretagne Handball and Györi Audi ETO KC will play a rematch of last season's first semi-final, and the Hungarian powerhouse will look to avenge their frustrating penalty shootout defeat.
In the EHF FINAL4 Women 2022, the three quarter-final winners will join Metz Handball, whose matches with Rostov-Don were cancelled due to the war in Ukraine.
QUARTER-FINALS, FIRST LEG
Brest Bretagne Handball (FRA) vs Györi Audi ETO KC (HUN)
Saturday 30 April, 18:00 CEST, live on EHFTV
in last season's semi-final, after a 23:23 draw in regular time, Brest won the penalty shootout 4:2
this season, Brest finished fourth in group A before beating Odense Håndbold 53:51 on aggregate in the play-offs 
Györ earned a direct quarter-final spot after finishing top of group B with 26 points, six ahead of runners-up Vipers
the Hungarian heavyweights boasted a 13-game winning run in the current competition before losing their last group match at Vipers, 30:29
Györ cannot rely on two Norwegian players in Brest: goalkeeper Silje Solberg is injured and line player Kati Brattset Dale is pregnant
Brest coach Pablo Morel: "There is a real excitement to play this kind of match, a Champions League quarter-final, against Györ, who are probably the competition favourites. We are aware that the opposition will be tough and that we will play the second match in Hungary, but there will be a lot of motivation."
I'm really excited about this game against Györ. With Brest against this team, the matches have always been very tight and tough. I'm pretty sure it will be the same again this time. We know Györ's level and we know that it is always on top, but we also believe in ourselves.
Krim Mercator Ljubljana (SLO) vs Vipers Kristiansand (NOR)
Sunday 1 May, 14:00 CEST, live on EHFTV
while Vipers are the reigning champions, Krim, who won Europe's top-flight competition in 2000/01 and 2002/03, are among the top eight teams for the first time since 2012/13
the two sides have met eight times in European club competitions, with Vipers winning seven times and Krim just once
in the group phase this season, title holders Vipers defeated their Slovenian opponents both times, 37:20 and 27:26
the Norwegian side finished second in group B and earned a direct spot in the quarter-finals, while Krim finished sixth and eliminated FTC-Rail Cargo Hungaria in the play-offs, 55:52 on aggregate
Ana Gros, who joined Krim from CSKA before the play-offs, scored 17 of their 55 goals in the two matches against FTC. Gros is now the second-best scorer in the competition with 88 goals
Vipers' Nora Mørk has 86 goals under her belt and is in joint-fourth position on the scoring chart
Krim right wing Katarina Krpez-Slezak: "The most important thing is to stop their quick counter attacks, stop their quick play, and make sure we have as few technical errors as possible."
After the last match with FTC, we had the Slovenian Cup and we played two matches in the national championship. I believe that the girls will do their best and will play the best match so far. We lost all six mutual matches in the Champions League, but one was almost close. The surprise on Sunday will be our good game in defence and attack.
MOTW: CSM Bucuresti (ROU) vs Team Esbjerg (DEN)
Sunday 1 May, 16:00 CEST, live on EHFTV
Esbjerg are looking to progress to their first EHF FINAL4, while CSM want to book a ticket to Budapest for the first time since the 2017/18 season
the two rivals have met eight times in European club competitions, with CSM winning five matches, Esbjerg two, and one more game ending in a draw
however, the Danish team had an advantage in this season's group phase, as they beat CSM 22:21 at home and earned a 29:29 draw in Bucharest
while Esbjerg, who finished top of group A, earned a direct quarter-final ticket, CSM also did not play in the play-offs, as their matches with CSKA were cancelled
CSM's Cristina Neagu tops the scoring chart of the competition with 94 goals, while Esbjerg's best scorer is Henny Ella Reistad, with 77 goals
before the quarter-finals, the Romanian side reinforced their squad with Eduarda Amorim, who joined from Rostov and had previously won the Champions League five times with Györ