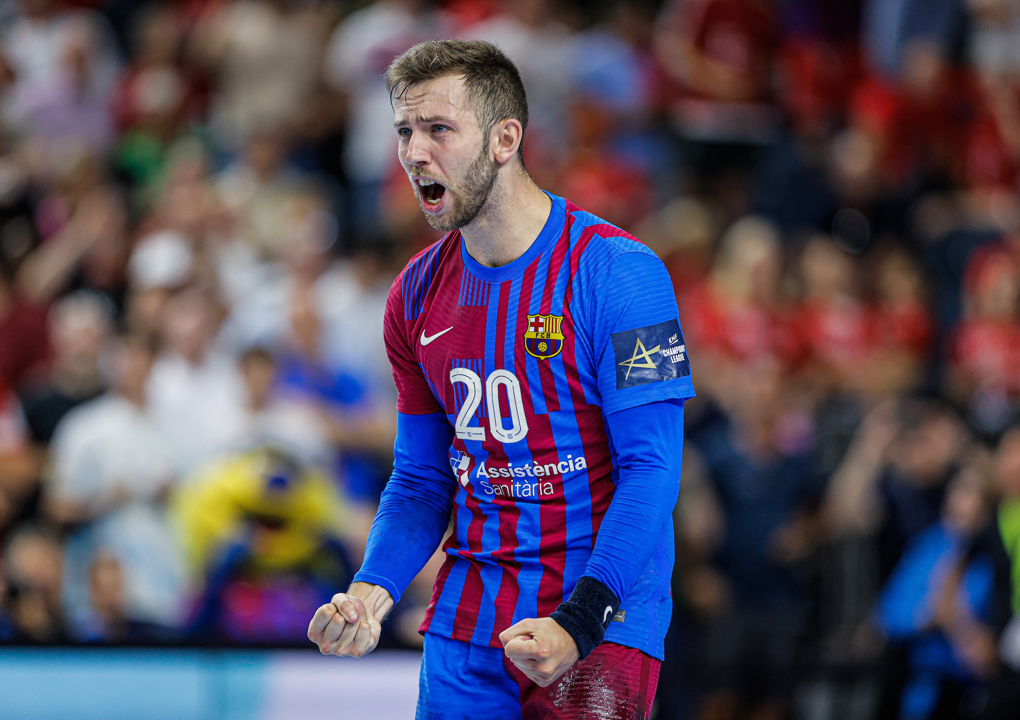 This is me: Aleix Gómez
Aleix Gómez Abelló. Since his emergence at Barça in the 2017/18 season, he has been getting better and better. Named in the EHF Champions League All-star Team for a third straight year now, thanks to his superb consistency throughout the season. But the 25-year-old right wing did not stop here: Gómez is the top goal scorer of the competition with 104 goals, improving his all-time total to 372.
With 22 goals at the EHF FINAL4 Men last weekend, Gómez has also been a main reason Barça became the first team to win the EHF FINAL4 two years in a row. This is his story, in his own words.
This is me... Aleix Gómez
'Més que un Club.' You have probably heard the motto. It is basically everywhere if you search something about Barça on the internet. Or visit the Palau Blaugrana and the Camp Nou, those beautiful landmarks in Barcelona. A simple glance on the entrance will face you with these words. If you are not familiar with them, I will try to explain them succinctly and you will understand quite fast why they are paramount to Barça's success.
If you do not understand Catalan, then the simple translation of this motto that dates back more than half a century, is 'More Than a Club.' Because Barça is, simply put, more than a club, more than a team. This is the core of the DNA of a winning dynasty, this is exactly why the wins come on the court or on the pitch.

Sure, it is quite easy to speak after such an immense win like the one against Lomza Vive Kielce, which helped my teammates and I win the second EHF Champions League Men title in a row. Now, it all makes sense. Everything feels perfect, everything looks to be exactly how we dreamt it, how we envisioned it. The feeling is extraordinary, I am lucky to have experienced it twice, to lift this amazing trophy, to make so many fans happy.
I am sure you have heard it countless times from players which you surely know better than me. I am sure that everybody tried to explain it in their own words, in their own ways. But, for me, winning this competition, in such a dramatic fashion, means the world. And it cannot be explained in words, it simply is overwhelming, it takes over your body and you just feel on the top of the world.

But turn back the clock to 15 years ago, I would not have dreamt of being here. Look, I will not lie, I love handball, but my first choice was football. I was usually playing football with my big brother, Albert, and I was, like every kid round the block in Sabadell, seeing myself as a future star.
Yet something changed. Albert turned to handball, and I quickly followed suit. We started to play together, I think when I was 11 or 12, and then everything changed. I started enjoying it a more and more. A lot. Until it took over my life and I dedicated myself to it every day.
Remember that a few lines ago I told you about Sabadell? Plenty of you probably never heard of the place where I was born. It is a city in Catalunya, the fifth biggest in the region, and it is just 25 kilometres – or a 30-minute drive – away of Barcelona. Therefore, it was written in the stars that one day I will play in Barça.

Of course, I knew everything about the club, the big names that took the blaugrana shirt and won countless trophies. I dreamt – night and day – to be one of them, to play there. When you are born here, it is basically programmed into your brain to think like this, to make your own contribution to this amazing history.
Luckily, they said I was talented enough to be there since I was just little, so I joined the club of my dreams just a few months after making my debut for OAR Gracia, a team in my local town, Sabadell.
A few years after starting training in Barça's famous academy in 2014, I also made my debut for the first team, replacing legendary right wing Víctor Tomás in a game in the domestic league. It was a moment I will always cherish and which I will never forget. I was only 17 years old, but there I was, in the Palau, playing handball for my favourite side.

But then it hit me. There is a lot of pressure on my shoulders, right? Barça always were one of the teams that produced the best right wings in the world. My current coach, Carlos Ortega, was one of them and he was huge for this team. I do not need to say more about Víctor Tomás, a fan favourite.
And then, there was me. I always liked to work a lot, I always liked to keep my head down and try to talk more on the court, if you understand what I mean. To honour the tradition, to honour the history of this amazing club, a player in my situation always need to give 100 per cent every time. At every training session, in every match. This is how I was built, this is how I was going to play.
I felt that I needed to repay Barça for everything it gave me, since I was little. This is why the plan was to be better and better every day.
It surely helped. Having to overcome challenges, having to play every week against the best teams of the world and nothing other than a win being accepted? It looks tough. It is tough. But it forges character. It surely forges some bonds between teammates. And without a team, you cannot win such competitions.
















So, here we are, in Cologne, just moments away after Barça became the first team in the history of the EHF FINAL4 to defend the trophy won a year before. Sure, this time around we did not win 20 games in one season and won the final by 13 goals, but it does not matter.
Handball is still a beautiful sport and seeing our fans celebrate with us the win just made me feel amazing. I told you before, there are no words to describe it, you must live it on your own skin and enjoy these moments.

For me, it is even more special. Because, you know, I won the EHF Champions League twice with Barça, the team I supported since I was a little kid, the team I dreamt of playing for and the team that I have played my entire professional career for.
It is an honour and a privilege to be here and defend these colours. I know that one-club players are a thing of a past, but I love Barça. Not because I have played all my life here, but because, you know, it is Més que un Club.
Més que un Club, Més que un Club, Més que un Club… It just rings in my head on repeat after every win like Sunday's one against Kielce. Such a superb motto. Such a superb win.
Aleix Gómez,
20 June 2022
photos (c) 2022 Jure Erzen, Uros Hocevar, Axel Heimken | kolektiff