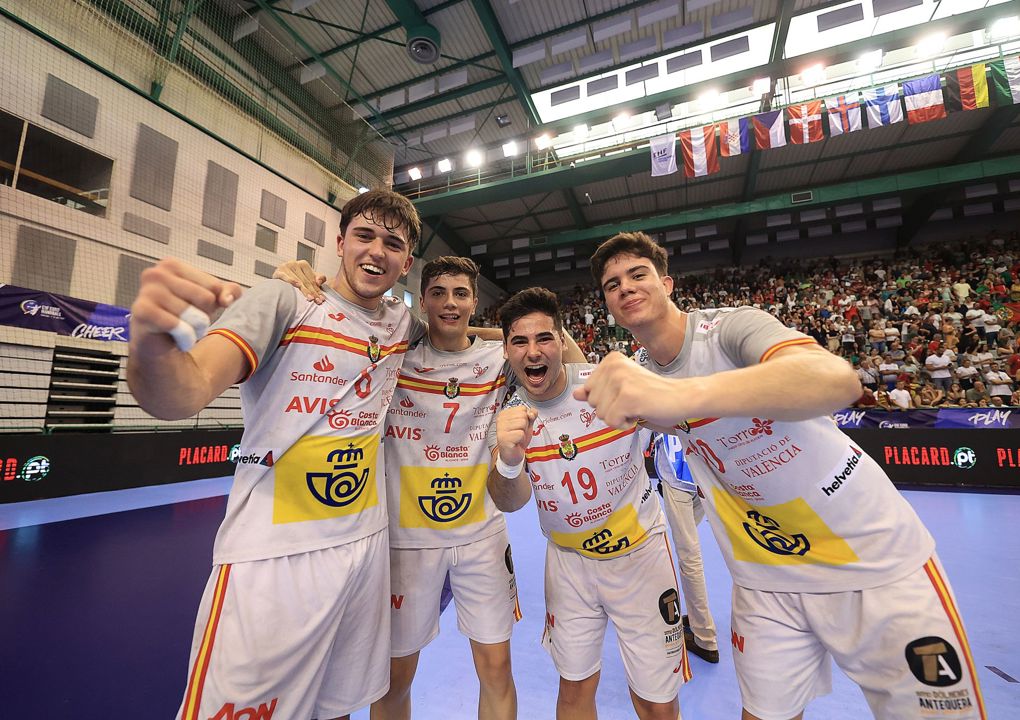 The story of Spain's epic comeback
Spain lives for sport. The people put a lot of passion into everything they do and try to improve on a day-by-day basis. This is a part of why "remontadas" – the Spanish term for comebacks – happen.
But this "remontada" was truly special – the best moment of virtually all of Spain's M20 players' lives. And you could see it on their faces when they received the M20 EHF EURO 2022 trophy.
Down four goals with 13 minutes to go in the final against Portugal, Spain engineered a superb comeback – one of the greatest "remontadas" in their history – to stop the hosts' free-flowing attack in their tracks.
Despite scoring 35 goals in the final, Portugal had a run of eight minutes and 54 seconds where they simply could not produce a goal, no matter how hard they tried. Changing players, halting Spain's momentum with a timeout, or just stopping a ball in defence proved too hard.
"First of all, you have to believe in yourself. You need to believe you can do it, that everything is possible, no matter how hard it looks. So we did that, we knew that we had it in us, despite being in the worst of circumstances," said centre back Bruno Reguart, who scored seven goals in the final.
"We were four goals down, there were 4,000 fans cheering for their home team, which added an extra layer of pressure, and time was running out for us. But we did it and I am so proud of what we achieved," added Reguart.

Reguart is not necessarily a powerful shooter who can dominate defences through strength, but rather through creativity and speed. This is exactly what he did against Portugal, scoring three of Spain's last seven goals, as he turned into an unstoppable force.
While Reguart left it really late, with Spain seemingly comfortable to display another clutch player in the mould of Alex Dujshebaev, it was another centre back – Jan Gurri – who stole the show during the match.
The 20-year-old centre back, who has dazzled through his breakthroughs and exceptional shot selection, scored eight goals to finish as Spain's top scorer in the final. Gurri was also Spain's top scorer in the tournament, with 39 goals.
"This is the best moment of my career. It is truly amazing, it is something special, it is something I dreamt of, but could never feel it myself. Yes, us Spanish love comebacks, we tend to do it more than other teams, but this one has truly been superb," said Gurri.
Spain broke some records on their way to the gold medal in this tournament, becoming the team with the most goals scored in a M20 EHF EURO final – 37 – but also the team with the highest goal average throughout a tournament: 36.4 goals per game.

Spain's attack duly delivered once again on the biggest of stages, with 14 court players scoring at least one goal in the final, as the much-touted depth advantage of "Los Hispanos", indicated by coach Rodrigo Renones prior to the game, proved pivotal on the way to the gold medal.
"Basically, you just have to believe, believe, believe. It was a crazy match. It was difficult. Obviously, it was the hardest match in the competition for us. But we managed to win and we only need to celebrate properly," added centre back Reguart.
But what does the future hold for another golden generation for Spain?
This is the third time that Spain have won the title in the last five editions of the competition. A crucial part of those two previous winners went on and secured the senior EHF EURO titles in 2018 and 2020.
As the coach of those sides, Jordi Ribera, was on site, also lending a hand in preparing the matches, the normal question is: will these players make it into the senior side in the near future?
"Jordi [Ribera] is always there for us and knows nearly everything what happens to us, at a club or at a national team level. If we are prepared to make the big step, he will definitely call us. It would be amazing to represent the national team in the future too," concluded Gurri.