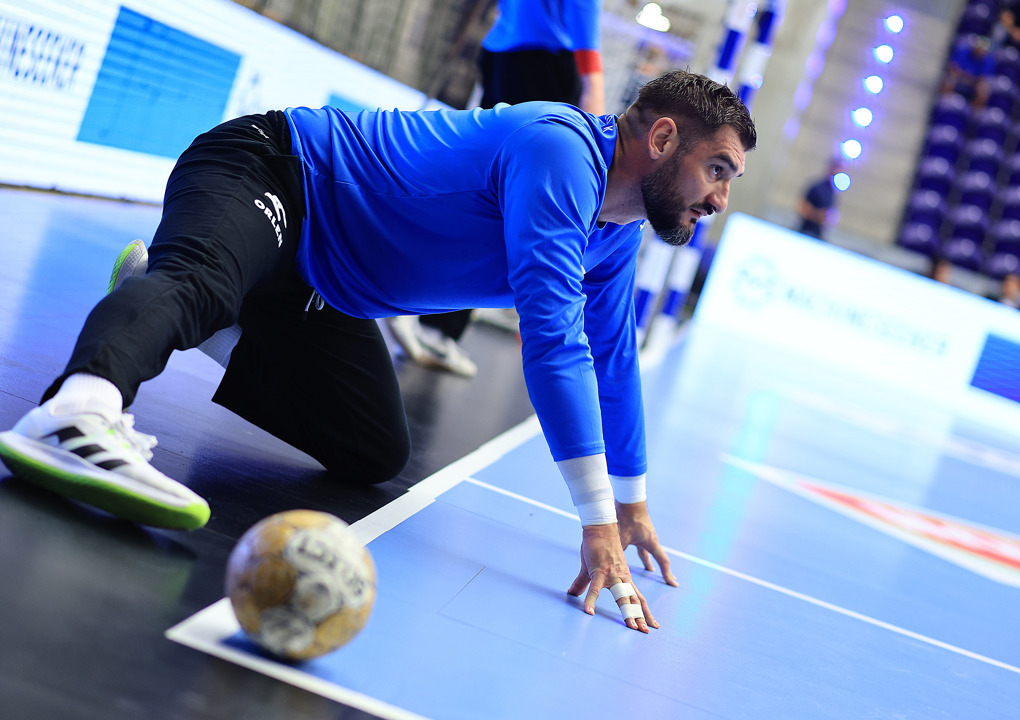 Terzić and Alilović: Good friends bringing experience to Match of the Week
The 2022/23 season marked the return of Orlen Wisla Plock to the Machineseeker EHF Champions League after two years of playing the EHF European League Men. The Polish league runners-up sealed yet another successful season as Polish Cup winners and reached the quarter-finals of Europe's top flight. The EHF FINAL4 2023 was only two goals away as they lost to eventual champion SC Magdeburg 50:52 on aggregate.
A strong squad, mixed with experience and youth, had some changes during the summer with Krzysztof Komarzewski, Ignacio Biosca, Sergei Kosorotov, Krystian Witkowski and David Fernandez leaving the club. But, the Polish side made some promising signings with players who will strengthen the team's experience - goalkeeper Mirko Alilović and centre back Miha Zarabec as well as young left back Kiryl Samoila.
Even though Plock has an average age of 26.3 years, which is below the EHF Champions League average, they will rely on experienced players who have many European top flight matches under their belt. Especially on Wednesday when they  take on GOG in the Match of the Week at 18:45 CEST. The perfect duo for the task are two good friends Mirsad Terzić and Mirko Alilović.
Croatian goalkeeper Alilović joined Orlen Wisla Plock this summer after 12 years in Hungary, and is now linking up Terzić for the third time in their career. From their EHF Champions League appearances with Bosnian club HC Izviđač in the 2002/03 season and seven years in Telekom Veszprém to the Polish side. They go back a long way.
"It is a pleasure to work with a goalkeeper of Mirko's quality. Ljubuski was a long time ago, when we were literally still trying ourselves in handball as children, then came Veszprém, where we were already formed players, and we are together in Plock. It is a fantastic feeling to have him in the team and in the dressing room. Mirko is a great professional and a good friend," says Terzić about Alilović.
"I've shared a locker room with Terza for over 10 years, we're more than teammates, we're friends, we've been in contact for years, family-like, our children grew up together in Veszprém, so even after handball, I believe we'll be close. I met him in Ljubuški, and he welcomed me in Veszprém and Wisla.," adds Alilović on the topic of their friendship.
After five years apart, they played their first game back together at the start of the Machineseeker EHF Champions League against Porto, the same opponent they opened the 2022/23 season against. While last season they managed to beat Porto 27:23, this season Portuguese side pulled off a narrow 24:23 win.
"Against Porto, we had absolute control of the game for about 40 minutes, we had a chance to make a break and go to a four or five-goal difference but that's the Champions League. Each team is of high quality and you have to play strong for 60 minutes. Porto took advantage of that and returned to the game. In the end, the points could have gone to either side, unfortunately, we were left empty-handed. The truth is, there are still a lot of games, we will do our best to correct the mistakes, and to collect as many points as possible in the upcoming matches," explains Alilović what was the reason for their defeat in Portugal.
The second round will bring even more excitement to Plock as they are hosting Match of the Week against GOG. The Danish side went through changes like every summer, saying goodbye to Simon Pytlick and Jerry Tollbring. With five new players in the squad, they struggled in the first game against Celje Pivovarna Laško despite winning in the end.
While they were about to start afresh this season with Ian Marko Fog at the helm, only days after the game in Celje they parted ways and the club introduced Mikkel Voigt as the new coach. It will be interesting to see how the changes will affect the squad. The two sides were also pitted together last season. Wisla defended their home court by winning 31:27 after GOG took their home win (31:24).
"GOG is a traditionally difficult team, we know each other from seasons before and I think that regardless of all the changes they had, they have kept their style of play. I have great respect for GOG. We certainly expect a tough game in which we will go as hard as possible to keep the points in Plock," says the Bosnian left back about their next opponent.
His teammate Alilović adds "They have an excellent back-court line and fast wings. They won against Aalborg at home but now they are in a kind of crisis but they are a Scandinavian team who don't give up. It will be difficult but I hope that we will win with the help of our fans."
While they both are waiting for the clash, we wanted to know what is the secret behind their longevity. Mirsad Terzić at 40 years old is the oldest player this season in the Machineseeker EHF Champions League and with his 19th season in the top-tier, he is among the top four players with the most seasons played.
"There are no secrets in sports. Hard work with a lot of sacrifice always pays off! And a long time ago, a colleague, more experienced than me, told me that the older you get, the more you have to train! I stick to that, I take care of my body and thankfully I had no serious injuries, so I still feel great and at full strength," reveals Terzić.
Mirko Alilović embarked on season number 21, only one behind record-holder Nikola Karabatić. While he was surprised by the number, the Croatian does not have a plan to stop there.
"I didn't even know that I was in the Champions League for 21 seasons. It's true, time flies, as a boy I played in Ljubuski and I remember that it was the dream of everyone in the club and town at that time. After that Ademar León, Celje, Veszprém, Szeged. Of course, it is an honour to be a part of the elite and top handball for so many years. It is a confirmation that everything you did in your career, you did it at a high level. I hope for good health and then a few more seasons will certainly come."
"And the secret? The secret is in hard work because nothing falls from the sky. You can sharpen your talent only with hard work. Even if you don't have a great talent, with hard work and perseverance you can achieve great things," concludes Alilović.