Summer blog: Main round start highlights Tuesday schedule
The Summer Blog on eurohandball.com guides you through all the action at the various Younger Age Category (YAC) and beach handball events taking place this summer.
Summer blog for Tuesday 12 July 2022
YAC: eight matches at the Men's 20 EHF EURO 2022 in Portugal
intermediate round has started with four matches this afternoon: Norway vs Faroe Islands 31:33; Poland vs Slovenia 26:29; Montenegro vs Iceland 28:41; Croatia vs Iceland 25:25
main round schedule tonight:
- Spain vs Hungary and France vs Germany at 18:00 CEST
- Portugal vs Denmark and Sweden vs Serbia at 20:30 CEST
all matches are live on EHFTV.com (geo-restrictions may apply)
Tuesday 12 July 2022
17:30
Great to see the M20 EHF EURO 2022 in Portugal back in full flow today! This evening the main round opens, and all teams dreaming of lifting that coveted trophy on Sunday will be eager to have a strong start into this next phase tonight.
Here is the schedule, all matches are streamed live on EHFTV:
Enjoy the matches and see you again tomorrow morning on our Summer Blog!

17:06
The first round of matches in the intermediate round is over. Slovenia, the 2018 winners that failed to make the main round this time, defeat Poland 29:26 – thanks to eight goals from Mitja Janc – to lead group I1 with four points, ahead of Poland and Faroe Islands with two each.
In group I2, Croatia and Italy share the points (25:25) after an astonishing comeback by the Italians, who were 14:8 down early in the second half but made up the difference, mainly thanks to nine goals in total by Thomas Bortoli. This result puts both teams in the lead with three points – though Croatia have the better goal difference. Iceland follow with two points.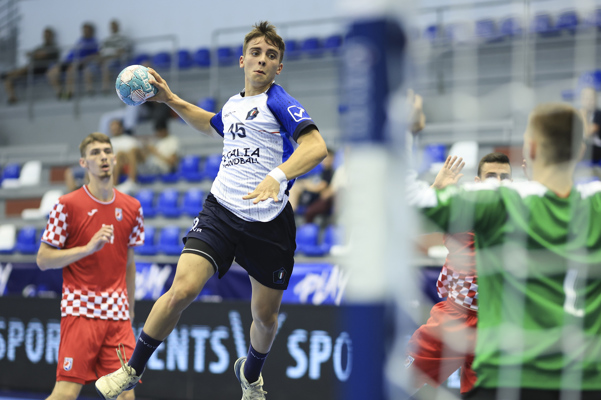 M20 EHF EURO 2022 intermediate round:
Group I1:
Group I2:
16:42
The EHF European League is also getting ready for the 2022/23 season. The qualification round draws take place next week, but the participating teams have meanwhile been confirmed by the EHF.
In the men's competition, 46 teams are on the starting grid, with 12 of them starting their campaign in the group phase, while the others have to get through one or two qualification rounds in order to get to that stage.
And in the women's competition, 37 teams have entered, with four of them seeded through to the group phase in early 2023: Ikast Håndbold, DVSC Schaeffler, Paris 92, and Molde Elite.
You find all the details in these articles on eurohandall.com:
16:24
While all eyes are on the YAC events these days, there is a lot of other handball news as well. The EHF has today released the playing schedule for the group phase of the EHF Champions League Women 2022/23.
And get ready for some cracking matches right in the opening weekend of 10/11 September: in group I, two-time defending champions Vipers Kristiansand open their campaign against Brest Bretagne Handball, the team they defeated in the 2021 final. And in group II, two EHF FINAL4 2022 participants meet each other as Team Esbjerg host Györi Audi ETO KC.
Read all about the schedule here:
15:53
Faroe Islands just missed out on the main round at the M20 EHF EURO but now hope to become the-best-of-the-rest and finish ninth. Coach Mark Marcher is obviously pleased with this afternoon's win against Norway:
It was a tough match [against Norway]. We used a lot of energy, but we were in control of the second half and that was quite OK. Our defense stepped up and that was important.
15:24
Faroe Islands started the preliminary round at the Men's 20 EHF EURO 2022 with a surprise win over Denmark last week. And this afternoon, Faroe Islands have started the intermediate round with yet another win over a Scandinavian opponent.
Led by a superb 12-goal outing of Elias Ellefsen á Skipagøtu, Faroe Islands downed Norway 33:31 in a group I1 match.
In the simultaneous match in group I2, Iceland made light work of Montenegro: 41:28 – with 10 goals of Andri Már Rúnarsson for Iceland.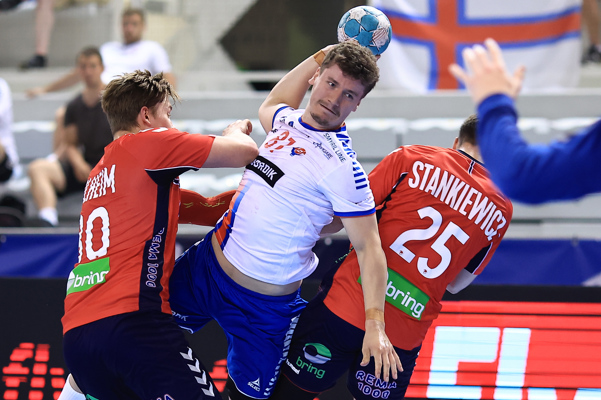 M20 EHF EURO 2022 intermediate round:
Group I1:
Group I2:

13:05
Did the top five saves from the preliminary round match or surpass the top five goals? With 'double saves' counting towards the top five saves, goalkeepers showcased their reaction skills in this clip.
12:05
As we countdown to Tuesday's action getting underway, now is a good time to look back at the top five goals from the preliminary round.
Francisco Mota da Costa's winning goal for Portugal against Spain was certainly important – but was it the best goal that we have seen so far?
10:00
Good morning and welcome back to the summer blog. After a rest day on Monday, the main round truly begins at the Men's 20 EHF EURO 2022 in Portugal today.
Of course, with points carried forward from matches in the preliminary round between the teams that qualified for the main round, Portugal, Denmark, Sweden and Serbia start the main round in a stronger position than Spain, Hungary, France and Germany.
If you haven't looked at Tuesday's schedule at the M20 EHF EURO 2022, check it out below.
Tuesday's schedule (all times CEST)
Intermediate round
Group I1
Norway vs Faroe Islands (13:00)
Poland vs Slovenia (15:30)

Group I2
Montenegro vs Iceland (13:00)
Croatia vs Italy (15:30)
Main round
Group M1
Spain vs Hungary (18:00)
Portugal vs Denmark (20:30)
Group M2
France vs Germany (18:00)
Sweden vs Serbia (20:30)