Summer blog: Portugal join Spain in the M20 EHF EURO 2022 final
The Summer Blog on eurohandball.com guides you through all the action at the various Younger Age Category (YAC) and beach handball events taking place this summer.
23:20
As we conclude our coverage of the M20 EHF EURO 2022 semi-finals, check out Adrian Costeiu's review of Portugal's dramatic win over Sweden via the link below.
22:49
Here is the post-match reaction from Diogo Marques and Albert Månsson after the second semi-final.
Portugal goalkeeper Diogo Marques said: "It was an amazing game for both sides. In the first half, we played better and defended really well, but in the second half we went a bit lower than we expected But Kiko Costa managed to score the goal and we are really really happy."
Sweden back Albert Månsson said: "We can't do more than this. We did almost a perfect match in the defence, but Portugal has a very good team and it is very difficult to beat them at home."
22:07
As Portugal goalkeeper Diogo Marques receives his player of the match award, it is worth pointing out the importance of his breakthrough save with approximately 50 seconds left on the clock. Marques finished the match with 13 saves from 35 shots saved.
22:04
Francisco Mota da Costa scores a penalty with the last throw of the game — and Portugal are through to the M20 EHF EURO 2022 final in one of the more dramatic ways imaginable.
21:51
"These stops are just adding to the tension of the game," says Paul Bray in commentary on EHFTV. The tension is certainly increasing for the hosts as the score is 23:23 with six minutes left.
21:35
With Portugal leading 18:16 after 41 minutes, Sweden have called their second timeout of the game.
If you haven't seen Albert Månsson's superb buzzer-beater before half-time, here it is.

21:19
Portugal lead by two goals at half-time after a fantastic buzzer-beater from Albert Månsson for Sweden concluded the action in the first half.
EHF journalist Adrian Costeiu has described it as a "cracking match" and says that Portugal have the "upper hand" at the break.
He said: "For a few minutes, Portugal looked like they were going to run away with this game. They were simply outstanding in attack, scoring at free will for five minutes, when they deployed a 5:0 run, with left back Martim Mota da Costa scoring three times.
But this has been not a walk in the park for the hosts. It was a great defensive outing from Sweden, who stopped Portugal's free flowing attack, but there has been also some great goalkeeping from Portugal's Diogo Rema, who finished the first half with a 50 per cent efficiency."
21:07
Under the revised IHF rules of the game, Gabriel Da Rocha Viana receives a suspension for hitting Sweden goalkeeper Alexander Linden in the face with a shot from the wing.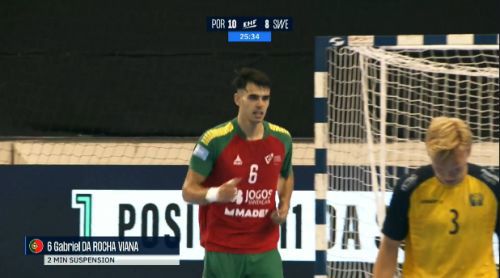 20:57
Diogo Rema Marques' four saves for Portugal in the first 21 minutes have been well-timed. Although Sweden have subsequently had a 3:0 run, Portugal lead 9:8.
20:49
It will come as no surprise to those who have watched Portugal play in the M20 EHF EURO, but Sweden's hopes of winning seemingly rest on stopping Martim and Francisco Mota da Costa. The two brothers have scored five of Portugal's eight goals in the opening 15 minutes. 
20:42
A 4:0 run for Portugal prompts Sweden to call a timeout in the ninth minute. 
20:26
The teams are being introduced to the crowd ahead of the second semi-final between hosts Portugal and Sweden.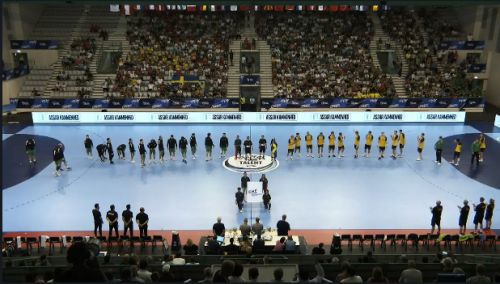 Our start was not so good. We gave them the opportunity to lead by five or six goals, and we came together a little bit latter. We were catching them but it wasn't enough. We fought until the last second. I want to congratulate Spain on reaching the final and also congratulate my players. We will prepare good for the bronze medal match.
We started with a lot of intensity and were very good in defence, which allowed us to score easy and quick goals, and we achieved a good lead on the scoreboard. In the second half, Serbia scored easier goals and eventually managed to get closer on the scoreboard. Now we can rest and try to win the last game.
19:50
In case you missed Spain's celebrations after their semi-final triumph, or if you want to see the scenes again, here they are!
19:30
The second semi-final is an hour away. In the meantime, you can read Adrian Costeiu's comprehensive match review of Spain's win in the first semi-final.
19:05
Spain's Alex Lodos (five goals) and Serbia's Milos Kos (nine goals) received the player of the match awards for their performances in the the first semi-final.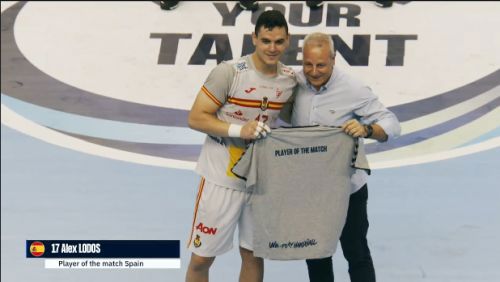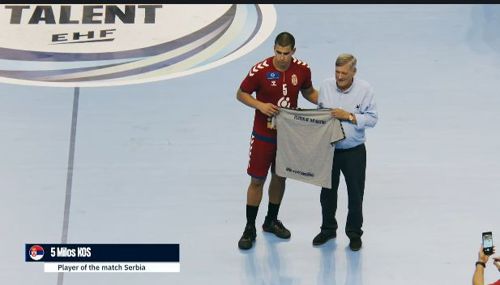 19:00
Serbia's spirited comeback effort in the first M20 EHF EURO 2022 semi-final falls short as Spain seal a place in the final with a three-goal victory.
18:52
Marko Tasic receives a suspension for Serbia with less than five minutes to play.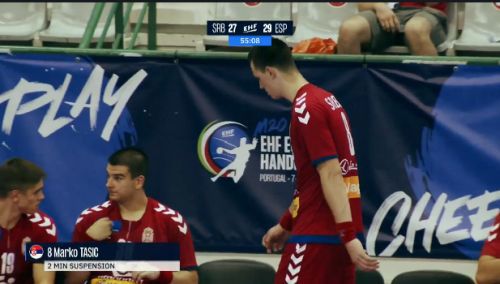 18:42
Jan Gurri's fifth goal of the game makes him Spain's top scorer after 48 minutes. Their lead has been fluctuating between four and five goals, but Serbia have now reduced the deficit to three goals with 11 minutes to play.
18:26
Was this the pick of Milos Kos' six goals in the first half for Serbia?
Meanwhile, Spain have extended their lead to eight goals (21:13) as we approach the 39-minute mark. The fast breaks are flowing now for Spain!
18:15
Serbia have reduced Spain's advantage to five goals at half-time. With six goals, Milos Kos leads the scorers for both teams.
EHF journalist Adrian Costeiu has provided his thoughts on the first half in Portugal: "Spain's start to the game has been a true masterpiece. They jumped to a 8:1 lead thanks to some amazing defence, which stopped Serbia in their tracks. By the time their opponents started playing better, the gap was already too high.

However, Serbia improved on their 11 per cent attacking efficiency from the start of the game, but missed too many easy shots to truly come back in the game. We have seen bigger surprises in handball, but this is Spain's game to lose now."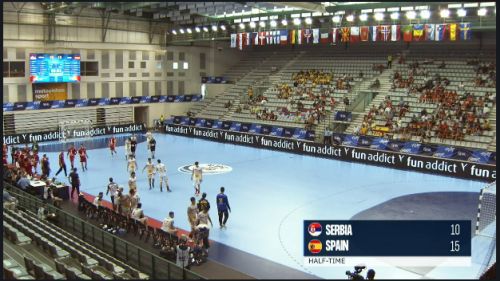 18:04
"I don't think the half-time buzzer can come quick enough for Serbia," says Paul Bray in commentary. As he notes, Kos has largely carried the load for Serbia in attack. In contrast, nine different players have scored for Spain in the first 27 minutes.
17:54
Branko Predovic has joined Milos Kos on the scoresheet for Serbia, but Domenech's eight saves from 12 shots faced are the primary reason why Spain lead by seven goals after 20 minutes, 11:4.
17:50
Spain have taken a six-goal lead (9:3) after 16 minutes. So far, Milos Kos is the only player for Serbia who has beaten Spain goalkeeper Roberto Domenech.
17:40
Coverage of the first M20 EHF EURO semi-final between Serbia and Spain is under way on EHFTV. Viewers can enjoy commentary of the match in English from Paul Bray.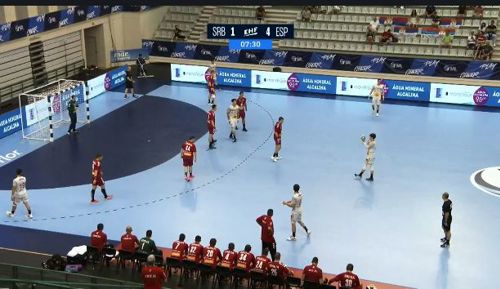 17:20
After this afternoon's results, we have four M20 EHF EURO 2022 placement matches confirmed for this weekend.
Sunday
5-6 placement match: France vs Hungary
7-8 placement match: Denmark vs Germany
Saturday
13-14 placement match: Croatia vs Poland
15-16 placement match: Montenegro vs Norway
17:10
RESULTS
Cross matches 5-8: Denmark 25:27 France
Cross matches 13-16: Croatia 32:22 Norway
17:07
France goalkeeper Leo Villain made 15 saves from 39 shots against Germany but ended up on the losing side. When Denmark took a 20:17 lead after 44 minutes, a similar fate looked likely for Villain this afternoon. But a strong finish from France, combined with Villain's 12 saves from 36 shots, has helped them claim a 27:25 victory over Denmark. France will now face Hungary in the 5-6 placement match on Sunday.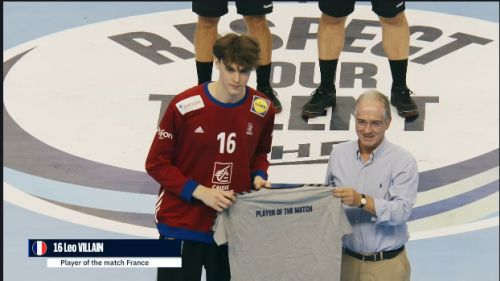 16:18
After establishing a three-goal lead early in the first half against Denmark, France hold a one-goal advantage at half-time. Although France's Matteo Fadhuile converted his first two attempts from the seven-metre line, his last two penalties were saved by Matthias Dorgelo.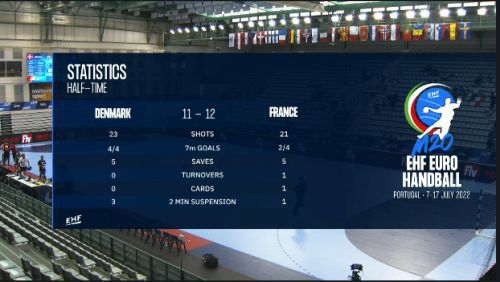 Half-time scores
Cross Matches 5-8: Denmark 11:12 France
Cross Matches 13-16: Croatia 16:8 Norway
Hungary has a good team. We started very badly in the match, we fought and came back, but then in the second half we started badly again. In the end, we had no luck. Congratulations to Hungary.
I would like to congratulate Germany. They were very good during the match, but we controlled it from start to finish. During the game we made some mistakes, lost our advantage, but it was a good match for us.
15:34
Who will face Hungary in the 5-6 placement match on Sunday? Denmark vs France has just begun on EHFTV.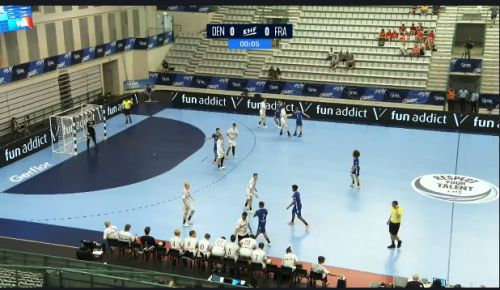 14:41
Despite Germany equalising on three occasions in the second half, Hungary earn a three-goal victory and progress to the 5-6 placement match on Sunday. Meanwhile, Poland will play for 13th place on Saturday after beating Montenegro. 
Cross Matches 5-8: Germany 32:35 Hungary
Cross Matches 13-16: Poland 30:26 Montenegro
Peter Lukacs, who scored Hungary's final goal shortly before the buzzer, received the player of the match award for his team.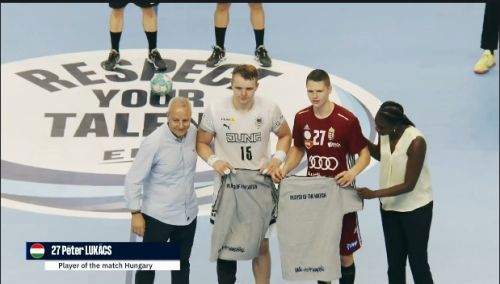 13:47
We have reached half-time in our first two matches this afternoon. Hungary lead 19:16 against Germany, while Montenegro enjoy a 16:14 advantage against Poland.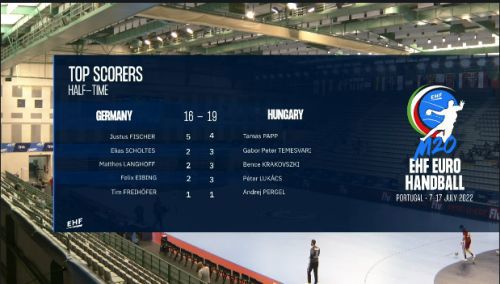 12:56
While the M20 EHF EURO 2022 is underway in Portugal, the M20 EHF Championship 2 in Bulgaria is set to begin on Saturday, with 10 teams vying for the title.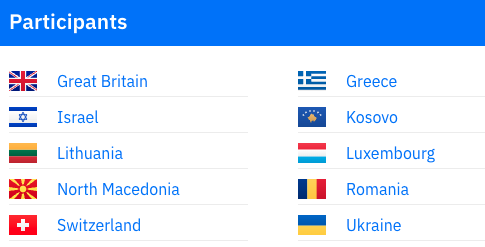 M20 EHF Championship 1 concluded last Sunday, with Czech Republic claiming the trophy after defeating Austria in the final, 32:26. The Netherlands took bronze by beating Finland 42:32 in the 3/4 placement match. 
Now another 10 teams have the chance for glory. Read the preview of the M20 EHF Championship 2 here. 
12:41
We are approaching the start of the on-court action in Portugal, with the first games of the day set to begin at 13:00 CEST. 
Alongside the semi-finals, six cross-matches in the placement rounds to determine fifth position down to 16th will take place. 
The full schedule for today's cross-matches:
Cross matches 5–8:
13:00 CEST Germany vs Hungary
15:30 CEST Denmark vs France
Cross matches 9–12
18:00 CEST Slovenia vs Iceland
20:30 CEST Italy vs Faroe Islands
Cross matches 13–16
13:00 CEST Poland vs Montenegro
15:30 CEST Croatia vs Norway
12:27
Your viewing of the big finals weekend just got even better: Those watching the M20 EHF EURO 2022 semi-finals and finals this weekend will be able to enjoy the additional benefit of English commentary on the EHFTV stream. 
While all matches are streamed live on EHFTV, there are some geo-restrictions for places where games will be shown elsewhere. See where you can watch below!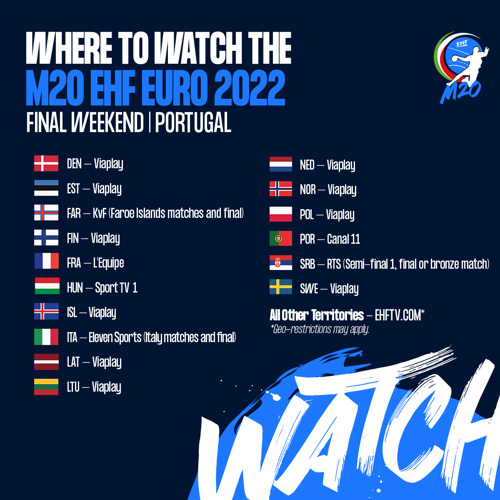 12:13
It is not only an exciting weekend ahead to find the M20 EHF EURO 2022 champions, but a potentially momentous one with the chance for some big history, as only one of the semi-finalist teams has won the title in this competition before: Spain. 
Spain were the victors in 2012 and 2016. In between that, they placed third in 2014 before missing the semi-finals at the 2018 edition. The 2020 event was cancelled due to the Covid-19 pandemic. 
Sweden, Serbia and Portugal therefore all have the chance to become the first generation from their countries to bring the M20 EHF EURO trophy home. 
Both Spain and Sweden have won the Junior World Championship before, which this generation will play next summer. That means that if Portugal or Serbia take the title, it will be the very first for their country in this age category across all major competitions. 
11:59
Can Portugal complete the miracle on home soil and take their first title in the M20 EHF EURO? The hosts have never raised the trophy, but fought for it once, back in 2010. 
The home side's chances are surely helped by their high-scoring back duo — and brothers — Francisco and Martim Mota da Costa. Francisco is the top scorer of the M20 EHF EURO 2022 ahead of the last matches, while his brother rounds out the top 10 players, sitting in joint seventh position with Iceland's Andri Már Rúnarsson.
Another familiar name on this top scorer list is Mitja Janc, whose older brother, Blaz, is also well known for his scoring prowess. 
Yesterday we got to know the Mota da Costa brothers better in a special feature — read it here. 
11:40
It is not only the M20 EHF EURO 2022 lighting up courts across Europe this weekend — we also have plenty of action on the sand! 
A total of eight European Beach Tour tournaments are coming up, in eight different countries. Learn more about the ebt here. 
11:18
On yesterday's day off from matches, the top of the crop from the M20 EHF EURO 2022 — those who received Player of the Match awards — participated in a workshop with former Spain and Barça wing Victor Tomas as part of the Respect Your Talent. 
We have already heard from Tomas with his perspective on the importance of the RYT programme, and today we hear from the players. Read all about it below!
This is a very good experience for a young player. Talking about media management and mental health, make everyone understand what they can do. It is always a pleasure, because it is not every day you meet one of the best right wings [Tomas] ever.
9:46
Let's take a look at the records of the four semi-finalists! 
No team arrives at the semi-finals unbeaten at the M20 EHF EURO. Sweden, Portugal and Serbia did progress from the preliminary round to the main round unbeaten, while Spain lost to Portugal by one goal in group A. 
In the main round, Portugal lost to Hungary in group 1, while Spain defeated both other opponents in the same group — Hungary then Denmark — to book their semi-final place. 
Coming from different preliminary round groups, Serbia and Sweden met in the opening main round match for group 2, with Serbia taking the win, 32:27. That was Sweden's first loss of the tournament. Serbia's first defeat came on the last main round day, by 10 goals, to France. 
9:30
Good morning and welcome to a big day at the M20 EHF EURO 2022! Three days of action remain, with the title to be decided on Sunday and plenty of placement games ahead.
But it is the penultimate day for the four teams left standing in the race for the trophy: Portugal, Sweden, Serbia and Spain. Today, the four will contest the semi-finals. 
The semi-final schedule: 
17:30 CEST Serbia vs Spain
20:30 CEST Portugal vs Sweden
All matches are available on EHFTV.