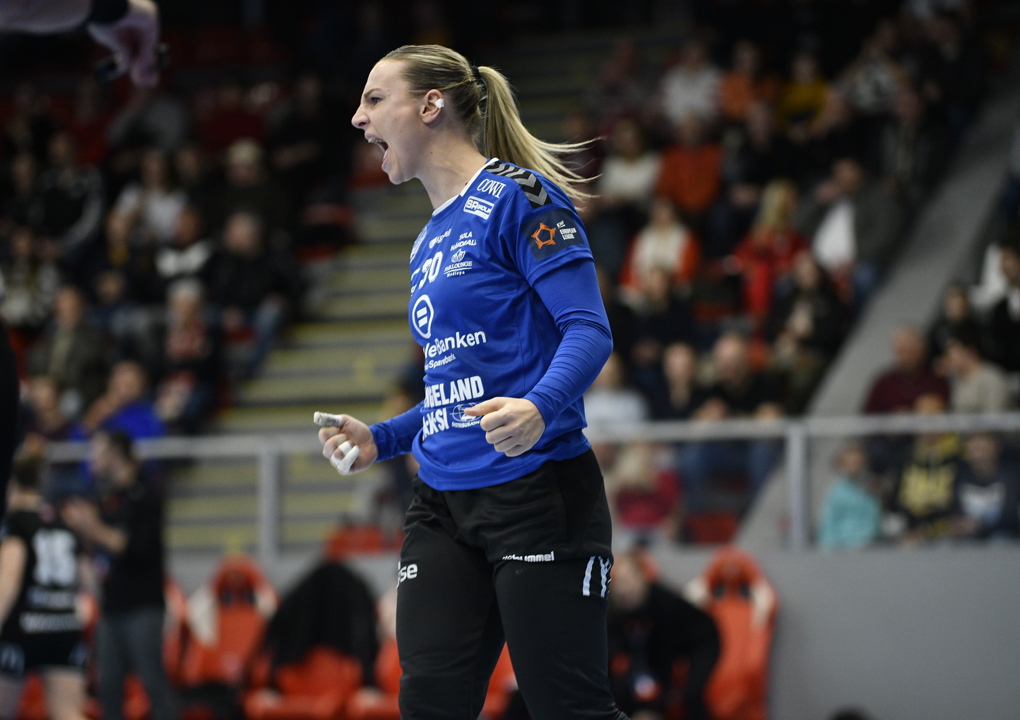 Sola's Duijndam: "Thüringer HC have a place in my heart forever"
Sola HK are back in the EHF European League Women quarter-finals. While their campaign ended at this stage last season, the Norwegian club are eager to reach the EHF Finals Women this time. Their only foreign player is Dutch goalkeeper Rinka Duijndam, who returned this season after taking a break from the sport following a burn-out. Sola's opponents this and next weekend? One of Duijndam's former clubs in Germany, Thüringer HC.
In the build-up to Sunday's first quarter-final leg against THC (live on EHFTV at 16:00 CET), Sola have had the toughest of tests they could possibly ask for in the Norwegian league. They hosted two-time reigning EHF Champions League winners Vipers Kristiansand on Tuesday evening.
While Sola were still only one goal behind early in the second half (12:11), they ultimately lost by 25:20.
"You have done well if you concede just 25 goals against a team like Vipers. We could have got more out of this match," Duijndam said.
While Vipers dominate the Norwegian competition with 20 wins from as many matches, Sola are expected to battle it out for the second place with Storhamar Håndball Elite, who play in the EHF Champions League play-offs this weekend, and Molde Elite.
In the EHF European League group phase, Sola also settled for second place in group C following a tight contest with group winners Nykøbing Falster Håndbold and third-place DVSC Schaeffler, as all three teams gained eight points from their six matches.
"There was no match in which we had an off-day," Duijndam said. "It is a compliment to ourselves that we played very consistently in the group phase."
Those are strong results for Sola, taking into account that their leading player has been out all season. Camilla Herrem, married to Sola head coach Steffen Stegavik, gave birth to their second son earlier this month.
But the star left wing, who netted 80 times in the EHF European League last season, has stayed close to the team.
"Camilla has never been really away from the team, has supported us from the bench with all her experience," Duijndam said. "Also, it was nice to see that when a big player like her is out, players in all positions are taking an extra step. As a team, we need to work hard to compensate for her absence, but we have been doing really well so far."
In her first season with the cub, Duijndam herself also played an important role in Sola advancing to the quarter-finals.
After the group phase, she ranks fourth on the list of goalkeepers with most saves in the EHF European League: she stopped 96 shots from 284 attempts for a safe rate of 33.8%. And Duijndam ranks even second when it comes to penalties, saving six from 29 shots. Only the goalkeeper of Sola's next opponents did better: THC's Irma Schjött saved nine penalties.
"It is always nice if you can help the team this way," Duijndam said. "But also the other way around: it is easier for me to stop balls if the defence stands well. We have a good cooperation in that respect."
Duijndam has found her place in Sola, also away from the court.
"I like it here, everyone is super friendly to me. A nice culture, very helpful people, and I have fallen in love with nature here. It is so beautiful here," she said about the seaside resort in southwest Norway.
Duijndam arrived on a one-year contract and was one of five newcomers last summer – but the only one from outside Norway. In fact, she is the only foreigner at all in Sola's squad.
"The girls are not used to have a foreigner in their team, so almost all communication is in Norwegian. I needed to get used to that, but meanwhile I understand almost everything related to handball," Duijndam said.
"It would be nice if there were more girls from abroad on the team who sometimes don't understand everything that is said. That would create a bond. But I have to say, everyone here speaks English really, really well."
Norway is the third country Duijndam is playing in.
In Netherlands, she grew up in a sport-loving family – though handball was not the main activity at the Duijndams: her parents used to play volleyball and so does one of her two sisters, while the other is into football.
Nevertheless, the young Rinka started with handball at local club VELO in her native Wateringen and later joined Dutch top team Quintus in nearby village Kwintsheul.
Still only 19, she moved to Germany in 2016 to join HSG Bad Wildungen for two years before signing with BV Borussia 09 Dortmund, alongside fellow Dutch goalkeeper Yara ten Holte. Three intense years followed, where Duijndam helped Dortmund dominate the Bundesliga 2020/21 season for the club's first national championship.
I am still very much in love with handball and I want to reach as much as possible in this sport, but it must go in a healthy manner. Before my burn-out, I always said: I definitely want to become the best goalkeeper in the world, I definitely want to win the Champions League. Now, I am living more step-by-step and can enjoy it more. I have learned to say 'no' and put myself under less pressure.
Meanwhile, Duijndam had become an integral part of the Dutch national team.
Teaming up with Ten Holte and leading goalkeeper Tess Lieder, who was still competing under her maiden name Wester, she won bronze at the EHF EURO 2018 in France and gold at the 2019 IHF World Championship in Japan, where one of Duijndam's main contributions to the success was saving a penalty in the final against Spain.
When Dortmund didn't extend her expiring contract in 2021, Duijndam joined Bundesliga rivals THC. She thought she was ready for a fresh new start – but she wasn't.
There was no time for a proper rest after returning from the Tokyo Olympics in August 2021. She got mentally exhausted with THC's intense schedule in the Bundesliga, the qualification in the EHF European League, and the Dutch national team's preparations as defending champions ahead of the 2021 World Championship in Spain.
Things got too much for her, also in her personal life, and just before the start of the World Championship, Duijndam saw no other option than to leave Spain even before the Dutch team had played their first match.
She briefly returned to THC the next month but found out in less than two days that it didn't work out yet and she needed a longer break from the sport.
"THC were very supportive. Of course, they wanted me to play, but when they saw that it just was impossible, they told me: 'Your health comes first.' I am so grateful for that," Duijndam said. "I have only been there five or six months, but THC have a place in my heart forever."
Duijndam returned to the Netherlands to recover from her burn-out. Spending months in her familiar environment, the desire to play handball slowly but surely returned.
"I am still very much in love with handball and I want to reach as much as possible in this sport, but it must go in a healthy manner," she said.
"Before my burn-out, I always said: I definitely want to become the best goalkeeper in the world, I definitely want to win the Champions League. Now, I am living more step-by-step and can enjoy it more. I have learned to say 'no' and put myself under less pressure."
Kickstarting her handball career in Norway at Sola this season has turned out the right move for Duijndam, with now two important matches against her former club coming up. THC won their group D – and had in Dutch right wing Nathalie Hendrikse their second-best scorer, with 42 goals.
"I am really looking forward to playing THC, to see those girls again, to go back to their arena," Duijndam said. "There is always a super atmosphere, they have such cool fans who fully support the team."
If Sola advance to the EHF Finals Women 2023 on 13/14 May in Graz, Austria, they might meet another former team of Duijndam's, as Dortmund also feature in the quarter-finals, where they play 2021 champions Neptunes de Nantes.
"Of course, it brings a certain tension to such match, but I think it is also great to play against clubs where you were in the past," Duijndam said. "Seeing your former teammates is special. Playing together creates a bond that always remains."
photos courtesy of Kenneth McDowell, Hans Lie, Peter Larsen (Nykøbing), P&N (DVSC)