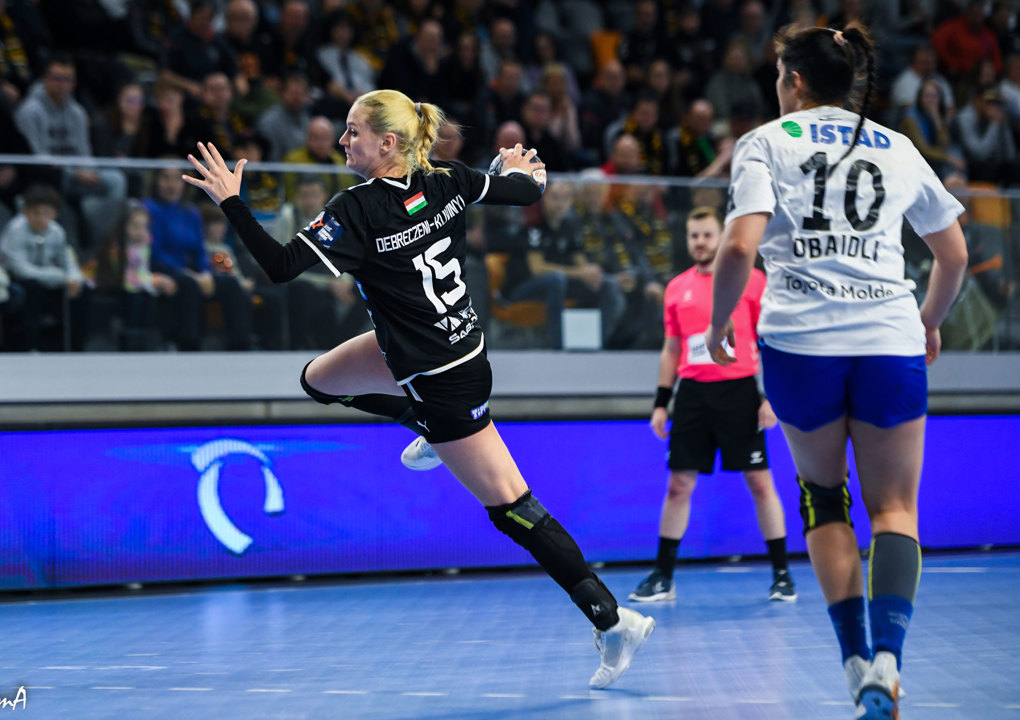 Siófok look to exceed expectations as quarter-finals start
Siófok KC's management had a clear goal before the start of the EHF European League Women 2022/23 – reach the group phase. The Hungarian club have not only smashed that target, but are now looking further ahead as they face Ikast Håndbold in a tantalising quarter-final match-up.
The EHF European League is one of three competitions this season for the 2019 Women's EHF Cup champions.
"We have outperformed ourselves as besides the Hungarian league, we are still standing in the domestic cup as well in the EHF European League," says back Kinga Debreczeni-Klivinyi.
"We not only qualified for the quarter-finals, but had a chance to finish first in our group. It's fun to be here now, however naturally we will not back down, but fight till the final whistle," says the 30-year-old.
Across domestic and European competitions, Siófok have notched up 14 wins, two draws and 11 losses this season.
"Consistency is not one of our biggest strengths. In the last couple of months, we had plenty of games, usually two in a week which was brutal not only physically but mentally too," Debreczeni-Klivinyi admits.
"Our performance could change from one moment to the other and we have to work a lot on how we start the second half. The whole team is tired, but in the meantime energised as we play for the EHF Finals," she adds.
While the Hungarian powerhouse had the second-best defence in the group stage – only their quarter-final opponents Ikast conceded fewer goals – in attacking, there is room for improvement. They scored the lowest number of goals, 153, of any of the quarter-finalists.
"We talked a lot about concentrating better, especially at the beginning of the second half, however it is very hard to practise a situation like that. We have to focus more in those blackouts to be more successful and not create situations from where it is sometimes impossible to come back. On the other hand, we can easily gear up against opponents with better chances to win and this could help us against Ikast. We have exceeded our goals and that makes us dangerous," says Debreczeni-Klivinyi, who orchestrates most of the scoring for Siófok.
As well as winning the EHF Cup, Siófok were runners-up in the first EHF European League Women in 2021, having beaten Ikast in the semi-finals.
"Every side plays against us with extra motivation but they also know that on special days, we are capable of beating anybody. If our defence works, which usually creates a great goalkeeper performance, we are unstoppable. In attacking, we have plenty of different tactics, so it is very hard to prepare against our game style," thinks Debreczeni-Klivinyi.
Ikast will be tough competitors; they finished the group stage as the highest scorers with the best defence and no losses in the European League, as well as currently sitting third in the Danish league.
"Ikast play very fast handball, a classic Scandinavian style with a lot of running and counter-attacks," Debreczeni-Klivinyi points out. "We cannot let them score easy goals from turnovers. They are the favourites in the whole tournament, they worked very hard for this title, however it usually helps us.
"At least in this season, we enjoyed being dark horses. As far as I know, they were also not happy when they found out they will come to Siófok. Although I have never played against this Danish club, Nelli Such fought against them successfully, so she can help our side to prepare."
Debreczeni-Klivinyi is hoping a full arena will help in the first leg of the quarter-finals (Saturday 18 March, 18:00 CET, live on EHFTV), but a win in Hungary is not the end of the fight.
"Realistically our second game will decide the biggest question," she concludes.
Photos © Siófok KC; Yoan Jeudy Sosuite Photographie