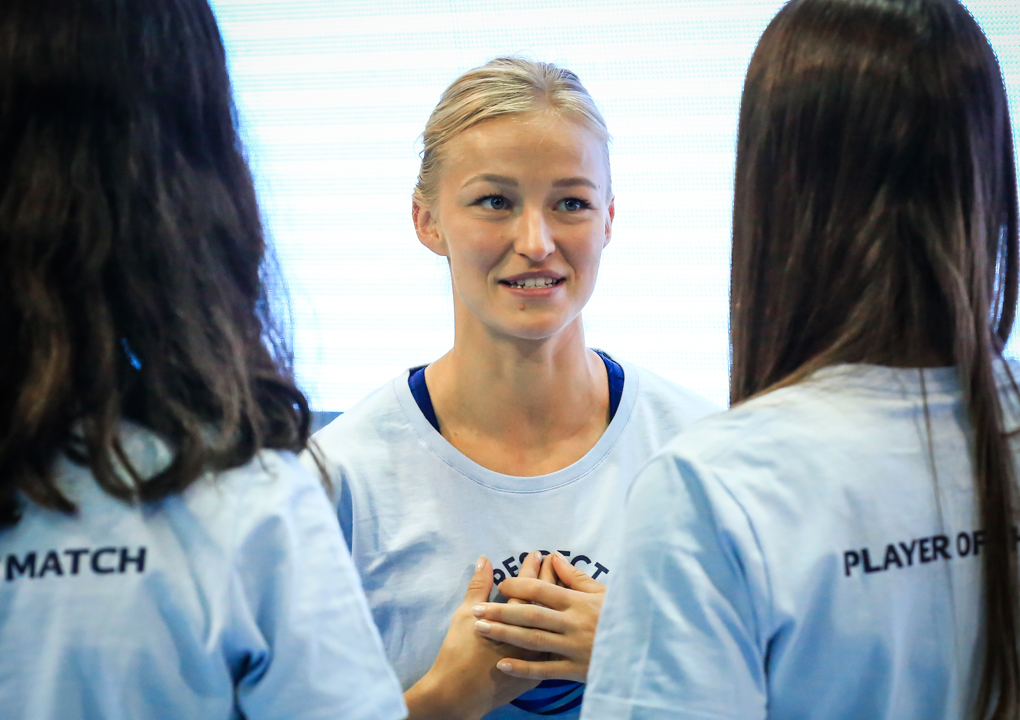 Oftedal's long road from inspired to inspiration
International Women's Day is impactful through collective action and shared ownership. In handball, women have been the driving force for taking the sport even further and popularising it through various events across, in club competitions, spearheaded by the EHF Champions League, and international events like the EHF EURO.
In recent years, few players have impacted the sport on the court more than Norwegian centre back Stine Bredal Oftedal, a four-time EHF EURO champion with the Scandinavian powerhouse and a two-time EHF Champions League winner with Györi Audi ETO KC.
"For me, International Women's Day really symbolises trying to push forward on civil rights and wanting to have quality in our society. Also, this is a day in which we should celebrate all the women in our lives, it is a very positive event," says the Norwegian playmaker.
With her amazing skills on the court, which can unlock the opponent's defence with a breakthrough or a creative pass, Oftedal has drawn plaudits and become a fan-favourite thanks to her easy-going attitude. Always wearing a smile on and off the court, the Scandinavian ace has inspired plenty of young players and had a hand in improving the popularity of women's handball.
But were it not for other women, true trailblazers in their own way, Oftedal might not have become the person she is in the moment. Being inspired by others helped the Norwegian centre back forge her own path become a global icon in handball.
And it started from the very beginning.
"I think I speak for many now and it may sound like a cliché, but the first woman that truly inspired me was my mother.
"She just has this amazing strength, this force and she is always there for everyone else, always helping people and lending a hand. She still is very important for me, so it was obvious I was going to start with her," says Oftedal.
From Hammerseng to Gőrbicz – in Stine's eyes
Family is surely important and will always define one's life. The sporting career is, however, a bit different. Growing up aiming to become one of the top players in the world will always mean watching other players impress on the court.
This was also the case with Stine Oftedal, whose career has been influenced by top players from other generations.
"Growing up watching handball, I was always admiring players who were always decisive in important games. I can say these were my idols. There were many great players in the past, as we all know, but I can talk about some women that were truly transcending on the handball court," says Oftedal.
With a plethora of amazing generations in the past 20 years, Norway was always going to bring up a player of two in Oftedal's ascension to the top of the world.
Sure enough, Norway's current captain turned back the clock and pinpointed Gro Hammerseng-Edin, herself a centre back and a captain for the Håndballjentene between 2000 and 2010, who won the EHF EURO three times.
"I always admired Gro and when I made my debut in Norway's national team, she was there and she was the captain. I admit we are two different types of players, she was taller, I am a bit smaller and probably faster, but she was truly amazing."
"She is remarkable, also as a person, because sometimes after games she sends me a message, therefore it is amazing," adds Oftedal.

Citing the models early in her career, the Norwegian centre back also mentions two other former backs, Bojana Popovic and Anita Görbicz, two of the best-ever scorers in the DELO EHF Champions League.
With the latter, Oftedal did play for four seasons at Győr, slowly taking over the centre back position from Görbicz, the all-time top scorer in Europe's top flight.
"When it comes to Anita, she is truly a legend in handball and especially at Györ and in Hungary. Her performances are quite impossible to replicate.
"I am just pleased to be a centre back for such an amazing team and for a club who is always aiming for the top and vying for trophies each season," adds Oftedal.
How the diminutive centre back became an idol and an ambassador
Talking about idols has certainly made Oftedal a bit emotional. But the Norwegian centre back herself is now an idol to many young players who are trying to make the first steps in their careers.
Oftedal has been already named the IHF Women's Player of the Year in 2019, the all-star centre back of the EHF EURO in 2018 and 2020 and the EHF Champions League in the last three seasons.
Ask any young centre back who their role model is and the overwhelming answer will be Stine Bredal Oftedal. Therefore, the Norwegian centre back became an ambassador for the Respect Your Talent (RYT) programme.
The Audi Arena Györ was the host of the first 'RYT Activity Day' in July 2019 featuring 40 'Players of the Match' selected at the Women's 19 EHF EURO, with Oftedal featuring as a role model, sharing tips and inspiring the players for pursuing their careers in elite handball but also stressing that they should not forget about education and personal development.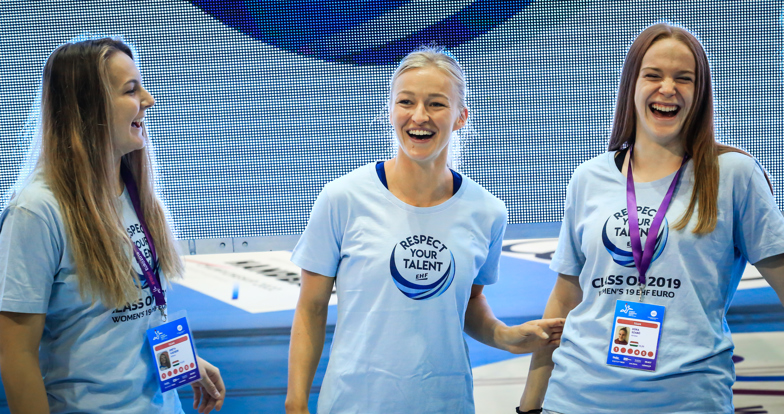 "I am truly privileged to be one of the faces of this programme and it is amazing to help young women in their journey to become professional handball players. It is an amazing feeling," says Oftedal.
However, the legacy is also written on the court, which Oftedal always tries to do, irrespective of whether she is leading the attack for Norway or for Győr.
After securing the titles at the EHF EURO 2020 and the World Championship 2021 with the national team, Oftedal will try to clinch her third EHF Champions League trophy in Budapest in June.
Györ had a superb season up until this point, winning 13 games and losing their last one, against title holders Vipers Kristiansand. It means that the Hungarian powerhouse clinched a quarter-finals berth and has an eye on an EHF FINAL4 spot.
They will meet either Odense Handbold or last year's finalists, Brest Bretagne Handball, in the quarter-finals, due to be played in the first two weeks of May.
"We had a superb season up until this point, everything worked out fine. We truly want to continue to play so good and, why not, clinch another title at the end of the season," concludes Oftedal.